These savory little turnovers with hand-formed crusts and a luscious filling of ground beef, raisins, and green olives are superb appetizers. You can make them up to a month ahead of time, as they freeze well. These are fantastic with an Argentinean or Chilean red.–Barbara Scott-Goodman
CAN EMPANADAS BE BAKED INSTEAD OF FRIED?
Absolutely! Make the empanadas up to the pre-frying stage. Instead of dipping them into boiling oil, preheat your oven to 400°F (204°C). Brush them with an egg wash—one egg beaten with 1 tablespoon of water—and then pop them into the oven for 20 to 25 minutes.
Beef Empanadas
Beef empanadas are hand-held delights full of South American flavor—sweet raisins, salty green olives, tangy tomato, and rich beef, all wrapped up in a flaky pastry wrapper. Continental, indeed.
Ingredients
For the dough
2

cups

unbleached all-purpose flour,

plus more for dusting

1

tablespoon

granulated sugar

1

teaspoon

salt

1

stick (4 oz)

unsalted butter

,

cold, cut into small pieces

2

large

eggs

1

tablespoon

cold water

1

teaspoon

white vinegar
For the filling
1

tablespoon

peanut, corn, or canola oil

1

small

yellow onion

,

chopped

1

clove garlic

,

minced

1/2

pound

ground or minced beef

1/4

cup

raisins

1/2

cup

chopped, pitted green olives

1/2

tablespoon

store-bought or homemade tomato paste

1/4

cup

homemade chicken stock or low-sodium store-bought chicken broth

Kosher salt and freshly ground black pepper to taste

Corn or canola oil for frying
Instructions
Make the dough
Combine the flour, sugar, and salt in a food processor and pulse to combine. Add the butter and pulse until the mixture resembles coarse meal.

Lightly beat the eggs with the water and vinegar until combined. Drizzle this over the flour mixture and pulse until the dough just comes together. Turn the dough onto a lightly floured work surface and gently knead until smooth, 3 to 5 minutes. Wrap the dough in plastic wrap and refrigerate until firm, about 1 hour.
Make the filling
In a large skillet, heat the oil over medium heat. Add the onion and garlic and cook until the onion is softened, about 5 minutes. Add the beef and cook, crumbling the meat with a wooden spoon, until no trace of pink remains, about 3 minutes. Spoon off any excess grease. Add the raisins, olives, and tomato paste and stir well. Add the stock or broth and simmer until the liquid has nearly evaporated, about 3 minutes. Season to taste with salt and pepper. Remove from the heat and let cool.
Assemble the empanadas
Roll the dough on a generously floured work surface until it's about 1/8 inch thick. Cut the dough into 3-inch rounds with a floured biscuit cutter or glass, stamping out as many rounds as possible. Roll out any dough scraps and cut out additional rounds if possible. Brush any excess flour from the dough rounds.

Working with 1 round at a time and keeping the rest covered with plastic wrap, spoon about 2 teaspoons filling on one side of the dough round. Fold the dough over to enclose the filling and crimp the edges with a fork to seal. Cover with plastic wrap while you form the remaining empanadas. [The filled, uncooked empanadas can be frozen on a baking sheet, and stored in an airtight plastic bag or container for up to a month. You'll need to bake the unthawed empanadas, rather than fry them, in a 350°F (176°C) oven for 20 to 25 minutes.]

Preheat the oven to 200°F (93°C). Pour enough oil into a deep-sided pot to reach a depth of about 1/2 inch and heat until it registers about 325°F (163°C) on a deep-fry or candy thermometer.

Fry the empanadas in small batches, turning them once, until browned and crisp, about 2 minutes per side. Move the empanadas to paper towels or a brown paper bag to drain for a few moments, and then transfer to a baking sheet. Place the fried empanadas in the oven to keep warm while you fry the remaining empanadas. Serve at once.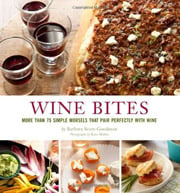 Nutrition
Serving:
1
empanada
Calories:
135
kcal
Carbohydrates:
10
g
Protein:
3
g
Fat:
9
g
Saturated Fat:
4
g
Trans Fat:
1
g
Cholesterol:
32
mg
Sodium:
166
mg
Potassium:
67
mg
Fiber:
1
g
Sugar:
1
g
Vitamin A:
157
IU
Vitamin C:
1
mg
Calcium:
10
mg
Iron:
1
mg
Nutrition information is automatically calculated, so should only be used as an approximation.
Recipe © 2011 Barbara Scott-Goodman. Photo © 2011 Kate Mathis. All rights reserved.
---
Recipe Testers' Reviews
These mini empanadas are worth the effort. The dough recipe is the best I've ever made and the filling, although very simple and not uniquely spiced, has nice variation from bite to bite. In one bite you'll have a little salty tangy olive, in the next a sweet raisin, and if the empanada gods shine down upon you, you'll get a bite of both at the same time. Using canola oil, I fried them at 325°F because of the butter content in the dough. Using this temperature meant I didn't have any excess absorption of oil. Two minutes per side, as per the recipe, is accurate at this temperature.
As a divergence from serving them as appetizers with wine, I happened to be heading to the beach the next day with a friend and it was my turn to bring lunch. I pulled a few leftover empanadas out for each of us and packed them away in the cooler. When my companion tucked into her boxed lunch, her happy, zealous reaction drew stares and glances from those around us. Sea salt, air, and sun might just be the best accompaniments for these little babies.
Though the recipe is a bit lengthy and involved, it definitely pays off. The finished empanadas are delicious. I made them two ways, fried and baked. For the fried version, I fried each empanada about 1 1/2 minutes per side at 350°. For the baked version, I froze them and then baked them for 20 minutes. Personally, I much prefer baked empanadas. The filling really shines through and the dough isn't as overwhelming as with the fried version. I'd recommend providing a dipping sauce if you choose to fry your empanadas, mostly because I think the dough becomes a bit dry and the whole thing needs the extra oomph.