This chimichurri, a classic Argentine sauce, is based on the authentic and traditional recipe. Vinegar, olive oil, parsley, oregano, garlic, and pepper flakes are whisked together in minutes. Tweak slightly to taste. Bring on the steak.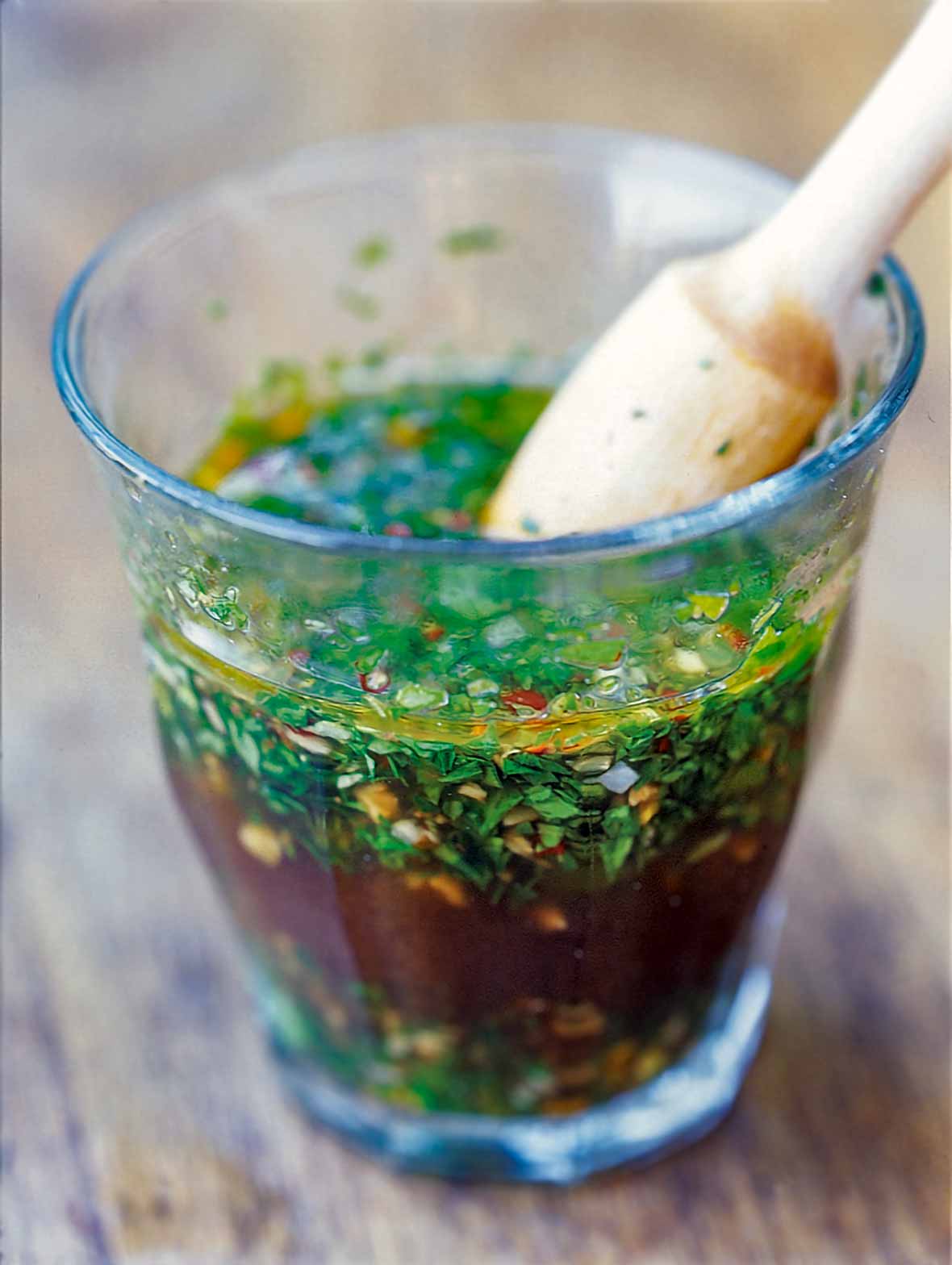 We're keen on dousing, drizzling, and otherwise acquaint this emerald elixir with grilled steak, chicken, chops, seafood, or heck, just about anything. While some traditional chimichurris call for a 1:1 ratio of vinegar to oil, this one dares to tilt things in favor of being more acidic. The line you choose to walk with regard to how much vinegar to add depends in part on your tolerance for tang and in part on whether you intend to use it as a marinade or drizzling sauce (opt for more vinegar for the former, less for the latter). So try it as-is. Then, if need be, tweak it ever so slightly and try, try again. We find it to be the perfect basis for just about any use.–Renee Schettler Rossi
How Do You Say Chimichurri?
We're going to be snarky for a second. Chimichurri is, by definition, a sauce. So to say "chimichurri sauce" is a little redundant. Sort of like saying "Tuna Melt Sandwich" or "Frosted Flakes cereal." Imagine the time you'll save in your life not adding those extra five letters each time you say "chimichurri" in conjunction with grilled steak, chicken, salmon, pork, shrimp, or anything else you can drizzle or douse with this fetching green sauce!
Chimichurri
This chimichurri, a classic Argentine sauce, is based on the authentic and traditional recipe. Vinegar, olive oil, parsley, oregano, garlic, and pepper flakes are whisked together in minutes. Tweak slightly to taste. Bring on the steak.
Ingredients
3/4

cup

sherry vinegar

1/2

cup

olive oil

3/4

cup

chopped flat-leaf parsley leaves

3

tablespoons

chopped oregano leaves

6

large

cloves garlic

chopped

1/2

teaspoon

red pepper flakes

3/4

teaspoon

salt
Directions
In a large nonreactive bowl or a glass jar, combine the vinegar, oil, parsley, oregano, garlic, red pepper flakes, and salt. Taste and, if desired, gently adjust the amount of vinegar, oil, and salt accordingly.

Serve the chimichurri immediately or refrigerate in a covered container. If chilled, allow the sauce to return to room temperature before serving. It can be kept in the fridge for a week, but we doubt it will last that long.
Show Nutrition
Serving:
2
tablespoons
Calories:
134
kcal
(7%)
Carbohydrates:
3
g
(1%)
Protein:
1
g
(2%)
Fat:
14
g
(22%)
Saturated Fat:
2
g
(13%)
Polyunsaturated Fat:
1
g
Monounsaturated Fat:
10
g
Sodium:
226
mg
(10%)
Potassium:
75
mg
(2%)
Fiber:
1
g
(4%)
Sugar:
0.2
g
Vitamin A:
543
IU
(11%)
Vitamin C:
8
mg
(10%)
Calcium:
44
mg
(4%)
Iron:
1
mg
(6%)
David Says
I made this recipe in the worst of all possible scenarios: for a friend who spends half the year in Uruguay in South America, and who's addicted to chimichurri. In short, she loved it. As we said above, this particular version is definitely tangy with vinegar. It's also thin. So I added more olive oil (about 1/2 cup) and it balanced out the vinegar and made it a bit more viscous. By the end of the meal we were dipping everything into it, including potatoes, bread, even our fingers.
One note: Refuse to use the food processor. This needs the rough chop of a knife.
Recipe Testers' Reviews
I think chimichurri is one of those sauces that has many variations, and people prefer slight differences — more garlic, less pepper, thicker sauce, looser marinade. This is a looser sauce, with an emphasis on the vinegar, which I feel works well when marinating steak. It also makes a lot, again due to its use as a marinade here. It comes together really quickly (I suspect you could even throw everything into a food processor for a couple of whirls) and gave the steak a bright, fresh flavor. I'd recommend reserving more than just 1/3 cup, though, for drizzling. We dipped bread into it, drizzled it over grilled corn, even spooned it on eggs the next morning.
I really liked this recipe as written. I kept the ratio of oil to vinegar as-is, as I didn't find it too vinegary BUT I make my vinaigrettes more to a half and half ratio, which many might consider too tart. I really appreciated this vinegary, parsleyed, garlicky marinade and sauce with the charred smokiness of the steak, and wouldn't change a thing. Very easy and simple and works perfectly with beef.
Sherry vinegar is one of my favorite vinegars ever, and I'm happy to use it whenever I can. Its flavor really came through for me — in a good way. Sometimes chimichurri (and other marinades and sauces) can be assertively vinegary, but this combination was a great ratio. The recipe calls for 2/3 cup, but I used 3/4 cup, and I also increased the 1/4 cup olive oil to 1/2 cup. Perhaps next time I'll try cider vinegar out of curiosity.
Recipes that require fresh herbs appeal to me as I grow many of our own. Fresh oregano has sort of a mustiness to it, but when teamed up with the remaining ingredients it was subtle yet added that flavour so traditional in chimichurri. The red pepper flakes and garlic make this really sing!
The chimichurri tasted good even before adding flank steak to the equation, which is telling. Chimichurri + flank steak = delicious.
Originally published July 28, 2018
Recipe © 2003 Denis Kelly. Photo © 2003
Jason Lowe
. All rights reserved. All materials used with permission.
If you make this recipe, snap a photo and hashtag it #LeitesCulinaria. We'd love to see your creations on Instagram, Facebook, and Twitter.