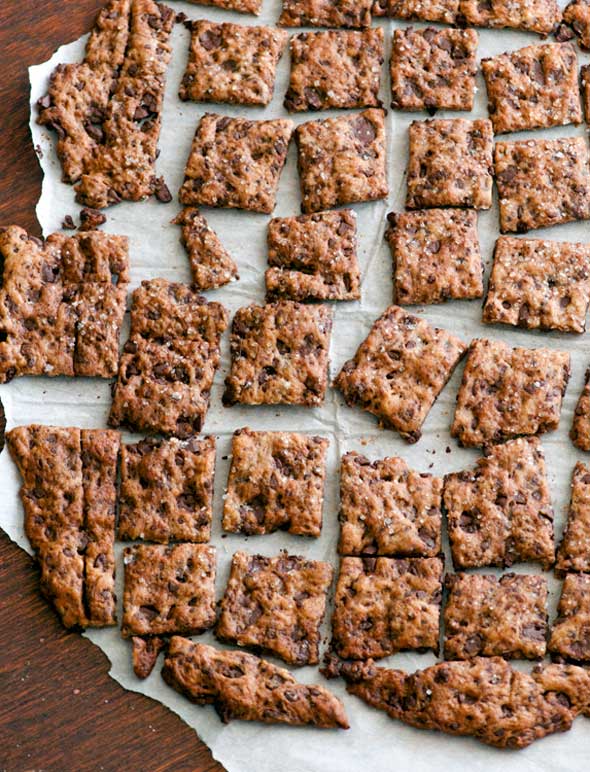 If there were any doubt that the lines between cookies and crackers are blurring, this recipe should dispel it. These are as thin and crunchy-crisp as the most munchable crackers, yet they most definitely taste like chocolate chip cookies.–Nancy Baggett
LC Definitely—And Defiantly—Not Your Mom's Chocolate Chip Cookies Note
These are definitely—and defiantly—NOT the sweet, buttery, gooey cookies your mom pulled warm from the oven when you were a wee one. These are a more sophisticated rendering of what's commonly conceived as a cookie, with a vastly less sweet taste that's almost reminiscent of animal crackers, if animal crackers were so fortunate as to be swirled with shards of melted bittersweet dark chocolate. As for the texture, it's undeniably crisp, crunchy, and crackerlike, making these not-so-sweet sweets eminently dunkable. Hey, adults gotta have a little fun, too.
Chocolate Chip Crisps
Quick Glance
50 M
2 H, 20 M

Makes about 125 crisps
Print Recipe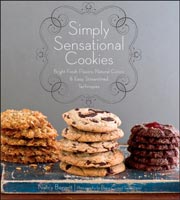 Ingredients
2 cups unbleached all-purpose white flour, plus more as needed

7 tablespoons packed dark brown sugar

1 1/2 teaspoons baking powder

Scant 1/2 teaspoon table salt

2 teaspoons vanilla extract

1/2 cup water, at room temperature, plus more as needed

1/3 cup mild vegetable oil such as canola or safflower, plus more for the parchment

6 ounces semisweet, bittersweet, or milk chocolate, chopped fairly finely (about 1 cup)

1/2 teaspoon coarse crystal salt

1/2 teaspoon granulated sugar
Directions
1. Position a rack in the middle of the oven and preheat the oven to 350°F (176°C). Have ready 2 baking sheets. Slick 4 sheets of parchment paper with a little oil.

2. In a large bowl, stir together the flour, brown sugar, baking powder, and table salt until well blended, mashing any sugar lumps with the back of the spoon. In a small bowl, whisk together the vanilla and water. Add the oil to the vanilla mixture and whisk to combine, then immediately stir the vanilla mixture and the chocolate into the dry ingredients and mix just until incorporated. If the dough seems crumbly, gradually mix in just enough additional water so that it holds together sufficiently to be rolled out. Conversely, if the dough seems soft and mushy, stir in up to 2 tablespoons additional flour.

3. In a small bowl, combine the coarse salt and granulated sugar. Divide the dough in half. Roll each portion between sheets of oil-slicked parchment into a (thin) 12-inch square, cutting and patching the edges of the dough if necessary to make the sides fairly even. Remove the top parchment sheet from each square and sprinkle each top evenly with up to 1/4 of the salt-sugar mixture. Replace the parchment, then roll the dough with the rolling pin just enough to embed the salt and sugar so it sticks. Flip the dough, remove the top parchment sheet from each square, and repeat with the remaining salt-sugar mixture.

4. Remove the top sheets of parchment and discard. Using a pizza cutter, pastry wheel, or large knife, cut each sheet of dough lengthwise and crosswise into 8 equal strips to form a grid of 1 1/2-inch crisps with uneven edges all around. (Try not to cut through the underlying parchment.) Slide the parchment and dough onto the baking sheets, leaving the uneven edges in place. Bake 1 pan at a time on the middle rack for 15 to 18 minutes or until the dough is set but not firm in the center. Repeat with the remaining dough. If the crisps have baked together, slice them through again to separate.

5. Reduce the oven temperature to 225°F (107°C).

6. Now remove the uneven dough edges, nibbling them or saving them for dunking into coffee or sprinkling atop ice cream. Separate the squares and spread them on a large baking sheet or 2 lined with a fresh sheet of parchment paper. Bake for 20 minutes, flipping the crisps once halfway through. Turn off the oven and let the crisps sit in the oven for 20 to 30 minutes longer. Then transfer the crisps to the counter and let cool to room temperature. You can store these in an airtight container for up to 2 weeks or freeze up to 2 months.
Recipe Testers Reviews
Chocolate Chip Crisps Recipe © 2012 Nancy Baggett. Photo © 2012 Diane Cu and Todd Porter. All rights reserved. All materials used with permission.
If you make this recipe, snap a photo and hashtag it #LeitesCulinaria. We'd love to see your creations on Instagram, Facebook, and Twitter.