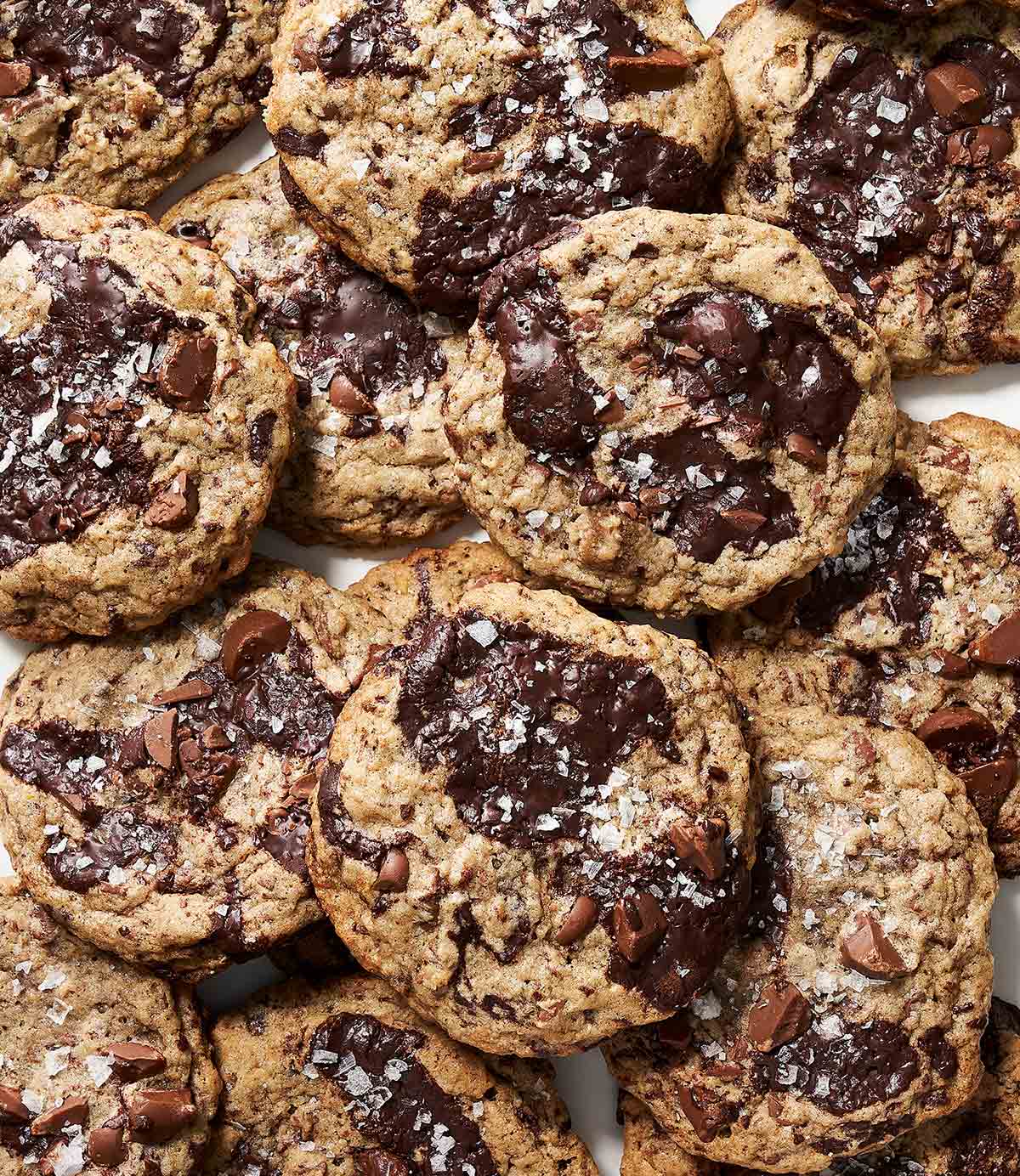 The brown butter is non-negotiable in these cookies because it imparts an incredible flavor, but more importantly, it reduces the water content in the butter to balance out the water in the sourdough starter. Without this step, you'd have a cakey cookie, and that's not my vibe. Sure, it's more work chopping up the chocolate and browning the butter and resting things overnight—I get it, I know. But there's a far greater reward at the end of it. These satisfy every chocolate chip cookie craving, and if you get in the habit of keeping frozen portions of this dough in your freezer, then I've done my job.—Caroline Schiff
Double Chocolate Chunk Sourdough Cookies FAQs
Can I freeze these sourdough cookies?
The unbaked cookies can be wrapped well and frozen for up to two weeks, if desired. Make the cookies up to step 8, wrap well and freeze. Bake from frozen. They can also be frozen once baked, leave wrapped until thawed.
Can I use regular butter instead of browned butter in this recipe?
You can—but it's going to change the texture of the cookie. Sourdough discard is half water, half flour so if you just chuck regular butter in there, you're putting more moisture in too. By browning the butter, you're evaporating some of that liquid. Regular butter will result in cookies that are less crispy and without that terrific browned butter flavor.
How long can I let my cookie dough rest in the refrigerator?
Caroline Schiff recommends an overnight rest in the refrigerator, but anywhere between 4 and 24 hours is good. Any less than that and you're not going to get much flavor from the starter. However, any more than that and the starter that you add is going to wake up, feeding and bubbling again, which is not what you want.
Double Chocolate Chunk Sourdough Cookies
This is my ideal cookie: It's relatively thin, crispy on the edges, and chewy in the center. The deep butterscotch-like flavor is thanks to brown butter and an overnight rest, and it has plenty of puddles of chocolate with a salty pop to finish. Chunks of chocolate are a must—and are far superior to chips—because of how the chocolate distributes throughout the cookie.
Ingredients
1

stick (4 oz)

unsalted butter

1

cup

packed dark brown sugar

1/2

cup

granulated sugar

1/2

cup (110 g)

active sourdough starter

1

large

egg

2

teaspoons

vanilla extract

1/2

cup plus 2 tablespoons

all-purpose flour

1/2

cup plus 2 tablespoons

bread flour

1

teaspoon

kosher salt

1/2

teaspoon

baking powder

1/4

teaspoon

baking soda

1

cup

chopped dark chocolate chunks

,

60% to 70% cocoa, divided

1

cup

chopped milk chocolate chunks

,

divided

Flaky sea salt

,

to garnish (optional)
Instructions
In a small, deep pot over medium-high heat, cook the butter, whisking frequently to scrape the bottom of the pot, until it's a light honey color and little brown bits form on the bottom of the pot, 3 to 5 minutes. Turn off the heat and allow it to cool slightly for 5 minutes. You should have about 3 ounces (85 g) or a scant 1/2 cup (120 ml) of brown butter.

Transfer to a small bowl or container, cover, and refrigerate until it is opaque and has a creamy consistency, 45 minutes to 1 hour.

Once the butter has chilled, remove it from the fridge. In a large mixing bowl, use an or wooden spoon to beat together the brown butter and both sugars until uniform, 2 to 3 minutes. Add the sourdough starter, egg, and vanilla, mixing to fully incorporate.

Stir in the all-purpose flour, bread flour, salt, baking powder, and baking soda. Incorporate with a spatula until mostly uniform.

Add 3/4 cup (130 g) of dark and 3/4 cup (130 g) of milk chocolate chunks, mixing to fully incorporate, reserving 1/4 cup (40 g) of each for topping the cookies.

For large cookies, scoop the dough into heaping 2-ounce (57g) balls using a scoop or eyeballing by hand; they should be about the size of golf balls. For small cookies, scoop into 1-ounce (28 g) portions.

Combine the reserved chocolate chunks in a small bowl and roll each cookie in them to coat the top. Move cookies to a large plate for storage. Cover and refrigerate overnight. At this point, the cookies can be wrapped well and frozen for up to two weeks, if desired. Bake from frozen.

Preheat the oven to 350°F (177°C) with two racks in the middle third of the oven.

Remove the portioned dough from the fridge and arrange the cookies on parchment-lined baking sheets, spacing them 3 inches (8 cm) apart, with no more than eight cookies to a sheet.

Slide the baking sheets into the oven and bake until set and slightly golden around the edges but soft in the middle, 13 to 18 minutes, depending on their size.

Remove from the oven and, while still hot, sprinkle each cookie with a little flaky sea salt, if desired.

Repeat with the remaining dough. Allow cookies to cool for at least 10 minutes on the baking sheets before enjoying.
Nutrition
Serving:
1
serving
Calories:
128
kcal
Carbohydrates:
21
g
Protein:
1
g
Fat:
5
g
Saturated Fat:
3
g
Polyunsaturated Fat:
1
g
Monounsaturated Fat:
1
g
Trans Fat:
1
g
Cholesterol:
6
mg
Sodium:
93
mg
Potassium:
82
mg
Fiber:
1
g
Sugar:
15
g
Vitamin A:
12
IU
Calcium:
16
mg
Iron:
1
mg
Nutrition information is automatically calculated, so should only be used as an approximation.
Recipe © 2021 Caroline Schiff. Photo © 2021 Jonathan Meter. All rights reserved.
---
Recipe Testers' Reviews
These double chocolate chunk sourdough cookies are the ones that will get you caught with your hand in the cookie jar! This is also the cookie that will make you look after your sourdough starter more diligently. Sourdough chocolate chunk cookies? Oh, yes! Brown butter and chocolate aromatherapy? You bet!
While it's not an immediate gratification cookie, it is well worth the 30-minute mise en place and the overnight refrigeration before baking. Just call this foreplay.
The recipe instructions are very clear and the steps worked just as described. Since my cookies were quite large and straight from the refrigerator to oven, I baked them for an additional 3 minutes, total of 18 minutes. They are very soft coming out of the oven but don't be fooled into leaving them in longer. The rest period firms them up. I used a 50 ml scoop and ended up with 14 large cookies.
I added a sprinkle of Maldon flake salt to 1/3 of my cookies. In either version, the cookie was very rich-tasting. It was buttery, nutty, chocolatey, and quite sweet. The edges were crispy and the centers were chewy. On the second day, the entire cookie was crispy. 30 seconds in the microwave brings the cookie back to soft if that's your thing, though.
While I will make these time and time again, I will use a smaller scoop. Even one of these small cookies will satisfy your sweet tooth. I also think that this recipe can take a reduction of one tablespoon of each sugar if you're looking for a less sweet version. The milk chocolate could also be replaced by all dark chocolate. However, if it's an indulgent chocolate chunk cookie you're going for, this one is it!
These double chocolate chunk sourdough cookies are for those that prefer a bread-like chewy texture, and deep flavor in a cookie (and it helps if you have a sour-dough starter already made). It includes traditional chocolate chunks in the dough, and in addition, covering each portion of dough on the outside with more chocolate, a guarantee that each cookie has some melted, gooey goodness right out of the oven.
These are delicious just baked, but equally good after they cool, which is pretty unique in a chocolate chip cookie. This dough becomes more flavorful as it rests in the fridge, so really handy as a make-ahead recipe.
After baking the first few, I kept the rest of the portioned cookies in my fridge throughout the week and baked them as I had company. The cookies became incredibly flavorful after the first two days of resting. So for me, this is a great make-ahead recipe.