Hola, tequila. Meet the luscious, gorgeous, ruby red cranberry. Together these two make a holiday drink that'll dazzle your taste buds. Cranberries aren't just for Thanksgiving sauce anymore. Now you can enjoy this tart berry with a little Grand Marnier, tequila, and freshly squeezed orange juice. I love cranberries, so it was only a matter of time before I concocted a drink marrying cranberries and tequila. The crystallized swizzle stick gives the cranberry margarita an extra little sparkle to impress your guests.–Veronica Gonzales-Smith
LC The Perfect Thanksgiving Cocktail Note
The author says above that cranberries aren't just for Thanksgiving anymore, and that's true. Yet you gotta admit, this sweetly tart tequila concoction is really the most brilliant thing to happen to Thanksgiving since football. Think about it. You thought talking politics with Aunt Emma was fun after she'd had a few sips of wine. Imagine what'll happen when you give her something a little stronger to sip. Say, a cranberry margarita.
Cranberry Margarita
Quick Glance
35 M
45 M

Makes 10 drinks
Special Equipment: Cocktail shaker; margarita or martini glasses; swizzle sticks (optional)
Print Recipe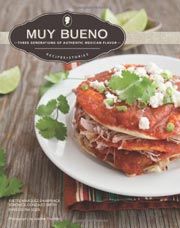 Ingredients
For the cranberry swizzle sticks (optional)

One 16-ounce package fresh cranberries

1/2 cup light corn syrup

1/3 cup cold water

1 cup granulated sugar

For the margaritas

1 cup granulated sugar, plus more for glasses

Juice of 4 oranges

One 16-ounce package fresh or frozen cranberries

Crushed ice

10 to 15 ounces silver tequila [Editor's Note: Use a good one!]

5 ounces Grand Marnier or other orange liqueur

Orange twist, for garnish
Directions
Make the cranberry swizzle sticks (optional)

1. Rinse the cranberries in a colander and let dry at room temperature. Skewer several cranberries onto each swizzle stick, leaving enough of the stick exposed on 1 end so it can be held.

2. In a large cup, mix the corn syrup and water. Lightly brush the skewered cranberries with the corn syrup mixture until lightly but completely coated. Sprinkle a generous amount of sugar over each cranberry skewer and shake off any excess.

3. Place the cranberry swizzle sticks on wax paper and place in the freezer to set for at least 1 hour and up to 24 hours.

Make the margaritas

4. In a saucepan over low heat, warm the sugar and the orange juice, stirring constantly, until the sugar dissolves.

5. Meanwhile, rinse the cranberries in a colander.

6. Add the cranberries to the pan and cook over low heat for 10 minutes. Set the cranberry mixture aside and let cool.

7. Once cool, pour the mixture into a blender and purée it. Strain the mixture into a pitcher, discarding any solids. (You can cover and stash it in the fridge until ready to use. It will gel as it cools, so you'll need to stir it just prior to using.)

8. For each margarita, put some crushed ice, 1 to 1 1/2 ounces tequila, 1/2 ounce Grand Marnier, and 2 ounces cranberry purée in a shaker. Shake well.

9. To serve, pour the margarita into a sugar-rimmed margarita or martini glass. Add a cranberry swizzle stick and/or an orange twist for garnish.
Virgin Cranberry Margarita Variation
Replace the tequila and Grand Marnier with 2 ounces or 1/4 cup sparkling cider per margarita.
Cranberry Margarita Recipe © 2012 Yvette, Veronica,and Evangelina. Photo © 2012 Jeanine Thurston. All rights reserved. All recipes and photos used with permission of the publisher.
If you make this recipe, snap a photo and hashtag it #LeitesCulinaria. We'd love to see your creations on Instagram, Facebook, and Twitter.