Here's how to make deep-fried peanut butter and jelly sandwiches. Because yes, that's a thing. A darn good thing.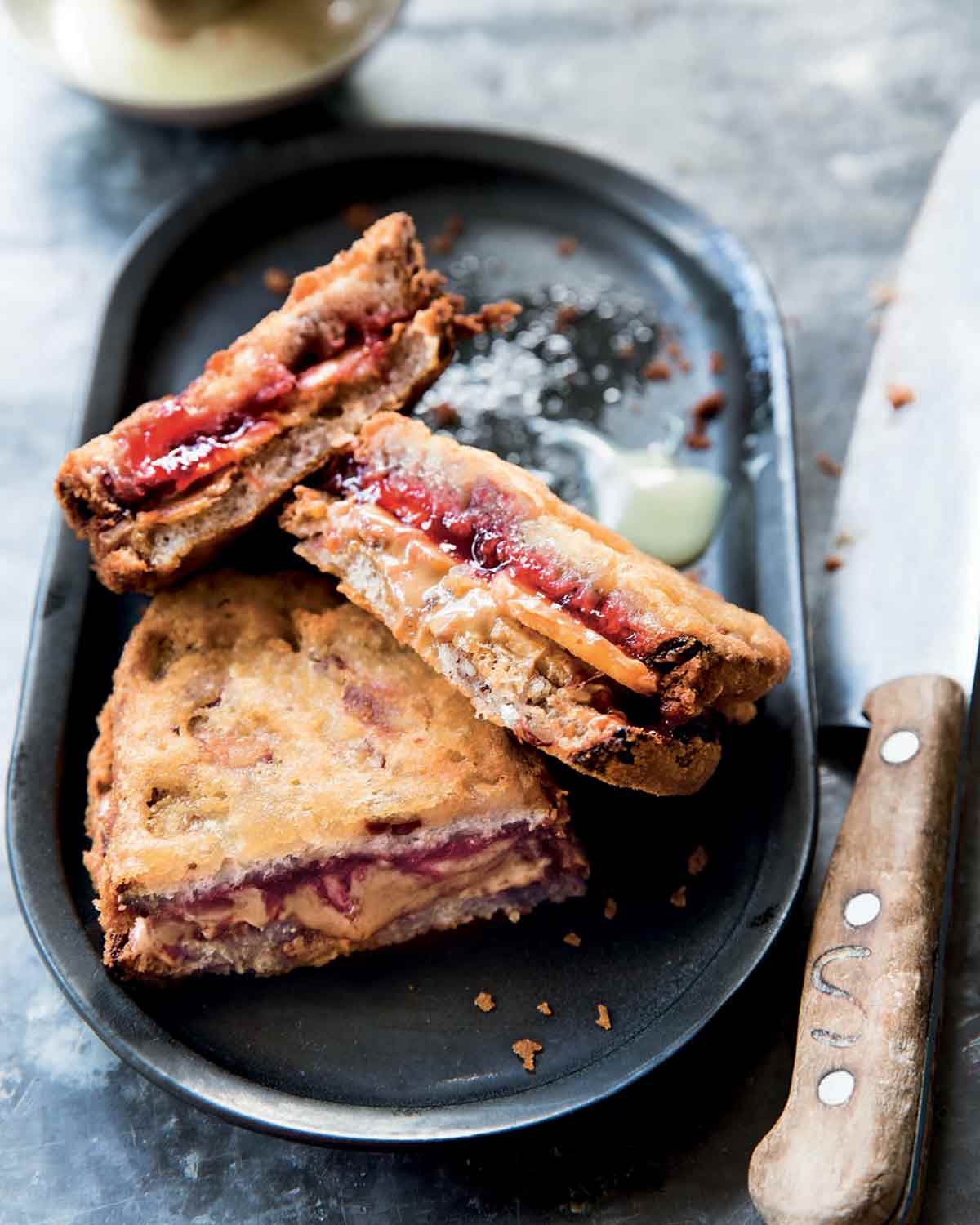 What can I add to a peanut butter sandwich?
Max and Eli Sussman recommend banana chips but what else sounds good? We have a few suggestions of our own. Obviously, bacon. If you're gonna eat Elvis' sandwich, you might as well go all the way. He was also a fan of fresh banana. If you're feeling less like the King, how about coconut? Raisins, honey, sliced apples or strawberries would work too. Change up the nut butter—chocolate hazelnut would take it over the top here. If you're a peanut butter and pickle fan, hmmm…maybe?
Deep-Fried Peanut Butter and Jelly Sandwiches
Quick Glance

(3)

1 H
1 H
Makes

8

sandwich halves
Print Recipe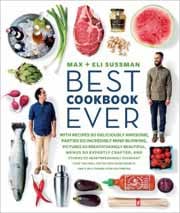 Special Equipment: Deep-fry or candy or instant-read thermometer
Ingredients
For the white chocolate ganache (optional)
For the deep-fried peanut butter and jelly sandwiches
Directions
Make the white chocolate ganache (optional)
Place the white chocolate in a heatproof bowl and rest the bowl in a saucepan over but not touching simmering water or put the chocolate in the top pan of a double boiler. Heat the chocolate until melted, occasionally stirring gently with a spatula to help the melting along.
☞

Tester tip:
Be careful not to let so much as a drop of water get in the chocolate or it may seize.
When the chocolate has fully melted, reduce the heat to low. Switch to a whisk and slowly add the cream, whisking constantly until fully incorporated. Remove the pan from the heat and scrape the ganache into a heatproof bowl. Cover with aluminum foil to keep warm.
Make the deep-fried peanut butter and jelly
Pour enough oil in a deep pot or deep-fryer to measure about 3 inches. Heat the oil to 325°F (165°C).
Cut the bread into 8 slices, each about 1/4 inch thick. Go ahead and make 4 peanut butter and jelly sandwiches. If you're a human, you should know how to do this. But for this fried version, be sure you don't overload them with too much PB or J. Before closing each sandwich, add a layer of banana chips if you dare.
In a bowl, whisk together the flour, sugar, baking powder, and salt. Add 1/2 cup milk and vanilla and whisk until a smooth batter forms. If necessary, add more milk to create a dippable consistency.
When the oil is hot, make sure all the sandwiches are tightly closed. Then, working with 1 sandwich at a time, dip it into the batter and turn it gently to thoroughly coat it. Lift it from the batter and let the excess batter drip back into the bowl. Using tongs to hold the sandwich tightly on 1 end, submerge the sandwich halfway into the hot oil and fry for 15 seconds, then release the sandwich into the oil. It should now float. Fry the sandwich, turning once, until golden brown on both sides, 2 to 2 1/2 minutes per side. [Editor's Note: If the sandwich isn't turning golden brown in the suggested time, increase the temperature of the oil to 350°F (177°C).] Using the tongs, drop the deep-fried PB&J onto paper towels or a brown paper bag to drain. Repeat with the remaining sandwiches.
Serve the warm sandwiches with the white chocolate ganache, if using, on the side for dipping. Originally published February 11, 2014.
Print Recipe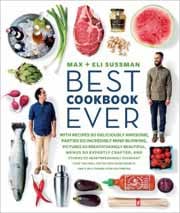 Recipe Testers' Reviews
We loved the deep-fried peanut butter and jelly sandwiches. We used a sourdough bread that would stand up to any liquid inflicted on it.
I substituted red currant jelly for the strawberry jelly and it was yummy. We made 2 sandwiches with sliced banana and 2 without. I heated the oil and started the ganache. Next, I put together batter and had to add another 1/4 cup milk because it was too stiff for dipping. I cut the first sandwich in half before I fried it. Then, I chopped a half sandwich into thirds, like finger sandwiches, before frying. I liked this size better for eating and serving as it was more manageable.
I found the 2-minute time frame perfect for each side to let them swim around in the pool of hot oil. The fried banana was creamy within the confines of the golden fried batter. The white chocolate drizzle was goodness on top of awesome.
These deep-fried peanut butter and jelly sandwiches were just too fun to pass up. The batter was too thick to work with as written, a bit like a paste. I added 1/4 cup more milk to thin it some so it would coat the sandwiches. That helped, but it was still pretty thick. It took closer to 4 minutes to fry each sandwich. The first one took the longest at about 7 minutes. I raised the fryer heat to 370°F (188°C) and the remaining sandwiches took 4 minutes each.
The finished sandwich is a bit like a filled funnel cake. I bypassed the white chocolate ganache and banana chips and just enjoyed the sandwich itself. While these aren't a light dessert, they're yummy.
Deep-Fried Peanut Butter and Jelly Sandwiches Recipe © 2013 Max Sussman & Eli Sussman. Photo © 2013
Erin Kunkel
. All rights reserved. All materials used with permission.