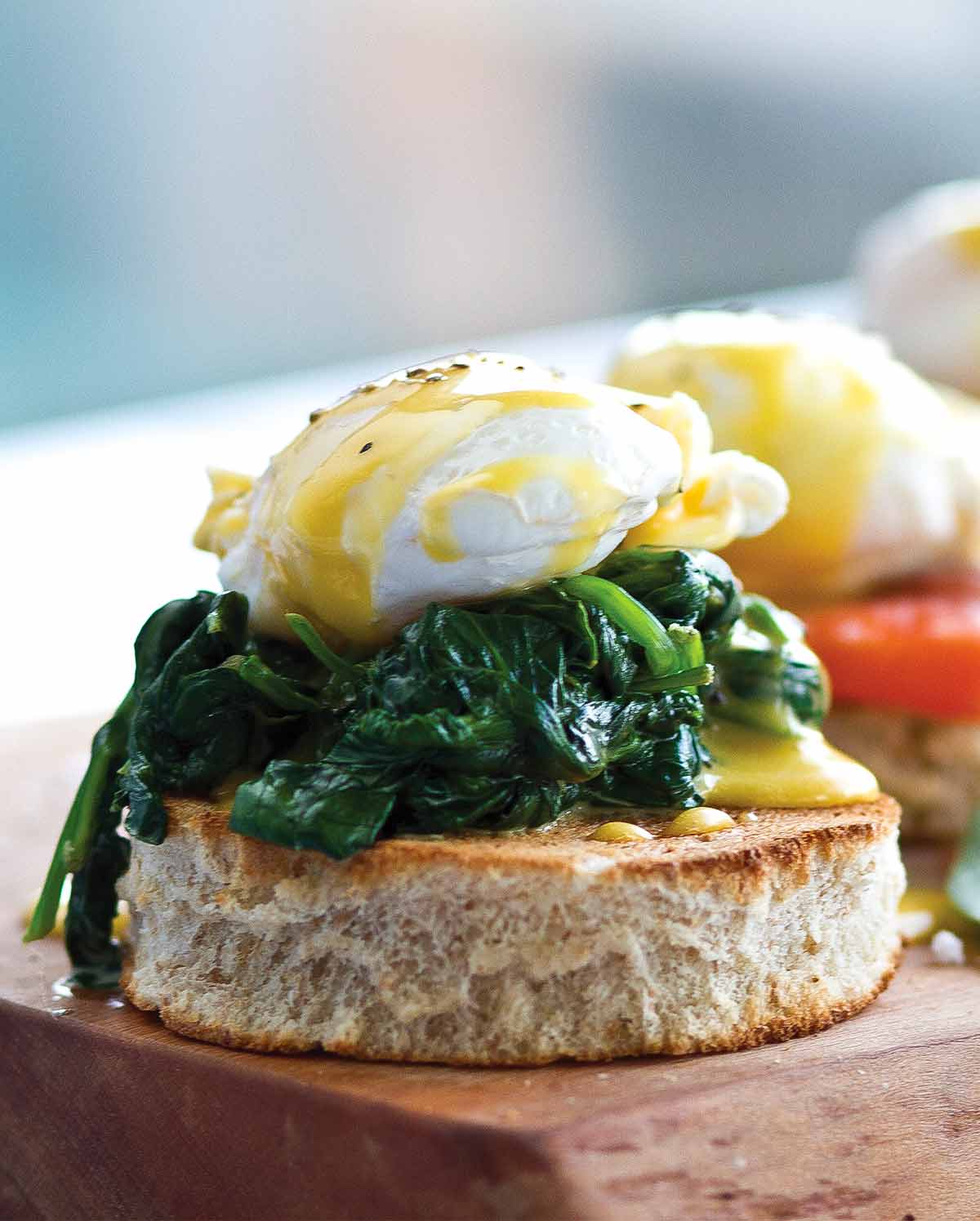 Eggs Florentine, Benedict, and Arnold. The names always remind me of a Revolutionary War spy ring. But actually, they're three classic egg preparations. For the vegetarians among us, there are eggs Florentine, made with creamed spinach and hollandaise sauce. Pescatarians can enjoy eggs Arnold made with smoked salmon in place of spinach, while the carnivores out there can dig into lovely poached eggs topped with thick-cut ham, otherwise known as eggs Benedict. Ain't options grand?–David Leite
Eggs Florentine FAQs
What is the easiest way to make hollandaise sauce?
Are you hollandaise-averse? Not in terms of eating the classic egg topper, but in terms of making this traditional and, for some, terrifying sauce? Rest easy. We've got an even easier-peasier alternative to hollandaise sauce. It's a blender hollandaise recipe you can make in place of the one found below. Your choice.
What is the difference between eggs Benedict and eggs Florentine?
The addition of a layer of sauteed spinach is what distinguishes eggs Florentine from eggs Benedict.
Eggs Florentine
For this classic Eggs Florentine, creamed spinach is spooned onto rounds of buttered toast and topped with poached eggs and hollandaise sauce. Chopped chives finish the dish.
Ingredients
For the hollandaise sauce
3

large

egg yolks

2

sticks plus 5 tablespoons (10 1/2 oz)

unsalted butter

,

diced, at room temperature

Salt and freshly ground black pepper

,

to taste

Squeeze

fresh lemon juice
For the eggs Florentine
2

tablespoons (1 oz)

unsalted butter

1/4

cup

heavy cream

10

cups

baby spinach leaves

,

washed

Salt and freshly ground black pepper

,

to taste

Freshly ground nutmeg

2

tablespoons

distilled white vinegar

4

large

eggs

4

slices

buttered toast

Cress or chives

,

finely chopped, for garnish
Instructions
Make the hollandaise sauce
Place a saucepan of water over medium heat. You want the water to be simmering, not boiling. Place a heatproof bowl containing the egg yolks over but not touching the pan of water. Start whisking immediately.

Slowly add the butter to the egg yolks, a few pieces at a time, whisking vigorously until it's incorporated before adding more butter. Keep the temperature beneath the butter on low and take your time, adding the butter s-l-o-w-l-y. The key thing here is low and slow so the eggs do not scramble. Instead, you want to emulsify the egg and butter together. [Editor's Note: Basically, you want to melt the butter without scrambling the eggs.]

Keep cooking and stirring until the hollandaise sauce has thickened enough to coat the back of a wooden spoon. If it gets too thick, add a splash of cold water. Season to taste with salt and pepper and add a squeeze of lemon juice for a touch of sharpness to smooth out that creamy richness. Serve as soon as possible, as hollandaise does not reheat well. Trust us.
Make and assemble the eggs Florentine
Melt the butter in a large skillet over medium heat. Pour in the heavy cream, and let simmer for a minute or so, until it starts to reduce and thicken. Throw in the spinach leaves and cook for 2 to 3 minutes, until the leaves have wilted. Pull the skillet from the heat and season the spinach with salt, pepper, and the nutmeg.

Fill a deepish saucepan with about 3 inches of water and bring it to a gentle, not rolling, boil. Add the vinegar and stir to make a whirlpool effect. Crack the 4 eggs carefully into the pot. The whirlpool and the vinegar will help each egg white stay together rather than stretch into some ghastly amoeba-like shape.

Allow the eggs to gently simmer for 2 to 3 minutes. You're aiming for a wobbly but well-cooked white with a runny yolk. Using a slotted spoon, gently move the eggs to a paper towel-lined plate to soak up the excess water.

Top the buttered toast with the creamed spinach. If you've got the time and the inclination, you can cut the toast into circles just slightly larger than the egg using a biscuit cutter. Carefully place an egg on top of each stack and spoon a generous helping of hollandaise on top. Garnish the eggs Florentine with the cress or chives.
Nutrition
Serving:
1
portion
Calories:
834
kcal
Carbohydrates:
16
g
Protein:
13
g
Fat:
81
g
Saturated Fat:
48
g
Polyunsaturated Fat:
5
g
Monounsaturated Fat:
22
g
Trans Fat:
3
g
Cholesterol:
521
mg
Sodium:
281
mg
Potassium:
565
mg
Fiber:
2
g
Sugar:
2
g
Vitamin A:
9750
IU
Vitamin C:
23
mg
Calcium:
175
mg
Iron:
4
mg
Nutrition information is automatically calculated, so should only be used as an approximation.
Recipe © 2012 Jane and Myles Lamberth. Photo © 2012 Mike Searle. All rights reserved.
---
Eggs Florentine Variations
Eggs Benedict
Ah, the classic. For this, use thick-cut ham slices in place of the creamed spinach.
Eggs Arnold
Instead of creamed spinach, cut a few slices of excellent-quality fresh smoked salmon and slap them on the toast.
Eggs Blackstone
Use some marvelously lovely bacon (you are making your own homemade bacon, right?) instead of the spinach, and top with a tomato slice.
Crabcakes Benedict
Swap out the spinach for a crab cake.
Eggs Sardou
In this version, the spinach is replaced with artichokes, anchovies, and a few shavings of truffle. (Truffle oil would work in its place if needed, natch.)
Fried Green Tomato Benedict
For this little gem, replace the spinach with a crunchy fried green tomato.
Recipe Testers' Reviews
I've always wanted to learn how to make homemade hollandaise and to poach eggs without some fancy-schmancy contraption but was always daunted by recipes. Imagine my surprise to find both these culinary mysteries explained so simply in one recipe!
While a bit time-consuming, the hollandaise comes together quite easily. The recipe is simple and straightforward and the eggs worked perfectly. We made eggs Arnold, and I wouldn't change a thing about any of it. I can't wait to try the other variations as soon as my arteries unclog.
I found this eggs Florentine recipe easy to follow and it was quick to make and ideal for a weekend breakfast. I decided to make the eggs Benedict variation with thick slices of ham. I'd recommend using unsalted butter, as stated in the recipe, as it enables the cook to adjust the seasoning appropriately. By accident, I used slightly salted butter, which I found much too salty for my taste.
I've never had much success poaching eggs using vinegar (which makes the house smell of vinegar) and the water swirling method (which makes the egg white break up into whirls of white, even with the freshest of eggs). Therefore, I would recommend bringing a pan of water to a simmering boil and breaking each egg into a separate small container, and then sliding each egg in turn into the nearly still water. The still water allows you to see when the eggs are nearly cooked. Ensuring that all of the eggs start cooking at about the same time will mean they are all ready at the same time.
The hollandaise sauce was easy and quick to prepare and I kept mine warm in the bowl over the pan of hot water I had used to prepare the sauce.
I made the eggs Arnold variation of the recipe. It was so yummy. I used a deep slotted spoon to slide the egg into the water and to remove it from the water, and I used about 3 inches or so of water to poach, because with any more water I have too much trouble keeping the egg together, as the yolk goes to the bottom, and the whites stay toward the top.