It is truly amazing what you can do with a couple of cans of beans. Here they are transformed into a pretty classy white bean puree. Bitter leaves, sweet onions, earthy beans—the different components work very well together. If you choose the right plate to serve it on, it even looks rather painterly. Eat as a main course or with a range of vegetables. It's also good with meaty fish.–Diana Henry
LC Poor Man's Hummus Note
We noticed something interesting when our testers talked about their response to this white bean puree recipe. Folks simply couldn't get enough of the white been puree. One tester even went so far as to refer to it as "poor man's hummus." We'll take that as a compliment. And we'll take any excuse we can think of to make the puree for friends—with or without the oh-so-good, oh-so-good-for-you balsamic-glazed veggies.
White Bean Puree
Quick Glance
10 M
25 M

Serves 6
Print Recipe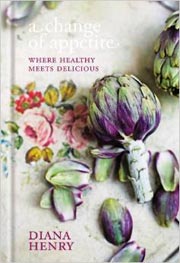 Ingredients
For the white bean puree

6 tablespoons extra-virgin olive oil

1/2 onion, roughly chopped (about 1 cup)

1 garlic clove, crushed

Two 14- or 15-ounce cans cannellini beans, drained and rinsed

1/2 cup (4 ounces) homemade chicken stock, canned chicken broth, or water

Salt and freshly ground black pepper, to taste

Squeeze of lemon juice

For the vegetables

2 large heads radicchio

2 red onions

3 tablespoons extra-virgin olive oil, plus more for drizzling

4 tablespoons balsamic vinegar

Salt and freshly ground black pepper, to taste
Directions
Make the white bean puree

1. Heat 2 tablespoons olive oil in a saucepan over medium heat and gently cook the onion until it's soft but not colored. Add the beans, garlic, chicken stock or water, and salt and pepper. Cook for 4 minutes.

2. Process the beans and their cooking liquid in a blender or food processor with the remaining 4 tablespoons olive oil and lemon juice, leaving the mixture slightly chunky. Taste and adjust the seasoning to taste.

Make the vegetables

3. Halve each radicchio. Then thickly slice each radicchio into circles or cut each half into 4 sections, trimming and discarding the base and a little of the white heart from each section.

4. Halve the onions and trim the base of each. Cut each half lengthwise into crescent moon-shaped wedges, each about 3/4 inches wide at its thickest part. (Or just slice them horizontally, if you prefer.)

5. Mix the olive oil, balsamic, and seasoning together in a dish. Put the onions in a bowl and the radicchio in another bowl then drizzle both with dressing. Gently turn to coat and let sit for about 10 minutes.

6. Heat a skillet over medium-high heat until really hot but not smoking. Cook the onions quickly until well colored on all sides, turning once or more. Reduce the heat to low and let the onions cook, turning frequently, until softened, maybe 2 minutes or so.

7. Meanwhile, spoon the white bean puree into a serving dish, reheating it gently first if you want to. The puree can also be served at room temperature.

8. Increase the heat under the onions to medium-high, add the radicchio to the skillet, and cook just until the radicchio is wilted and colored on each side—this will happen very quickly, say, 45 seconds or so. Pile the radicchio and onions on top of the white bean puree. Season with salt and black pepper, and serve with a little oil drizzled over the top.
White Bean Puree Recipe © 2014 Diana Henry. Photo © 2014 Laura Edwards. All rights reserved.
If you make this recipe, snap a photo and hashtag it #LeitesCulinaria. We'd love to see your creations on Instagram, Facebook, and Twitter.