Jamie Oliver's steak sandwich isn't your ordinary 'wich. Caramelized onions, sharp mustard, and lemony watercress means you'll want to buy extra flank steak at the butcher so you have leftovers.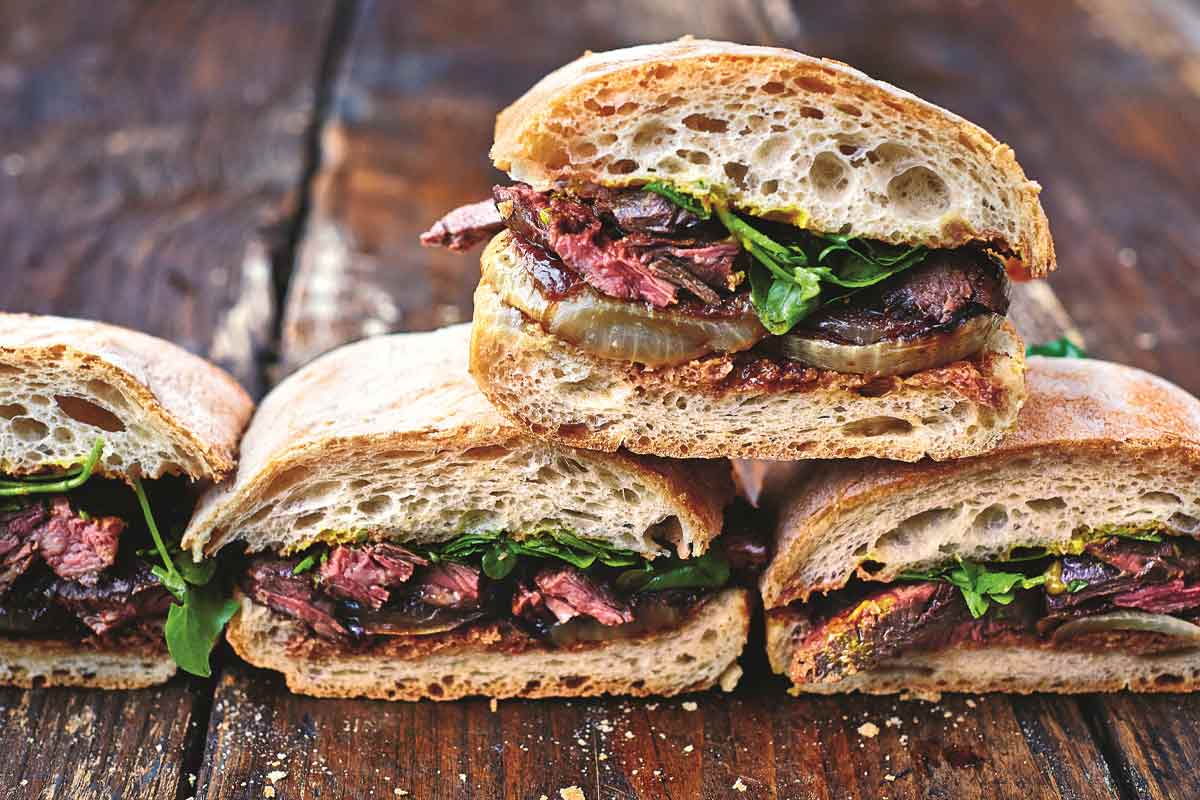 Adapted from Jamie Oliver | Jamie Oliver's Comfort Food | Ecco, 2014
I've got really early memories of my dad making a steak sandwich which was absolutely gorgeous and always such a treat. In this steak sandwich recipe, I want to take the joy of a steak sandwich to the next level by kind of taking the mighty steak off its pedestal a bit and putting most of the focus on awesome onions to create the best steak sandwich ever.–Jamie Oliver
Steak Sandwich
Jamie Oliver's steak sandwich isn't your ordinary 'wich. Caramelized onions, sharp mustard, and lemony watercress means you'll want to buy extra flank steak at the butcher so you have leftovers.
Ingredients
1

(minimum 14 oz)

flank or skirt steak

2

sprigs

rosemary

(optional)

2

large

onions

5

fresh bay leaves

1 1/2

tablespoons (3/4 oz)

unsalted butter

1 1/2

tablespoons

extra-virgin olive oil

plus more for drizzling

1/3

cup

dark brown sugar

Sea salt

Freshly ground black pepper

1/2

cup

red wine vinegar

1

loaf

ciabatta

English mustard

such as Colman's (optional)

1/2

lemon

1

handful

watercress
Directions
Remove the steak from the fridge, place it on parchment paper, and let it rest for 30 minutes or so to come to room temperature.

Meanwhile, peel the onions, removing the papery outer layer as well as the first layer of onion (reserve this for chicken stock, vegetable broth, or soup). Slice the rest of the onion into 3/4-inch-thick rounds. Place the bay leaves, butter, a glug of oil, and the sugar into a large frying pan or cast-iron skillet on medium heat. Once the butter melts, place the onions in the pan in a single layer, season with salt and pepper, and cook for 5 minutes. Pour in the vinegar, pop the lid on, reduce the heat to low, and cook for around 35 minutes, or until beautifully golden and caramelized on the bottom only, adding splashes of water to loosen if needed. Remove and discard the bay leaves, if desired.

Meanwhile, pop the ciabatta in the oven, turn the oven to 225ºF (107°C), and let it alone until it's warmed through.

If desired, place 1 sprig rosemary beneath the steak and 1 sprig rosemary on it. Cover the steak with parchment paper and bash it with the bottom of a heavy pan to make it roughly the same thickness throughout and to tenderize it. Season the steak all over with salt and pepper. Place a large nonstick heavy-bottomed skillet on medium-high heat. Once the skillet is screaming hot but not smoking, drizzle the steak with olive oil, then put it in the skillet and cook for 3 minutes on each side for medium doneness, or for more or less time to your liking. Place the steak on a plate and let it rest for 1 minute or so. Then slice the steak 1/2 inch thick and toss the slices with its resting juices and a drizzle olive oil.

Cut the warm ciabatta in half lengthwise. Rub the cut side of the ciabatta with the steak's resting juices, then spread on some mustard, if you like. On the bottom half of the ciabatta, layer the caramelized onions, the steak, and a little lemon-dressed watercress. Plop the remaining ciabatta on top, press it down lightly, carve it into decent chunks, and get involved.
Notes
*What can I use instead of flank steak?
This recipe is written specifically for flanks steak and, obviously, will be the best with that delish steak. However…if you can't manage it, then a slab of skirt steak will also make the cut. Both are leaner cuts that need to be prepared in the same way. Finally, chuck steak is another option that will come pretty close as long as you slice it thinly, across the grain.
Show Nutrition
Serving:
1
portion
Calories:
590
kcal
(30%)
Carbohydrates:
79
g
(26%)
Protein:
32
g
(64%)
Fat:
16
g
(25%)
Saturated Fat:
6
g
(38%)
Trans Fat:
1
g
Cholesterol:
71
mg
(24%)
Sodium:
616
mg
(27%)
Potassium:
506
mg
(14%)
Fiber:
3
g
(13%)
Sugar:
21
g
(23%)
Vitamin A:
160
IU
(3%)
Vitamin C:
13
mg
(16%)
Calcium:
62
mg
(6%)
Iron:
2
mg
(11%)
If you make this recipe, snap a photo and hashtag it #LeitesCulinaria. We'd love to see your creations on Instagram, Facebook, and Twitter.
Recipe Testers' Reviews
Although the recipe indicates the rosemary is optional, I'd say using the herb is not to be missed. I loved the finished character it added to the steak sandwich. I didn't bother removing the needles before searing the meat. Deep brown and thickly lacquered with a sweet-sour gastrique, the caramelized onions were center stage here.
I only used about 1 tablespoon olive oil to get the onions sautéing in a cast-iron skillet. Since I only have 1 cast-iron skillet, I waited for the onions to be done in order to repurpose the pan for the steak. Pounded out to 3/4 inch thickness, my steak took 4 minutes on each side for medium-rare. After resting the steak, I sliced it against the grain and conservatively loaded up the bread. I didn't want the steak piled so densely it would be difficult to bite through, a failing of many steak sandwiches. Layering at maximum 2 slices high seemed to work well for me.
I loved the lemony watercress and mustard, which played so well with the rich meat. I don't see any reason why you couldn't make the onions on a Sunday and keep them to make this steak sandwich for a weeknight meal later in the week.
What an enjoyable sandwich! I had been craving an old-fashioned Philly cheesesteak, and although this is nowhere near that old standard, it might just be what I turn to when the urge for one hits. Actually, this will probably be made more often. It seems healthier, and the ingredients are much easier to find.
I did pound my flank steak with a sprig of rosemary over it as well as underneath it. I can't say that I noticed any flavor imparted to the meat. After cooking the onions, covered, for 35 minutes, there was still a lot of liquid in the pan. I needed to cook it with the cover off for 15 minutes in order to get the onions browned and caramelized on the bottom. When I make this again, I will partially cover the pan, and see if that makes a difference.
I cooked the flank steak on a cast-iron grill pan for 2 minutes on each side, and the meat was perfectly medium-rare. I dipped one side of the ciabatta bread in the juices left from cutting the meat, and spread mustard on the other half of the bread. The caramelized onions added great flavor to the sandwich. Unfortunately, I couldn't find watercress at the stores that I went to. I tried arugula as a substitute but we preferred the sandwich without it. When I'm able to find watercress, I'll make this sandwich again, to see what it adds to the sandwich. I must say, however, that it quite delicious without it.
So, first let me say that THIS WAS AN AMAZING STEAK SANDWICH. It was really yummy and delicious. #SoGoodIWantedAnother. Okay, so now that's out of the way, I can tell you the details. I mistakenly thought that this was going to be another regular run-of-the-mill steak sandwich, but what makes it different are the onions, specifically the vinegar-infused, caramelized onions. So good! I thought that the sugar would overpower the vinegar, but they played really nicely together.
The other thing I liked was the spicy kick of the mustard. I didn't have Colman's, but in looking it up, I found that it's a mustard with a spicy kick, so I used a Dijon mustard that I love that has a really good helping of horseradish—definitely more kick than regular mustard. Finally, the hit of lemon on the watercress added such a nice brightness to the very rich sandwich. I used skirt steak for my glorious steak sandwich. The cooking time of 3 minutes was spot on. Loved the suggestion of drizzling the steaks resting juices on the warm bread. Yum! This is definitely the sandwich that you should make with any leftover steak.
Recipe © 2014 Jamie Oliver. Photo © 2014
David Loftus
. All rights reserved. All materials used with permission.
If you make this recipe, snap a photo and hashtag it #LeitesCulinaria. We'd love to see your creations on Instagram, Facebook, and Twitter.