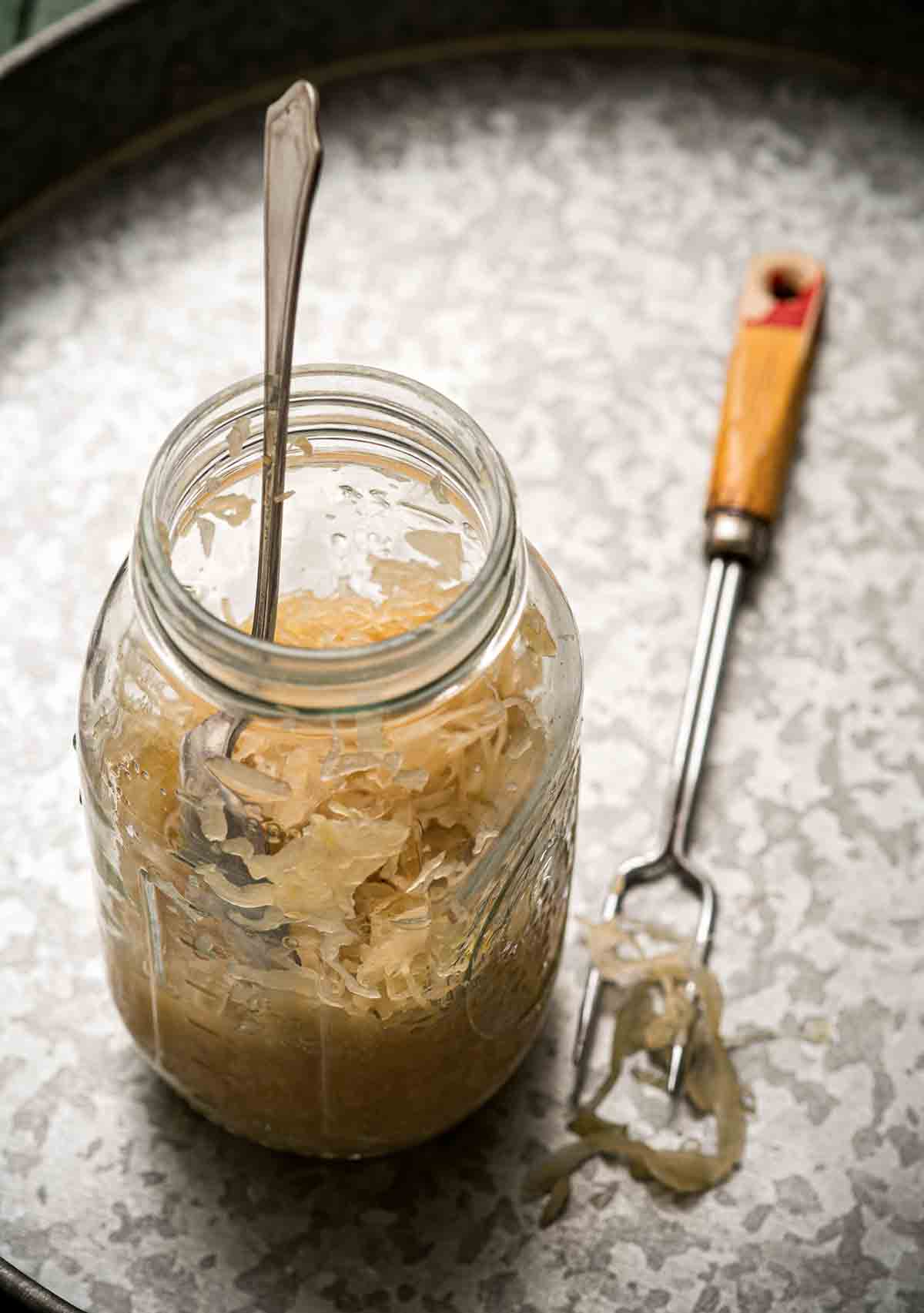 Historically, people made their sauerkraut in large batches after the first frost because a freeze makes cabbage sweeter and slightly more tender. The cabbage would be finely sliced, salted, packed into large crocks, and pressed until it released liquid. Then it would be allowed to ferment in a cool place. These days, most of us don't have the space for large sauerkraut crocks—or the desire to eat it every single day of winter. However, for those of you who have a taste for homemade sauerkraut, this single-quart recipe is my favorite way to make it in small batches without any special equipment beyond a wide-mouthed 1-quart or 1-liter jar and a cool, dark corner. [Editor's Note: Know how legendary bourbon houses offer small batches of prize vintages? We suspect that the same sorta thing could happen with this single-quart sauerkraut recipe…]–Marisa McClellan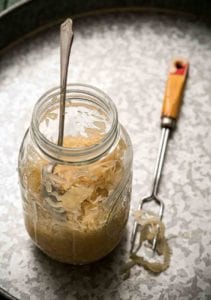 Single-Quart Sauerkraut
This simple recipe for single-quart sauerkraut allows you to make a small batch in no time at all.
Equipment
Wide-mouthed 1-quart (or 1-liter) jar and a quarter pint jar (125 milliliters), both with tight-fitting lids
Instructions
Sterilize a wide-mouthed 1-quart (or 1-liter jar) and a quarter-pint (125 milliliters) jar.

Cut the cabbage in half and remove the core. Finely shred the cabbage. Place the cabbage in a large bowl and sprinkle the salt on top. Using clean hands, knead in the salt, squeezing firmly to help release the liquid from the cabbage. This should take 3 to 4 minutes. When the volume of cabbage appears to have reduced by half, add the caraway seeds, if desired, and work them in.

Pack the salted cabbage and liquid into the sterilized 1-quart jar a little at a time, firmly pressing down each time before adding more (the entire 2 pounds cabbage should fit into the 1-quart jar, though you may have to pack it tightly).

Press the cabbage down firmly in the jar, so that liquid bubbles up over the surface of the jar. Fill the quarter-pint jar with clean water, put a lid on it, and fit it into the mouth of the larger jar. It will serve as a weight and help keep the cabbage below the liquid level.

Place a clean cloth or thin towel over the top of the jars and secure it with a rubber band. Set the jars on a small plate or saucer to catch any runoff. Place the jars and plate in a cool spot out of direct sunlight for 2 weeks. [Editor's Note: Ideally, you want to ferment your sauerkraut someplace that's between 60° and 70°F (16° and 22°C). If you keep your home below 60°F (16°C) during the winter months, it will still ferment, but it may take longer.] Make sure to check your sauerkraut every other day, lifting the small jar and skimming any scummy bloom that may have appeared. Press the small jar down if any cabbage has floated to the top of the liquid.

☞ TESTER TIP: Be forewarned: The sauerkraut mixture will be a bit stinky. That's normal. Deal with it.

After 2 weeks, taste the sauerkraut. If you like the flavor, ditch the small jar, cover the large jar with a lid, and place it in the refrigerator. If you want something a bit stronger, let it continue to ferment until the flavor pleases you. The sauerkraut will keep in the fridge, covered, for up to several days.
Nutrition
Serving:
1
serving
Calories:
6
kcal
Carbohydrates:
1
g
Protein:
0.3
g
Fat:
0.03
g
Saturated Fat:
0.01
g
Polyunsaturated Fat:
0.01
g
Monounsaturated Fat:
0.01
g
Sodium:
222
mg
Potassium:
39
mg
Fiber:
1
g
Sugar:
1
g
Vitamin A:
22
IU
Vitamin C:
8
mg
Calcium:
9
mg
Iron:
0.1
mg
Nutrition information is automatically calculated, so should only be used as an approximation.
Recipe © 2014 Marisa McClellan. Photo © 2014 Steve Legato. All rights reserved.
---
Recipe Testers' Reviews
I love this single-quart sauerkraut recipe. It tastes fresh, remains slightly crunchy, and isn't as sour or acidic as what you buy in the store.
I had a large head of cabbage, so I cut off 2 pounds worth and sliced it by hand, but a mandoline or food processor would work well for this, too. The 2 pounds cabbage miraculously fit into the quart jar when I packed it tight. After 2 weeks, though, only about 2/3 of the jar will be filled with your sauerkraut.
I made this recipe in the late fall and stored it in my uninsulated garage. I didn't have a quart-size jar so I used a glass water bottle and it worked perfectly. I didn't really get much bloom and didn't have anything to remove.
I tasted the sauerkraut after 2 weeks and liked the mild flavor, so I moved it to the refrigerator.
I'm of Polish heritage, so I can do a lot with cabbage, but when my sister-in-law gifted me with, no kidding, a 5-pound specimen from her CSA, I was a little flummoxed. I've never made sauerkraut before, but it's ridiculously easy, and, with a little forethought, I may never have to buy it again.
Anyway, I chopped off 2 pounds of the bowling-ball sized cabbage. Two pounds shredded on the mandoline yielded 3 1/2 quarts. I salted the cabbage and massaged it down to 1 quart in only a few minutes. I packed the cabbage very tightly, added the liquid from the bowl, and topped it with a quarter-pint jar filled with water, as instructed. This fits perfectly in the mouth of a quart jar and does indeed keep the cabbage below the level of the liquid. An old kitchen towel secured with a rubber band topped the jar, which I set on a plate and stuck in a corner of the dining room for 2 weeks.
I checked it diligently every other day or so, but did not get any bloom. At the end of the two-week period, I tested it. It was fermented but not overly sour. The cabbage still had some freshness and crunch. I suspect that my house has been chilly at night, which would slow the fermentation process. I could have left it for another week or two, but as I won't be using it till Christmas time, I decided to let it slowly ferment in the fridge.
It will be a key ingredient in the Polish kapusta, or cabbage soup, that will be served on Christmas Eve.
Easy peasy, indeed.