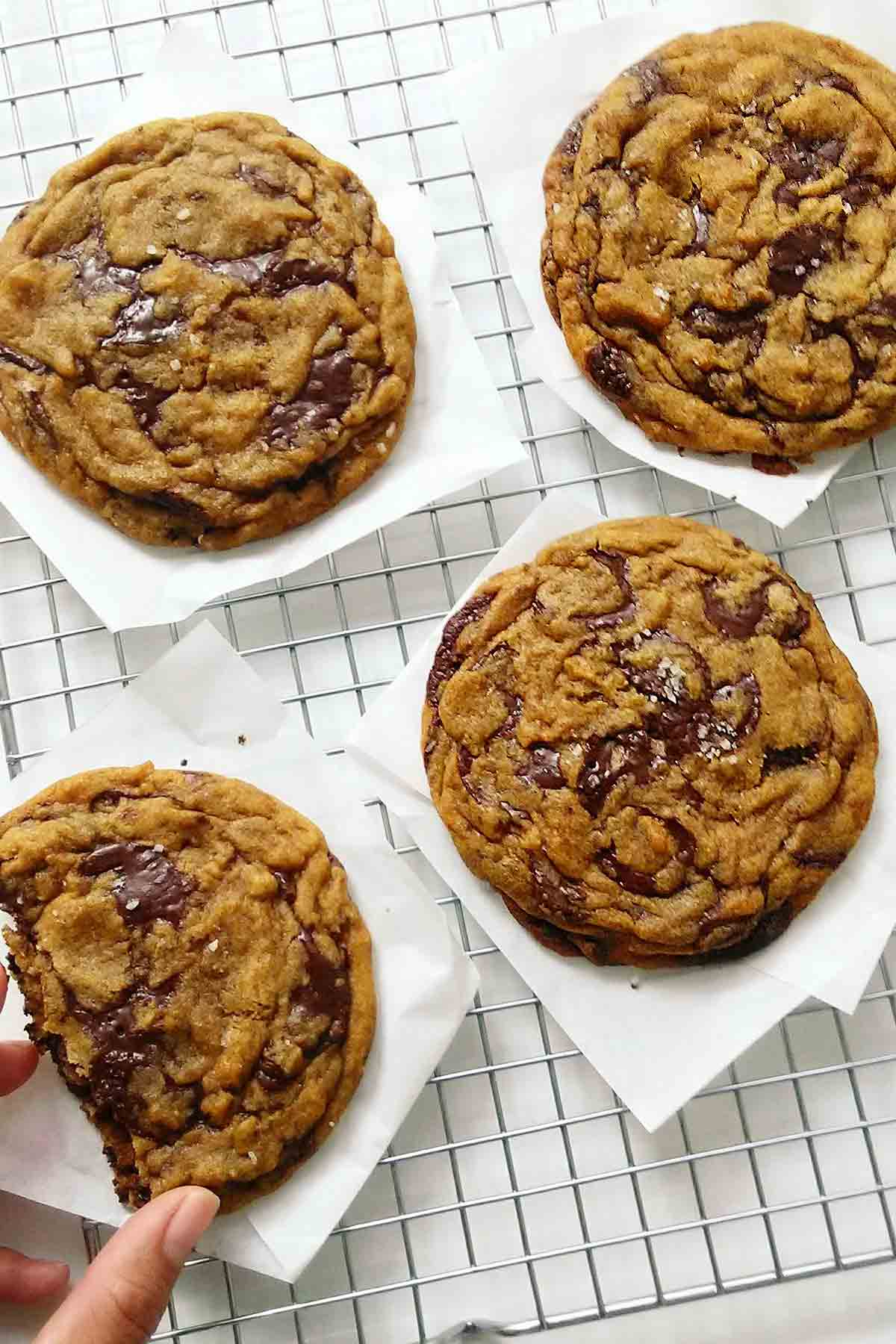 Every writer secretly hopes to be part of something that goes viral. Wildly viral. Worldwide, globally, and internationally viral. I, fortunately, have had it happen a few times. But none went more viral than the New York Times chocolate chip cookies.
The idea for the story came about unexpectedly. I'd just won a James Beard Award for the article on New England's fried clam trail I wrote for the New York Times. Pete Wells, the editor of the dining section at the time, and I had lunch. He asked me what I would like to write about next.
"Chocolate chip cookies," I replied, stuffing escargot into my mouth.
He paused. "What could you possibly add to the canon of chocolate chip cookies that isn't already known?"
I shrugged. "I don't know, but I'd like to try."
Skeptical, he agreed to give me the time to research the idea, but no commitment of an article.
Over the following six months, I went to every bakery and talked to every baker and cookbook author I could think of. I studied recipes across the internet. I made so many lackluster recipes that couldn't even best the supermarket staple: Nestle's Toll House Chocolate Chip Cookie Dough.
But it was through offhanded comments while I interviewed and worked with New York's best bakers that I found something new.
Did I create the recipe? Nope. The basic recipe belongs to Jacques Torres. My contribution was folding in the wisdom and techniques of many, many other bakers. And the resulting cookie is far, far greater than the sum of its parts.
People often ask me when I knew the recipe would be a massive hit. It was the following Friday, two days after the Times's article came. First, Pete Wells called me to congratulate me, saying the recipe was shared more times than Maureen O'Dowd's weekly column. I was chuffed!
But I saw how popular the recipe was when I walked into New York Cake, a baking supply store, on a stifling hot day that weekend. There was a huge line snaking out the door. Most of the customers were holding the recipe and asking for the couverture discs–the ultra-melty, intensely-flavored chocolate that makes those beautiful puddles of chocolates in the cookies. The store didn't have any, much to the chagrin of the customers. They got them in the following week. Not long after, the King Arthur Baking Company and William Sonoma started carrying the discs, too. It seemed everyone was trying to cash in on the trend.
What I'm most proud of, though, is the article and recipe have forever changed how bakers bake cookies. If you age your cookie dough, use couverture chocolate, or sprinkle the tops of your cookies with sea salt, it's most likely because of the recipe.
To use a mixed metaphor, the cherry on top of the sundae is the recipe is one of the New York Times's 20 most saved recipes of all time. Who can want more than that?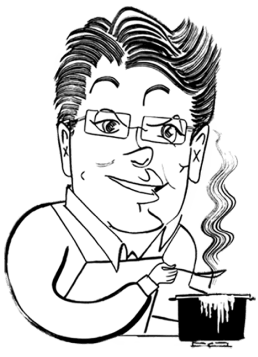 Why Our Testers (and the Internet)
Loved This
The testers unanimously agreed that these are the "best cookies EVER!" Lori W. calls the New York Times' chocolate chip cookie recipe her "tried-and-true, fail-safe, go-to, wow-them cookie recipe."
What You'll Need to Make This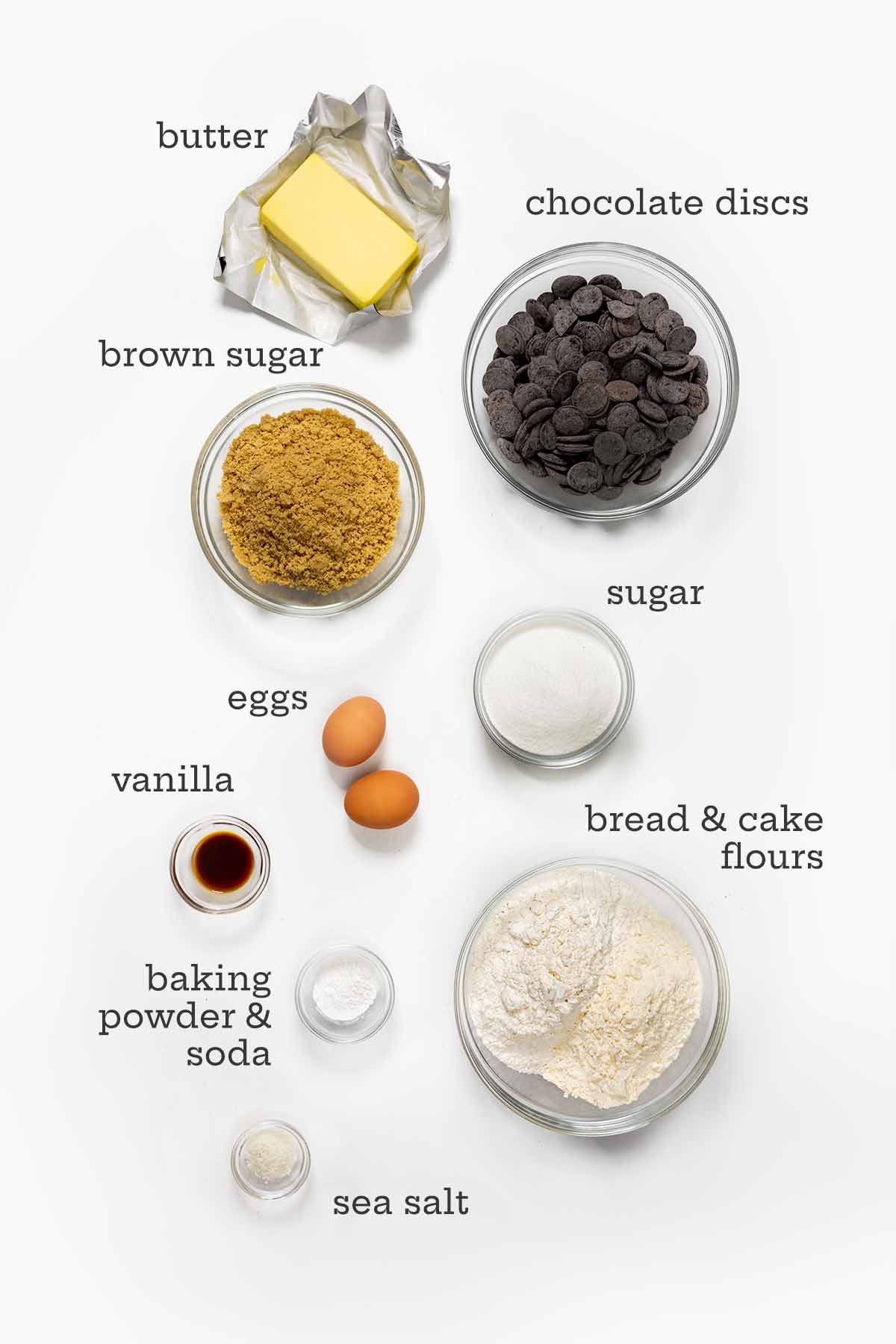 Flour–To create the perfect cookie texture, this recipe uses a mixture of cake flour and bread flour.
Vanilla extract–The real stuff only, please!
Bittersweet chocolate discs or fèves–This type of chocolate has the best melting texture, thanks to the higher cocoa butter content. If you aren't able to locate them near you, you can purchase chocolate fèves online. Be sure to choose ones that are at least 66% cacao.
How to Make This Recipe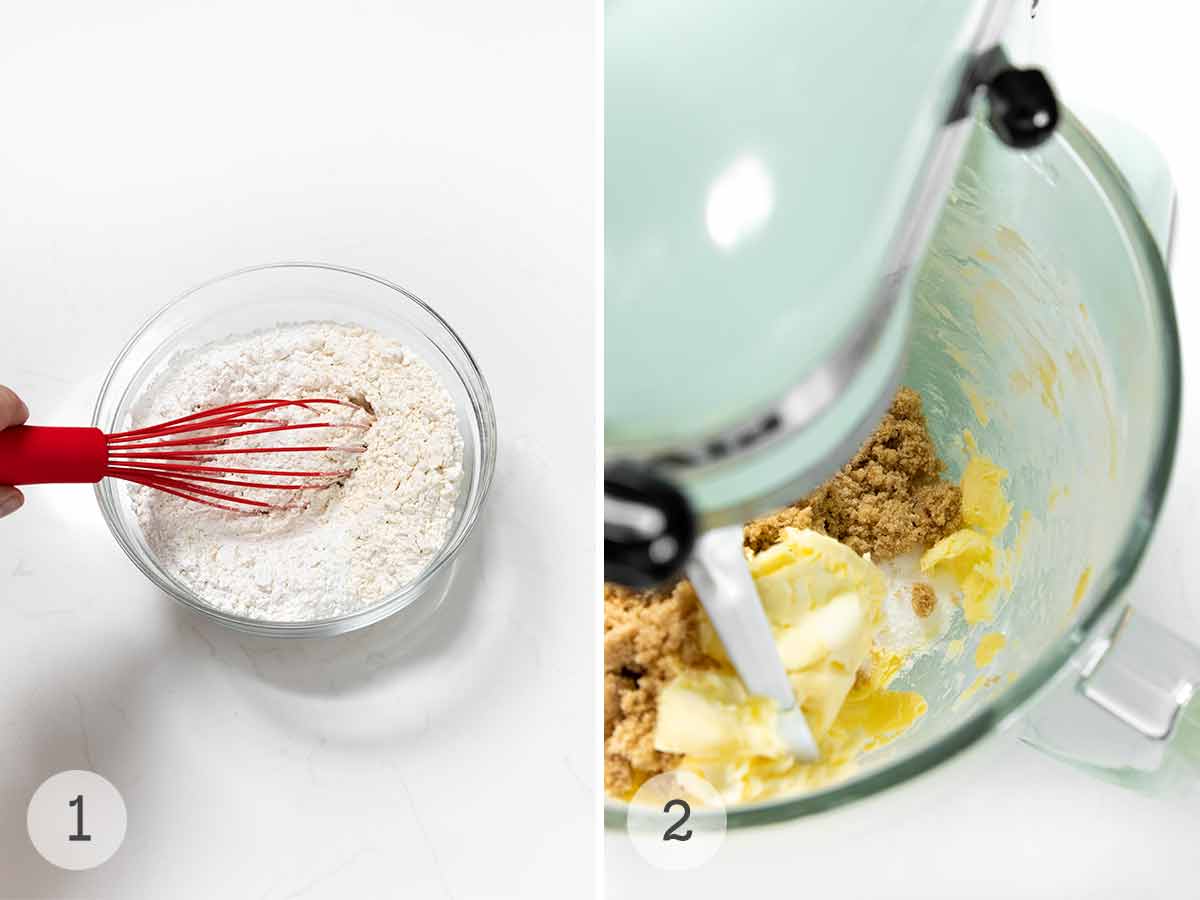 Whisk the flours, baking soda, baking powder, and salt together in a bowl.

Combine the butter and brown and granulated sugars in a mixer.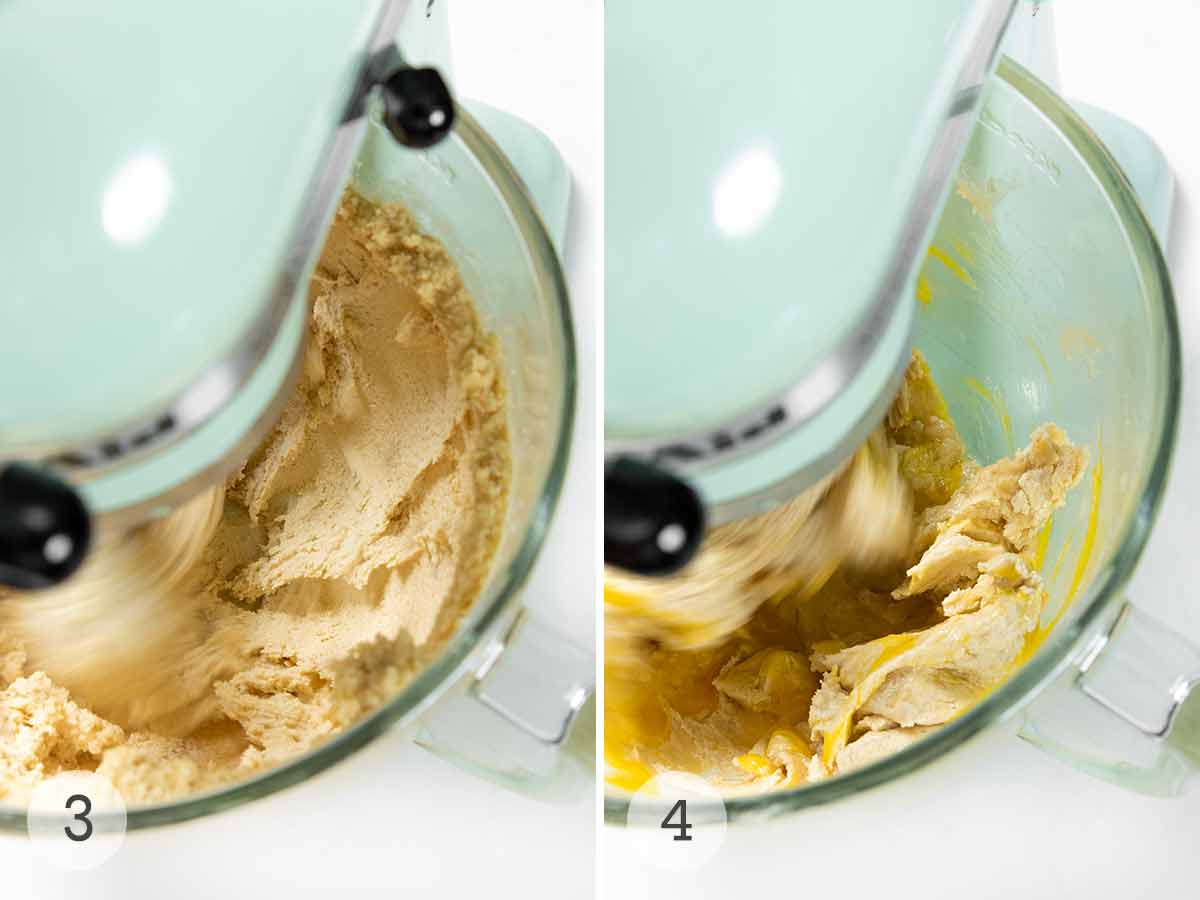 Beat until light and fluffy.

Add the eggs one at a time. Mix well between each addition.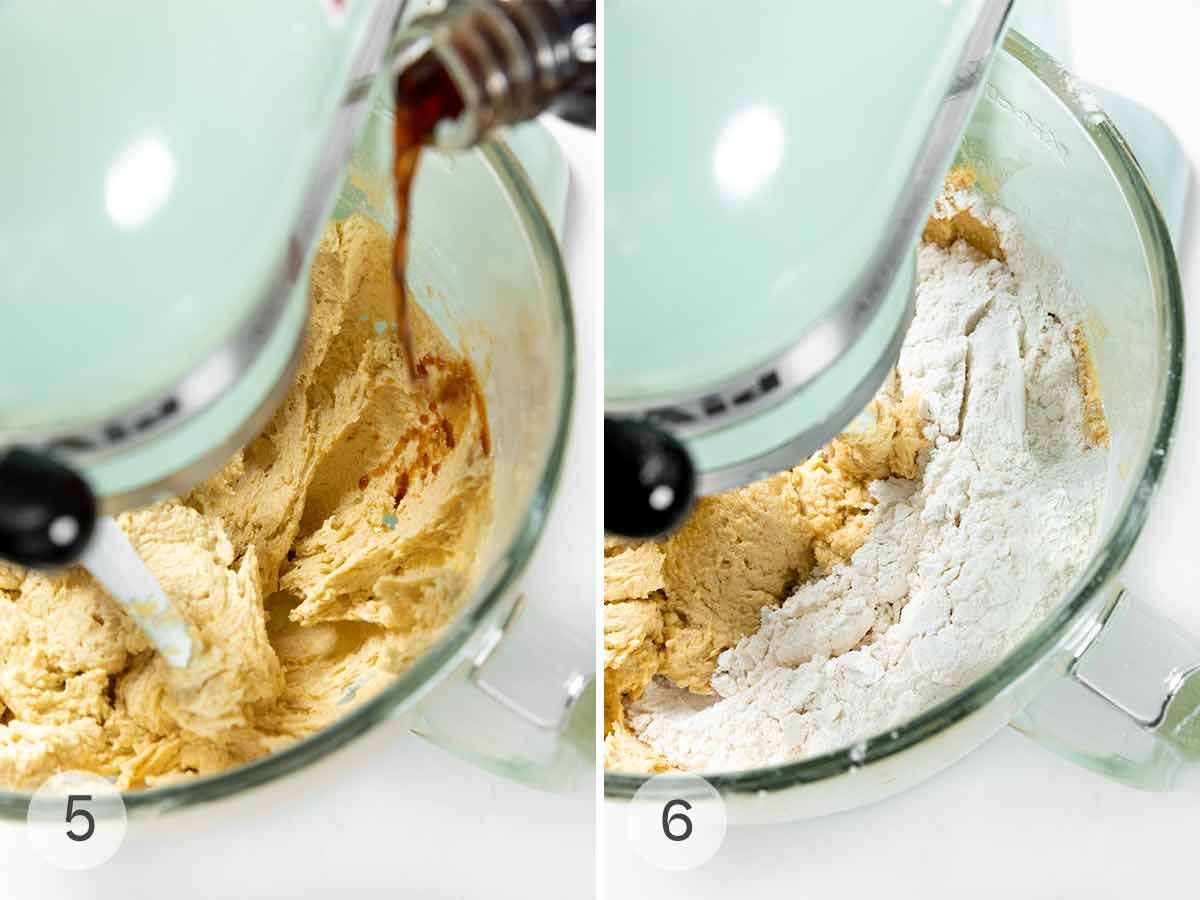 Stir in the vanilla.

Add the dry ingredients to the mixer and mix on low speed until just combined.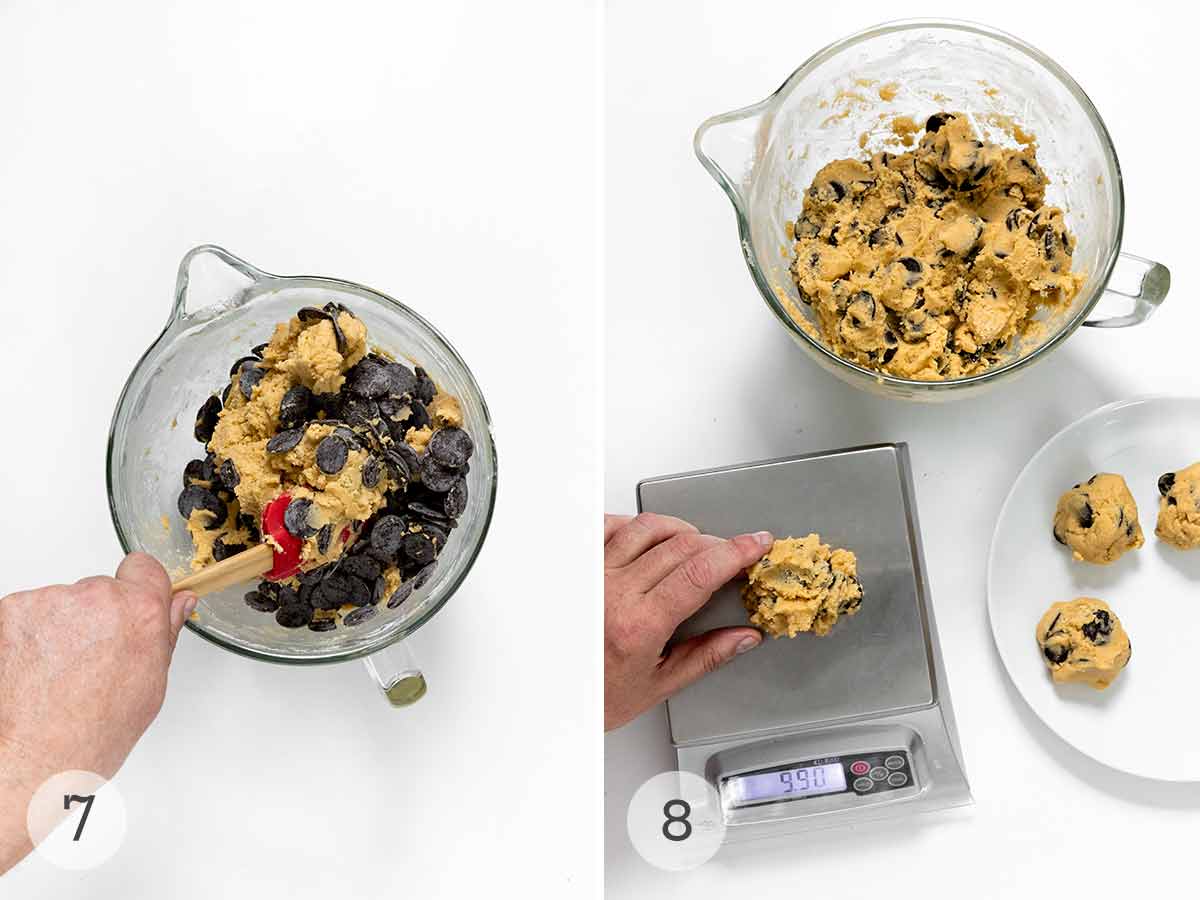 Mix the chocolate discs in with a spatula. Cover and refrigerate the dough for 24 to 36 hours.

Weigh out 3 1/2-ounce balls of dough. Bake on a parchment-lined baking sheet until golden brown. Cool slightly before serving.
Common Questions
How is the NY Times Chocolate Chip Cookie Different?
1. The recipe calls for dark chocolate couverture discs or feves (French for "beans" due to their shape) containing at least 60% cacao content. I prefer Belcolade. Valrhona sells excellent feves. Because the discs and feves have a much higher cocoa butter content, they melt superbly. If you've ever noticed your chocolate chips don't lose their pointy-hat shape after baking, that's because they're compound chocolate. They contain vegetable fats, such as coconut oil, soy, or palm kernel oil, instead of cocoa butter.

2. The dough is aged. This means putting the tightly-covered dough in the fridge for 36 hours. Now, don't fight me on this! Magic–in the form of food chemistry–happens in that time. The eggs and butter hydrate the flour, changing the cookie's texture, color, and flavor. This is the most crucial difference, and it's non-negotiable. You'll never truly experience the real deal if you don't rest the dough.

3. Sea salt. When I wrote the article, sprinkling sea salt on sweets wasn't typical. Dorie Greenspan told me a few French bakers were doing it, and The One and I saw candy bars topped with a crunchy smattering of sea salt while in St. Petersberg, Russia, in 2004. It adds so much to the final taste by balancing the flavors.
Can I use chocolate baking bars instead of discs?
I've used baking bars, but because the chocolate is different, you won't get the same incredible melting as you would with the discs. The discs are couverture chocolate, which is used for enrobing truffles and candy. It has a higher cocoa butter content. But if the bars are all you can find, go for it!
Why is my cookie dough crumbly?
You likely have too much flour in your dough. I recommend that you always weigh your ingredients as it can be easy to overpack flour into measuring cups when using volume measurements.
Can you freeze these cookies?
Yes. Once you've prepared your cookie dough, shape the dough into balls, place it in a resealable bag, and stash it in the fridge for 36 hours. After the dough has aged, tuck it in the freezer and bake off the cookies as you need them.

The cookies can be baked from frozen or thawed before baking. The cookies will take a few extra minutes to bake if frozen.
Helpful Tips
For best results, always weigh your ingredients.
Store the cookies in a sealed container at room temperature for up to 1 week, or freeze the unbaked cookie dough for up to 6 months.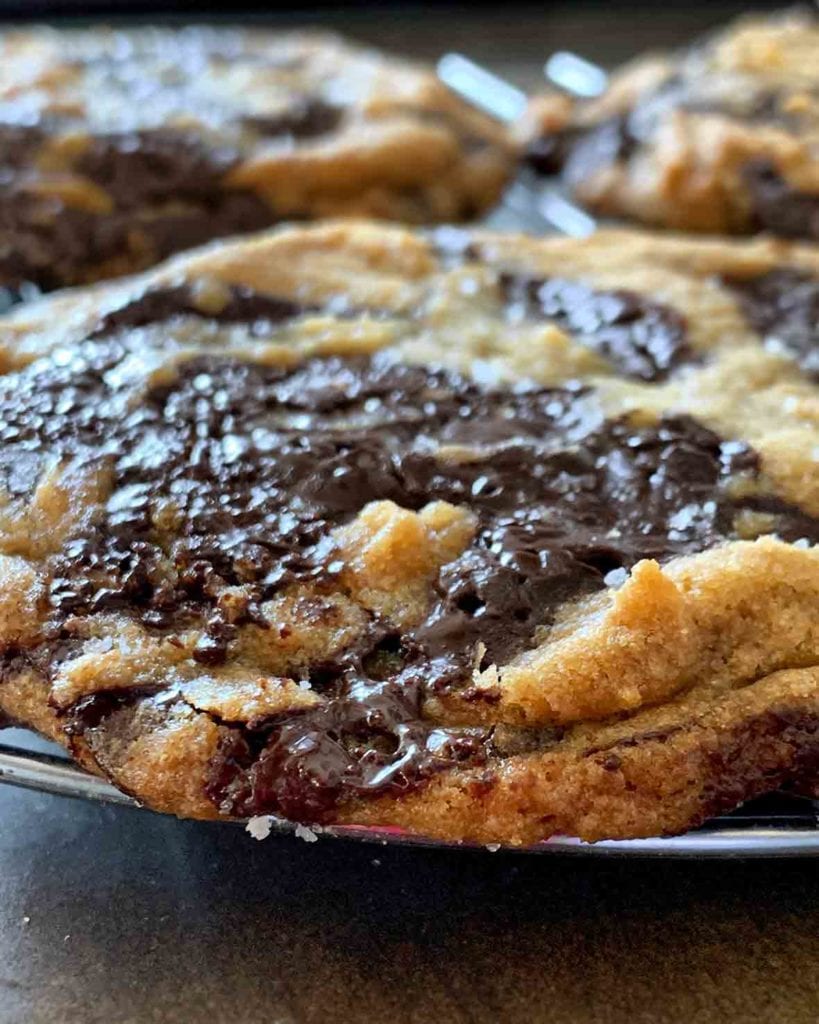 More Sweet Chocolate Chip Cookie Recipes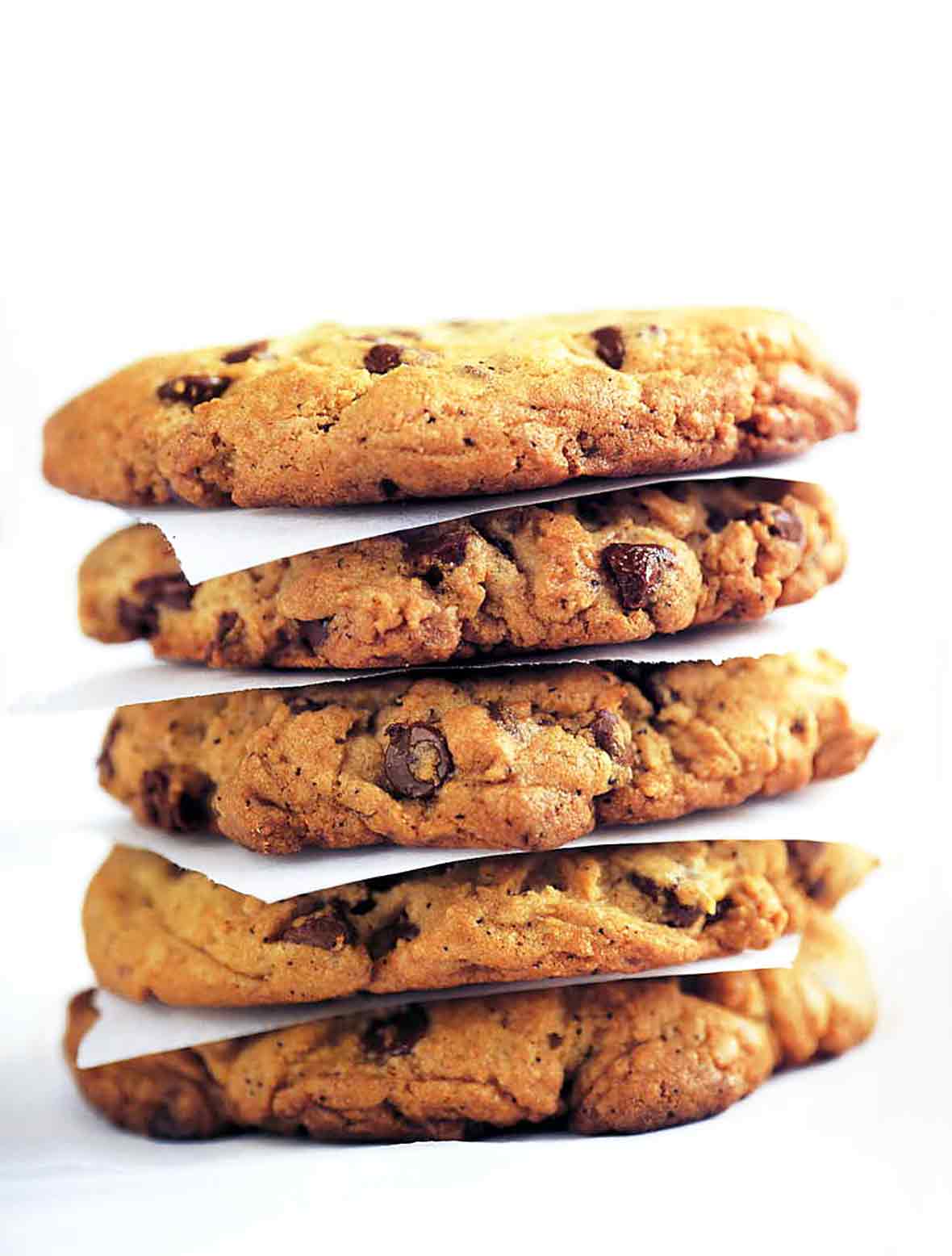 How-to Video
Write a Review
If you make this recipe, or any dish on LC, consider leaving a review, a star rating, and your best photo in the comments below. I love hearing from you.–David
These are our favorite! These aren't your everyday chocolate chip cookies. They have a really intense flavor and are a bit more time-consuming, but so worth it.

The bittersweet chocolate makes these feel more gourmet. The cookie itself is big and a really good chewy structure. I keep these on hand in the freezer. The dough is perfect to freeze and bake off as needed. A very impressive cookie!

Hilary M.
New York Times' Chocolate Chip Cookies
Say hello to the recipe that started an Internet craze and made bakers rethink how to make cookies. This originally appeared in an article I wrote for the New York Times on July 9, 2008. What makes them so damn special is the dough is refrigerated for 36 hours for a more complex flavor and greater variation in texture. Sea salt is the finishing touch.
Ingredients
2

cups minus 2 tablespoons

cake flour

1 2/3

cups

bread flour

1 1/4

teaspoons

baking soda

1 1/2

teaspoons

baking powder

1 1/2

teaspoons

kosher salt

2 1/2

sticks

unsalted butter

,

at room temperature

1 1/4

cups

light brown sugar

1

cup plus 2 tablespoons

granulated sugar

2

large

eggs

,

at room temperature

2

teaspoons

natural vanilla extract

1 1/4

pounds

bittersweet chocolate discs or Valrhona fèves

,

at least 60 percent cacao content

Sea salt
Instructions
Sift flours, baking soda, baking powder and kosher salt into a bowl. Set aside.

Using a stand mixer fitted with paddle attachment, cream butter and sugars together until very light, about 5 minutes.

Add the eggs, one at a time, mixing well after each addition. Stir in the vanilla.

Reduce speed to low, add the flour mixture and mix until just combined, 5 to 10 seconds.

Drop the chocolate chunks in and incorporate them without breaking them. You may have to do this by hand with a spatula.

Press plastic wrap against dough and refrigerate for 24 to 36 hours. (I vote 36 hours.) Dough may be used in batches, and can be refrigerated for up to 72 hours.

☞ TESTER TIP: To make handling the dough easier, you can form the dough into balls now and refrigerate in a resealable plastic bag.

When you're ready to bake, fire up the oven to 350° (176°C). Line a baking sheet with parchment paper or a nonstick baking mat. Set aside.

Scoop six 3 1/2-ounce mounds of dough (the size of generous golf balls) onto a baking sheet, making sure to turn horizontally any chocolate pieces that are poking up; it will make for a more attractive cookie. You can also freeze the balls in a resealable plastic bag.) Sprinkle lightly with sea salt.

Bake the cookies until golden brown but still soft, 18 to 20 minutes. You'll know the cookies are done when the tops have the caramel folds of a Shar Pei.

Transfer sheet to a wire rack for 10 minutes, then slip cookies onto another wire rack to cool a bit more. Repeat with the remaining dough. Eat warm, with a big napkin.
Notes
Weigh your ingredients–For best results, always weigh your ingredients.
Storage and freezing–Store the cookies in a sealed container at room temperature for up to 1 week, or freeze the unbaked cookie dough for up to 6 months.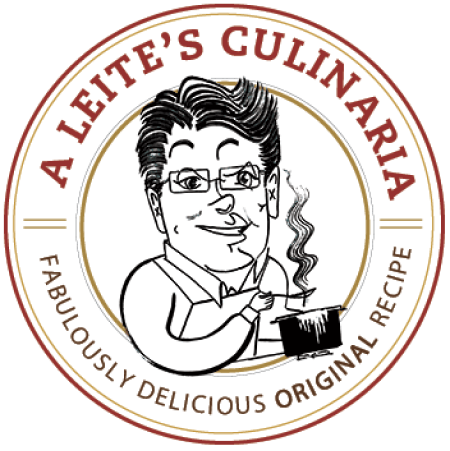 Nutrition
Serving:
1
cookie
Calories:
520
kcal
Carbohydrates:
73
g
Protein:
7
g
Fat:
25
g
Saturated Fat:
15
g
Polyunsaturated Fat:
1
g
Monounsaturated Fat:
7
g
Trans Fat:
1
g
Cholesterol:
54
mg
Sodium:
290
mg
Potassium:
196
mg
Fiber:
3
g
Sugar:
42
g
Vitamin A:
423
IU
Calcium:
48
mg
Iron:
1
mg
Nutrition information is automatically calculated, so should only be used as an approximation.
Recipe © 2008 David Leite. Photos © 2023 David Leite. Photo © 2012
cokelatia
. All rights reserved.
---
Recipe Testers' Reviews
I've searched high and low for several years trying to find the greatest chocolate chip cookie recipe. Thankfully, David Leite has done the footwork for us. I've made this recipe several times now, and the very first time I made it, I knew I had encountered some otherworldly magic.
This chocolate chip cookie is THE cookie against which all cookies should be measured. I've made these to impress friends and colleagues and even to help me woo my new wife.
When you give these cookies to friends or family, expect EVERY comment to be overwhelmingly positive. Every single person who has tried one of these cookies has had the same reaction: "OMG! This is the best cookie EVER!"
When I make this recipe exactly as it's written, it makes huge 3 1/2 ounce cookies—just 1 perfect cookie per person is a great dessert, nothing more needed.
Exactly one month ago, I made these cookies for my annual Christmas cookie exchange at my friend Anita's in Cincinnati. I started by making 40 pounds of cookie dough.
I decided to make 1 1/2 ounce cookies, which are a normal size. I had to adjust the baking time because the cookies were less than half the size the recipe called for. Exactly 13 minutes at 350ºF worked perfectly. My yield was between 40 and 42 cookies per batch.
Needless to say, I won the cookie exchange. I made far more dough than was needed, so I divided the leftover dough into 1-pound batches, rolled the dough into 12-inch logs, and tightly wrapped them in plastic wrap. Next, I filled 1-gallon resealable plastic bags with the cookie logs, forcing the air out, and stacked the logs in the freezer. The cookies I made with the frozen dough tonight are as perfect as the cookies I made from the unfrozen dough a month ago.
On a final note, the cookies are wonderful warm, but they're delicious a few days later, cold. I promise you, if you make these cookies, you'll soon find yourself referring to them as "My Cookies."
I will go to this chocolate chip cookie recipe again and again because these are the best I have ever baked. I had some fleur de sel I used to sprinkle on the top. This sure did bring out the sweetness of this ultimate cookie!
Nice and gooey right out of the oven. Of course, this is the only way to have them. Yum….Thanks, David.
I rarely give a recipe a 10, but having made this chocolate chip cookie recipe for the last 6 years, literally hundreds of times, I can say above and beyond all other recipes, this one deserves a 10. This is my tried-and-true, fail-safe, go-to, wow-them cookie recipe.
But last month, to my shock and horror, my batch of these cookies spread out thin and did not have the same amazing texture as all the previous batches. Baffled, I made them again with the same poor results. Truly a crisis!
I sent out a 911 email to my fellow Leite's Culinaria recipe testers. After confirming I was using the same brand of chocolate, flour, and butter as always, David Leite asked me to call him. David went through each ingredient and asked a lot of questions, about my scale, my ingredients, including was my baking powder still good (who knew you could test your baking powder by adding a spoonful to hot water, if it fizzes it is good), and everything was fine.
He then picked up on the fact I keep my huge Sam's Club bag of flour in the garage. With the current heavy rains and humidity, it had definitely picked up moisture. He then explained how if my flour had added moisture and I am weighing my flour, I was not only adding less flour than intended (part of the weight is water weight), but I was adding undesired water to my dough. I purchased new flour that I now store inside the house and attempted the recipe again. Perfection.
Thank you, David, and all the testers who continually help me improve. Hope this information helps someone else.