S'mores purists may scoff, but that's cool because then there are more candy bar s'mores for us. Besides, it's hard to argue when your mouth is full of sweet, salty, peanut-butter-cup–marshmallow-graham gooeyness.
I just love how the broiler steps up to let us have this classic summertime staple even in the colder months, or when we need to please a s'more-hungry crowd. You can use your favorite chocolate candy bar for this special treat.–Molly Gilbert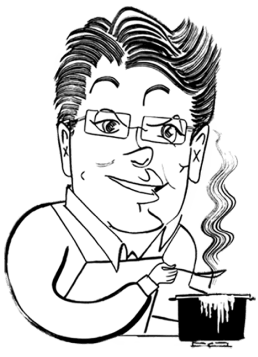 Why Our Testers Love This
The big draw for our testers? How quickly these treats came together. Ten minutes tops. They also loved the ability to riff. Sarah Heend remarked she loved the resulting "warm, soft marshmallows and chocolate that calmed our sweet cravings."
Common Questions
When were s'mores invented?
While there's some confusion (some would say mystery) surrounding when the campfire treat was invented, the first recorded recipe for "Some Mores" appeared in the 1927's "Tramping and Trailing with the Girl Scouts." The original recipe called for 16 graham crackers, 16 marshmallows, and eight Hershey's chocolate bars. The rest is culinary history.
What's the best chocolate for s'mores?
Hershey's milk chocolate bars have always been the go-to chocolate for classic s'mores. But for this quick version in the oven, our testers have given the thumbs up to peanut butter cups, chocolate-coated coconut bars, chocolate-covered peppermint patties, and leftover Christmas almond bark. Honestly, anything that's chocolate will work.
What can I use instead of graham crackers for s'mores?
Looking to gussy up things? You give a nod to the treat's origin by using your favorite Girl Scout cookie. Thick, wavy potato chips are also an option, as are speculoos, gingersnaps, and molasses cookies.
Write a Review
If you make this recipe, or any dish on LC, consider leaving a review, a star rating, and your best photo in the comments below. I love hearing from you.–David
Candy Bar S'mores
"Fun-size" Halloween candy definitely fits the bill (I'm into mini Kit Kats and Almond Joys or regular-size Reese's cups), but luckily, leftover candy from Easter, Valentine's Day, and Christmas make it possible for us to have creative holiday-themed s'mores year round.
Ingredients
12

graham crackers

,

broken into 24 squares

12

pieces

"fun-size" chocolate candy bars

,

such as Kit Kats, Almond Joys, or regular-size Reese's cups

12

large marshmallows puffs
Instructions
Preheat the broiler and adjust the oven rack to about 4 inches from the heat source. If easy cleanup is desired, line a baking sheet with aluminum foil.

Place half the graham cracker squares on the prepared baking sheet and top each square with a wee candy bar. Place a marshmallow on top of each piece of candy.

Slide the baking sheet on the rack and broil, with the oven door ajar and your watchful eye on the s'mores, until the marshmallows begin to brown on top. This can take as little as 20 seconds, depending on your oven.

Remove the baking sheet from the oven and carefully use a pair of kitchen tongs to grasp each marshmallow on the side and flip it (yep, flip just the marshmallow) so the uncooked side now faces up. Broil the s'mores, again watching carefully, until the second side of each marshmallow is good and toasty, another 20 seconds or so.

Remove the baking sheet from the oven and gently squash each marshmallow with 1 of the remaining graham crackers, pressing gently until everything adheres. What are you waiting for?!
Nutrition
Serving:
1
s'more
Calories:
88
kcal
Carbohydrates:
17
g
Protein:
1
g
Fat:
2
g
Saturated Fat:
0.5
g
Polyunsaturated Fat:
0.1
g
Monounsaturated Fat:
1
g
Cholesterol:
0.03
mg
Sodium:
98
mg
Potassium:
32
mg
Fiber:
1
g
Sugar:
7
g
Vitamin A:
0.4
IU
Calcium:
12
mg
Iron:
1
mg
Nutrition information is automatically calculated, so should only be used as an approximation.
Recipe © 2012 Molly Gilbert. Photo © 2012 Molly Gilbert. All rights reserved.
---
Recipe Testers' Reviews
This choose-your-chocolate approach to s'mores had me dreaming of a dark chocolate and marshmallow combo, so I tried these candy bar s'mores with a dark chocolate peanut butter cup and also with just a plain-Jane piece of dark chocolate almond bark.
I'm dreaming of a Mounds bar option—do they still make them?! Or dark chocolate Snickers?! I'm also going to be searching for dark chocolate-dipped dried pineapple. And then…well, the possibilities of personalizing these s'mores are fairly endless!
The flipping-the-marshmallow-over process was a little complicated and not wholly successful, but it doesn't really matter if it gets messy since it's all going to be smooshed together between the graham crackers anyway! Definitely enjoy it immediately—this is not at all a keeper.
P.S. "Serves 12" presumes just one s'more per person, and with so many candy options to choose from, well, that just seems a little skimpy to me.
I pulled out this s'mores candy bar recipe on a cold Thursday night when we needed a small dessert but didn't feel like getting out the mixing bowls.
We had just enough graham crackers to make two s'mores, 1 for me and 1 for my son. We also had two sad, slightly old marshmallows that had been languishing in the back of the pantry. And we had bits of leftover Christmas candy along with a few chocolates from an early Valentine's present.
We fired up the broiler, and in less than 10 minutes, we had warm, soft marshmallows and chocolate to calm our sweet cravings. Not bad for pantry dregs!
We did miss the toasty caramel notes of a true fire-roasted marshmallow, but in the middle of winter, these will do quite nicely.
The marshmallows took 30 seconds per side to show a hint of color. I used a mini Reese's peanut butter cup. Both the peanut butter and the chocolate got nice and gooey in the oven.
My son used a Peppermint Patty. I thought mint and marshmallow was a weird combo, but he was happy.
The tongs worked well to turn the marshmallows—the top of the marshmallows were gooey, but the sides were not. Watch everything closely. The marshmallows started to smoke before they were very brown at all. I pulled mine out right then, but I imagine they could go from lightly toasted to black in seconds.