Apricot galette. It may sound fancy although it's actually simple as can be to toss together…and still impressive as heck. Here's how to make it.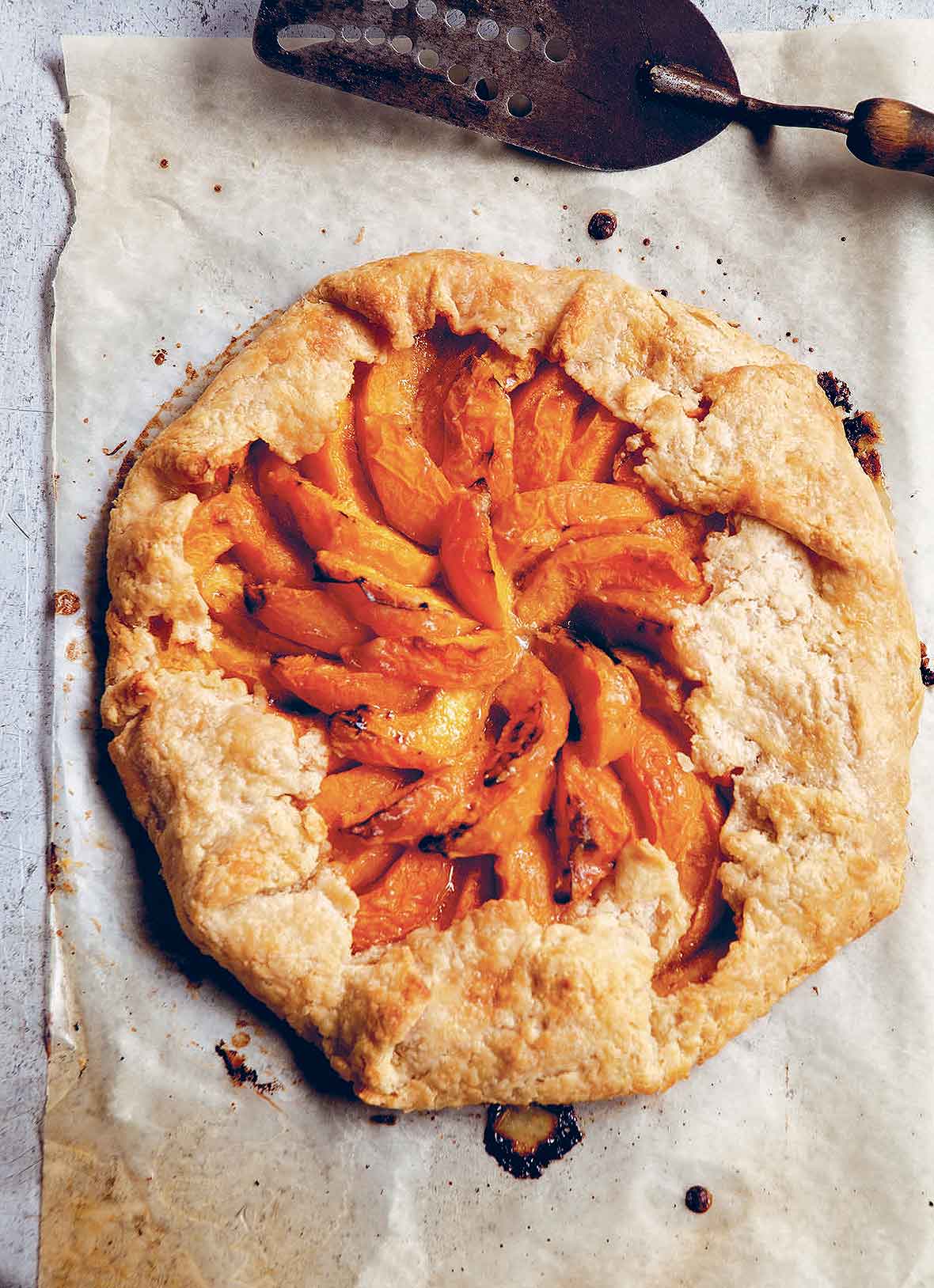 Does pastry that won't rip or tear or sag or crumble elude you? Are you all thumbs when it comes to the perfect crimp? Your solution is this apricot galette from The Kitchn. You get to subtract the crimp because it's just not necessary. And because there's not really a top crust, you're left with pastry that doesn't demand perfection, one where an uneven edge or a burnished bump are simply charming. It's the perfect ruse when you're expecting guests, seeing as the galette, by definition, is perfectly imperfect. That's what recipe tester Lou Ann Traster says (and she does so rather eloquently, don't you think?) and the rest of us couldn't agree more. Originally published July 20, 2015.–Renee Schettler Rossi
LC Perfectly Imperfect Note
Although this apricot galette is, indeed, perfectly imperfect, to ensure your pastry imperfections are all of the acceptable sort, do yourself a favor and make sure that your butter is really cold and that your kitchen isn't sweltering before throwing this lovely little number together. And yeah, we share your frustration that this stone fruit recipe is only feasible during summer when your kitchen tends to be its most sweltering. (Shakes fist at the irony.) A lot of home bakers freeze the butter before slicing and dicing it, which prevents the butter from melting in the oven before the water contained within it evaporates, which in turn creates the air pockets needed for a flaky crust.
Apricot Galette
Quick Glance
45 M
2 H

Makes one 12-inch galette
Print Recipe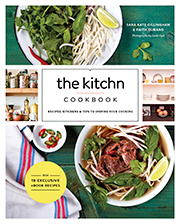 Ingredients
Email Grocery List
For the crust

1 1/2 cups unbleached all-purpose flour

1 tablespoon granulated sugar

1/2 teaspoon sea salt

10 tablespoons cold unsalted butter (5 oz), cut into 1/4-inch (6-mm) cubes

2 to 6 tablespoons ice water

For the apricot filling

3 tablespoons granulated sugar, plus more to taste

1 tablespoon brown sugar, packed

2 tablespoons unbleached all-purpose flour

1/8 teaspoon sea salt

Small pinch freshly grated nutmeg

1 1/2 pounds ripe apricots, pitted but unpeeled, cut into eighths

1 tablespoon unsalted butter (1/2 oz), cut into 1/4-inch (6-mm) cubes

1 tablespoon heavy cream

Whipped cream, crème fraîche, or ice cream, for serving
Directions
Make the crust

1. Combine the flour, sugar, and salt in a food processor and pulse a few times to combine. Scatter the butter pieces over the mixture and pulse until the pieces of butter are about the size of peas. (Alternatively, whisk the flour and sugar together in a large bowl and work the butter in with a pastry blender or 2 knives.)

2. Sprinkle the ice water over the mixture, 1 tablespoon at a time, and pulse once (or gently toss the mixture with a fork) after each addition. Continue adding water and pulsing (or stirring) until the dough forms small crumbly lumps, like cottage cheese, that clump when you pinch them together. Chances are you won't need all 6 tablespoons ice water. Also be careful not to overprocess the dough. It should not form into a ball while still in the food processor. [Editor's Note: These cautions make the pastry sound really fussy, but we swear, it's not. It's actually easy as can be. And just wait, because the finished crust is so buttery and tender and crunchy you're going to be hooked.]

3. Dump the dough out onto a lightly floured work surface and pat it into a 1-inch-thick disk, being careful not to handle it too much. Don't knead the dough. Simply wrap it in plastic wrap and refrigerate for at least 30 minutes. (Or wrap it well in plastic wrap and freeze it for up to 3 months. To use, defrost in the refrigerator overnight.)

Make the apricot filling

4. In a large bowl, combine all but 1 teaspoon granulated sugar, the brown sugar, flour, salt, and nutmeg. Add the apricots and toss until they are evenly coated. Take a nibble and if your eyes scrunch up and your face puckers, add a touch or a ton more granulated sugar, depending on just how puckery the apricots. Some apricots are just tarter than others.

To assemble and bake the galette

5. Position a rack in the lower third of the oven and preheat the oven to 400°F (204°C). Line a baking sheet with parchment paper and set aside.

6. On a lightly floured work surface, roll out the chilled dough to a 14-inch-diameter circle. (If you have trouble rolling the chilled dough, let it rest at room temperature for about 10 minutes and then try again.) Transfer the dough to the prepared baking sheet.

7. Arrange the apricot filling in the center of the crust, leaving a 2-inch border of dough around the edges. Fold the edges over the filling, pinching pleats in the crust as you proceed. Dot the exposed fruit with the cubed butter. Brush the edges of the crust with the cream, and then sprinkle with the remaining 1 teaspoon sugar.

8. Bake the galette for 40 minutes, and then lower the oven temperature to 350°F (177°C) and bake for another 10 to 20 minutes, or until the crust is golden brown and the edges are slightly caramelized. Remove the baking sheet from the oven and set it on a wire rack for a few minutes to cool slightly. Slip the parchment paper with the galette off the baking sheet and onto the wire rack, and allow the galette to cool. Serve warm or at room temperature with a dollop of whipped cream or crème fraîche or a scoop of ice cream. The galette can be covered with plastic wrap and refrigerated for up to 2 days.
Recipe Testers Reviews
Apricot Galette Recipe © 2014 Sara Kate Gillingham and Faith Durand. Photo © 2014 Leela Cyd. All rights reserved. All materials used with permission.
If you make this recipe, snap a photo and hashtag it #LeitesCulinaria. We'd love to see your creations on Instagram, Facebook, and Twitter.