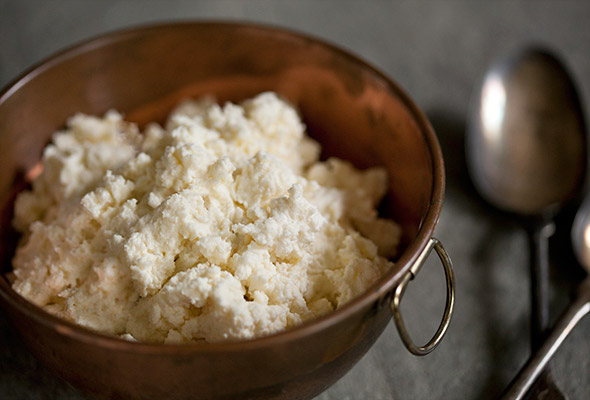 We make ricotta all the time. It couldn't be easier. Ricotta means "twice cooked" in Italian because traditionally it's made from the whey left when making mozzarella. We have used raw milk, goats' milk, organic milk, and supermarket milk, and it works out just fine.–Melissa Hamilton and Christopher Hirsheimer
LC A Ricotta by Any Other Name Isn't Ricotta Note
To echo authors Hamilton and Hirsheimer, it couldn't be easier to make your own ricotta. And to quote The New York Times and their Diner's Journal blog, "Thinking about making ricotta is only marginally easier than actually making it."
Although let's clarify one thing. What the authors and the NYT refer to above isn't ricotta, per se. It's, well, cheater's ricotta. Or what we refer to as "ricotta." (Any time you make "ricotta" by souring milk with a little lemon juice rather than slowly simmering the whey leftover from cheese making, it's only right to use air bunnies around the term.) Whereas this cheater's ricotta is similar to real ricotta in appearance, taste, and texture, it's just not quite the same as can be had from the real deal. Close. But not the same. Oh, and why is it dry looking? The cheese is well-drained for use in ricotta cheesecake. For softer curds, skim the curds immediately from the pot and don't let them drain as long.
Still, it's a quick fix for when you're feeling lazy or your craving for cheesecake just can't wait. If what you want is true ricotta prontamente, no air bunnies, sidle over to a proper cheese counter or a dairy farmer at your local greenmarket where you can find tubs of fresh, creamy, luscious, artisanal ricotta loveliness. (Remember that nursery rhyme about curds and whey? We have to say, we only recently realized how savvy Little Miss Muffett really was.)
Any extra "ricotta" or ricotta that's left in your fridge from your intended use can be drizzled with honey and spooned up for breakfast, slathered on crostini and dribbled with a heady olive oil, tossed with freshly cooked pasta and herbs or vegetables, and…shall we go on? We think you get the idea.
Fresh Whole Milk Ricotta
Quick Glance
Quick Glance
30 M
2 H

Makes 3 cups
Print Recipe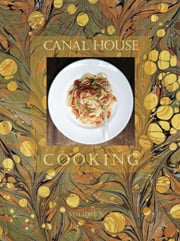 Ingredients
Email Grocery List
Directions
Make a double boiler out of 2 large pots, pouring enough water in the bottom pot to come at least halfway up the sides of the top pot. Pour the milk into the top pot and heat over medium-high heat until the temperature reaches 190°F (88°C) on a candy thermometer, about 15 minutes.
Add the salt, yogurt, and lemon juice to the milk, and stir with a wooden spoon for about 30 seconds to mix everything together. Reduce the heat to low or turn it off.
Maintain the milk's temperature at 190°F (88°C) for the next 25 minutes, lifting the pot out of the water if the milk gets too hot and returning it as the temperature drops. Whatever you do, DO NOT stir the milk while the ricotta curds are forming. After 25 minutes, use a skimmer to carefully lift all the ricotta curds out of the whey and transfer them to a fine-mesh strainer (no need to use cheesecloth) set over a bowl.
Allow the ricotta to drain for about 1 hour, then pour off any of the drained whey from the bowl and gently dump the ricotta from the sieve into the bowl. Transfer to a covered container and refrigerate for up to 4 days.
Print Recipe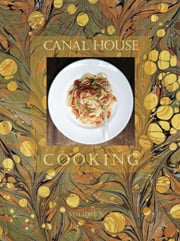 Recipe Testers Reviews

[Elsa M Jacobson]
I was lucky to be in one of the eight states that allows retail sales of raw milk and I purchased raw goat milk to try with this recipe—and it was a huge success! I used only the lemon and no yogurt, and I salted it at the very end because I wanted to experience the goat milk version in its purest form initially. After 15 minutes, I felt I had enough curds to proceed and transferred then. I then took this cheese and made the Goat Cheese with Olives, Lemon, and Thyme without the olives and it was lovely and extra-much appreciated because the cheese was homemade! These homemade cheeses are very perishable and I cannot vouch for being able to keep it in the refrigerator for up to 4 days, in either its plain or its marinated state. It disappeared long before then.
Fresh Whole Milk Ricotta Recipe © 2012 Melissa Hamilton and Christopher Hirsheimer . Photo © 2012 David Leite. All rights reserved. All materials used with permission.
If you make this recipe, snap a photo and hashtag it #LeitesCulinaria. We'd love to see your creations on Instagram, Facebook, and Twitter.