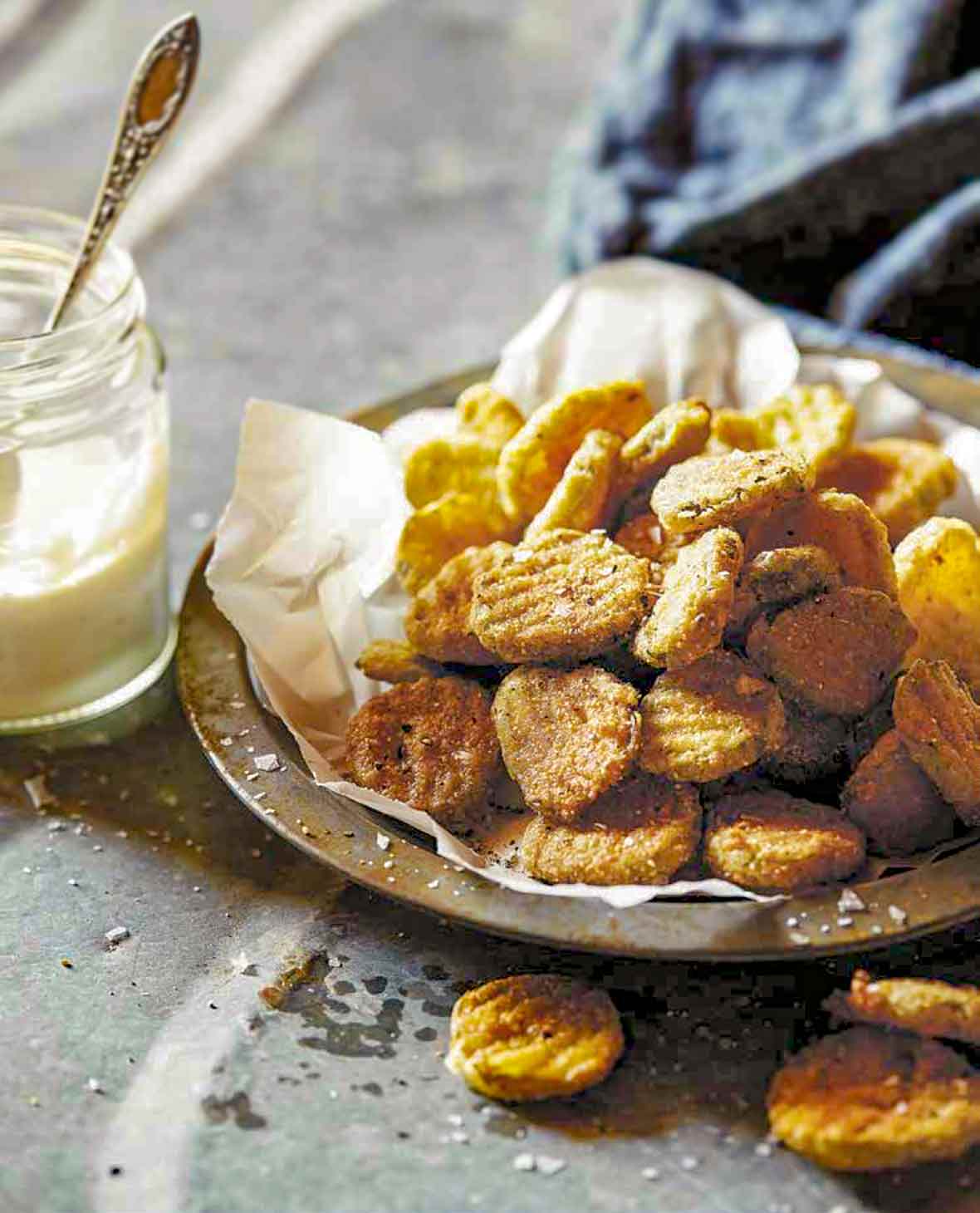 We're told that fried pickles first gained acclaim at state fairs throughout the South, where recipes varied from simple beer battered dills to these, the best fried pickles we've ever experienced, which sorta mimic fried chicken in that they're first dredged in buttermilk and hot sauce before being breaded and fried. This particular recipe comes from Willie's Duck Diner in the author's hometown of West Monroe. They go with anything and everything and everyone, including those who swear to not like pickles.–Renee Schettler Rossi
What To Do With Leftover Pickling Liquid
If, like us, you hate to waste anything edible, then don't you dare let that jarred pickling liquid from the pickles for this recipe slip down the drain. Instead, pour it back into its jar (or your favorite vintage Mason jar with a lid) and toss in whatever veggies you've got on hand—some sliced carrots, cauliflower florets, halved radishes, cucumber slices, or so forth. Screw the lid back on tight and stick the jar back in the fridge. In a few days, you'll have subtly yet surely flavored pickle impostors.
Easy Fried Pickles
These easy fried pickles are a cinch to make and call for cornmeal, hot sauce, buttermilk, and seasoned salt. They go perfectly with beer.
Equipment
Deep-fry or candy or instant-read thermometer
Ingredients
Peanut oil

,

for deep-frying

1

cup

buttermilk

,

(either low-fat or full-fat is fine)

1

tablespoon

hot sauce

,

such as Crystal or Cholula

One

(16-ounce) jar

dill pickle slices

,

drained

1

cup

finely ground cornmeal

1

cup

all-purpose flour

1 1/2

tablespoons

seasoned salt

, such as Tony Chachere's, Lawry's, or even store-bought or homemade Old Bay, plus more to taste

1/2

teaspoon

paprika

1/2

teaspoon

black pepper

1/2

teaspoon

cayenne

,

or to taste

Ranch dressing

,

for dipping (optional)
Instructions
Pour the oil in a large, deep cast-iron skillet or deep-fryer to a depth of about 2 inches. Heat the oil until it reaches 365°F (185°C) on a deep-fry or instant-read thermometer.

In a large bowl, whisk together the buttermilk and hot sauce. Add the pickle slices and gently toss to coat.

In a shallow dish, whisk together the cornmeal, flour, seasoned salt, paprika, pepper, and cayenne.

Use a fork, slotted spoon, or tongs to remove anywhere from 5 to 8 pickle slices from the buttermilk mixture and let the excess goop drip off. Then toss the pickles in the cornmeal mixture and turn each one and ensure its coated lightly and evenly. Slip the coated pickles, 1 at a time, into the hot oil, making sure not to fry too many at once since you want them to float freely rather than be crowded. Fry until the coating is golden brown, 1 1/2 to 3 minutes, depending on how lightly or darkly golden you like your fried things. Use a slotted spoon to transfer the fried pickles to paper towels to drain. Sprinkle the hot pickles with a little more seasoned salt, if desired. Repeat until all the pickles are fried. Between batches, skim and discard any large clumps of cornmeal mixture that accumulate in the oil. Also bear in mind that the most important thing about this entire process is to make absolute certain the oil returns to 365°F (185°C) before adding the next batch of pickles.

Serve the fried pickles hot. If desired, set out a dish of ranch dressing on the side for dipping.
Adapted From
Duck Commander Kitchen: Celebrating Family & Friends
Buy On Amazon
Nutrition
Serving:
1
portion
Calories:
204
kcal
Carbohydrates:
37
g
Protein:
6
g
Fat:
3
g
Saturated Fat:
1
g
Polyunsaturated Fat:
1
g
Monounsaturated Fat:
1
g
Cholesterol:
4
mg
Sodium:
1849
mg
Potassium:
172
mg
Fiber:
3
g
Sugar:
2
g
Vitamin A:
154
IU
Vitamin C:
2
mg
Calcium:
53
mg
Iron:
2
mg
Nutrition information is automatically calculated, so should only be used as an approximation.
Recipe © 2015 Kay Robertson. Photo © 2015 Jennifer Davick. All rights reserved.
---
Recipe Testers' Reviews
I love fried pickles but a good recipe has long eluded me. This fried pickles recipe takes what should be a simple and short task and makes it exactly that. All the tangy, salty, spicy crispness that we desire in pub food is found here—and it takes little more than a quarter of an hour.
A few things that I really love about this recipe is that the hot sauce mixed with the buttermilk really added some depth to the flavor. The use of peanut oil also gave these pickles great flavor. And the crisp breading seemed nearly grease-free. The breading stayed intact and attached to the pickles even after cutting a few slices in half. One simple tip—make certain to keep the temperature of the oil up between batches.
If you like fried pickles as much as I do, this recipe will bring a huge smile to your face!
In some parts of the U.S., especially in my neck of the woods, fried pickles are a thing. Apparently they're popular in the U.K. as well. Don't knock them until you've tried it! There's something insanely appealing about a crisp, tangy pickle, hot out of the fryer, coated in crunchy batter. Add a cool, creamy dressing, and you've got one of the world's great bar foods.
This fried pickle recipe worked perfectly. I liked that each component of the recipe was seasoned. I used Tony Chachere's for the seasoning salt. I'd lean towards Creole or Cajun before Old Bay. The coating adhered well to the pickles throughout the frying, which is another big plus for this version. The frying temperature was perfect—just give your oil a quick check with an instant-read thermometer between batches to make sure it comes back up to temperature for each batch.
I did have to adapt this recipe to be gluten-free. I did so by simply substituting plain rice flour for the all-purpose flour. Worked perfectly and you don't need any gums or additives. If you prefer, you could use a gluten-free all-purpose flour blend instead. The King Arthur blend would work well here.
If I have one quibble with this recipe, it's that it makes more dipping liquid and dry coating than you need. If you're only using 1 jar of pickles, you can safely cut the other ingredients in half, especially the cornmeal mixture. I served the fried pickles with dirty rice and roasted okra, which tells you pretty much everything you need to know about me. But as an alternative, for a football Sunday, may I suggest serving a basket of these babies along with Frito pie? Welcome to the South.