These chocolate covered pretzels have a stunning appearance and a spectacular salty sweetness that's terrific at cocktail parties. Here's how to make them. (Hint: It's incredibly easy.)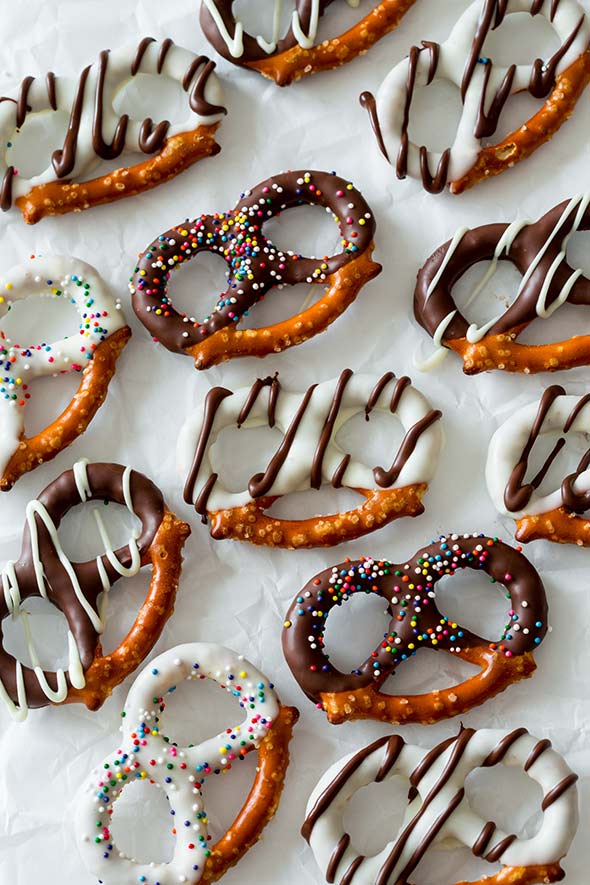 We guarantee these easy peasy chocolate covered pretzels are guaranteed to be a conversation starter at your next cocktail party. We became reacquainted with them at a recent Christmas party where chocolate covered pretzel rods were carefully arranged in tall jars and plonked in a little red wagon along with other sweets, ostensibly for the kids. But those sweetly salty sticks were drawing an equal amount of attention from the adults. Maybe more attention from the adults. And best yet, although the pretzels appeared to be store-bought, gourmet, and ridiculously pricey, they weren't any of those things. They were simple, stunning, and swanky as heck. As for being only for kids, forget that nonsense. The salty sweet crunchiness of these noshes actually work terrifically with cocktails. Here's how to make them. Originally published December 30, 2015.–Renee Schettler Rossi
Special Equipment: 2 squeeze bottles (optional)
Chocolate Covered Pretzels
Quick Glance
1 H
2 H

Makes about 1/2 pound
Print Recipe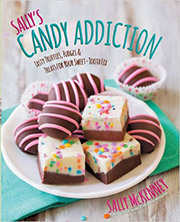 Ingredients
14 ounces (397 grams) semisweet chocolate, coarsely chopped

8 ounces (227 grams) unbroken large pretzel twists or pretzel rods (you'll need to buy a couple 16-ounce bags to get enough unbroken specimens)

14 ounces (397 grams) white chocolate, coarsely chopped

Sprinkles (optional)
Directions
1. Line 3 baking sheets with parchment paper, wax paper, or silicone baking mats.

2. Melt the semisweet chocolate in a bowl in the microwave, stirring it every 10 seconds or so, or in a bowl placed over but not touching a small saucepan with simmering water. Place the bowl of chocolate alongside the baking sheets.

3. Grab an unbroken pretzel, hold the bottom of it between your thumb and forefinger, and dip it 3/4 of the way into the warm chocolate to coat it. Lift the pretzel out of the chocolate and gently shake to allow any excess chocolate to drip off. (You could instead dunk the entire pretzel into the chocolate, but that's much fussier and messier.) Place the pretzel on the prepared baking sheet. Repeat with half the pretzels. If decorating with sprinkles or other decorating bling (see Variations below), do so immediately while the chocolate is still wet and not yet set.

4. Melt or temper the white chocolate in the same manner as you did the semisweet chocolate and dip the remaining unbroken pretzels in the warm white chocolate as you did in step 2.

5. To add an extra chocolate drizzle to the pretzels, warm any leftover semisweet and/or white chocolate until once again melted. Dip the tines of a fork in the melted chocolate or pour it into a squeeze bottle and drizzle white chocolate over pretzels dipped in semisweet chocolate and semisweet chocolate over pretzels dipped in white chocolate.

6. Let the chocolate covered pretzels rest at room temperature until completely set and no longer sticky, about 30 minutes for white chocolate and about 2 hours for semisweet chocolate. The chocolate-covered pretzels will keep in an airtight container in the refrigerator for up to 2 weeks. (Hah! As if anyone can show sufficient restraint to make them last that long.)
How To Dress Up Your Chocolate Covered Pretzels
Yes, sprinkles are quite jolly. But also consider sprinkling your chocolate covered pretzels with shredded coconut, chopped pistachios, colored decorating sugar in whatever colors suit the occasion or the season, even crushed candy canes. You can also swap milk chocolate or dark chocolate for the semisweet.
Chocolate Covered Pretzels Recipe © 2015 Sally McKenney. Photo © 2015 Sally McKenney. All rights reserved.
If you make this recipe, snap a photo and hashtag it #LeitesCulinaria. We'd love to see your creations on Instagram, Facebook, and Twitter.