Knowing how to make dried orange peel is an undervalued talent. It easily lands you a stash of dehydrated citrus that can fancy up all manner of everyday cooking.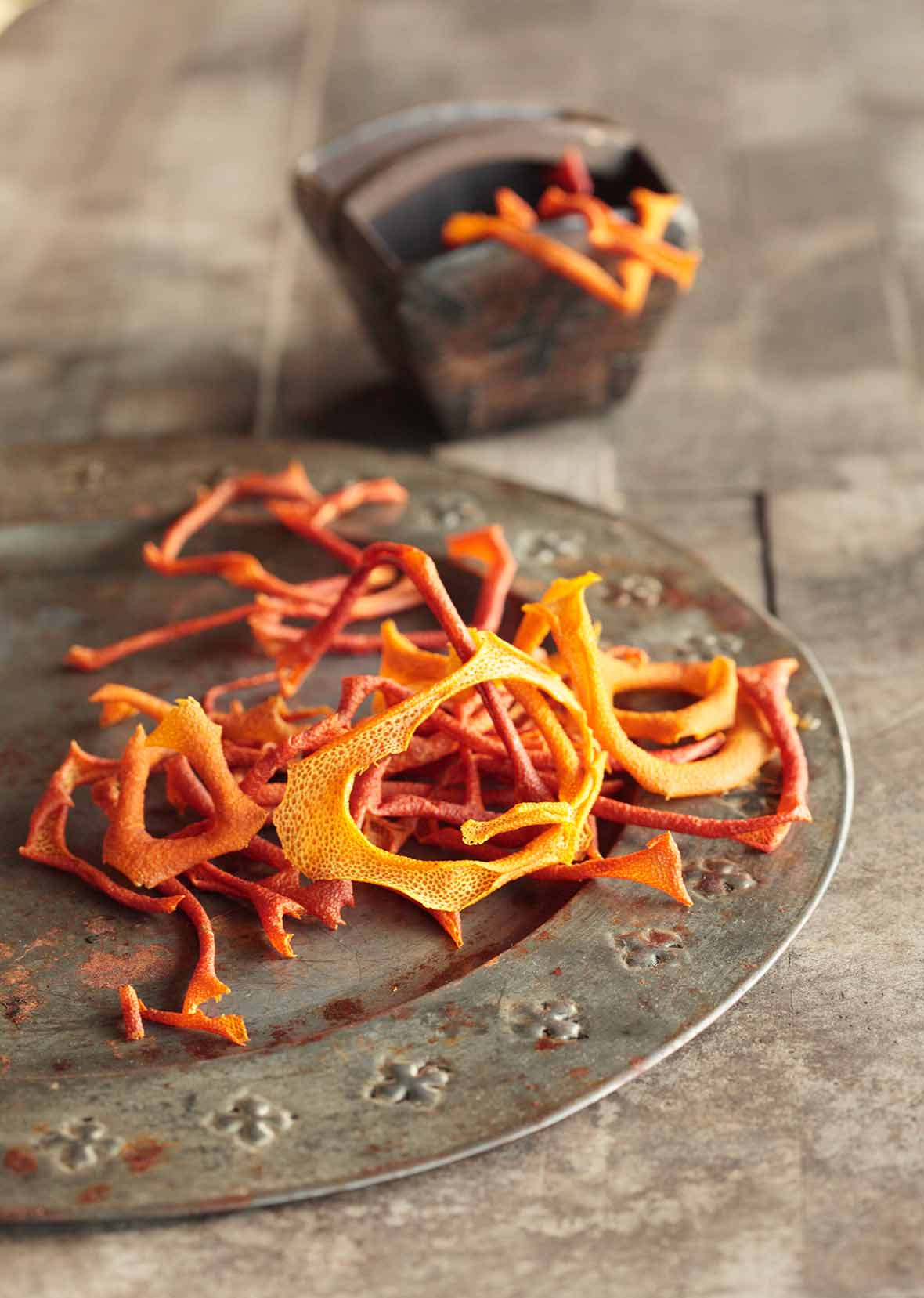 Knowing how to make dried orange peel is both old-fashioned and frugal. Admirable traits. And you will, too, when have a stash of dried orange zest, made simply by leaving strips of orange peel at room temperature, at your disposal for everyday cooking and baking.–Renee Schettler Rossi
How To Use Dried Orange Peel
Wondering about uses for your dried orange peel? They lend a citrus lilt to all manner of recipes savory and sweet.
Toss a strip of dried orange zest or a slice of dried citrus into…
A mug of freshly brewed black tea.
Soy- or herb-based marinades.
Barbecue sauce.
Simple tomato sauce.
Mulled wine or spiked cider.
Bourbon cocktails.
Seafood stews.
Pulverize dried orange zest and sprinkle it into…
Spice or herb rubs for meat or seafood.
Granulated sugar destined for baking.
Simple syrup reserved for making lemonade, iced tea, and cocktails.
How to Make Dried Orange Peel Recipe
Quick Glance
5 M
3 D

Servings vary
Ingredients
Mandarins or oranges

, preferably organic (or substitute lemons)
Directions
1. Scrub the citrus and pat it dry. Grab a vegetable peeler and remove the rind in strips, being careful to remove as little of the underlying bitter white pith as possible.

2. Place the strips of citrus rind in a single layer on a wire rack and forget about them at cool room temperature until dry to the touch, which can take a couple days or longer.

3. Once the citrus peel is dry to the touch, store the strips in a jar or other resealable container in a cool, dark place for up to 12 months.
Dried Citrus Slices Variation
To make dried dried citrus slices (we're talking lemon, orange, grapefruit, or lime slices) as opposed to dried zest, cut the fruit no thicker than 1/4 inch and place it on baking sheets lined with parchment paper. Shove in an oven heated to its lowest temperature with the fan on and the door slightly ajar. Flip the slices after about 2 hours and keep cooking, flipping the slices every 2 hours, until there is no moisture left and the slices are dry to the touch yet still slightly pliable, a total of 4 to 9 hours. [Editor's Note: The timing will vary rather dramatically depending on the thickness of the slices and the temperature of your oven.] Turn the oven off and let the slices cool in the oven with the door still slightly ajar. Store in a jar in a cool, dark place for up to 12 months.
Hungry for more?
Chow down on these:
How to Make Dried Orange Peel Recipe © 2015 Meredith Kirton & Mandy Sinclair. Photo © 2015 Jeremy Simons. All rights reserved.
Hey, there. Just a reminder that all our content is copyright protected. Like a photo? Please don't use it without our written permission. Like a recipe? Kindly contact the publisher listed above for permission before you post it (that's what we did) and rewrite it in your own words. That's the law, kids. And don't forget to link back to this page, where you found it. Thanks!