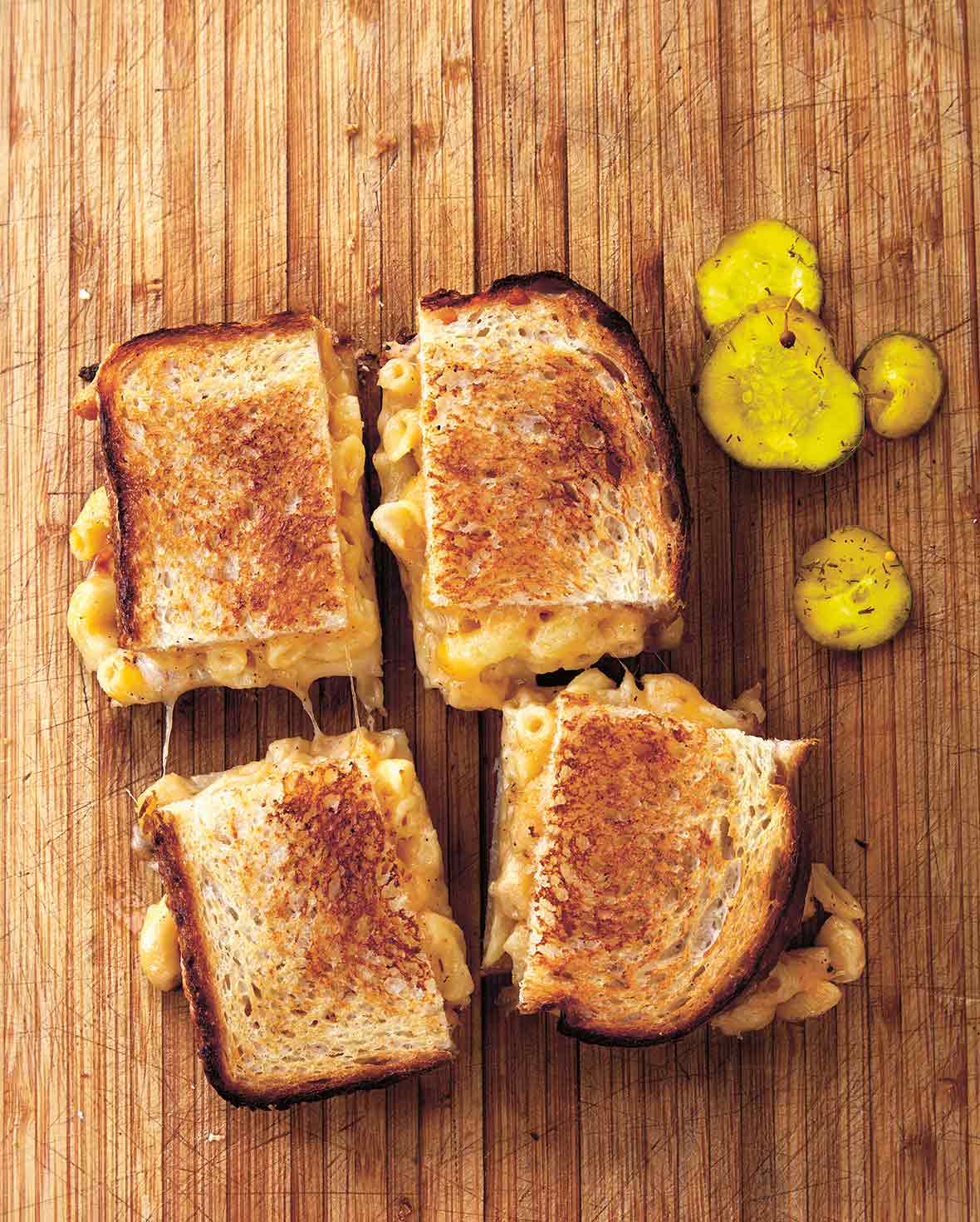 "Mac and cheese . . in a grilled cheese!?!" That's the question the authors are asked over and over again when they share this with friends. As they explain, "It sounds a little crazy, but it's a lot delicious." They've admittedly blown a lot of 10-year-olds' minds with this sandwich. Even better, it can be made in advance due to its clever technique of spreading the mac and cheese filling in a thin layer on a baking sheet and then freezing it. Because of this, you can always keep a stash on hand for impromptu cravings and, as the authors say, "blow minds at your own pace."–Renee Schettler
Grilled Mac and Cheese Sandwich
Grilled cheese and mac and cheese collide in this glorious sandwich.
Ingredients
For the mac and cheese
8

ounces

elbow, spiral, or other short pasta

1/3

cup

all-purpose flour

3/4

teaspoon

dry mustard powder

1/2

teaspoon

garlic powder

1/2

teaspoon

kosher salt

1/2

teaspoon

freshly ground black pepper

1/8

teaspoon

cayenne pepper

6

tablespoons

salted butter

,

at room temperature

1 1/2

cups

whole milk

1

cup

heavy cream

1

pound

cheese (any combination of Monterey Jack, Cheddar, Colby, fontina, or Gouda)

,

shredded

Vegetable spray oil or salted butter

,

for the baking sheet
For the grilled cheese
4

tablespoons

salted butter

,

at room temperature

1

teaspoon

garlic powder

16

slices

square sourdough, whole-wheat, or other sandwich loaf bread

8

slices

mild, medium, or sharp Cheddar cheese

8

slices

Monterey Jack or Colby Jack cheese

4

tablespoons

salted butter

,

at room temperature
Instructions
Make the mac and cheese
Bring a medium saucepan of generously salted water (you want it to taste like seawater) to a boil. Add the pasta and cook, stirring occasionally, until al dente, 8 to 10 minutes, or according to the package directions. The pasta should be tender but still chewy.

While the pasta is cooking, in a small bowl, whisk together the flour, mustard powder, garlic powder, salt, black pepper, and cayenne pepper.

Drain the pasta in a colander. Place the empty pasta pan (no need to wash it) over low heat and add the butter. When the butter has melted, whisk in the flour mixture and continue to cook, whisking frequently, until the mixture is beginning to brown and has a pleasant, nutty aroma, about 1 minute. Watch carefully so it does not scorch on the bottom of the pan.

Slowly whisk the milk and cream into the flour mixture until everything is really well combined. Cook, whisking constantly, until the sauce is heated through and just begins to thicken, about 2 minutes. Remove from the heat. Gradually add the cheese while stirring constantly with a wooden spoon or silicone spatula and keep stirring until the cheese has melted into the sauce. Then stir in the drained cooked pasta.

Line a 9-by-13-inch (23-by-33-centimeter) rimmed baking sheet with parchment paper or aluminum foil. Coat the paper or foil with nonstick cooking spray or slick it with butter. Pour the warm mac and cheese onto the prepared baking sheet and spread it evenly with a spatula. Coat another piece of parchment paper with cooking spray or butter and place it, oiled or buttered side down, directly on the surface of the mac and cheese. Refrigerate until cool and firm, about 1 hour.
Make the grilled cheese
Heat a large cast-iron or nonstick skillet over medium-low heat.

In a small bowl, stir together the 4 tablespoons (55 grams) butter and garlic powder until well blended.

Remove the mac and cheese from the refrigerator and peel off the top layer of parchment paper. Carefully cut into 8 equal pieces. Each piece will make 1 grilled mac and cheese sandwich. (You can stash each individual portion in a double layer of resealable plastic bags and refrigerate for up to 3 days or freeze it for up to 1 month.)

Spread 3/4 teaspoon garlic butter on one side of each bread slice. Place half of the slices, buttered-side down, on a clean cutting board. Top each with one slice of Cheddar, then 1 piece of the mac and cheese. (Transfer from the baking sheet by scooting your hand or a spatula under each piece of mac and cheese and then flipping it over onto a sandwich.) Place 1 slice of Jack on top of each. Finish with the remaining bread slices, buttered-side up.

Using a wide spatula, place as many sandwiches in the pan as will fit without crowding it. Cover and cook until the bottoms are nicely browned, about 4 minutes. Turn and cook until the second sides are browned, the cheese is melted, and the mac and cheese is heated through, about 4 minutes more.

Repeat with the remaining ingredients. Cut the sandwiches in half, if desired, and serve.
Notes
Grilled Mac And Cheese Sandwich
Chili Mac Grilled Cheese
When assembling the grilled cheese, add a big dollop of chili on top of the mac and cheese before adding the Jack cheese and the second slice of bread.
Tomato Bacon Jalapeño Mac Grilled Cheese
When assembling the grilled cheese, layer 1 or 2 slices of fresh ripe heirloom tomato, 2 slices crisp cooked bacon, and 2 teaspoons diced fresh jalapeños on top of the mac and cheese before adding the Jack cheese and the second slice of bread.
Nutrition
Serving:
1
portion
Calories:
1041
kcal
Carbohydrates:
58
g
Protein:
39
g
Fat:
73
g
Saturated Fat:
43
g
Polyunsaturated Fat:
4
g
Monounsaturated Fat:
18
g
Trans Fat:
1
g
Cholesterol:
203
mg
Sodium:
1318
mg
Potassium:
362
mg
Fiber:
3
g
Sugar:
8
g
Vitamin A:
2266
IU
Vitamin C:
0.3
mg
Calcium:
951
mg
Iron:
3
mg
Nutrition information is automatically calculated, so should only be used as an approximation.
Recipe © 2016 Heidi Gibson | Nate Pollak. Photo © 2016 Antonis Achilleos. All rights reserved.
---
Recipe Testers' Reviews
This sandwich is not for the faint of heart. But if you are looking to impress the denizens of the local man cave, this is your ticket. The mac and cheese portion is super thick and creamy. The grilled cheese part is toasty goodness. Total time to make the pasta and sauce and combine them was 25 minutes. The sandwich only took 10 minutes to cook once assembled. The mac and cheese layer was quite thick, and I worried that it might not warm through, but it did. The light taste of the garlic butter used to cook the sandwiches was a nice touch. I'll use that little trick again. As there was only 2 of us, I only made 2 sandwiches, but had enough mac and cheese left over for 6 more sandwiches. The end result was a messy sandwich that was creamy, cheesy, and kinda fun. Is this for every day? No, but it's something to impress once in a while as a treat.
Grilled cheese + mac and cheese—how could this be anything but warm and cheesy deliciousness?! This is the best of cheese and carbs! It's not just 10-year-olds swooning to this! The sandwich is rich, very rich, very dairy rich. Those pickles in the photo are almost a must to serve alongside this sandwich! Also, because I am a fan of fruits and vegetables, and because I like tomato in my grilled cheese and spinach in my mac and cheese, I'm eager to make this with one or both of these additions. For the record, I used whole-wheat bread and whole-wheat rotini (why not add flavor wherever you can?!) plus Colby Jack and Gruyère, and then Colby and a sharp Cheddar. To quibble a bit, the ingredients call for square bread, but the photo shows rectangular, and I went with rectangular because it provided the maximum surface area. To quibble a bit more, I'm not sure the butter needed to be salted: cheese has plenty of salt already. I'm not sure I agree that this recipe couldn't be reduced but there's certainly nothing wrong with having some leftover mac and cheese around if you're not needing this many sandwiches today or in the next few days. I'm curious enough about freezing the mac and cheese that I'm trying it.