This chicken in a pot is like an easy French pot au feu made with a whole chicken and vegetables, such as carrots, leeks, and turnips in broth. Healthy, quick, frugal, comforting, and simple. Here's how to cook it.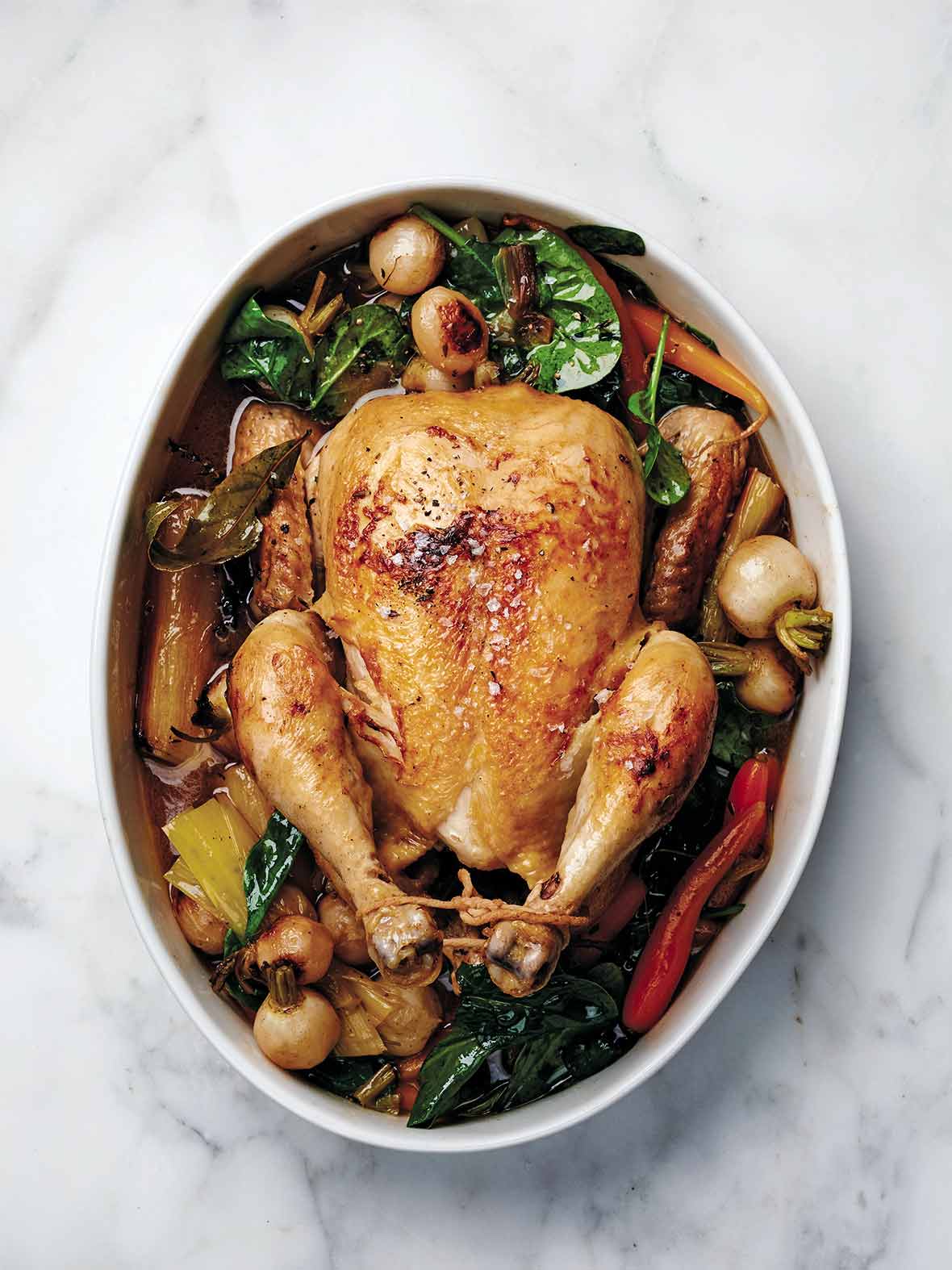 Chicken in a pot is essentially a French technique that creates a tender, soupy braise known as chicken pot au feu. All it requires from you is to simply simmer a hen and some vegetables and out comes a satiating soup of sorts that's subtly flavored and soothing as heck. Although kindly note, before you glance at the recipe and then toss in random veggies and liquid and chicken in a pot and walk away for an unspecified amount of time, the eminently reliable recipe below turns out beautifully cooked components because it's pretty precise and offers specific sizes and cooking times. We can't guarantee the same splendid results if you haphazardly toss in items. We're tremendous proponents of working with what you have on hand. But start with the proportions that follow, and then if you feel comfortable, vary the vegetables or add a little more liquid or tweak it in any other way according to personal preference.–Renee Schettler Rossi
Chicken in a Pot
This chicken in a pot is like an easy French pot au feu made with a whole chicken and vegetables, such as carrots, leeks, and turnips in broth. Healthy, quick, frugal, comforting, and simple. Here's how to cook it.
Ingredients
1/2

cup

pearled barley

(sometimes labeled hulled or hull-less barley)

One

whole

chicken

Fine sea salt and freshly ground black pepper

to taste

3

garlic cloves

3

thyme sprigs

1

bay leaf

1

tablespoon

extra-virgin olive oil

1/4

cup

brandy or dry white wine

3

large

carrots

cut into 3 inch (8-cm) pieces

2

large

leeks

white and light greens, well-rinsed, trimmed, and cut into 3-inch (8-cm) chunks

1

bunch

peeled whole baby turnips or 1 large turnip

peeled and cut into 1 inch (25-mm) wedges

2

cups

well-washed baby spinach

1

tablespoon

chopped chives
Directions
Bring a large pot of salted water to a boil. Add the barley and cook until chewy yet tender, 40 to 50 minutes. Drain the barley, discarding the cooking water or reserving it for watering your garden.

While the barley cooks, season the chicken inside and out with salt and pepper. Place the garlic, thyme sprigs, and bay leaf inside the chicken. In a Dutch oven or other 4-quart or larger pot, heat the oil over medium-high heat. Pat the chicken dry and place it breast side down in the pot. Cook until browned, 5 to 7 minutes per side, then transfer the chicken to a plate.

Pour the brandy or wine into the pot and scrape up any browned bits from the bottom of the pan. Add the carrots, leeks, and turnips and nestle the chicken among the vegetables. Add 3 cups water and bring to a gentle boil.

Reduce the heat to low and gently simmer, covered, until the thighs pull easily away from the bone, 50 to 75 minutes, depending on the size of your chicken. (Do not at any point allow the water to boil or your resulting broth will be cloudy. If you need to regulate the heat, simply turn down the heat and/or leave the lid slightly ajar.)

Remove the chicken from the pot and let it cool slightly. Meanwhile, gently spoon the vegetables into a large shallow serving dish.

Skim any foam or fat from the cooking liquid and strain it through a fine-mesh sieve lined with cheesecloth or paper towels. Stir the barley into the liquid and season with salt and pepper.

Carve the chicken, cutting the breast into wide slices, deboning the thighs, and cutting each thigh into two pieces, reserving the wings and drumsticks for another use. (Alternatively, for chicken that's easier to eat, if desired, remove and discard the skin and bones from the chicken and shred the meat.) Place a handful of spinach in each bowl, then spoon in the chicken, vegetables, and stock. Serve topped with chives.
Notes
How To Ramp Up The Volume On This Chicken In A Pot
Some people like things simple and subtle so they are able to discern the pristine flavors of each ingredient. Other people crave hot sauce on everything so as to ramp up the decibel level. If you're the latter sort, you're going to want to impart some additional flavor to this lovely but nuanced chicken in a pot recipe. Try any of the following and let us know how it goes.
Toss in a bouquet garni; Vary the veggies; Add a squeeze of lemon at the end; Grind copious amounts of black pepper on just before serving.
Show Nutrition
Serving:
1
portion
Calories:
482
kcal
(24%)
Carbohydrates:
33
g
(11%)
Protein:
30
g
(60%)
Fat:
25
g
(38%)
Saturated Fat:
6
g
(38%)
Polyunsaturated Fat:
5
g
Monounsaturated Fat:
11
g
Trans Fat:
0.1
g
Cholesterol:
102
mg
(34%)
Sodium:
157
mg
(7%)
Potassium:
692
mg
(20%)
Fiber:
7
g
(29%)
Sugar:
5
g
(6%)
Vitamin A:
11450
IU
(229%)
Vitamin C:
17
mg
(21%)
Calcium:
92
mg
(9%)
Iron:
4
mg
(22%)
If you make this recipe, snap a photo and hashtag it #LeitesCulinaria. We'd love to see your creations on Instagram, Facebook, and Twitter.
Recipe Testers' Reviews
This chicken in a pot is one of those dishes that tastes great and makes you feel so proud that you're serving your family something so healthy! It reminds me of the "broth bowls" that are so trendy in restaurants right now. It couldn't be easier to prepare. There aren't any fussy ingredients. Easy, inexpensive, on trend, easy to customize, healthy, and delicious? There's really no reason not to make this right away!
I served the components separately for my children so that they could customize their bowls and accommodate their different preferences. I threw the leftovers together and had soup for 2 for lunch the next day. Delicious!
I had never used pearled barley before. Don't substitute something else in its place if you don't have to. I really enjoyed the chewy texture and slightly nutty taste. I found it in a bag near the dried beans in my grocery store. Timing from the recipe was accurate. I simmered all of the ingredients in my Dutch oven for 50 minutes. The recipe yielded 4 adult servings. I opted for the dry white wine (Chardonnay) because it's what I had on hand.
Steam roasting a chicken in a pot this way produces a wonderful bird plus nicely cooked vegetables and delicious broth. I used my Le Creuset Dutch oven for this, and it held everything perfectly. I had to check occasionally to make sure the simmer wasn't getting too close to a boil, and part of the time I left the lid just the tiniest bit ajar to regulate the internal heat. Carrots, leeks, and turnips made for a good combination of vegetables.
I found that this recipe took a considerable amount of time, but it was worth it for the result. I used a pinot grigio, and I think this could have used a little more liquid. There were proportionally more vegetables and chicken left over than broth, and the addition of cooked barley monopolized what broth there was. I'd go with a little less barley next time.
Originally published April 04, 2020
Recipe © 2015 Sara Dickerman. Photo © 2015
Michael Graydon | Nikole Herriott
. All rights reserved. All materials used with permission.
If you make this recipe, snap a photo and hashtag it #LeitesCulinaria. We'd love to see your creations on Instagram, Facebook, and Twitter.