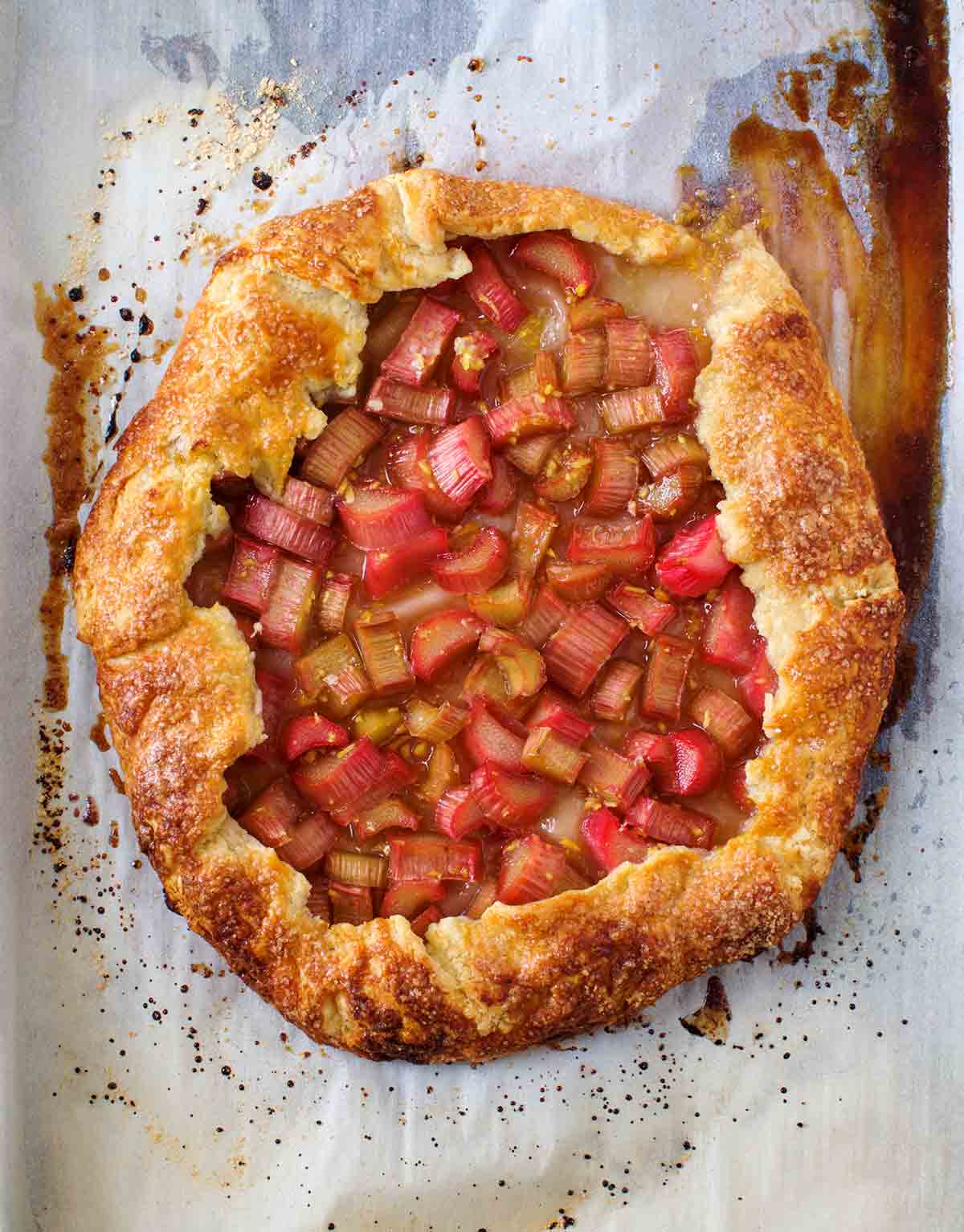 At Wyebrook Farm, we pay homage to peak seasonal vegetables, fresh meat, and game, with simple, rustic preparations of the best ingredients nature has to offer. Rhubarb and ginger are happy bedfellows, especially when nestled up in an exceptionally flaky crust, made with a combination of lard and butter. If rhubarb isn't in season, try making a cranberry apple crostata.–Dean Carlson
Rhubarb-Ginger Crostata
Rhubarb-ginger crostata is simply a fancy way to say single crust rhubarb pie. Easy yet elegant in a rustic sorta fashion.
Ingredients
For the crust
1/2

recipe

Lard and Butter pie crust or your favorite double-crust pastry recipe,

chilled for at least several hours

Butter for the baking sheet

Flour for the work surface
For the rhubarb filling
12

ounces

rhubarb*

,

cut into 1/2-inch (1 cm) pieces

3/4 to 1

cup

granulated sugar

1

tablespoon

peeled and minced fresh ginger

1 1/2

teaspoons

cornstarch

1

teaspoon

vanilla extract

1

large

egg

,

beaten with a pinch of salt to make an egg wash

1

tablespoon

Demerara or raw or turbinado sugar
Instructions
Prepare the oven and pan
Preheat the oven to 400°F (204°C). Line a rimmed baking sheet with parchment paper and butter the paper.
Make the crust
Roll the pastry dough out on a floured work surface with a floured rolling pin into a 14-inch (36 cm) round. Transfer the dough to a buttered parchment.
Make the rhubarb filling
Combine the rhubarb, granulated sugar, ginger, cornstarch, and vanilla in a bowl. Spread the filling evenly over the dough, leaving a 1 1/2-inch (4-cm) empty border. Fold the edge of the dough over the filling, overlapping the dough or allowing it to fall in pleats as needed. Lightly brush the folded-over dough with some of the egg wash and then sprinkle with the Demerara sugar.

Bake the crostata until the filling is bubbling and the pastry is golden, 20 to 30 minutes. Some of the juices may leak onto the baking sheet but that's okay. Let the crostata cool on the baking sheet until warm or room temperature before slicing and serving.
Notes
*Do I need to peel rhubarb?
Generally speaking? No. You should find that rhubarb is crisp but still tender enough to just chop it and go. That's not to say that you won't ever encounter a few ribs that need a little persuasive grooming before they're crostata bound. Just nip off any tough ends and strip those stringy ribs with a sharp knife and you're ready to go.
Nutrition
Serving:
1
portion
Calories:
199
kcal
Carbohydrates:
33
g
Protein:
3
g
Fat:
6
g
Saturated Fat:
2
g
Trans Fat:
1
g
Cholesterol:
23
mg
Sodium:
99
mg
Potassium:
157
mg
Fiber:
1
g
Sugar:
21
g
Vitamin A:
77
IU
Vitamin C:
3
mg
Calcium:
45
mg
Iron:
1
mg
Nutrition information is automatically calculated, so should only be used as an approximation.
Recipe © 2016 Dean Carlson. Photo © 2016 Guy Ambrosino. All rights reserved.
---
Recipe Testers' Reviews
A few months ago I was lucky enough to get my hands on really high-quality leaf lard. I immediately stocked my freezer with pastry crust made from the lard and local butter. This rhubarb crostata recipe was the perfect excuse to pull some out and make a quick dessert.
Even if I didn't have crust on hand, this still would be an incredibly easy dessert to pull together quickly. The rhubarb bakes down just enough to soften but still retains a bit of its texture, which is nice because no one wants a crostata full of rhubarb goo. The ginger complements the rhubarb perfectly. I'll definitely make this rhubarb crostata again.
I love a rustic fruit crostata—something I can pull together easily, late in the day and not fret the way a pie might worry me. This is an excellent easy dessert and leftovers are just as lovely the next day with coffee or some yogurt. I made enough crust (I used spelt and wheat flours with butter) for two galettes.
The first galette had the full amount of sugar, and while I handled the crust as carefully as possible, there was quite a lot of juice (mostly excess sugar) that leaked through the crust. Still, the final taste was delicious. When I made the second tart, I reduced the sugar. That meant much less leakage (and maybe overnight chilling helped the dough behave a little better than 45 minutes chilling). The rhubarb was still just as sweet and the extra sugar (I reduced it by 15% or 30 grams) didn't run out and caramelize on the pan.
The other modification was how I prepared the ginger. The first one had 9 grams minced ginger or 1 packed tablespoon. The second one contained grated ginger and I was able to pack 15 grams in the tablespoon measure. I would never say there is too much ginger but I do think mincing it helps it distribute better as the grated ginger tends to clump and is harder to get evenly spread through the fruit filling, so I would go with the higher quantity minced ginger from now on. Make a double batch of crust so you can repeat with ease.
As for the rhubarb, as soon as I saw fresh rhubarb at a farmstand this past week I bought some, even though it was more green than red (there are different varieties and green doesn't mean unripe, just different, and reminds you that this is a vegetable, not a fruit, so once the stalks and leaves are formed, it is as "ripe" as it ever needs to be). It meant my crostata resembled a gooseberry green instead of the prized ruby red, but it tasted delicious since there is no better combination than rhubarb and ginger.