Beef tostadas may be the sleeper hit of summer. Just slowly simmer some beef with ancho chiles and then pile the tender awesomeness atop crisped tortillas along with some black beans and homemade hot sauce. Tasting is believing.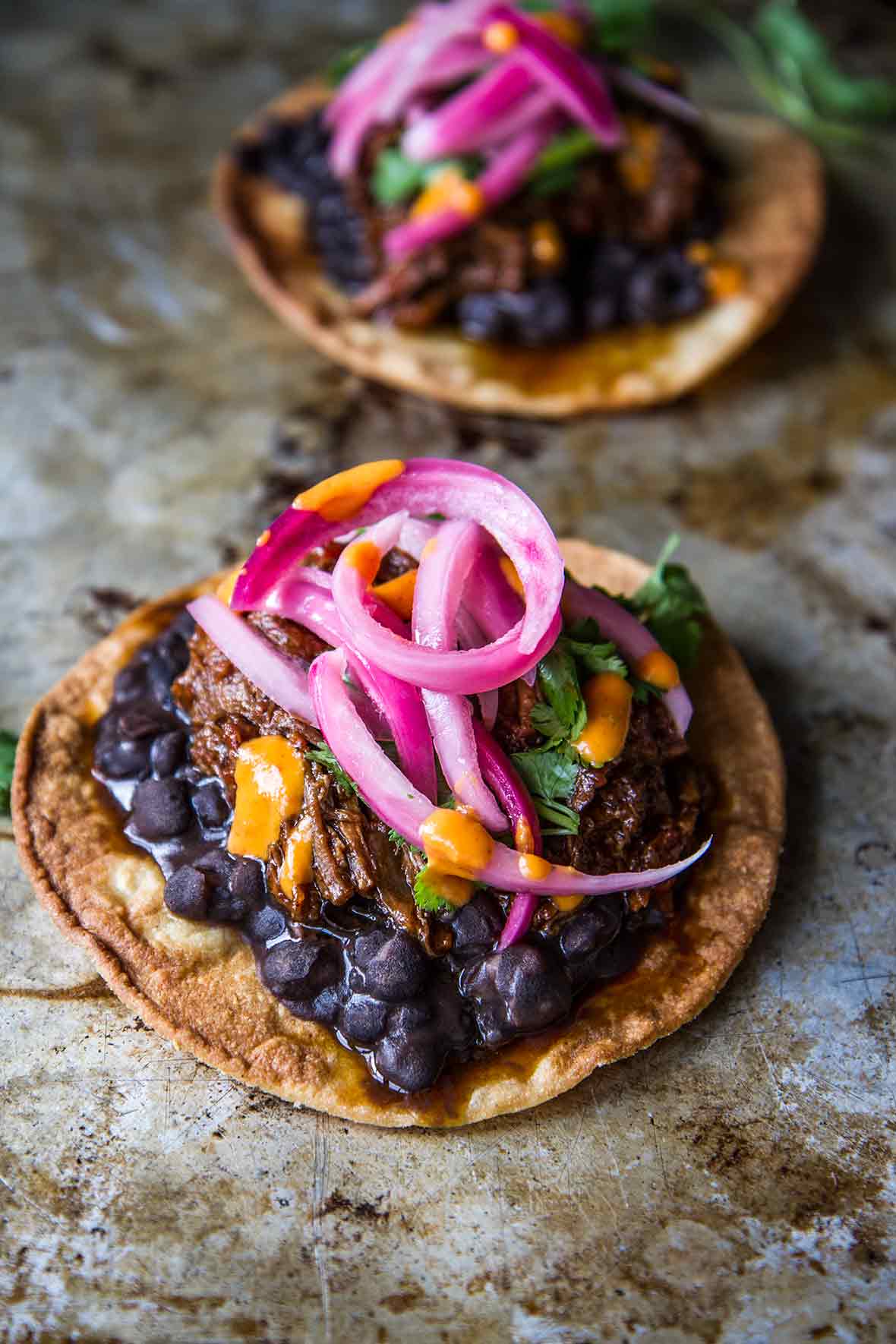 These beef tostadas are described, rather loftily, by the author as "dream-worthy."  We're not about to argue with that. Heaps of tender, slow-cooked, shredded beef imbued with ancho top crisped tortillas and are smothered by black beans, pickled red onions, and hot sauce. Need we say more? (We hope not, because even if we wanted to, we actually couldn't seeing as we're too busy making more of these tostadas.)–Angie Zoobkoff
Beef Tostadas
Quick Glance
1 H
4 H, 30 M

Serves 6 to 8
Print Recipe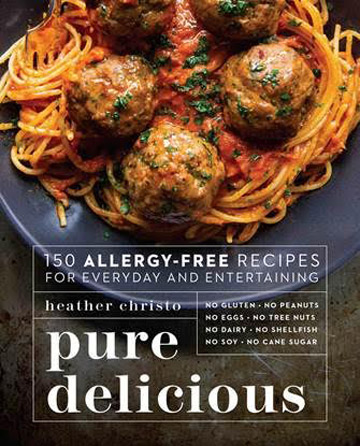 Ingredients
For the slow-cooked beef

2 tablespoons ancho chile powder (16 g)

2 tablespoons ground cumin (12 g)

1/2 teaspoon cayenne pepper (1 g)

1 teaspoon kosher salt (4 g), plus more to taste

3 pounds beef shoulder or chuck roast (1.4 kg)

1/4 cup vegetable oil (60 ml), plus more for frying

1 yellow onion, thinly sliced (about 7 ounces or 200 g)

One 28-ounce can crushed tomatoes (795 g)

4 cups store-bought or homemade beef stock (946 ml)
For the chile de árbol hot sauce

1/2 cup dried chiles de árbol (about 8 g)

1/2 cup boiling water (120 ml)

2 garlic cloves (about 10 g)

1/2 yellow onion, coarsely chopped (about 3 1/2 ounces or 100 g)

1/2 cup white vinegar (120 ml)

1/2 cup vegetable oil (120 ml)

1/4 cup agave nectar (60 ml)

Kosher salt

To serve

12 corn tortillas

Vegetable oil, for frying

Black beans

Cilantro
Directions
Make the slow-cooked beef

1. In a small bowl, combine the ancho chile powder, cumin, cayenne, and salt.

2. Rub the entire beef shoulder generously with salt and set aside.

3. In a large heavy pot set over high heat, warm the vegetable oil. Add the beef shoulder and sear on all sides until the meat is golden and crisp on the outside, about 10 minutes in total.

4. Add the onion, crushed tomatoes, and spice mixture to the pot and cook for 2 minutes, then stir in the broth. Cover the pot and reduce the heat to low. Simmer the beef for 3 1/2 to 4 hours, turning the meat over after it has cooked for 2 hours. When the meat is done, it should be very tender and falling apart.

Make the chile de árbol hot sauce

5. Place the whole, dried chiles in a medium bowl. Pour the boiling water over the chiles and cover the bowl with plastic wrap. Soak the chiles until softened, about 30 minutes.

6. Drain the chiles, remove the stems, and place them in a blender along with the garlic, onion, vinegar, vegetable oil, and agave. Puree on high until you have a smooth orange sauce. Season with salt.

Assemble the beef tostadas

7. Transfer the beef to a cutting board. Increase the heat under the cooking liquid to medium and simmer, uncovered. Shred the beef, discarding any globs of fat or gristle. Return the shredded beef to the pot and cook, uncovered, until the sauce has reduced and become thick, about 40 minutes. Season with salt.

8. While the sauce is reducing, fry the tortillas. In a medium saucepan, heat 1/2 inch (12 mm) vegetable oil until it registers 350ºF to 375ºF (180 to 190°C) on a candy or deep-fry thermometer, or until a piece of tortilla immediately starts to bubble and floats to the top when dropped into the oil. Carefully fry the tortillas one at a time, until golden and crisp, about 30 seconds on each side. Drain on a paper towel.

9. Top each tortilla with a spoonful of black beans and some shredded beef, fresh cilantro, and pickled red onions. Top with a drizzle of the árbol hot sauce and serve immediately.
Beef Tostadas Recipe © 2016 Heather Christo. Photo © 2016 Heather Christo. All rights reserved. All recipes and photos used with permission of the publisher.
If you make this recipe, snap a photo and hashtag it #LeitesCulinaria. We'd love to see your creations on Instagram, Facebook, and Twitter.