Butternut squashes are a fall and winter staple. Roast them with brown sugar, butter and salt as a side dish, use them to perk up mashed potatoes, or stuff them into ravioli. This roasted butternut squash soup recipe showcases the most simple and gratifying use of the gangly gourd.–Maria Helm Sinskey
LC So the Soup Doesn't Explode Note
No immersion blender? No problem. An old-fashioned beehiver blender works quite well at puréeing soups, far better than a food processor. However, you need to take heed of a few safety strategies, which author Maria Helm Sinskey reminds us of here, in order to ensure you're not wiping up from the cabinets and the ceiling: Allow the soup to cool for 15 or so minutes prior to blending. Never fill the blender more than 2/3 full. And it's a good idea to remove the center plug in the lid to allow the steam to escape. You can cover the hole with a thick towel to protect your hand—not to mention your cabinets and ceiling. Hold the lid securely down and lift the towel slightly to allow the pressurized air to escape as you blend.
Roasted Butternut Squash Soup
Quick Glance
15 M
3 H

Serves 8
Print Recipe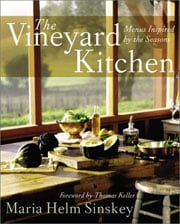 Ingredients
1 (about 4 pounds) butternut squash

1 medium yellow onion, coarsely chopped

1 tablespoon unsalted butter or olive oil

1 tablespoon honey

6 sage leaves

Salt and freshly ground black pepper

4 cups homemade chicken stock or canned chicken broth, or vegetable stock

1 cup crème fraîche
Directions
1. Preheat the oven to 400°F (200°C).

2. Prick the squash with a fork and place it whole on a baking sheet. Roast until the squash has softened, about 45 minutes. Set the squash aside until cool enough to handle, then cut it in half and scoop out the seeds. Turn each squash half over onto a cutting board and run a vegetable peeler over the curved sides to remove the peel. Cut the squash into 2-inch chunks.

3. Melt the butter in a large saucepan over medium heat. When the butter starts to brown, add the onion and saute until it is translucent and begins to brown, 4 to 5 minutes.

4. Add the honey to the onions and cook until it bubbles. Add the squash chunks and sage and season with salt and pepper.

5. Add the chicken stock and enough water to cover the squash by an inch. Bring the soup to a boil. Lower the heat and simmer the soup until the onions and squash are very tender, 45 minutes to 1 hour. Add more liquid if necessary to keep the squash submerged. Remove the pan from the heat and cool for 15 minutes.

6. Purée the butternut squash soup in a blender until smooth. (Don't fill the blender more than two-thirds full.) Strain through a coarse strainer if you want a smoother soup or if you prefer a more rustic soup return the purée to the pan without straining. Season the soup with salt and pepper to taste. Bring the finished soup back to a boil. Ladle it into bowls and serve with a small dribble of crème fraîche, about 1 tablespoon per bowl.
Vegetarian Variation
As you can see in the ingredients list, vegetable stock makes a fine substitution here for chicken stock if you'd prefer a vegetarian version of the soup.
Recipe Testers Reviews

Roasting the squash whole made this soup recipe a cinch to make. I didn't even need to peel the cooked squash—I just scooped it out. The result was a very flavorful and satisfying butternut squash soup. The crème fraîche added a nice touch of richness to this hearty but healthy soup.

This soup is elegant and lovely—perfect for a winter night and great topped with a little grated Parmesan and maybe even a freshly fried and salted sage leaf if you have one. This recipe is quite similar to another soup recipe I've been experimenting with but I really like the additions of the honey and sage in this one. I did not have fresh sage on hand so I used about a 1/2 tsp dried sage and it worked perfectly. I also added about 1/2 tsp ground cumin and the smallest grate of nutmeg at the same time I added sage, it really gave the soup a nice depth of flavor. I roasted pre-cut cubes of butternut squash in the oven, tossed with olive oil salt and pepper @ 425 degrees F. for about 25 minutes and then added them to the sautéed onions and garlic and followed the recipe as instructed. I omitted the 1 cup cream and used 1/4 cup half and half. I still tasted the richness of the cream but saved a lot of calories. I used a hand immersion blender to blend the soup but a regular blender works great as well. I will be making this again!
Roasted Butternut Squash Soup Recipe © 2003 Maria Helm Sinskey. Photo © 2003 Robert Sinskey. All rights reserved. All materials used with permission.
If you make this recipe, snap a photo and hashtag it #LeitesCulinaria. We'd love to see your creations on Instagram, Facebook, and Twitter.