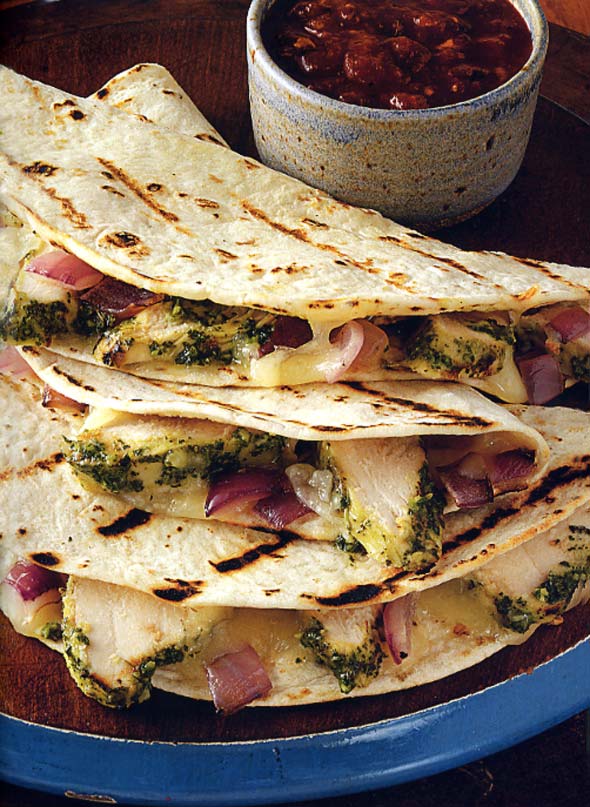 I make these grilled chicken quesadillas a lot for parties. If a big crowd is coming over to the house, I fill the tortillas with the chicken and fold them a few hours ahead of time and stack them on a tray. As people arrive, I grill the quesadillas for about five minutes to melt the cheese and toast the tortillas. If you want to get a head start, you can always grill off some of the quesadillas and slip them onto the warming rack, which is a convenient place to hold them. As guests arrive, serve the warmed sandwiches and finish grilling the rest for latecomers and anyone who wants seconds.–Jamie Purviance
LC By Bread And Cheese Alone Note
Man cannot live by bread alone, but if we're talking by bread and cheese alone, and the bread and the cheese take the form of this quesadilla, we may be getting somewhere…
Grilled Chicken and Red Onion Quesadillas
Quick Glance
45 M
5 H

Serves 4 to 6
Print Recipe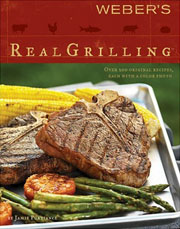 Ingredients
For the paste

2 large garlic cloves

1 jalapeno chile pepper, stem removed

1 cup tightly packed cilantro leaves

5 tablespoons extra-virgin olive oil

2 tablespoons sherry vinegar

1 teaspoon kosher salt

1/2 teaspoon dried oregano

1/2 teaspoon freshly ground black pepper

For the grilled chicken quesadillas

3 boneless, skinless chicken breast halves, about 8 ounces each

1 large red onion, cut crosswise into 1/2-inch slices

Extra-virgin olive oil

2 cups grated Monterey Jack cheese

Four 10-inch flour tortillas

1 cup salsa
Directions
Make the paste

1. In a food processor, finely chop the garlic and jalapeno. Add the remaining paste ingredients and process until smooth. Coat the chicken breasts on all sides with the paste, cover, and refrigerate for 3 to 4 hours.

Make the grilled chicken quesadillas

2. Lightly brush or spray the onion slices with oil. Grill the chicken and onions over direct medium heat until the chicken is opaque in the center and the onions are tender, turning both the chicken and the onions once, 8 to 12 minutes total.

3. Remove the chicken and onions from the grill and let cool. Cut the chicken crosswise into 1/8-inch slices and the onions into 1/4-inch pieces.

4. Evenly divide the chicken, onions, and cheese over half of each tortilla. Fold the empty half of each tortilla over the filling to create a half circle and press down firmly.

5. Grill the chicken quesadillas over direct medium heat until the tortillas are well marked and the cheese has melted, turning once 4 to 6 minutes total. Let the quesadillas cool for a minute or two before cutting them into wedges. Serve the quesadillas warm with the salsa on the side.
Grilled Chicken and Red Onion Quesadillas Recipe © 2005 Weber-Stephen Products Co. Photo © 2005 Tim Turner. All rights reserved.
If you make this recipe, snap a photo and hashtag it #LeitesCulinaria. We'd love to see your creations on Instagram, Facebook, and Twitter.