This white sangria spritzer is crisp white wine, Cointreau, plenty of citrus, and sparkling water collide. What results is a refreshing drink you can sip all evening long without getting TOO tipsy.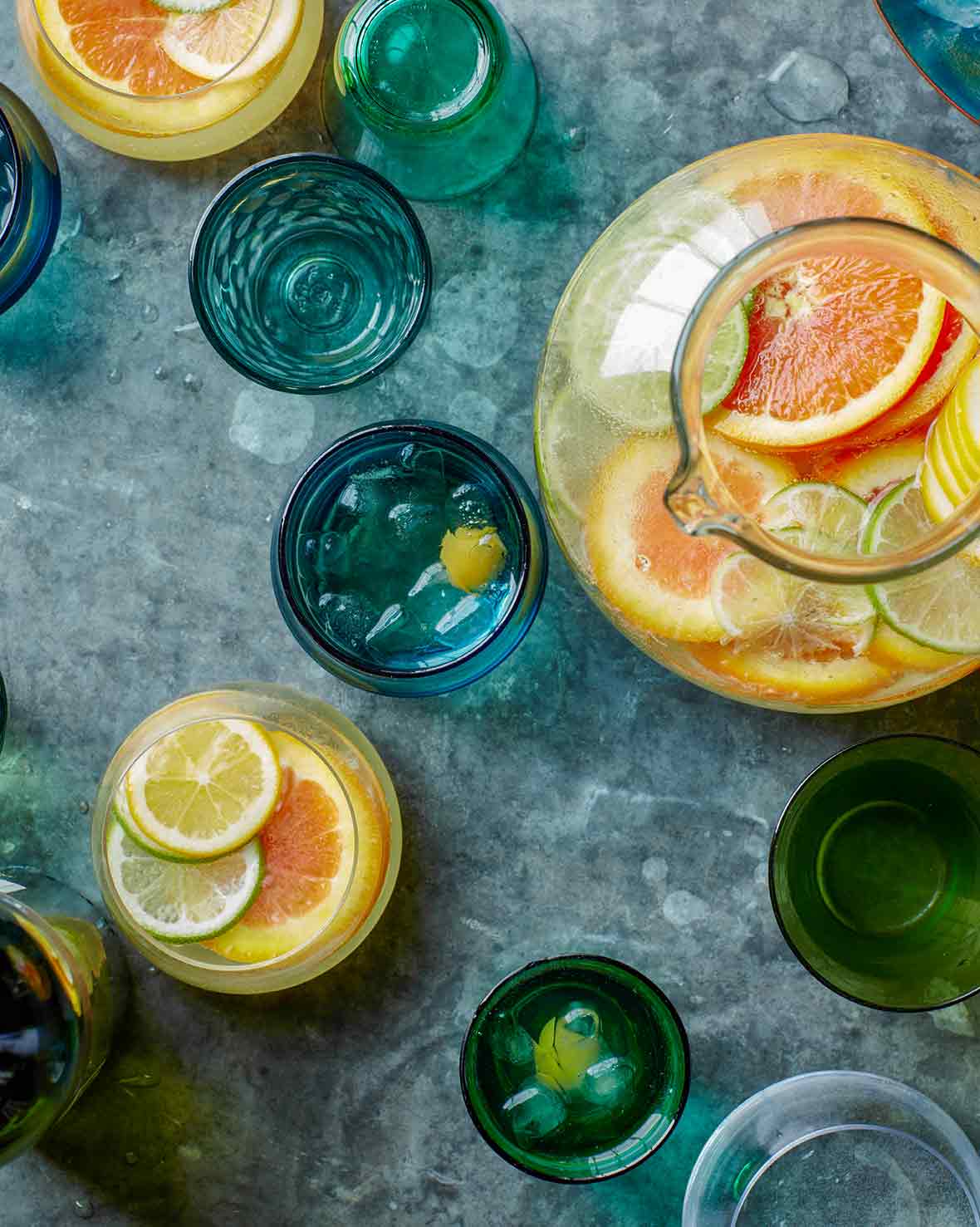 *What can I substitute for albariño?
This sangria spritzer asks for albariño, a light-bodied Spanish white with notes of citrus, peach, and a touch of salinity. Sounds delish, right? It's fairly common, although if you can't track it down, there are other suitable Spanish wines that you can use, including Rioja blanco and verdejo. Many Sauvignon and Chenin blancs are also known for their citrus and stone fruit flavors and would sub beautifully here.
White Sangria Spritzer
Quick Glance
Quick Glance
10 M
10 M
Serves

8
Print Recipe
Ingredients
Directions
In a large pitcher, combine the wine, Cointreau, lime, lemon, and orange, and gently stir until blended. Refrigerate until chilled, at least 2 hours but preferably 24 hours to allow the flavors to meld.
To serve, partially fill 8-ounce glasses with ice. Pour the wine mixture into each glass until about 2/3 full. Top each glass with seltzer to taste, whether just a splash or filling the remaining 1/3 of the glass or somewhere in between. Stir to blend. Taste and adjust the ratio of wine and seltzer as desired. If desired, garnish with an herb sprig. Originally published December 18, 2018.
Print Recipe
Recipe Testers' Reviews
I absolutely loved this white sangria spritzer. There's nothing better than a refreshing cocktail on the weekend. I was worried it would feel too summary for a winter drink but the orange liqueur really brought out a festive flavor. I had never had albariño and I'm not going to lie, it would have been difficult for me to find if it was not for the lovely gentlemen at the wine store helping me out. I was so pleasantly surprised by the crisp flavor it had.
The orange, lemon, and lime are a much-needed addition to this recipe and I thought it was great. I used all the seltzer water. I was able to top off each glass with it and have just a tiny bit left over.
I thought this white sangria spritzer was wonderful! And it's so easy to throw a batch together. It's quick, simple, and refreshing.
The flavor is improved by giving it some time to infuse with the citrus, so I would recommend making it at least a few hours in advance. I preferred it with lemon-lime soda in place of soda water but may change my mind when the weather heats up again. Can't wait to make this by the pitcher come summer time.
I used Gran Gala in place of Cointreau and I thought it was nice. It has the benefit of being a little more affordable as it's simply a brandy base in place of a cognac base but it worked very well in the drink.
This really benefits from resting. The recipe asks you to serve it immediately but it was vastly improved the following day. I made it on a Thursday and I thought it was decent. I tried it Friday and it was fantastic. Saturday it was good but by this evening it had grown pithy and a touch bitter.
I really enjoyed how refreshing and light this was. I loved the citrus but definitely would use a bigger orange next time and perhaps a few slices of grapefruit in place of (or in addition to) the lime. I tried it with soda water, tonic water, and 7-Up. I liked the 7-Up the best as it gave it a touch more of the sweetness I was missing without being syrupy. My mom loved the recipe and I think it's safe to say we'll be sipping this on repeat poolside come summertime.
White Sangria Spritzer Recipe © 2017 Martha Stewart Living. Photo © 2017
Stephen Kent Johnson
. All rights reserved. All materials used with permission.
If you make this recipe, snap a photo and hashtag it #LeitesCulinaria. We'd love to see your creations on Instagram, Facebook, and Twitter.