This milk rye bread has a pleasingly subtle (read: not overwhelming) rye flavor and a slight sweetness. In addition to the recipe having that whole-grain goodness thing going for it, the dough is exceptionally easy to work with, making it a cinch for novice bread bakers to toss together. The finished rye bread is marvelous thinly sliced and toasted, torn into chunks and dunked into soup, or made into a mean grilled cheese sandwich.–Stanley Ginsberg
Milk Rye Bread
This milk rye bread, made with rye and bread flours along with milk and molasses and other pantry ingredients, has a subtle rye flavor and is slightly sweet. And it's simple enough for novice bakers. Here's how to make it.
Equipment
Two 9-by 5-inch (23-by 8-cm) standard loaf pans or two 9-by 4-inch (23-by 5-cm) Pullman pans
Ingredients
For the milk rye dough
1 1/4

cups

whole milk

,

at room temperature

2

large

eggs

2

tablespoons

unsulphured dark molasses

3 1/3

cups

bread flour

,

plus more for dusting

3 1/2

cups

medium rye flour

2 1/4

teaspoons

instant yeast

1 1/2

tablespoons

caraway seed

1

tablespoon

salt

Vegetable shortening or butter

,

for the pan
Instructions
Make the sponge
In a large bowl, mix the sponge ingredients by hand until incorporated, cover, and ferment at room temperature overnight, 10 to 12 hours. The sponge will be very bubbly, have a clean sour smell, and will have doubled in volume.
Make the dough
In the bowl of an electric mixer fitted with the paddle attachment, combine the sponge, milk, beaten egg, and molasses and mix at medium-low speed until incorporated, 2 to 3 minutes. Reduce the mixer speed to low and gradually add the flours, yeast, caraway seed, and salt. When the dough starts coming together, after about 2 minutes of mixing, switch to the dough hook and continue mixing until evenly blended, 6 to 8 minutes. Cover and ferment at room temperature until doubled in size, 45 to 90 minutes.

Generously butter two 9-by 5-inch (23-by 8-cm) standard loaf pans or two 9-by 4-inch (23-by 5-cm) Pullman pans.

Use a plastic dough scraper and floured hands to transfer the dough to a well-floured work surface, taking care not to handle it any more than necessary. Divide the dough into 2 portions, each weighing about 2 pounds (900 grams). Gently shape each piece into an oblong and place each in a loaf pan. Cover and proof at room temperature until the top of the dough rises above the edge of the pan, 30 to 45 minutes.

Preheat the oven to 400°F (205°C) with the oven rack in the middle position.

Bake until the tops of the loaves are a deep golden brown and the internal temperature is at least 198°F (92°C), 30 to 38 minutes. Remove from the pan, move to a rack, and cool completely before slicing.
Notes
*Why is rye good for a sourdough starter?
Whether you're planning to bake rye bread or just adding rye flour to your sourdough starter, you likely know that rye is a top choice for feeding anything that ferments. Rye uniquely attracts many more yeasts than other flours, it becomes particularly active when introduced to sourdough, and ferments much faster. This makes it an easy choice to add to your sourdough to see some activity and rise in a shorter period of time.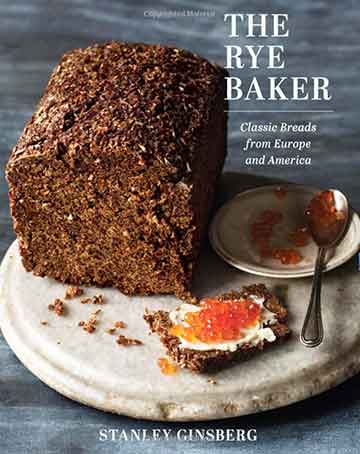 Nutrition
Serving:
1
slice
Calories:
137
kcal
Carbohydrates:
27
g
Protein:
5
g
Fat:
1
g
Saturated Fat:
1
g
Trans Fat:
1
g
Cholesterol:
13
mg
Sodium:
229
mg
Potassium:
131
mg
Fiber:
3
g
Sugar:
2
g
Vitamin A:
33
IU
Vitamin C:
1
mg
Calcium:
24
mg
Iron:
1
mg
Nutrition information is automatically calculated, so should only be used as an approximation.
Recipe © 2016 Stanley Ginsberg. Photo © 2016 Quentin Bacon. All rights reserved.
---
Recipe Testers' Reviews
This milk rye bread is a very simple recipe that will yield 2 nice loaves ideal for toasting and sandwiches. The timings in this recipe were spot on throughout. I used a standard loaf pan and a Pullman pan and both loaves baked up very nicely.
Make certain that you allow this bread to cool completely before slicing. After cooling this bread can be sliced into VERY thin slices which is ALWAYS delicious!
For this recipe, if you're lucky enough to keep an active sourdough culture (starter) on hand, all you need to do is feed it with rye flour. (Some "experts" may tell you that sourdough starters are so finicky that you simply cannot change them from one flour to another. This really is more fiction than fact. I change my starters all the time, simply based on what flours I have on hand and I have kept starters for years on end.)
If you wish, you can always treat your starter as usual and just put a tablespoon of your daily discard in an even mixture of 100 grams of rye flour and 100 grams of warm water. Tomorrow you'll have a fully active rye sourdough starter. This approach will allow you to make the bread much sooner than starting a rye culture from scratch. Honestly, you can use your starter as is and there will be no discernible difference.
If you're just getting into baking bread using sourdough, this is a great recipe to start with. Building a starter with rye is fantastic because the whole grain will really help jump-start the process. And this dough is really easy to work with when shaping. The bread has a nice rye flavor but it's not so assertive that those new to rye flour would be turned off.
As with any yeast bread, you have to figure out what kind of schedule will work for you. The easiest way to do that is to work backward from when you want to bake. An example of my schedule is as follows:
Day 1: Refresh sourdough culture at 7:30 am

Mix the sponge at 7:30 pm

Day 2: Mix dough at 7:00 am

Let the dough proof for 1 hour

Shape dough and let proof for another 1 1/2 hours (the proofing time will depend on your kitchen's temperature and how tightly the dough is shaped)

Bake the dough at 9:45 am
The dough was easy to work with and would be great for newcomers to sourdough. My dough needed to rise for 1 1/2 hours. Again, this depends on temperature and how tight the final shape is.
This milk rye bread makes a great grilled cheese, goes wonderfully with lentil soup, and is fantastic with just butter and honey.