This baked ziti, made with Italian sausage as well as pepperoni and pancetta or bacon along with two types of cheeses and a homemade tomato sauce is rich, indulgent, and comforting in the best possible way.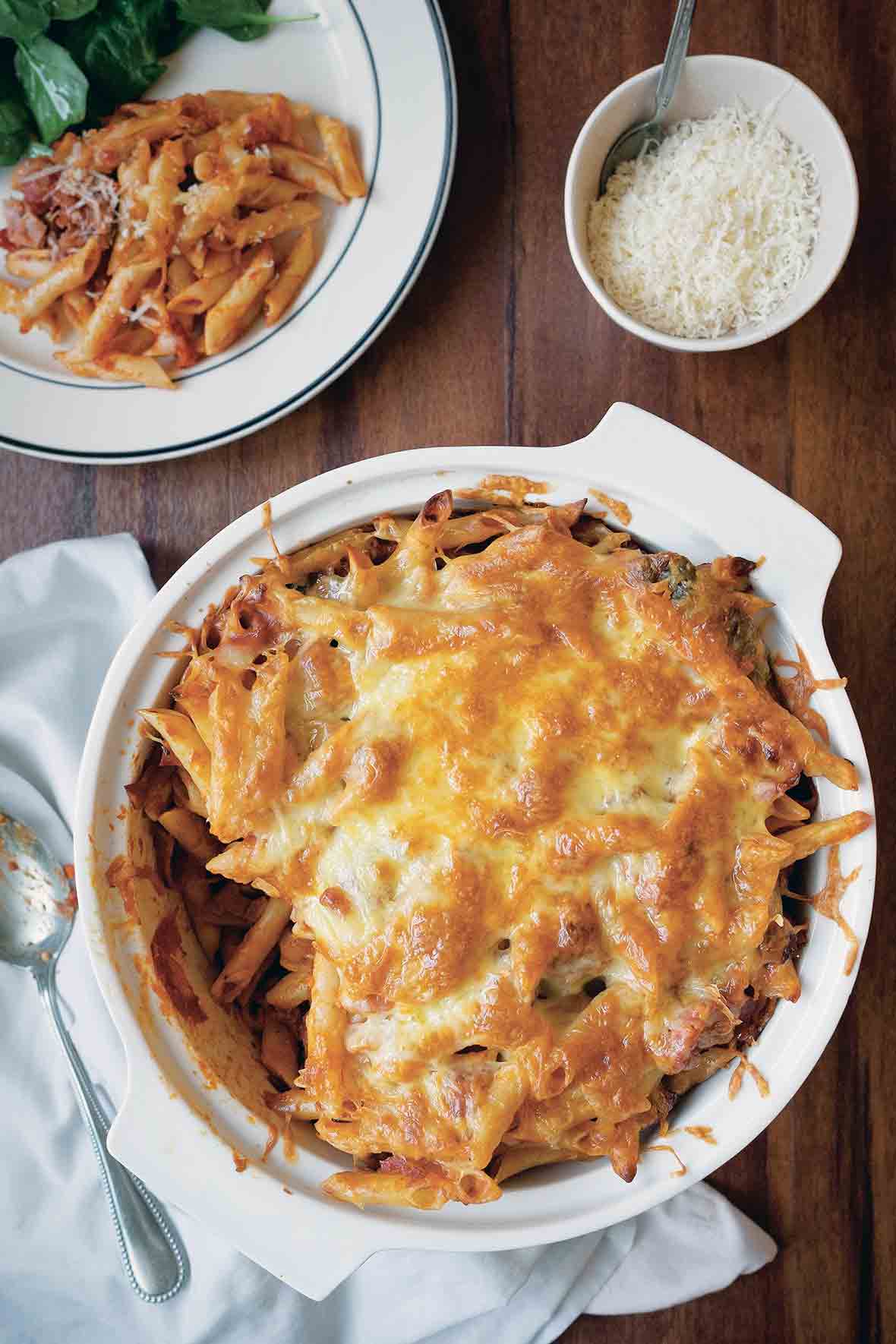 Our baked ziti is spectacularly rich and cheesy thanks to a rather indulgent ingredient list and checks off all our prerequisite boxes for comfort food of the most extraordinarily grandmotherly Italian sort.–Angie Zoobkoff
Baked Ziti
This baked ziti, made with Italian sausage as well as pepperoni and pancetta or bacon along with two types of cheeses and a homemade tomato sauce is rich, indulgent, and comforting in the best possible way.
Ingredients
For the tomato sauce
3

tablespoons

olive oil

1

medium (8 oz)

onion

peeled and finely chopped

1

celery stalk

finely chopped

1

carrot

peeled and finely chopped

3

garlic cloves

peeled and finely chopped

Three

(28-oz) cans

crushed tomatoes

Water

1

tablespoon

dried oregano

1

teaspoon

granulated sugar

5

fresh basil leaves
For the baked ziti
2

tablespoons

olive oil

1

medium (8 oz)

onion

peeled and diced

1

medium (5 oz)

bell pepper

seeded and thinly sliced

10

ounces

pancetta or bacon

finely chopped

12

ounces

fresh Italian sausages

casings removed

1

garlic clove

peeled and finely sliced

2

tablespoons

dried oregano

Salt and freshly ground black pepper

1

pound

ziti pasta

7

ounces

pepperoni

salami, mortadella, ham, or other cured meat, sliced

3

cups

tomato sauce (see preceding recipe)

1

cup

grated Parmesan cheese

2

cups

shredded mozzarella cheese
Directions
Make the tomato sauce
In a large saucepan over medium heat, warm the oil. Add the onion, celery, and carrot and cook, stirring often, until softened, 7 to 8 minutes. Stir in the garlic and cook for 1 minute more.

Pour in the tomatoes. Add a generous tablespoon of water to each tomato can, swish it around to loosen any tomato residue, and pour it into the saucepan.

Stir in the oregano, sugar, and a good pinch of salt. Increase the heat to high and bring to a boil. Cover, reduce the heat to low, and simmer for 30 minutes.

Add the basil and taste it. Add more salt, if desired. Simmer, uncovered, for 15 minutes.

Using an immersion blender, purée the sauce to a smooth consistency. (Alternatively, you can let the sauce cool for at least 10 minutes, carefully transfer the sauce to a food processor or blender, and blitz until smooth).

The sauce can be refrigerated in an airtight container for a week or frozen for up to 6 months.
Assemble the baked ziti
Preheat oven to 350°F (177°C).

In a 12-inch (30-cm) skillet over medium-high heat, warm the oil. Add the onion and bell pepper and cook, stirring often, until tender, about 8 minutes.

Add the pancetta or bacon and the sausage. Cook, breaking the sausage meat up with the back of a spoon, until browned, 6 to 14 minutes.

Sprinkle in the garlic and oregano, a good pinch of salt, and a grinding of black pepper and stir to combine. Cook until garlic is fragrant, 2 to 4 minutes.

Cook the ziti in a large pot of boiling salted water until al dente. Drain and return to the empty pot.

Add everything in the skillet to the cooked pasta along with the cured meat, tomato sauce, and half the cheeses. Stir well to combine.

Dump the ziti mixture into a 9-by-13-inch (23-by-33-cm) baking dish. Scatter the remaining cheeses over the top.

Bake until the cheese is bubbling and golden, about 30 minutes. Let cool slightly before scooping and serving it straight from the baking dish.
Show Nutrition
Serving:
1
portion
Calories:
860
kcal
(43%)
Carbohydrates:
52
g
(17%)
Protein:
36
g
(72%)
Fat:
56
g
(86%)
Saturated Fat:
19
g
(119%)
Polyunsaturated Fat:
6
g
Monounsaturated Fat:
25
g
Trans Fat:
1
g
Cholesterol:
113
mg
(38%)
Sodium:
1800
mg
(78%)
Potassium:
769
mg
(22%)
Fiber:
4
g
(17%)
Sugar:
7
g
(8%)
Vitamin A:
2065
IU
(41%)
Vitamin C:
8
mg
(10%)
Calcium:
351
mg
(35%)
Iron:
4
mg
(22%)
If you make this recipe, snap a photo and hashtag it #LeitesCulinaria. We'd love to see your creations on Instagram, Facebook, and Twitter.
Recipe Testers' Reviews
This Italian baked ziti dish may take a bit of time preparing, but it is SO worth the effort, as well as the raves you will receive! This combines a richly flavored tomato sauce (I used the homemade sauce included with this recipe), a hearty blend of perfectly spiced meats, and a creamy mixture of cheeses melted on top. The only other things needed to complete this meal is your favorite wine, a good baguette, and a lot of friends to enjoy it with you, as this dish will easily feed 6 to 8 hungry people!
We have a wonderful little Italian market where we get our imported Italian sausage, so I thought this recipe was the perfect one to use it with. The mix of pancetta, Italian sausage, and prosciutto created a very meaty pasta dish. The prosciutto (which is what I had on hand) added nice salty bites, but we found it a bit "busy" and not really necessary. I think the sausage and pancetta would have been plenty for this dish, and I will try that combination next time, along with the addition of olives, which would give it an added brightness to cut some of the fattiness of the meats.
I used the largest baking dish I had (9 1/2 by 13 1/2 by 2 inches) and it was completely filled.
I found it curious that the onions were called to be diced, and the bell pepper (I used green), sliced, in this recipe. However, as they both cooked down, they basically disappeared into the meat mixture. The flavors were certainly there, but you only got a glimpse of the tiniest slivers of peppers that remained.
An excellent pasta dish we've added to our "to be repeated" list!! As for the tomato sauce, this is a wonderful, rich-tasting tomato sauce you will be eating with a spoon right out of the pot before it reaches its intended destination!!!! Not a problem, since this recipe makes about 2 1/2 quarts of sauce. I used 3 cups of this sauce for the baked ziti, and packaged up the remaining sauce in 2 containers to freeze for later. A definite keeper!!
This recipe is deeelicious. Even when eaten cold, its flavors are rich and layered. No doubt this has a lot to do with the 3 different meats in the recipe, which for me is a lot (we tend toward vegetarian in our house, but I have a weakness for Italian food), but altogether, this was a wonderful recipe that I'd love to make in colder seasons. And though the ingredients and process take some time, the result is very much worth it.
I used my own tomato sauce that I had in the freezer; it's a similar recipe to the one given but does not include celery or basil and does include bay leaf.
As soon as I read this baked ziti recipe, I couldn't wait to try it and I wasn't disappointed. When making this, I used mild Italian sausage, bacon, and pepperoni. I already had all of the ingredients on hand. I also knew that my "taste testers" would prefer these ingredients.
The next time I make it (and there will be a next time very soon) I will try it with hot Italian sausage instead of mild and pancetta instead of bacon. I did make my own tomato sauce, which I highly recommend. I used the tomato sauce recipe included and it was exceptional. I know it would be easier to use store-bought sauce and also a time saver, but this tomato sauce was worth the added time and the bonus is, it makes more than you need so you can freeze it and have homemade sauce ready the next time you need it.
Back to the baked ziti. Besides being delicious and a great combination of flavors, it comes together very quickly. You will have everything else ready by the time your pasta is cooked…it is that quick. Pop it in the oven for 30 minutes, make a simple salad while it bakes, warm up some crusty Italian bread or rolls, and in an hour or less you have a meal that is sooo good it tastes like you spent all day preparing it. I love recipes like this one.
This recipe serves a lot, about 10 servings. I baked mine in a lasagna pan and it worked out well. I do think I could have shortened the baking time to 25 minutes with this pan size. My taste testers included adults and children and they all loved it.
Originally published October 30, 2019
Recipe © 2019 Liliana Battle. Photo © 2019
Stacey Tyzzer
. All rights reserved. All materials used with permission.
If you make this recipe, snap a photo and hashtag it #LeitesCulinaria. We'd love to see your creations on Instagram, Facebook, and Twitter.