These prosciutto-cheese gougères are easily tossed together with eggs, cured ham, aged cheese, and plenty of fresh thyme and rosemary.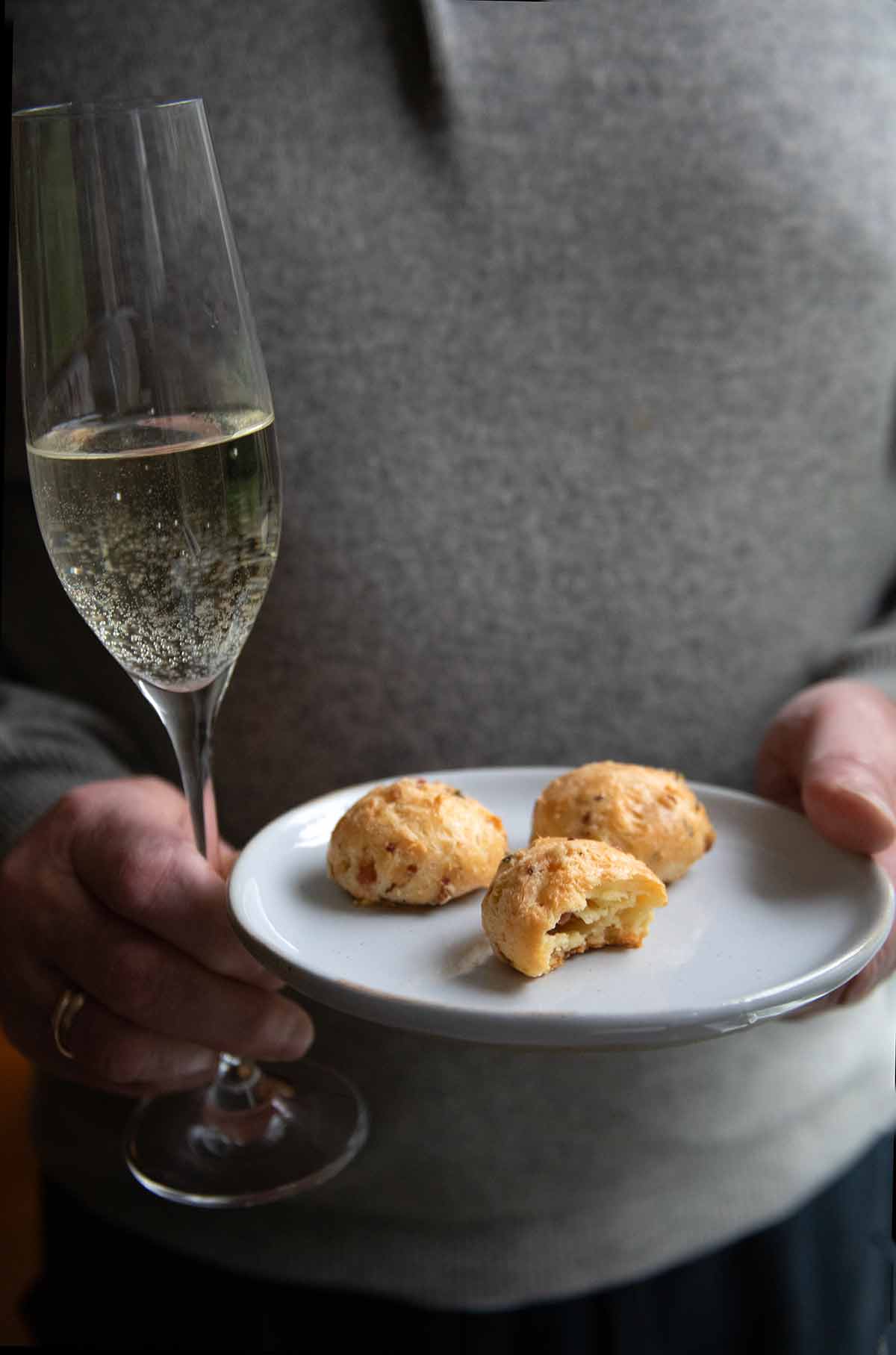 I believe that of all the puffs, the savory gougère is the pinnacle of puffery perfection. The reason being that the pastry used for sweet profiteroles, cream puffs, and even the Eiffel tower-like croquembouche is, at the core of its being, no more than a vehicle for the filling. It's what you have to get through to get the Cracker Jack prize within, whether pastry cream, ganache, caramel, you name it.
But the gougère, well, the gougère is the prize. It's sorta the edible version of a Chinese takeout food container.
In this version, I went one better by adding to the batter classic Prosciutto di Parma as well as one of the noble cheeses of Italy, Grana Padano, along with thyme and rosemary to ensure every bite literally explodes with indulgence. Okay, perhaps I'm a little hyperbolic. But these are indeed not your ordinary savory gougères. Indeed, a fine piece of puffery.–David Leite
AN EATING TOUR OF ITALY
Years ago, I had the good fortune to tour Italy and, led by my prodigious belly, I ate my way from one astoundingly delicious region to another.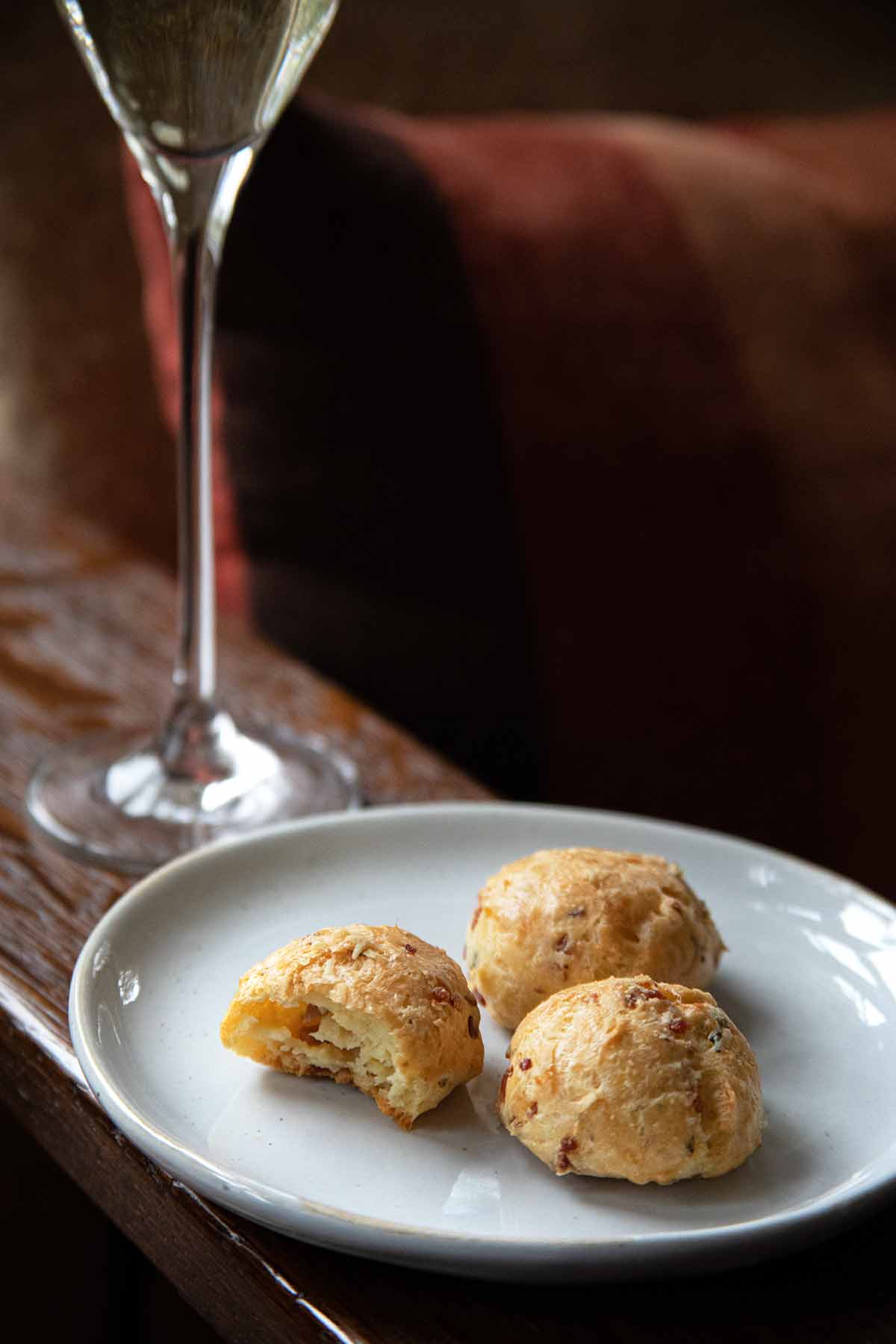 My trip began in the Parma region, where one of the world's most famous hams is produced: Prosciutto di Parma. Led by my guide, I walked along row and rows of curing hams hanging from racks. As I snapped picture after picture, I learned that the hams, also know as Parma ham, are made with only two ingredients–locally raised pork and salt–and are air-cured for at least 400 days. As natural as natural can be.
Of course, no food trip would be complete without tastings, and I happily held out my plate. The prosciutto was superbly silken with deep umami notes and a hint of salt. It paired marvelously with the fruity white wine served.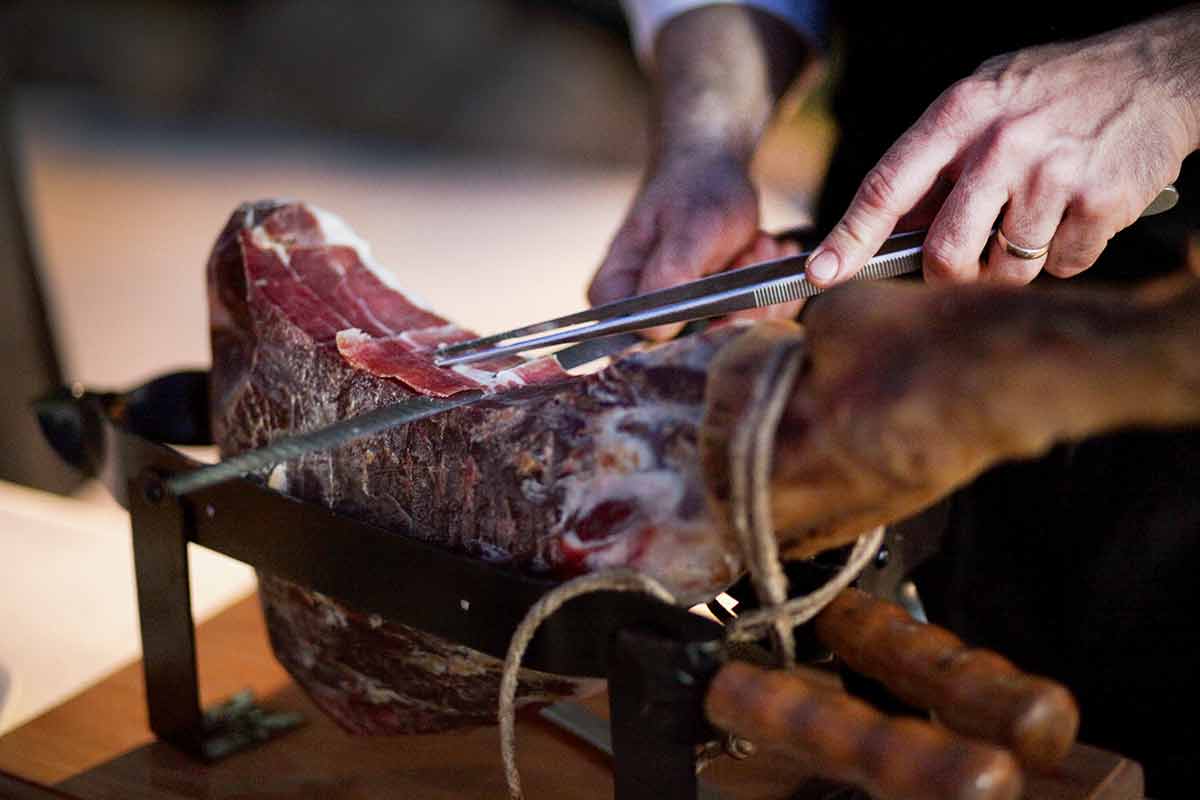 Next, I landed smack in the middle of the Pó River Valley, home to Grana Padano. Through a jumble of Portuguese and Italian, I discovered from the cheesemaker (see below) that Grana Padano is the most popular grating cheese in Italy. Made from partially skimmed raw cow's milk from local dairies in the valley, Grana Padano is still made using the same methods developed by the monks who created the cheese more than a millennium ago.
Both foods are DOP (Denominazione di Origine Protetta), meaning only ham and cheese from those respective regions can be called Prosciutto di Parma and Grana Padano. (Unless you specifically ask for "Prosciutto di Parma" at the store, you're most likely getting American-produced cured ham.)
I followed the farm-to-table process by tromping through pastures, visiting storehouses, and partaking in a dizzying number of wine-soaked dinners. The pride the dairy and pig farmers took in their work was matched only by the folks who made and aged the cheese and cured the hams.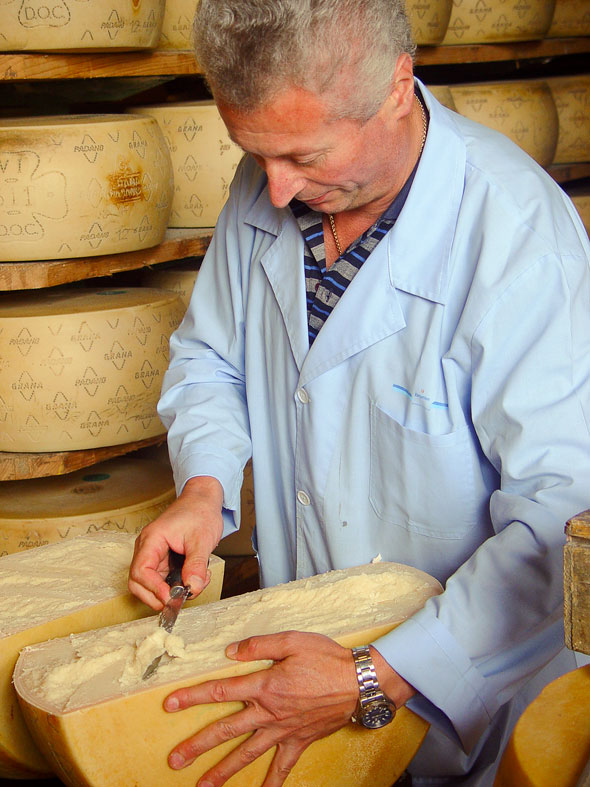 The trip ended two weeks later with a dinner at a gorgeous winery in Valpolicella. It was autumn, and the grapes were still on the vines to concentrate their flavor to make the region's famous Amarone wine—a rich, muscular red with deep notes of currants, cherries, and vanilla.
Our hostess, the owner of the vineyard, began the evening by passing platters of Prosciutto di Parma and Grana Padano drizzled with local honey and pouring her wine as we sat by the fire. A decade later, I can't tell you what we had for dinner, but I remember that gracious, friendly cocktail hour. I remember it so well, and was so taken by it, that ever since then, The One and I have made prosciutto and Grana Padano drizzled with local Connecticut honey a staple in our entertaining.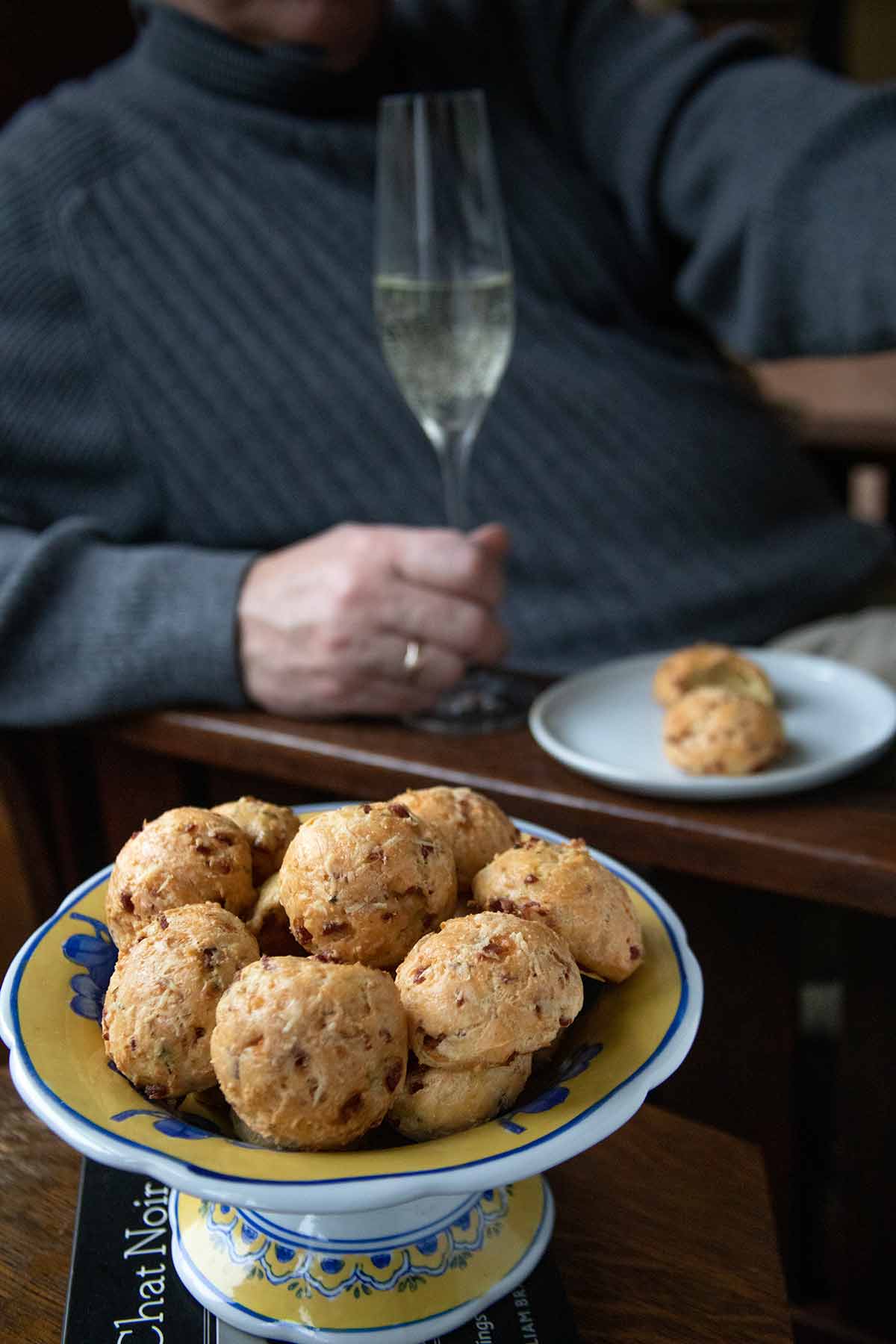 The only thing we do differently? We serve Prosecco because, as many of you know, we firmly believe a meal without bubbles is no meal at all.
☞ READ THE THE ARTICLE: CALL ME PUFF DADDY
Prosciutto-Cheese Gougères
Quick Glance

(4)

20 M
45 M

Makes about 30 gougères
Print Recipe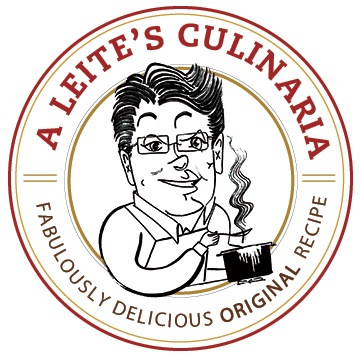 Ingredients
Email Grocery List
Directions
Crank the oven to 425°F (218°C) and position racks in the top third and bottom third positions of the oven. Line 2 baking sheets with parchment paper or nonstick baking sheets.
Bring the water, butter, and salt to a boil in a medium saucepan over medium-high heat.
Dump the flour all at once into the boiling butter mixture and, using a wooden spoon and good old elbow grease, stir until the flour clumps into a ball and pulls away from the sides of the pan. Continue stirring over medium-high heat until the dough leaves an even, dry film on the bottom of the pan, 2 to 3 minutes. (Don't you dare skimp on this step.)
Drop the ball of dough into the bowl of a stand mixer fitted with the paddle attachment and mix on low speed until the dough is just barely warm to the touch, about 5 minutes.
Plop in an egg, increase the speed to medium, and beat until incorporated. The dough may look hopelessly soupy and broken at first, but fear not and continue mixing until the blob turns smooth and slick. Repeat with the remaining eggs, adding them 1 at a time.
Using a spoon, stir in the Prosciutto di Parma, Grana Padano, rosemary, thyme, and pepper.
Drop rounded tablespoons of the dough, or use a 1-tablespoon cookie scoop to make plump mounds, on the prepared baking sheets, spacing them about 2 inches apart. Have a glass of cold water handy and dip the spoon in it every so often to help make the dough easier to scoop.
Bake the puffs until golden brown, 20 to 25 minutes, rotating and switching the positions of the sheets once halfway through baking.
Transfer the sheets to a wire rack to cool slightly. Then whip off your apron, pop as many puffs as can fit into your mouth, place the rest of the puffs on a platter, and offer them to your guests post haste. (You can bake these up to 2 hours in advance, then reheat them in a 350°F [176°C] oven for 5 to 7 minutes. Or freeze a batch of baked, cooled puffs for up to a month and, just before guests arrive, pop the frozen puffs into a 350°F [176°C] oven for 10 to 12 minutes.)
Print Recipe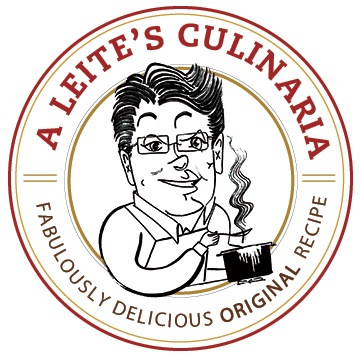 A Little Bite to Carry You Through the Holidays
Frankly, these little bits are so bursting with flavor due to the Prosciutto di Parma and Grana Padano that they need little else. But…you know me: I have "Guild the Lily" tattooed on my chest.

For Thanksgiving, you can fill them with a mix of cream cheese and cranberry compote.

For Christmas, think thin slivers of leftover rare roast beef and a dollop of horseradish sauce.

And for New Years, well, I think a tiny mound of caviar and a spoonful of sour cream is exactly what Father Time craves.
Recipe Testers Reviews

This gougères recipe is perfect for that irresistible, one-bite morsel of goodness and delectability that we're all looking for on the cocktail buffet. It's the perfect bite that includes cheesy, salty, savory, and herbal goodness. It's the Rocky Mountain High of Poufs, the Sultan of Savory Puffs!
I can see it pairing well with a great single-malt Scotch, a nice, cool Chardonnay, a good, hearty Cabernet, and an icy Abita Turbodog. Yes, all of them! And I have to admit, I did sneak one right out of the oven with a diet Coke (decaf, of course).

These puffs are puffy and chewy, cheesy, and salty, and perfect coming right out of the oven. They're great to serve before dinner to friends, but I recommend making two batches for a party. You'll want to check the taste of one as they start cooling, then you'll find yourself popping "just one more" in your mouth. They're almost too easy to eat.
But make the two batches of dough separately, instead of just doubling everything in one pan.
One of these times I swear I'll serve them with something, instead of just eating them while standing at the counter.

These gougères are freakin' fantastic. I made them too late at night after a frustrating day at work, so I brought most of the batch to the office the next day, warmed them up, and fed them to the natives. They loved them even though they'd been sitting overnight. In fact, most people flocked to them. I used a #40 cookie scoop (that's the one that yields a generous tablespoon) to scoop the dough. Spray it lightly with cooking spray and the puffs will slip right out.
Prosciutto-Cheese Gougères Recipe © 2019 David Leite. Photos © 2019 David Leite. All rights reserved. All materials used with permission.
If you make this recipe, snap a photo and hashtag it #LeitesCulinaria. We'd love to see your creations on Instagram, Facebook, and Twitter.