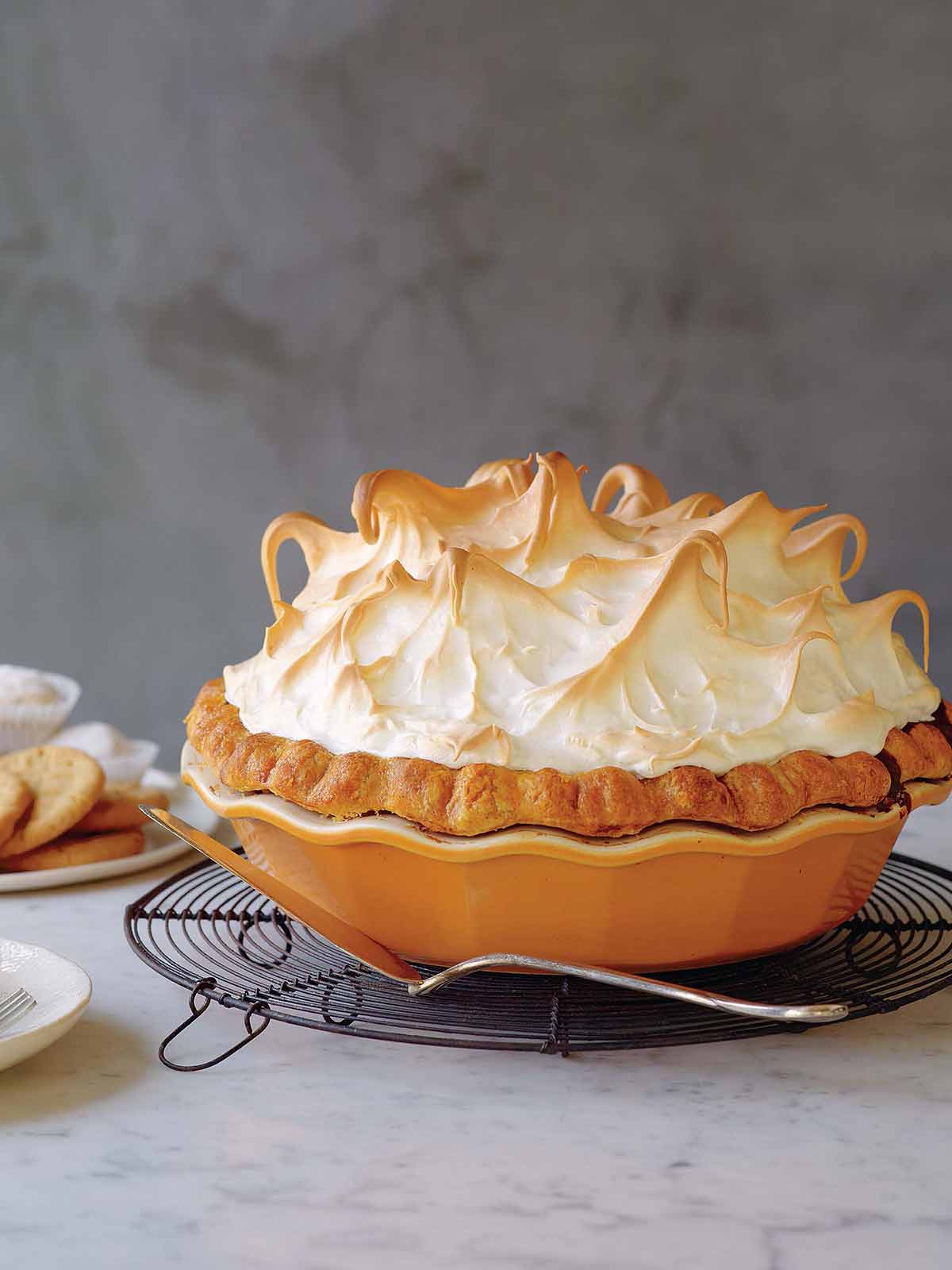 ☞ Perfect Pumpkin Pies ☜
Pumpkin pie is by far the most popular type of dessert to be served at Thanksgiving. A recent study showed that a whopping 23% of Americans selected pumpkin pie as their favorite holiday pie, giving it a wide lead in the number one spot.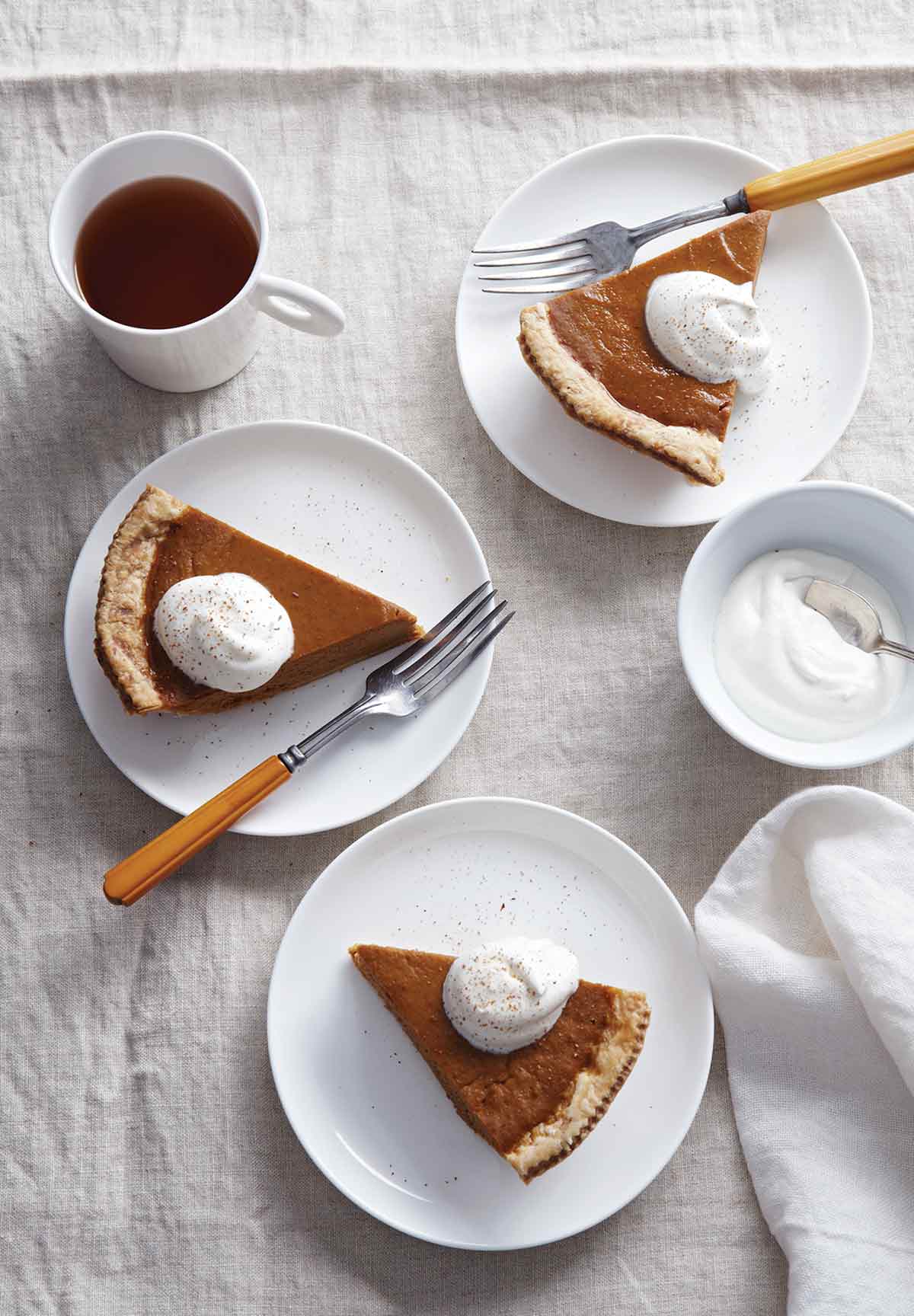 Maple Pumpkin Pie
This maple pumpkin pie is just about as traditional as tradition can get. The crust is a flaky pâte brisée, and the filling is pumpkin purée, flavored with ginger, cinnamon, nutmeg, cloves, and the twist of maple syrup.
Recipe
It's the best pumpkin pie I've made; I'll be making it again this year. Maybe I'll add a bourbon barrel-aged syrup to give it more depth. And maybe chai-spiced whipped cream to gild the lily!

Judith p.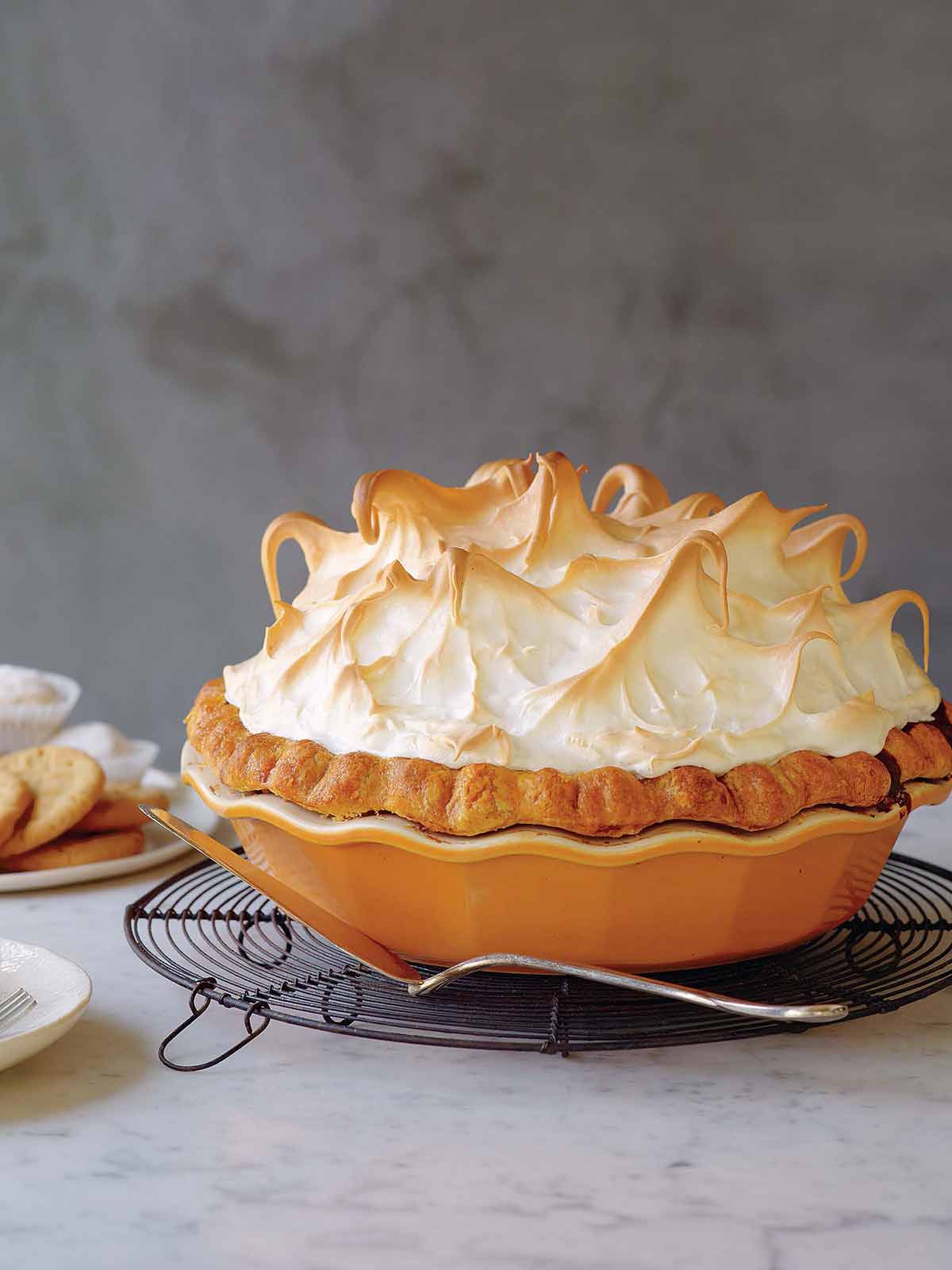 Pumpkin Meringue Pie
Pumpkin meringue pie. At long last, a slice of pumpkin pie can be considered stunningly sophisticated as well as complete in and of itself—no dollop of whipped cream required.
Recipe
Caramelized Honey Pumpkin Pie
Caramelized honey pumpkin pie will make pumpkin pie lovers out of even the most pumpkin resistant. Gently spiced and with the addition of brown butter and caramelized honey, it hits all the right spots. An all-butter crust is a perfect complement to the sweet, creamy filling.
Recipe
☞ Amazing Apple Pies ☜
Apple pie is the gold standard of classic American desserts, and for good reason. It's easy to make with ingredients that are readily accessible, and nearly everyone likes it. However, the variations on classic apple pie are endless.
Below, you'll find a few of my favorites, but if none of them tickle your fancy, try my savory apple pie with Cheddar crust. Feeding a crowd? Caramel apple slab pie is your best bet.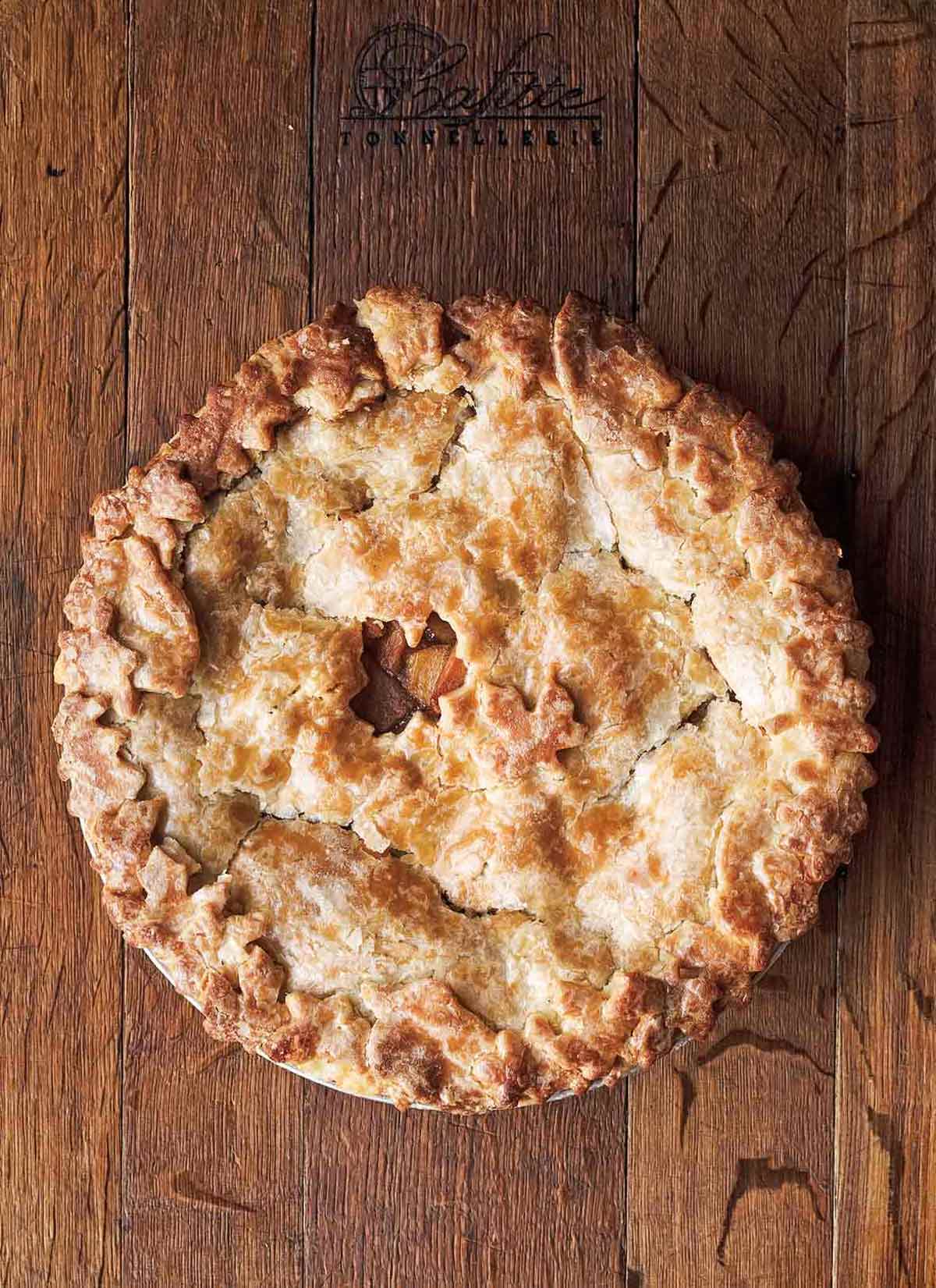 Hot Buttered Rum Apple Pie
Hot buttered rum apple pie from Tom Douglas–made from apples, spice, and a splash of rum–is perhaps the best apple pie we've ever experienced. It's a combo of your favorite warm cocktail and your favorite pie.
Recipe
I have made nearly 300 apple pies in my 68 years, and I wish I had discovered this one earlier. The flavor is deep and caramel-ly, with so much more going on than the usual apples with cinnamon.

Bette S.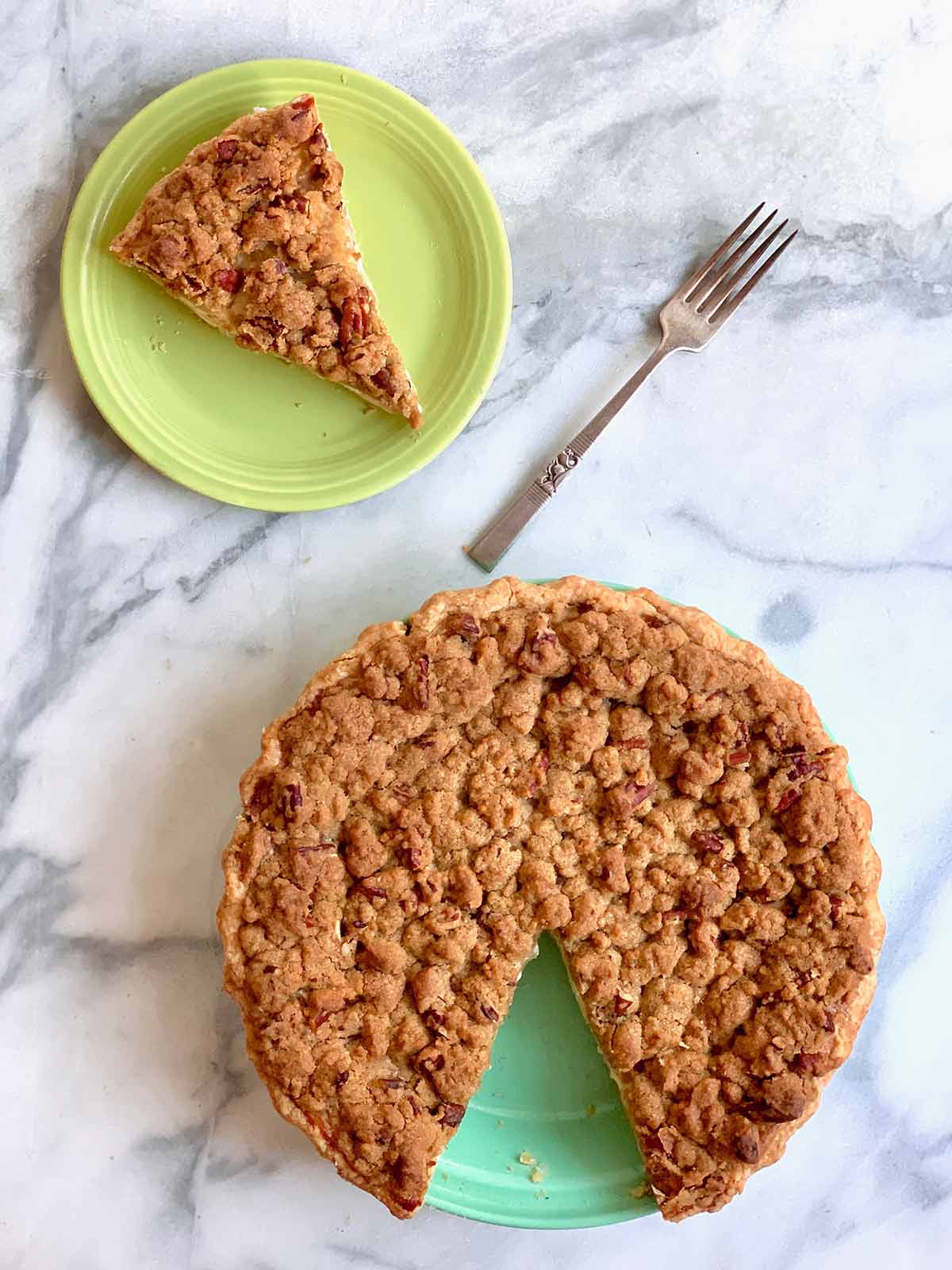 Sour Cream Apple Pie
This sour cream apple pie is filled with layers of thinly sliced apples and a sour cream filling and then the whole shebang is smothered with a buttery streusel topping. What's not to love?!
Recipe
This apple pie was amazing! My husband said it was the best apple pie he's ever had. My son took one forkful, picked it up with his hands, and gobbled the whole thing down! Yum!

Pat T.
Caramel Apple Pie
This caramel apple pie takes classic apple pie to the next level. For this beloved autumn dessert, warmly spiced apples are embraced in a nutty whole wheat pie crust and baked until golden. A lacquer of sweet caramel to finish takes this pie over the top.
Recipe
☞ Rich and Nutty Pecan Pies ☜
Pecan pie is the second most popular holiday pie and is especially popular in Southern states, particularly Texas, where it has been named the official state dessert. If you can't choose between pumpkin and pecan, try them together in this pumpkin pecan pie.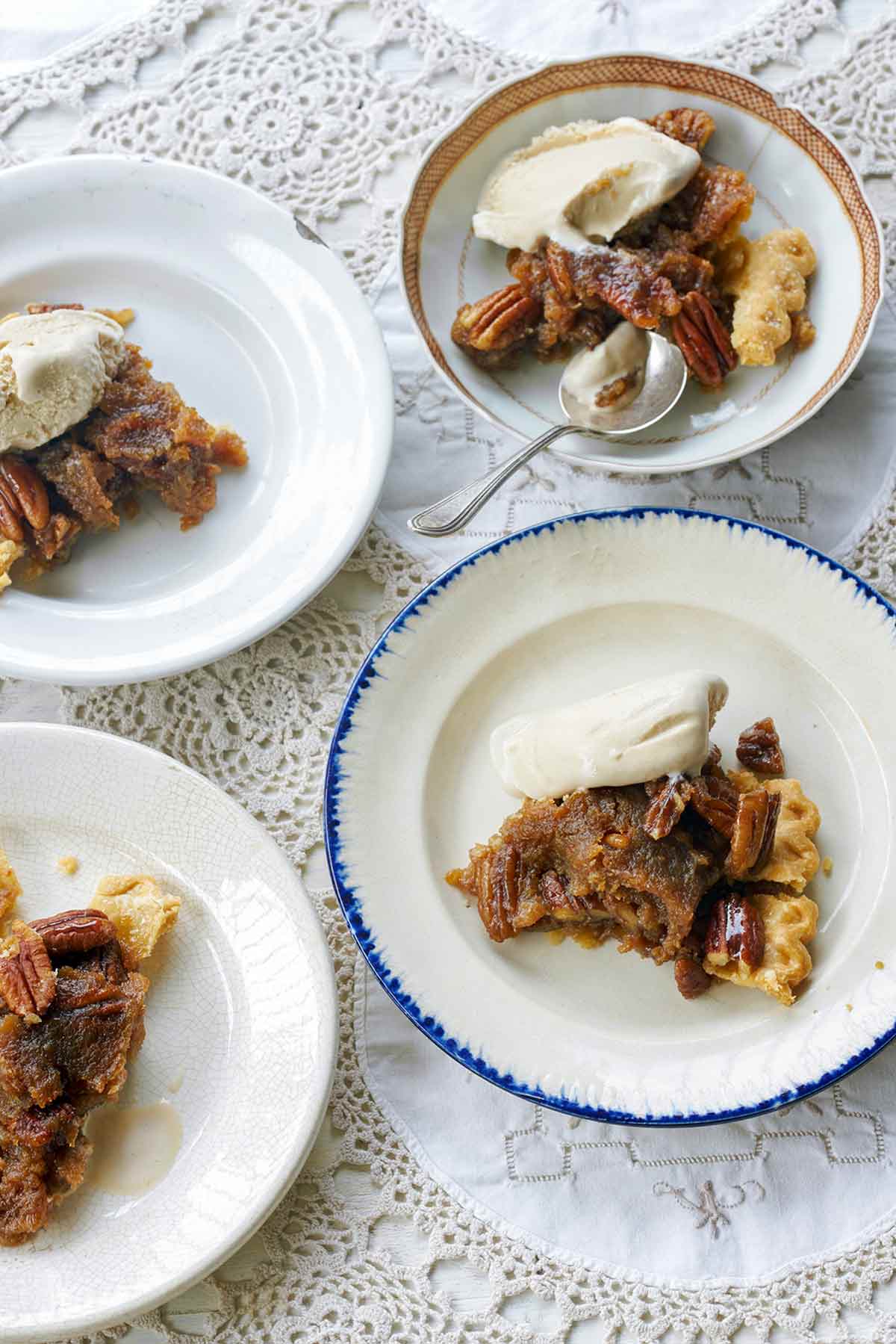 Rum Pecan Pie
This rum pecan pie is all grown up thanks to a little splash of rum in the sweet and crunchy pecan filling. Just like traditional pecan pie. Only better.
Recipe
Maple Pecan Pie
This maple pecan pie takes classic pecan pie up a notch by using maple syrup in the filling and ground oats for a slight nuttiness in the crust.
Recipe
I grew up with Southern corn syrup pecan pie, and this pie is so much more decadent and absolutely delicious!!

Teri Y.
Chocolate Pecan Pie
This Southern chocolate pecan pie is a great classic. My American friend, the chef Art Smith, taught me how to make this recipe, and my friends are all in love with it.
Recipe
☞ Non-Traditional Thanksgiving Pies ☜
So, you've accepted that there's an expectation of pie on your Thanksgiving dessert table, but pumpkin isn't your thing; there are pecan allergies in your family; and everyone has already consumed their weight in apples this fall. What to do?
Enter these stunning pies, which will please the non-traditional Thanksgiving dinners at your table and perhaps convert a few traditionalists, too.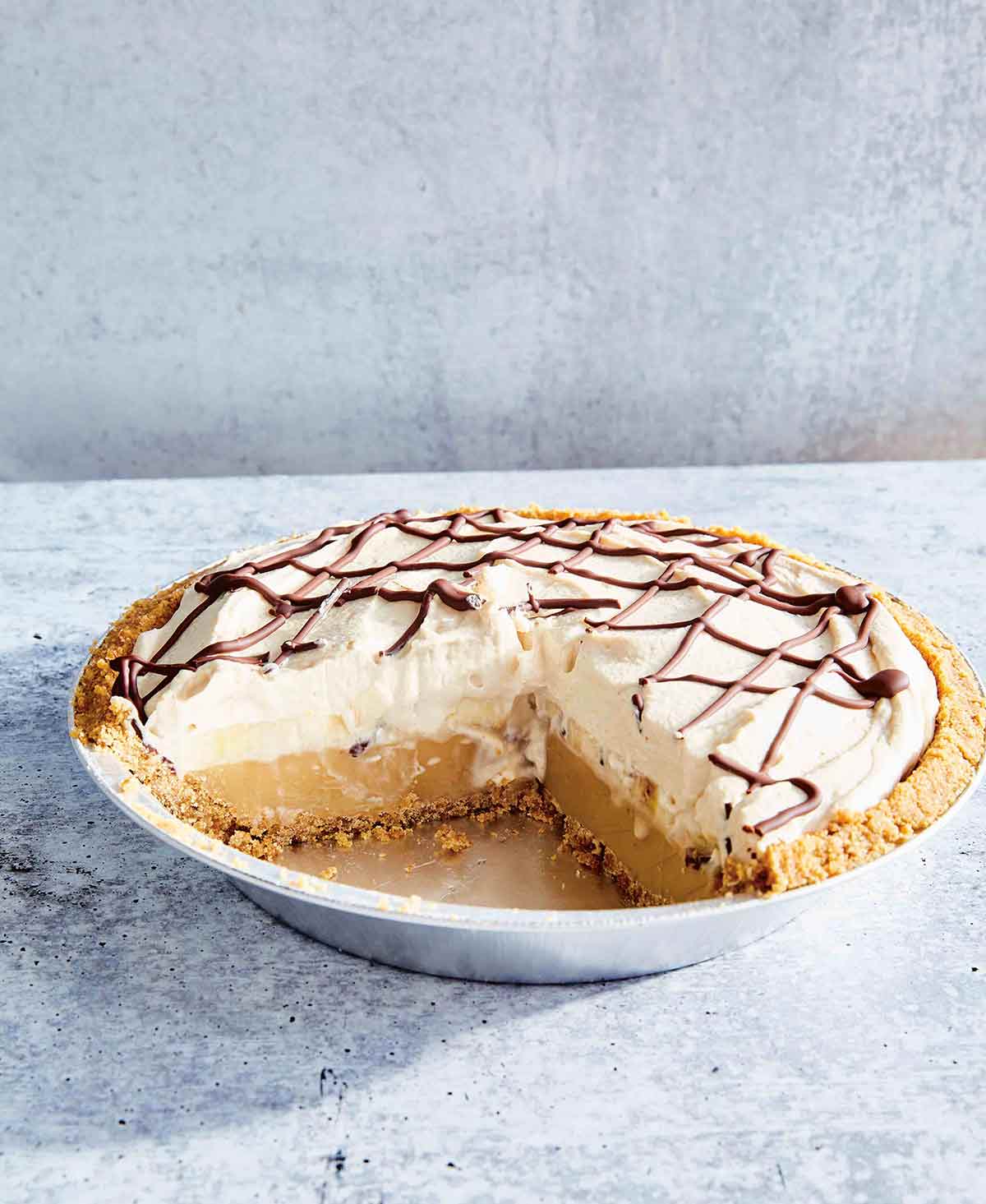 Banoffee Pie
In my version of easy banoffee pie, I add peanut butter to the homemade whipped cream because peanut butter and bananas are so great together (and, yes, so American!).
Recipe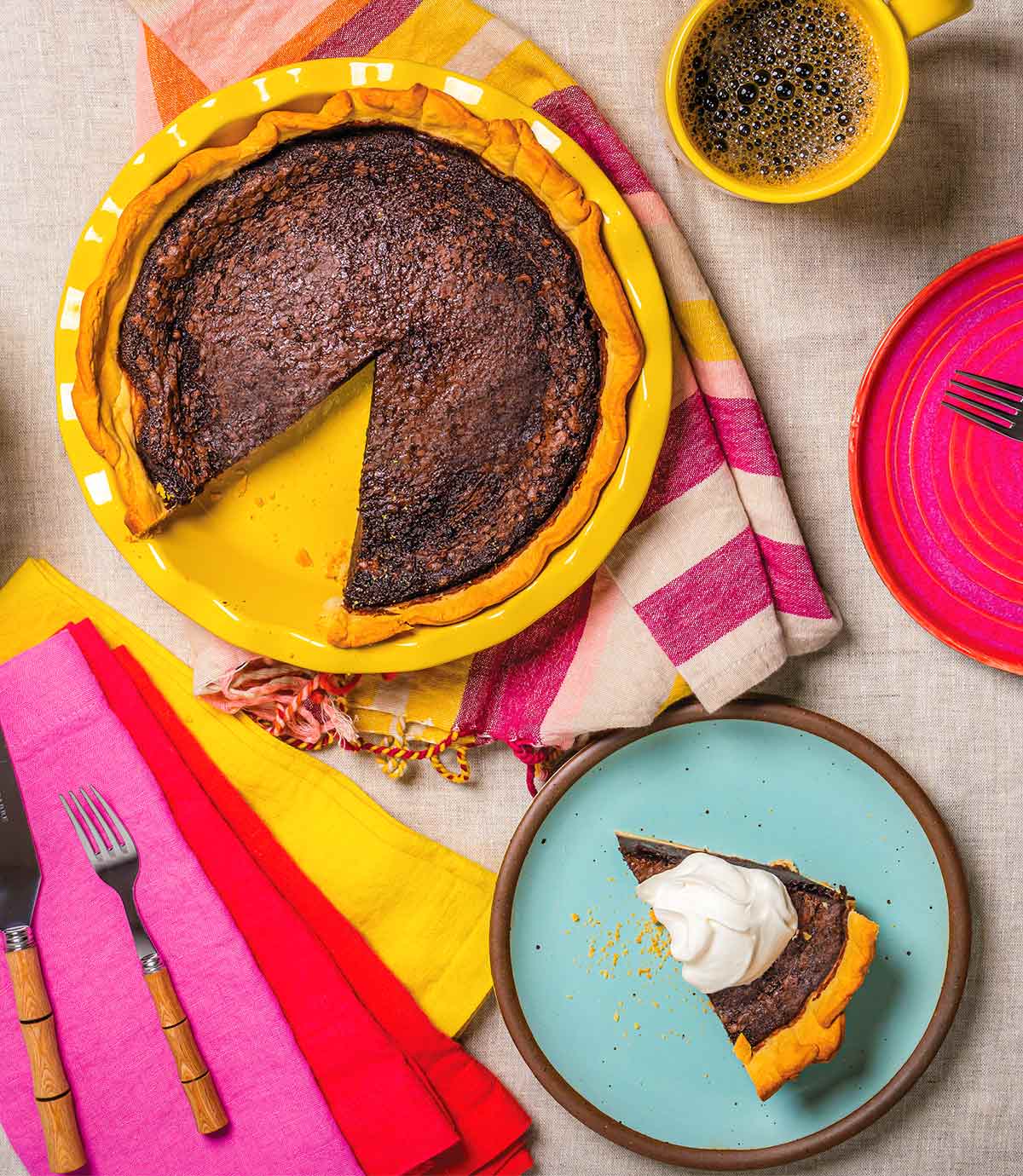 Chocolate Buttermilk Pie
This pie was the perfect ending to Sunday supper. It's mildly sweet with deep chocolate flavor, smooth, and custardy, with a great tang from the buttermilk.
Recipe
Sugar Cream Pie
This Hoosier sugar cream pie is perhaps the best dessert to ever come out of Indiana. Who knew a little sugar, flour, cream, and vanilla could become something so magnificent? Easy to understand why it's so common since it comes together from pantry staples.
Recipe
☞ Let's Talk Pie Crust ☜
The foundation of a great pie is, quite literally, the crust. It needs to be flaky and rich but still sturdy enough to contain the contents of your pie.
How do I choose the right crust?
When it comes to pie crust, there are many, many recipes to choose from. You can make all-butter crusts or crusts made with combinations of butter, shortening, or lard. Each has its own benefits and drawbacks, but understanding the differences will help you to choose the best crust for your pie.
Butter pie crust has the richest flavor because, well, it's made with butter. And butter also makes the flakiest crusts, thanks to the water content that evaporates during baking. It can be harder to work with, though, and you have to roll it out when it's just soft enough to roll but not warm enough to start softening.
A pie crust made with butter and shortening, like this flaky pie crust, is easier to work with than an all-butter crust, thanks to the higher melting point of the shortening. It also holds its shape better while baking. This makes it ideal for pies that have decorative toppings. The flavor won't be as rich as a butter crust and may taste slightly greasy.
A butter and lard crust is also easier to work with than an all-butter crust, and the lard will produce an exceptionally crisp and flaky crust. You need to use rendered leaf lard for the best flavor, which can be difficult to find.
What's the secret to rolling out pie crust?
Rolling out pie dough can seem intimidating, particularly if your previous experiences have involved dough that sticks or tears. (I heart you!) Here are a few tips that will have you rolling pie crust like a boss.
Roll cool (but not cold!) dough. Take your dough out of the fridge 30 minutes or so before rolling, but don't leave it too long. As it warms, the cold fat in your dough softens, which leads to sticky dough.
Use a silicone mat for rolling the dough. Once you've got it to the right size, it will be a breeze to remove and place in your pie plate. If you don't have one, a piece of parchment or plastic wrap also works.
Roll from the center of the dough with your hands placed over the top of the dough and not off to the sides. This will allow you to apply even pressure.
After each roll, rotate your dough a quarter turn before making the next roll. This will help the dough to roll out in an even circle.
How do I get those picture-perfect crimped edges?
Learning to create those pretty crimped edges on your pies is easy to do and will elevate any pie into something drool-worthy. There are a few important things to remember when crimping:
Leave lots of overhang when you roll out your pie crust. This will give you plenty of dough to work with on the edges. If you're making a 9-inch pie, roll the dough to about 13 inches.
Choose a pie plate that has a lip of at least 1/2 inch. That fluted edge needs somewhere to rest!
Use both hands to create the crimp. Use your pointer finger on one hand to push the dough outwards, while using the thumb and pointer on your other hand to push inward, creating a 'V' shape. Repeat, working your way around the crust.
Get more details and helpful photos in this article on How to Crimp Pie Crust Like a Pro.