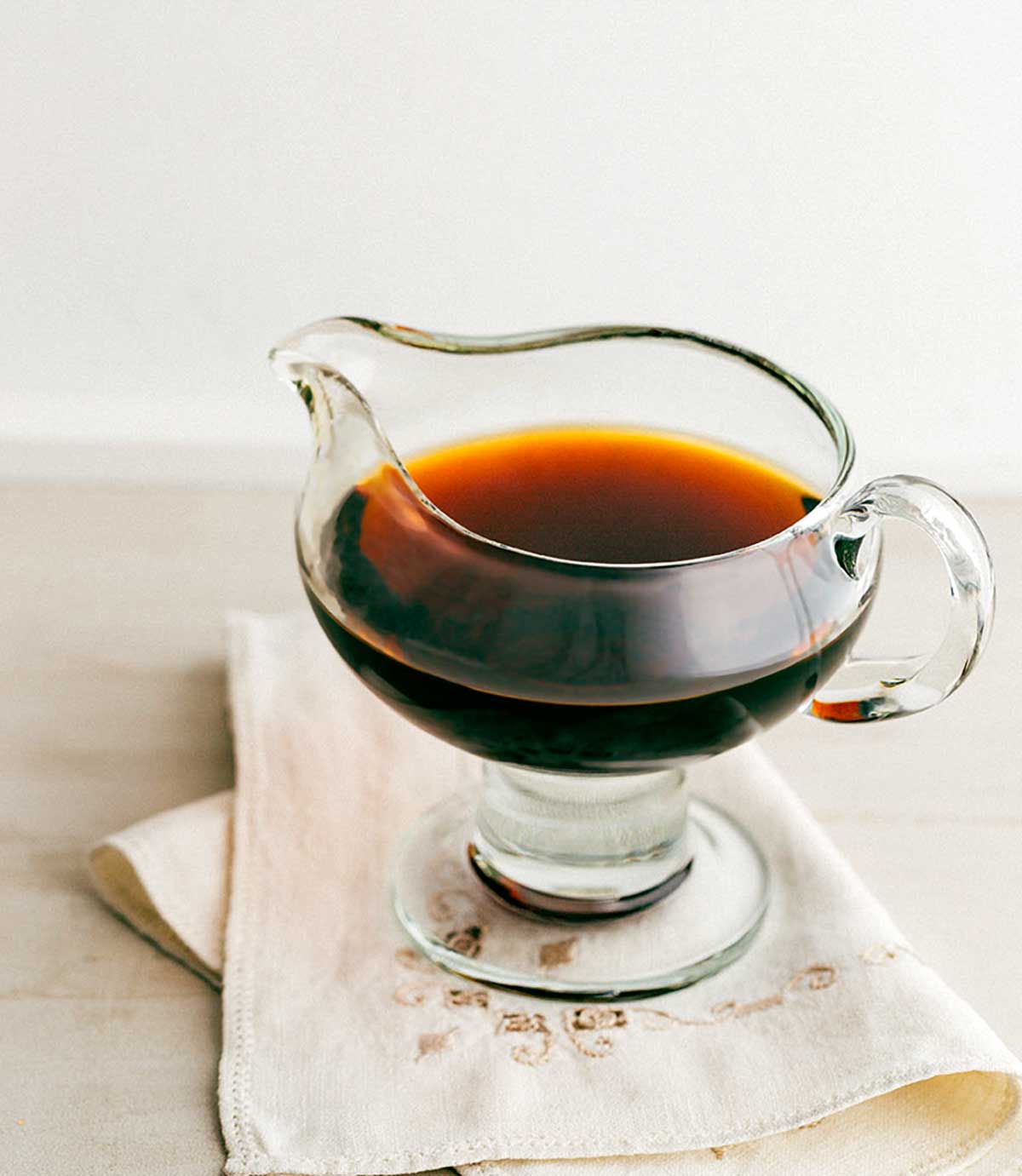 This quick and easy syrup takes only 10 minutes to make. Use it on homemade pancakes, maple oat waffles, ice cream, vanilla pound cake, and any number of other savory or sweet options. Feel free to substitute maple or homemade vanilla extract for the bourbon, if appropriate for your family.–Belinda Smith-Sullivan
WHAT TYPE OF BOURBON SHOULD I USE?
Using a high-quality bourbon for this syrup will yield a smoother-tasting syrup. One of our brilliant testers noted that small "airline-size" bottles of bourbon are often available at liquor or convenience stores and hold just the right amount for a couple batches of this recipe.
Bourbon Syrup
This bourbon syrup, made with sugar, water, and a splash of bourbon, is simple to make and perfect for drizzling atop waffles, pancakes, French toast, even ice cream.
Ingredients
2

cups

packed light or dark brown sugar

1

cup

water

1

tablespoon plus 1 teaspoon

bourbon* (see NOTE above)

,

or 1 teaspoon vanilla, maple, or rum extract, if preferred
Instructions
In a medium saucepan over medium heat, stir together the sugar and water, and cook until the liquid just begins to boil. Immediately reduce the heat to medium-low and cook at a very low simmer, stirring constantly, for 2 minutes.

Remove the saucepan from the heat and slowly pour in the bourbon, stirring carefully so that the mixture doesn't bubble over.

Return the saucepan to medium-low heat and cook, stirring occasionally, for 3 minutes more. Remove from the heat and let the syrup cool slightly.

☞ TESTER TIP: Don't expect the syrup to thicken much as it cools. It will stay relatively thin—but delectable!

Use the syrup immediately or pour into a sealable jar and refrigerate for up to a month. (To reheat, warm in the microwave for 30 to 40 seconds, but watch very closely to prevent an overspill!)
Notes
What to do if your sweet and savory bourbon syrup crystallizes
You may find that after a little time, sugar crystals form on the bottom of the syrup jar. These are a harmless byproduct of the syrup-making process and have to do with exact temperatures and sugar saturation. The crystals are surprisingly difficult to dissolve and won't break down readily with extra heating, so just ignore them or fish them out as a sweet bonus treat if you wish!
Nutrition
Serving:
2
tablespoons
Calories:
107
kcal
Carbohydrates:
27
g
Protein:
1
g
Sodium:
8
mg
Potassium:
37
mg
Sugar:
27
g
Calcium:
23
mg
Iron:
1
mg
Nutrition information is automatically calculated, so should only be used as an approximation.
Recipe © 2020 Belinda Smith-Sullivan. Photo © 2020 Susan Barnson Hayward. All rights reserved.
---
Recipe Testers' Reviews
What a nice homemade touch to the breakfast or brunch table! It's also good to know you can make your own syrup—with or without the bourbon—if you've run out of your grocery store brand. The bourbon flavor is almost imperceptible, providing a very subtle background note. Once the mixture starts to boil, quickly reduce the heat and stir occasionally. If it starts to get too bubbly and you fear it might boil over just lift the pan off the burner for a few seconds until the mixture settles down.
I used the ingredients as listed with bourbon as the flavoring. The syrup thickened only slightly when cooled, approximating the viscosity of maple syrup. I suspect dark rum would be a good flavoring, too. Simmering a cinnamon stick in the mixture would add additional interest.
We enjoyed the syrup with brioche French toast and thick cut bacon. It was a nice change from our typical grocery store breakfast syrup.
I used a bourbon from a local distillery and could definitely taste the flavor in the final product. I served this as a topping to warm apple crisp with vanilla ice cream as our Christmas night dessert. This flavorful and not too sweet syrup really put the dish into fancy-pants status. This syrup would make a great homemade holiday gift packaged in a pretty jar or bottle; you could even gift it along with a bottle of the bourbon used as flavoring.
This delicious syrup came together in just under 20 minutes. In order to avoid scorching, I gently stirred the sugar and water constantly for 10 minutes over medium heat until the mixture came to a boil. I then reduced the heat to medium-low and stirred for an additional two minutes. The instruction to use a medium-sized saucepan should not be overlooked as the mixture does bubble-up when the alcohol is added.
This would be wonderful as recommended over pancakes or waffles. I'm considering using it as a replacement for simple syrup in an Old-Fashioned cocktail on New Year's Eve.
Select a Tester
This is pretty near to its title, a syrup. A very boozy syrup! However, the recipe suggests that the syrup will thicken, which it hasn't. My guess is that it needs to be cooked with more precision or the recipe needs adjusting if your desired outcome is a thicker syrup.
The recipe suggests that it makes one cup (237 ml) of finished syrup. I followed the directions to the letter and ended with 1 3/4 cups (455 ml) of finished syrup.
My syrup did NOT thicken after being cooked according to instruction, however that did not stop me from pouring a couple of tablespoons over vanilla ice cream. It has a super boozy flavor…so I hope you like bourbon! I think this would be a wonderful glaze for a pork roast. Guess what I'm doing with the rest of it!
I made the bourbon syrup with the substitution of vanilla for the bourbon, since I am with the author when they state, "if appropriate for your family." The claim that it only takes 10 minutes is true, and, if you're wanting a syrup that's not pure maple, here is a tasty, albeit very sweet, option. Another benefit is the simplicity of the ingredients—no chemicals or allergens in this three-ingredient syrup.
We used it as syrup with waffles for a breakfast at dinnertime winter meal, served with fresh and slightly tart blackberries which were a nice counterpoint to the sweetness of the syrup, and alongside a hot and strong plain, unsweetened black tea, which also helped to balanced the sweetness.
In addition to the listed suggestions, this could be used with French toast, atop yogurt, swirled into a yogurt parfait, drizzled over berries, topped onto baked sweet potatoes, or with baked or roasted squash of any type. If you like fruit salads sweetened, this could be the sweetener, either stirred in or served on top. It could be used to sweeten a fruit compote of any sort from blueberry to strawberry to cherry. This could serve as an oatmeal topping. We believe it could work in a compound butter, which means it could also be spread onto toast, or an English muffin, or a bagel. It could be stirred into tea, whether black or herbal, and could be used to sweeten a chai.
Note that if it thickened at all, and that is an if, it did so perhaps slightly, but not appreciably. Making this again, I would try it with dark brown sugar, with the thought that it would deepen the flavor as well as the color.