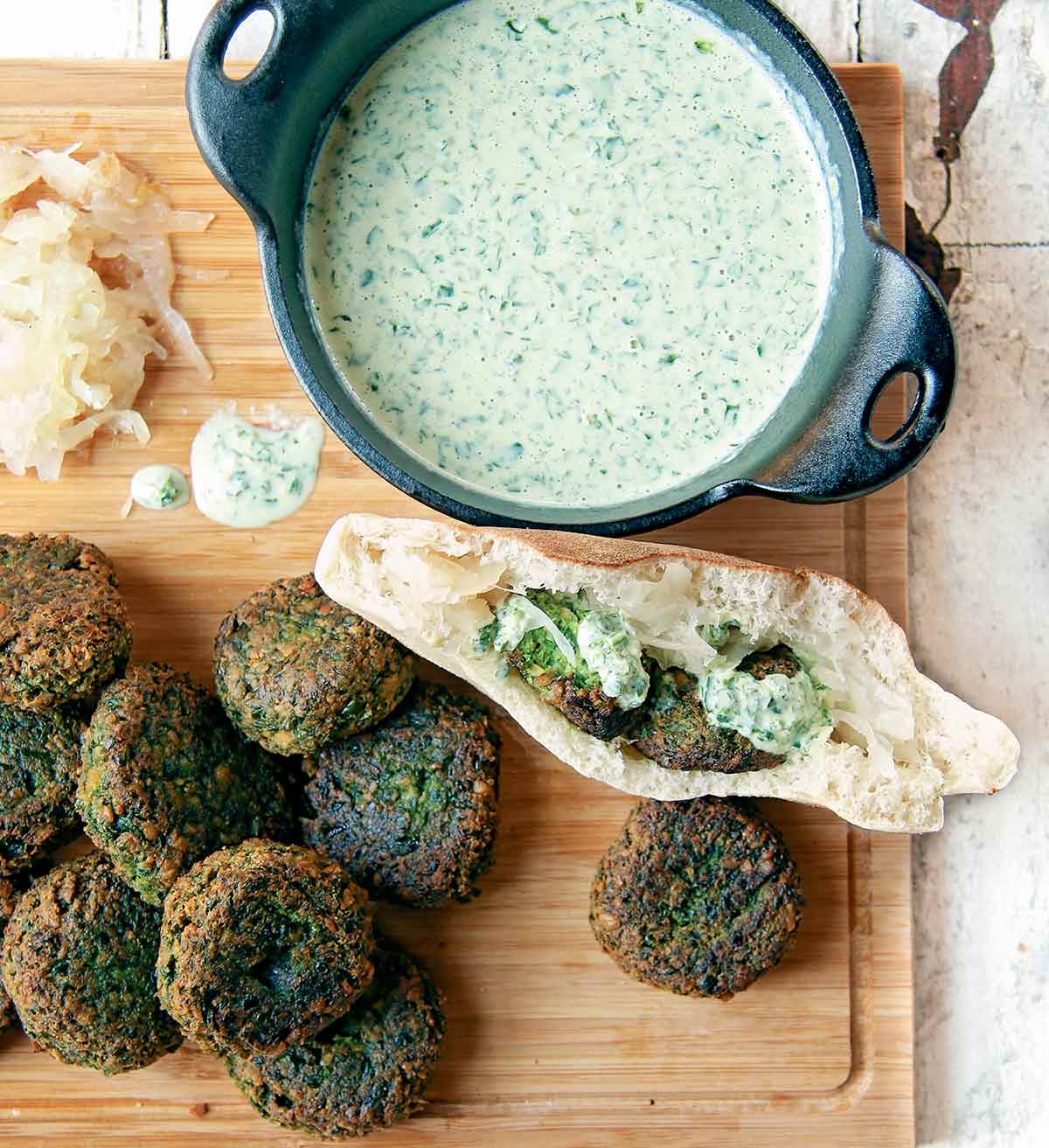 Spinach falafel, a traditional street food, is loved the world over. This recipe adds spinach for a little vitamin boost. Green tahini is an utterly brilliant, and incredibly tasty, addition. Fill up a fresh pita with these crispy little nuggets and tuck in.–Jenny Latreille
Spinach Falafel
Falafel is a deep-fried spiced chickpea "meatball." It's another one of those traditional street foods that you can't go a month without having. It's crisp on the outside, soft on the inside, and belongs in a pita (the latter is my passionate belief). Green tahini is simply tahini that's mixed with an insane amount of chopped parsley to give it that green hue and herby flavor. To continue with the green theme, I added spinach to the falafel for some added vitamin K. The children will never know it's in there. . . .
Ingredients
For the spinach falafel
3/4

cup

dried chickpeas*

1/2

tablespoon

baking soda

4

cups (5 ounces)

raw spinach leaves

1

tablespoon

chopped fresh cilantro

2

cloves

garlic

,

peeled

1/2

tablespoon

ground cumin

1/2

teaspoon

kosher salt

1

tablespoon

all-purpose flour

1/4

teaspoon

baking powder

Mild vegetable oil

,

for frying
For the green tahini
2/3

cup

sesame paste (tahini)

1/2

cup

water

3

cloves

garlic

,

finely minced

2

tablespoons

fresh lemon juice

,

plus more to taste

1/2

teaspoon

kosher salt

,

plus more to taste

1 1/2

cups plus 1 tablespoon

fresh chopped parsley
Instructions
Make the spinach falafel
In a , rinse the dried chickpeas and place them in a large stainless steel bowl or pot. Add enough water to cover by 2 inches (5 cm). Stir in 1/2 tablespoon of baking soda and leave them to soak for 8 to 10 hours or overnight.

Drain the chickpeas well then add to the food processor along with the cilantro, garlic, cumin, salt, flour, and baking powder. Pulse until all the mixture is finely chopped but not puréed into hummus, about 1 minute. Place the mixture in a bowl and refrigerate for 15 minutes.
Make the green tahini
In a medium bowl, whisk the sesame paste, water, garlic, lemon juice, and salt together until smooth and runny. If you find that it is too thick, add a bit more water. Stir in the parsley, adjust seasoning to taste with salt and lemon juice. Alternately, you can whiz all the tahini ingredients together in a food processor.

Using about 2 tablespoons of the falafel mixture for each one, form the falafel into thick patties about 2 inches (5 cm) in diameter.

☞ TESTER TIP: If you have a falafel scoop, or even an ice-cream scoop, use it to form your patties and carefully drop them into the oil as they are formed.

Set a large skillet over medium-high heat and pour in enough oil to reach a depth of 1/4-inch (6-mm). Once the oil reaches 325°F (160°C), carefully fry the falafel in batches of 4 or 5 until golden brown, 1 1/2 to 3 minutes per side. Move to a wire rack and season with salt.

Serve the falafel piled on a plate or tucked inside pita bread with a generous amount of green tahini.
Notes
*Can I substitute canned chickpeas in falafel?
You might be tempted to just crack open a can, instead of doing the whole overnight soak-and-sleep thing, but we're going to caution you not to. Canned chickpeas are very high in moisture and that's not ideal for the frying process. Using the dried ones will ensure that you don't end up with wet and soggy falafel that falls to bits before you can get them in your pitas.
Nutrition
Serving:
1
portion
Calories:
722
kcal
Carbohydrates:
66
g
Protein:
33
g
Fat:
43
g
Saturated Fat:
12
g
Sodium:
1122
mg
Potassium:
3176
mg
Fiber:
23
g
Sugar:
8
g
Vitamin A:
39655
IU
Vitamin C:
256
mg
Calcium:
657
mg
Iron:
23
mg
Nutrition information is automatically calculated, so should only be used as an approximation.
Recipe © 2015 Danielle Oron. Photo © 2015 Danielle Oron. All rights reserved.
---
Recipe Testers' Reviews
These are the spinach falafels I know and love. Coarse texture, crunchy outside, and soft inside. Garlicky and satisfying. I put the chickpeas up to soak before I left for work. Using 1-1/4 chickpeas and 2 cups of water I was left with 15 ounces of softened chickpeas after 10 hours of soaking. I chose raw mature spinach leaves. Once all of the ingredients were processed, combined, and rested for 15 minutes, the thick ball-like patties held together very well.
I heated the oil on medium-high and got the oil good and hot, all the way up to 325°F. Once the patties hit oil this hot they instantly seal up with a crust. I gave each 3 minutes on each side. The falafels don't get very golden brown, more like a kelp green color with bits of brown, but the exterior crust is substantial to hold the whole thing together and that's what you're looking for. The recipe yielded 14 falafels, which isn't nearly enough for leftovers if you ask me, so please do double the recipe. It's not much more work. In assembling our sandwiches, we each got three falafels to tuck into our pitas and there were two left for nibbling on while cleaning up our dinner dishes.
I measured the falafel using a rounded generous 1 tablespoon cookie scoop and got 11 balls that I flattened into patties that held together. I bet if I didn't round the cookie scoops so full, I would have gotten 14-16 count. I cooked the patties for 4-5 minutes on each side since the mixture was rather soft. This allowed the falafel to crisp up a bit, but still not as crispy as fried.
I used 3 spinach falafels per pita, so this would serve approximately 3 people and use 3 pitas if it's rolled in a whole pita or 1 1/2 pita if cut in half and stuffed in the center. I loved the consistency of the tahini sauce, thicker than normally found at my local restaurant due to the parsley.
Both my husband and I loved this recipe. My teenager…well he didn't touch it and had cereal for dinner, lol!
I started by soaking 3/4 cup dried chickpeas in a bowl with water to cover by two inches. The chickpeas soaked for 8 hours and yielded 1 1/2 cups. I put 4 cups packed of baby spinach (a 5 oz. or 142 g container) into the food processor and chopped it coarsely. Adding the other ingredients and pulsing for a minute or two is enough to make the batter come together. It doesn't look like hummus, rather there are still tiny grains of chickpea. I refrigerated the batter for 20 minutes and moved on to the tahini.
When I was ready to cook, I heated my oil on high till it shimmered (345°F), then I turned it down to med-high. The temperature stayed pretty consistent throughout the cooking. The mixture was slightly loose and I used two tablespoons to form flattened balls, but I had to squeeze them a bit in my hands to get them to hold together. Using this method, I yielded 13 small balls about 2 inches in diameter when flattened slightly.
I fried four or five at a time, for 1 1/2 minutes or more per side. The mixture splatters a bit because of the water content of the spinach, but the addition, I think, keeps them moist. The fried falafel balls look a little darker than usual because of the spinach. I drained the spinach falafel on a rack and gave them a hit of salt. I served them wrapped in pita with chopped lettuce, tomatoes and cucumbers, pickled onions, and the tahini sauce. The falafels were crispy outside and moist inside, with nice flavors from the spinach and spices.