Baked cheesy pasta with broccoli is just like your favorite dinner but with veggies. Because veggies are good for you! And, we dare say, you might enjoy them. This scrummy recipe from Queer Eye's Antoni Porowski combines good-for-you and just really good.–Jenny Latreille
Baked Cheesy Pasta with Broccoli
Broccoli and cheese make a great pair, especially in a baked pasta. You could substitute broccolini or broccoli rabe: Broccolini is slightly sweeter than broccoli, while broccoli rabe is pleasingly bitter.
Ingredients
Kosher salt

1/2

cup

panko (Japanese bread crumbs)

2

tablespoons

chopped fresh flat-leaf parsley (optional)

1

tablespoon

chopped fresh thyme or 1/4 teaspoon dried thyme

1/2

teaspoon

red pepper flakes

3/4

cup (2 1/2 ounces)

freshly grated Parmigiano-Reggiano cheese

1/2

teaspoon

grated lemon zest

,

preferably organic

4

tablespoons (2 oz)

unsalted butter

8

ounces

fusilli or other short pasta

1

large (1 1/2 lbs)

bunch broccoli*

,

trimmed, florets and stems chopped

2

tablespoons

all-purpose flour

2 1/2

cups

whole milk

8

ounces (about 2 cups)

mozzarella cheese

,

preferably fresh, torn into bite-size pieces

3

tablespoons

fresh lemon juice (optional)
Instructions
Preheat oven to 400°F (205°C).

Bring a large pot of well-salted water to boil over high heat.

Meanwhile, in a small bowl, combine the panko, parsley, if using, thyme, red pepper flakes, 1/4 cup (25 g) of the Parmesan, the lemon zest, and 1/4 teaspoon salt.

In a small skillet over medium-low heat, or in a microwave-safe dish in the microwave, melt 2 tablespoons of butter. Pour over the panko mixture, and toss to coat.

Cook pasta in the boiling water for 2 minutes less than the al dente time indicated on the package. Add the broccoli and cook until it is crisp-tender and the pasta is al dente, about 2 minutes more. Drain the pasta and broccoli in a .

Add remaining 2 tablespoons of butter to the pot and melt over medium heat. Whisk in the flour and cook, whisking, until the mixture begins to bubble, about 1 minute.

Gradually whisk in the milk, about 1/3 cup (80 ml) at a time, whisking until smooth between additions. Bring to a simmer, whisking, and cook, stirring occasionally, until the sauce is slightly thickened, about 5 minutes.

Remove from the heat, add the mozzarella, remaining 1/2 cup (50 g) Parmesan, and 1 teaspoon salt, and whisk together until the cheese is mostly melted (the mozzarella may not fully incorporate into the sauce; this is okay).

Add the pasta, broccoli, and lemon juice, if using, to the sauce and toss to combine. Dump into a large cast-iron skillet or 2-quart (2 L) baking dish and top with the bread crumb mixture.

Bake until the pasta is bubbling and the bread crumbs are golden brown, 15 to 20 minutes. Remove from the oven and let stand for 5 to 10 minutes to allow the sauce to thicken before serving.
Notes
*What is the difference between broccoli, broccolini, and broccoli rabe?
Antoni Porowski makes the suggestion to change up your vegetables in this dish, going from broccoli to broccoli-adjacent. If you've never had broccolini or broccoli rabe, how do you know which to choose?
Broccoli rabe (also called rapini or turnip broccoli) is a dark leafy green in the turnip family with a rather bitter taste. It actually tastes nothing like broccoli and tastes more like mustard greens. As far as looks go, it has fewer, smaller florets and lots of large leaves.
Broccolini is closer to broccoli than rapini is, because it's actually a hybrid between broccoli and gai lan (Chinese kale). The taste is closer to broccoli and is sweet and mild with a bit of a crisp texture. The stalks are long and slim, with lots of florets and very few, small leaves.
Nutrition
Serving:
1
serving
Calories:
507
kcal
Carbohydrates:
48
g
Protein:
25
g
Fat:
24
g
Saturated Fat:
14
g
Polyunsaturated Fat:
1
g
Monounsaturated Fat:
6
g
Trans Fat:
1
g
Cholesterol:
70
mg
Sodium:
562
mg
Potassium:
658
mg
Fiber:
5
g
Sugar:
9
g
Vitamin A:
1688
IU
Vitamin C:
108
mg
Calcium:
535
mg
Iron:
2
mg
Nutrition information is automatically calculated, so should only be used as an approximation.
Recipe © 2021 Antoni Porowski. Photo © 2021 Paul Brissman. All rights reserved.
---
Recipe Testers' Reviews
My family loves mac & cheese and while I do have two main recipes, I still love to try new ones to get other ideas. The flavor of this cheesy baked pasta with broccoli was mild but good and the broccoli was a nice addition.
What likely makes this work is cooking the broccoli briefly at the end of the noodles cooking time. I'd recommend checking the cooking time on the package because you might have to make an adjustment in the time to cook the pasta. While we liked the mozzarella, my family tends to like a sharper cheese or a blend of cheeses now. This recipe can easily be adapted to fit this taste.
I love macaroni and cheese, but I rarely make it. Because, calories. But throw in some broccoli with it and all of a sudden I can get with the program!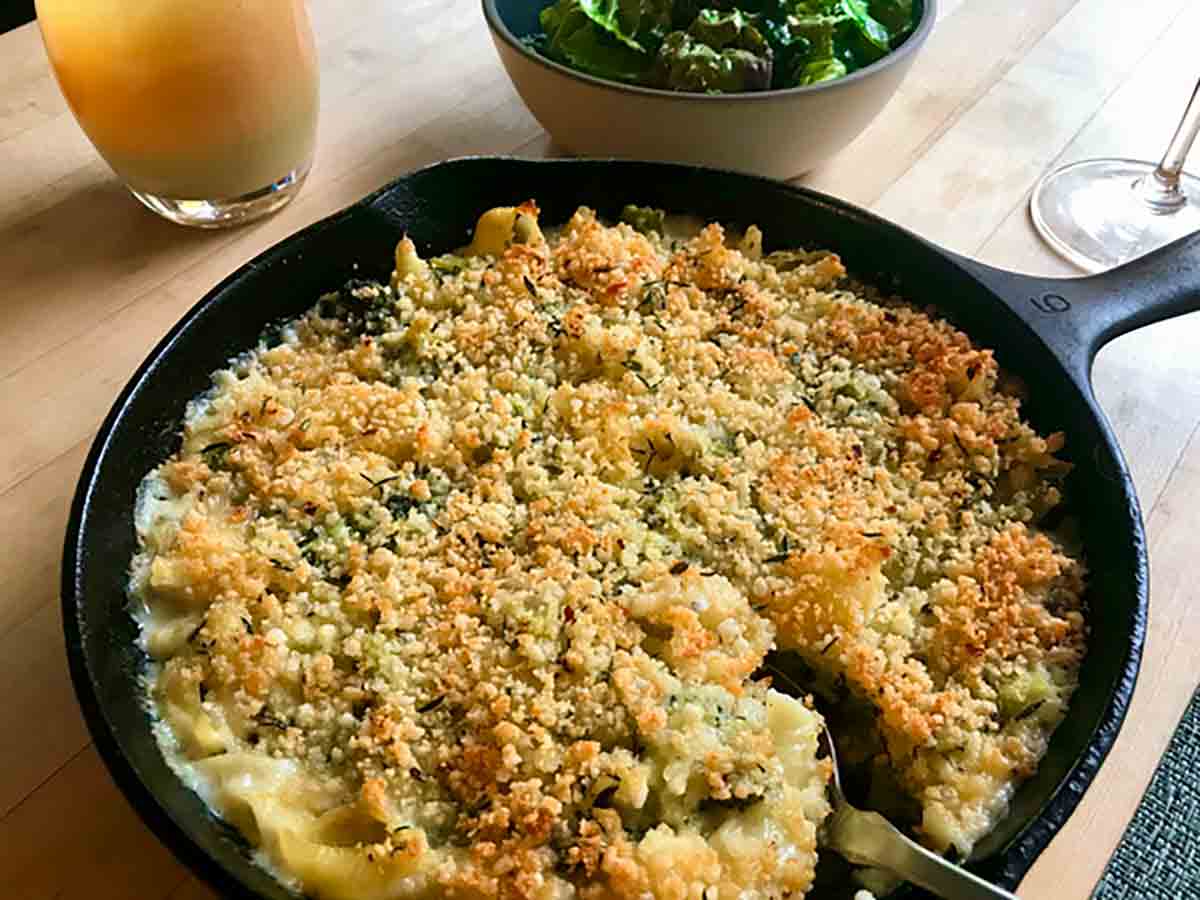 This rendition of mac and cheese was on the non-traditional side. Not just because of the addition of broccoli, but also because it included lemon, and used mozzarella instead of the usual cheddar. Just giving a heads up, this recipe may not be for everyone. But I actually enjoyed the hit of lemon and the switch to mozzarella. It made for a less rich-tasting dish. I served this with garlic prawns and a lemony Caesar salad, and the pairing worked very well. I can already see adding a can of tuna to this preparation for an all-in-one complete meal.
There's still room in my repertoire for the classic mac 'n cheese, but this one also earns a worthy spot in my recipe rotation.
I've tried all kinds of mac and cheese in my time but I don't recall any with lemon zest and juice as an ingredient so I was intrigued. This cheesy baked pasta with broccoli was a simple dish to prepare. Cooking the pasta and broccoli in the same water and then using the same pot to prepare the sauce is genius. Simplicity and easy clean-up are always a plus in my book.
The sauce was light and cheesy with a nice hint of lemon that complimented the broccoli. When making this dish be sure to let it rest after baking as recommended as the sauce will thicken quite a bit. I served this as an entrée but would also be good as a side dish.