Sausage pizza with mozzarella and chili oil takes less than half an hour (with pre-made dough) and delivers a crisp crust, bubbling cheese, and lots of flavorful pork sausage. Try a drizzle of spicy oil to make it absolutely outstanding.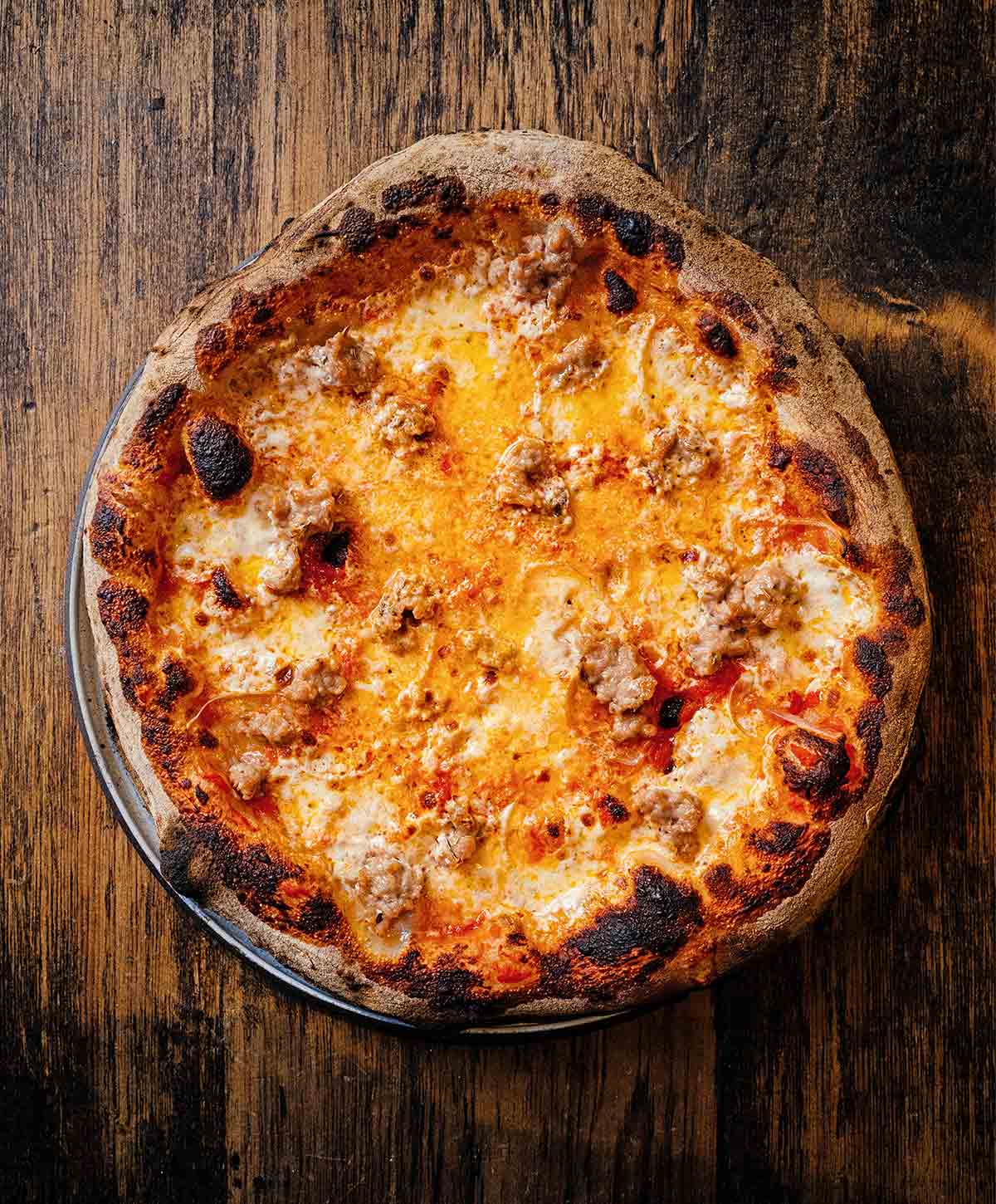 Adapted from Dan Richer | The Joy of Pizza | Voracious, 2021
Many residential ovens max out at a high temperature of 500°F (not including the broiler) and that's just really not that hot in the grand scheme of baking. It's great for a high hydration round pie baked on a stone or steel for 6 to 7 minutes. But you're not going to get the "leopard spots" on the rim that are so popular in wood-fired pizza making. And that's OK. I don't want that, in fact. I'm after a sturdy product with even crust caramelization and a good crumb.—Dan Richer
Sausage Pizza with Mozzarella and Chili Oil FAQs
What can I do with leftover sausage meat?
This recipe makes enough sausage for eight pies, so use any leftover to make tomato sauce or breakfast sausage. Or stir in a raw egg and make sausage meatballs.
What type of fresh mozzarella should I use for topping pizza?
Look for mozzarella that is soft, but still sliceable. These are often log-shaped and packed in liquid. Avoid burrata, which has a creamy center.
Sausage Pizza with Mozzarella and Chili Oil
My friend Cameron, whose family is from Calabria, loved talking about his trips there during which he would drizzle olio santo (literally "holy oil," Calabrian chili oil) over everything. I love to picture him in his ancestral homeland reveling in the region's penchant for heat, then returning to spread the spice gospel in New Jersey. The raw sausage, a nod to Calabria's love of pork, cooks beautifully during the bake and its caramelized exterior gives way to a tender pink middle.
Equipment
Pizza stone or baking steel
Ingredients
For the sausage mixture
About 1

pound

raw ground pork

1/4

ounce

toasted fennel seeds

1/5

ounce

kosher salt

Pinch

of crushed red pepper (optional)

1

garlic clove

minced
For the pizza
Store-bought or homemade pizza dough for 1 round 12-inch (30-cm) pizza

All-purpose flour or cornmeal

for the peel

Scant 1/4

cup

store-bought or homemade tomato sauce

2 1/2

ounces

fresh mozzarella

torn or cut into 1 inch (2.5 cm) pieces

12

slivers very thinly sliced red onion

2

ounces

raw sausage mixture

separated into small pieces
Directions
Make the sausage mixture
In a large bowl, combine the pork, fennel seeds, salt, red pepper, if using, and garlic. The mixture will keep in the refrigerator for up to 1 day.
Make the pizza
Preheat the oven to 500°F (260°C) with a pizza stone or baking steel set in the middle rack of the oven.

Stretch the dough to a 12-inch (30-cm) round, making sure to create a raised border. Dust a pizza peel with flour or cornmeal. Move the dough to the peel.

☞TESTER TIP: Have your toppings all ready to go before moving your dough to the pizza peel.

Spoon the tomato sauce over the pizza dough to the edge of the raised border, then distribute the mozzarella, onion, and sausage evenly.

Before you open the oven door, give the peel a quick jerk. The pizza should move slightly in response to your movements. Grip the peel with your dominant hand and open the oven door with your other hand. Land the tip of the peel about a half-inch from the far edge of the stone or steel. Pull the peel swiftly away in one fluid motion, allowing the dough to fall into place. Don't get discouraged if you don't pull this off at first. This is a legitimately difficult part of the process and it takes practice. Close the door and turn on the oven light.

Bake until the pizza crust is browned, the sausage is cooked, and the cheese is bubbling, 7 to 12 minutes. Most ovens have hot spots, so if you see one part is cooking more quickly than another, slide the peel underneath the pizza and use your fingers or tongs to reposition it so the pizza cooks evenly, then close the door quickly. You want all these movements to be efficient so the oven loses as little heat as possible.

Drizzle with chili oil and serve immediately.
Show Nutrition
Serving:
1
slice
Calories:
308
kcal
(15%)
Carbohydrates:
22
g
(7%)
Protein:
16
g
(32%)
Fat:
17
g
(26%)
Saturated Fat:
7
g
(44%)
Polyunsaturated Fat:
2
g
Monounsaturated Fat:
7
g
Trans Fat:
1
g
Cholesterol:
53
mg
(18%)
Sodium:
756
mg
(33%)
Potassium:
232
mg
(7%)
Fiber:
1
g
(4%)
Sugar:
3
g
(3%)
Vitamin A:
104
IU
(2%)
Vitamin C:
1
mg
(1%)
Calcium:
66
mg
(7%)
Iron:
2
mg
(11%)
If you make this recipe, snap a photo and hashtag it #LeitesCulinaria. We'd love to see your creations on Instagram, Facebook, and Twitter.
Recipe Testers' Reviews
We devoured this sausage pizza with mozzarella and chili oil. The classic combination of fennel-seasoned sausage with the thinly sliced onion and creamy cheese just works, especially when punched up with a little Calabrian chili oil.
There's something quite refreshing about how flexible the recipe is: you can grab a bag of pizza dough and a jar of marinara from the store to make this on a weeknight, or make your own of both for exactly the flavor you want.
The homemade sausage mix was well seasoned and we used the leftovers for pasta sauce later in the week.
I rotated my pizza at the 3.5-minute mark, where the crust was prominently raised but hadn't started to color yet. I used tongs to slide the pizza onto my peel, spin it 180 degrees, and then slid it back into the oven, taking no more than 5-8 seconds to do this. Mine was done at the 7-minute mark. My sausage didn't fully caramelize on the top as indicated in the headnote, but it was properly cooked.
Once you have the dough and the sauce, I generally think pizza needs no recipe. But the proportions here are just right—so right that when it came for round two, I not only repeated the same pie (deviating from my plan to do something different), but I actually measured and weighed the toppings a second time. Measuring pizza toppings like this feels so unnecessary, but why mess with perfection?
That sausage! Cooking the sausage straight on the pizza results in pie suffused with rich, porky flavor, as opposed to the odd bite of sausage here and there. The cheese looks like it won't nearly be enough, but it ended up just right. That said, if you're looking for a gooey, cheesy pizza, you may want to supplement the fresh mozzarella with its less-fresh (but meltier) cousin.
Originally published November 12, 2021
Recipe © 2021 Dan Richer. Photo © 2021
Eric Wolfinger
. All rights reserved. All materials used with permission.
If you make this recipe, snap a photo and hashtag it #LeitesCulinaria. We'd love to see your creations on Instagram, Facebook, and Twitter.