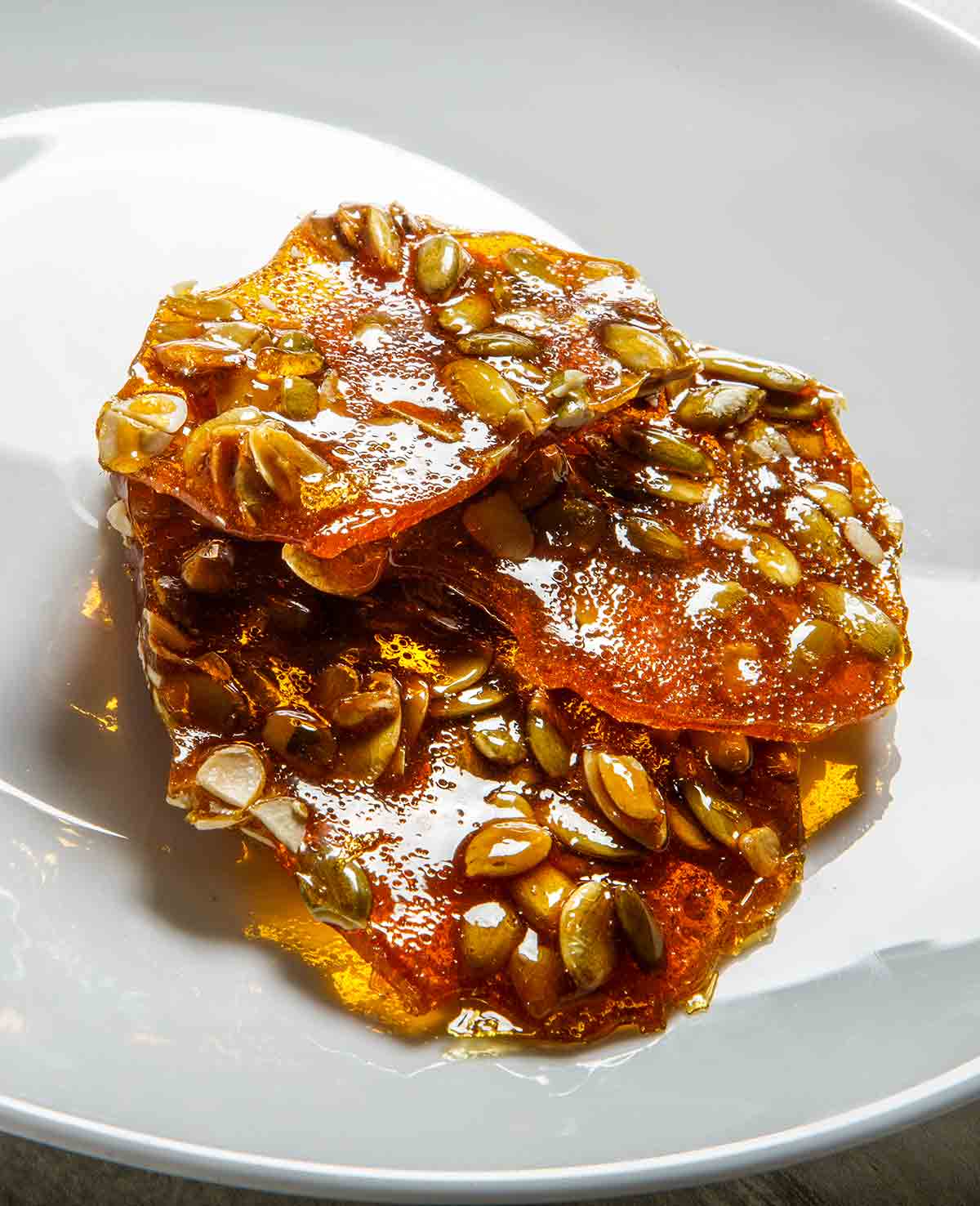 There are few things more tempting than a dish of fancy candies. But here's a little secret—it's actually quite easy to make these sugary confections at home! Spicy pepita brittle is a festive treat for the holidays and perfect for giving. For the ultimate in simple indulgence, there's nothing sweeter than making your own treats.—Charity Ferreira
Spicy Pepita Brittle FAQs
What's the best way to store spicy pepita brittle?
The warmer and more humid your climate, the quicker that brittle is going to get sticky. The best way to keep it fresh and dry is to separate layers with parchment and keep it in an airtight container. It only needs to be refrigerated if, again, you live in a hot, humid climate.
Do I need to add corn syrup to spicy pepita brittle?
Even just a couple of tablespoons of corn syrup keeps your brittle smooth and helps to stop the sugar from crystallizing. Caramel can be intimidating because it burns easily, but also any unmelted sugar will cause grittiness. The addition of water aids in dissolving the sugar granules and corn syrup will keep the brittle from getting grainy as the melted sugar cools.
How do I know when my caramel is ready?
We love to suggest that you invest in a candy thermometer because they really, really help. But learning the stages of caramelization also helps. You want to cook that caramel until it's the color of an old penny but before it starts to give off any burned smell. If you're relying on color alone, cook the caramel at a lower temperature to you give yourself a bit of a cushion with the timing.
Spicy Pepita Brittle
This is a beautiful, unusual brittle that combines only a few ingredients but tastes incredible. Sweet with a surprise of heat and the salty crunch of pepitas, it's one of my favorite brittle combinations. It makes a cute little gift, too.
Ingredients
Butter

,

for pan

1 1/2 to 2

teaspoons

cayenne pepper

1/4

teaspoon

salt

3

cups

granulated sugar

1

cup

water

2

tablespoons

light corn syrup

2

cups (about 8 ounces)

pepitas

,

(hulled pumpkin seed), lightly toasted
Instructions
In a small bowl, stir together the cayenne and salt. Measure out the pepitas (pumpkin seeds), cayenne, and salt.

In a medium saucepan over medium heat, stir together the sugar, water, and corn syrup and heat until the sugar is completely dissolved, about 5 minutes. Increase the heat and boil until the syrup turns a gorgeous golden brown and measures about 335°F [168°C] on a candy thermometer, which ought to take 10 to 15 minutes. Do not stir the mixture, although when the sugar begins to brown around the edges of the pan, gently tilt the pan to swirl the syrup so it caramelizes evenly. When the caramel reaches the desired amber color throughout, immediately remove the pan from the heat and carefully stir in the pepitas and cayenne mixture. (Stand back a little, as chances are the mixture will bubble and the pepitas may "pop".)

Immediately pour the caramel into the prepared pan. If necessary, use a spatula or wooden spoon to spread the pumpkin seeds in a single layer. Let the brittle stand at room temperature until cool and hard, about 1 hour.

To release the brittle from the pan, run a spatula underneath the brittle and bend the opposite ends of the pan a little. If that doesn't work, simply chop or break the brittle into chunks. Store in an airtight container at room temperature for up to 2 weeks.
Nutrition
Serving:
1
serving
Calories:
401
kcal
Carbohydrates:
70
g
Protein:
8
g
Fat:
12
g
Saturated Fat:
2
g
Polyunsaturated Fat:
5
g
Monounsaturated Fat:
4
g
Trans Fat:
1
g
Sodium:
69
mg
Potassium:
212
mg
Fiber:
2
g
Sugar:
67
g
Vitamin A:
143
IU
Vitamin C:
1
mg
Calcium:
14
mg
Iron:
2
mg
Nutrition information is automatically calculated, so should only be used as an approximation.
Recipe © 2008 Charity Ferreira. Photo © 2008 Karen Steffans. All rights reserved.
---
Recipe Testers' Reviews
Just like so many other brittles, this one is addictive! Especially if you love heat in your food. If you're a heat-lover, for sure go with a full 2 teaspoons of cayenne. If your tolerance is somewhere lower on the Scoville scale, adjust accordingly. I think 1 teaspoon would still give you the heat you love, but not in a tongue-scalding way. An easy and quick snack. Try experimenting with other seeds and/or nuts, e.g. sunflower seeds, chopped almonds, pine nuts, etc.

This recipe was a surprise. I wondered whether I would like it (I generally like brittles), but I've never added anything spicy to my brittles. I always stick with cashews and peanuts but I love the idea of pepitas. I used roasted pepitas.
It had been quite a while since I had made any candy whatsoever, so I wondered about the accuracy of my candy thermometer since it had been sitting in a drawer for probably a year or more without being used. It turned right on, so I decided to give it a go without changing the battery, which would have required a trip to the store. As a backup, I had a meat thermometer.
I followed the recipe exactly, except I like "hot," so I added a full 2 teaspoons of cayenne (the recipe called for 1 1/2 to 2 teaspoons). At a 6 on my electric stove, it took 5 minutes to dissolve the sugar, water, and corn syrup. That timing was accurate to the written instructions. I increased the heat to 8 and let the candy do its thing. It took 14 minutes for my candy thermometer to read the 335℉ (the recipe said 10-15 minutes). I tested it with my meat thermometer and it read 327℉. Oh, what to do now? I let my meat thermometer go up to 332℉ (it is a newer thermometer). By this time, my candy thermometer was up to 341℉.
I decided I better remove the candy from the heat and stir in the pepitas and cayenne/salt mixture. None of the kernels popped but the mixture did bubble up. I quickly poured it out into my buttered jelly-roll pan. One edge got kind of sugary with the pepita sugar mixture that was stuck to my rubber spatula. I spread the mixture into a thin layer that took up most of the pan.
About 45 minutes later, I decided to try the candy. The one small edge was still sugary and slightly whitish, but the rest had turned into a beautiful brittle. It came out of the pan easily and I broke it into little chunks. It broke easily and wasn't sticky. I think I timed it just perfectly. I loved the recipe. The heat from the cayenne paired perfectly with the sugar and gave you an "after heat." I won't be taking this recipe to share anywhere. It's staying all home with me.