Southern sweet tea is something you're going to want to make by the gallon. Here's how.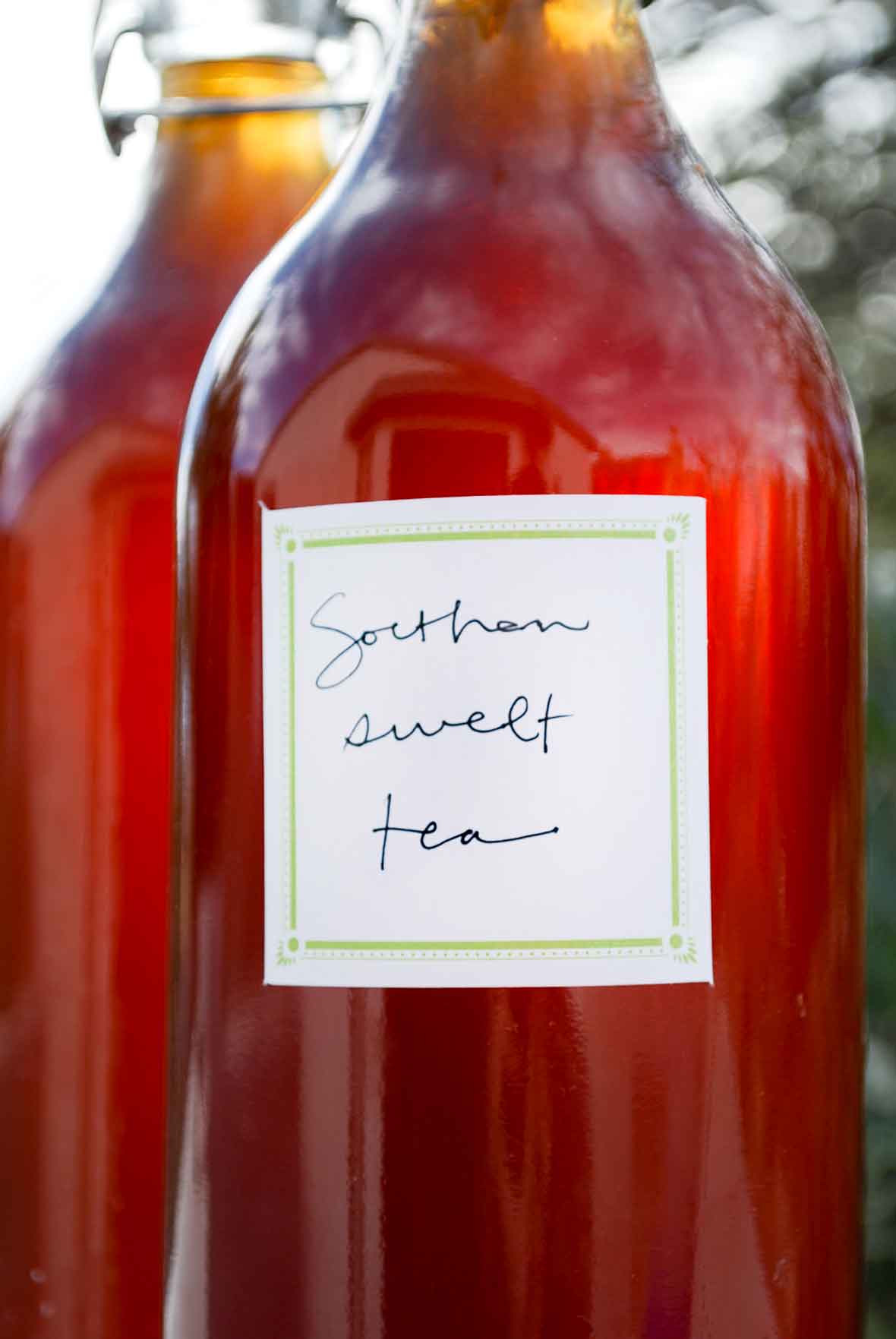 Southern sweet tea. Nothing slakes thirst, quells worries, and comes together with quite as much ease. Rest assured, it's divine any way you serve it, whether with or without a crooked neck spoon with which to stir it. Originally published July 1, 2010.–Renee Schettler Rossi
A Note On Crooked Spoons
We couldn't help but include this note written by Martha Hall Foose and found in her cookbook alongside this Southern sweet tea recipe.
"Sweet tea or unsweet tea? That is the question waitresses across the southeastern United States pose as a greeting to diners. As Dolly Parton proclaimed in her role as Truvy in the movie based on the play Steel Magnolias, it's the "house wine of the South."
"The summer Mockingbird Bakery opened, Delta magazine, our regional Vanity Fair, bestowed upon us the honor of "Best Sweet Tea." We had ordered dozens and dozens of those crooked-neck spoons that can hang on the side of an iced tea glass. In the following 18 months, the spoons had almost all disappeared. I could not imagine they were getting thrown away. I even installed a magnetized trash can cover to catch them. I had scoured the place looking for them. Then one day, in the middle of the lunch rush, I spied a woman deftly swipe her tea spoon into her expensive handbag. As she was a regular customer and well regarded in the community, I decided to let her get away with the petty theft. I was, at the very least, glad that the mystery of the disappearing spoons had been solved. Several days later she returned with her usual luncheon coterie. I'll have you know that when the table was bussed, there was not a single crooked-neck spoon to be found. The next time she lunched with us, the spoons were left behind when she departed. I do not think she had reformed her ways; I think she simply had acquired a service for eight. The rest of the spoons must have been absconded with by similar crooks."
Sweet Tea
Quick Glance

(2)

5 M
40 M

Makes 3 quarts
Print Recipe
Ingredients
Email Grocery List
Directions
Place the tea bags in a large pitcher. Pour in 3 quarts (12 cups) of cold water and let steep at room temperature for 30 minutes.
Meanwhile, bring 1 cup of cold water and the sugar to a boil. Simmer, stirring occasionally, until the sugar has dissolved and turns into what's known as a sugar syrup.
Remove and discard the tea bags from the pitcher. Add the sugar syrup to the tea and stir. Serve the tea over ice, with lemon and mint, if desired. If you're serving the sweet tea with lemon slices, pass them on the side so that the juice can be squeezed into the tea and the lemon discarded. (If the pith is left to wallow in the glass, its bitterness will infuse the tea.)
Print Recipe
Recipe Testers Reviews

I made two batches of this sweet tea recipe for a large summer dinner, and both easily qualify as a Testers' Choice. The first I made with the orange pekoe tea. I steeped for precisely the 30 minutes specified and used precisely the 3/4 cup sugar and three quarts (or 12 cups) of water for the sugar syrup. I generously infused the fresh mint from our garden into the finished Sweet Tea before serving, and provided lemons on the side. Delicious and refreshing! I felt I could have used less tea or more water, since the resulting tea was strong. I like that, but not everyone does. Greater dilution would be wise for anyone concerned about their evening caffeine intake — this was very strong black tea! Since we had so much mint in the garden, I made the second batch solely with mint, and no black tea, creating a Sweet Mint Tea, reminiscent of the tea that's ceremoniously poured at all the couscous restaurants in Paris, for example, and at some Middle Eastern restaurants here in the States as well. To get a flavorful Sweet Mint Tea with fresh leaves, I used three cups of fresh mint leaves, which would roughly translate to one cup of dried (or slightly more than three times the amount of mint as black tea) for full mint flavor. Nonetheless, I used the same amount of steeping time, and quantities of sugar and water as with the orange pekoe batch. Again, delicious and refreshing!!
Sweet Tea Recipe © 2008 Martha Hall Foose. Photo © 2009 enigmachck. All rights reserved. All materials used with permission.
If you make this recipe, snap a photo and hashtag it #LeitesCulinaria. We'd love to see your creations on Instagram, Facebook, and Twitter.