The wonder of rhubarb season is that it's cruelly short, especially in the Northeast. It's the first harbinger of warm weather, and yet in no time, it's over. Add to that that the leaves are deadly.
Yet, I still look forward to those ruby stalks every year.
I know I can eat rhubarb all year round, thanks to the frozen food sections of the supermarket or the freezer in our basement. But the nearly year-long anticipation for fresh stalks is just as delicious as anything I make with rhubarb.
These seven recipes are outstanding examples of the season's abundance. And the pairings! Rhubarb and ginger, rhubarb and strawberry, rhubarb, and cardamom. Amazing.
I'll be making each and every one of them over the coming month or so. I hope you'll join me.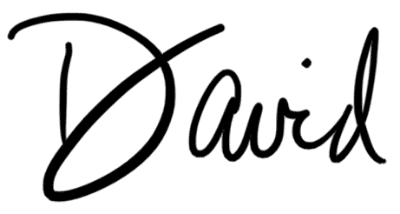 Easy Rhubarb Crisp
Leftovers of this easy rhubarb crisp are great for breakfast; just substitute yogurt for the whipped cream.
Recipe
This rhubarb crisp has become a favorite for a simple, crowd-pleasing treat. I love the subtle orange aroma and the tart-sweet taste of this delicious crisp.

brendalyn s.
Cardamom Panna Cotta with Rhubarb
Cardamom panna cotta with rhubarb is an elegant, yet simple, dessert that makes use of seasonal rhubarb or even strawberries. A creamy base is infused with cardamom, making it as irresistible as it is easy.
Rhubarb-Ginger Crostata
Rhubarb-ginger crostata is simply a fancy way to say single crust rhubarb pie. Easy yet elegant in a rustic sorta fashion.
Recipe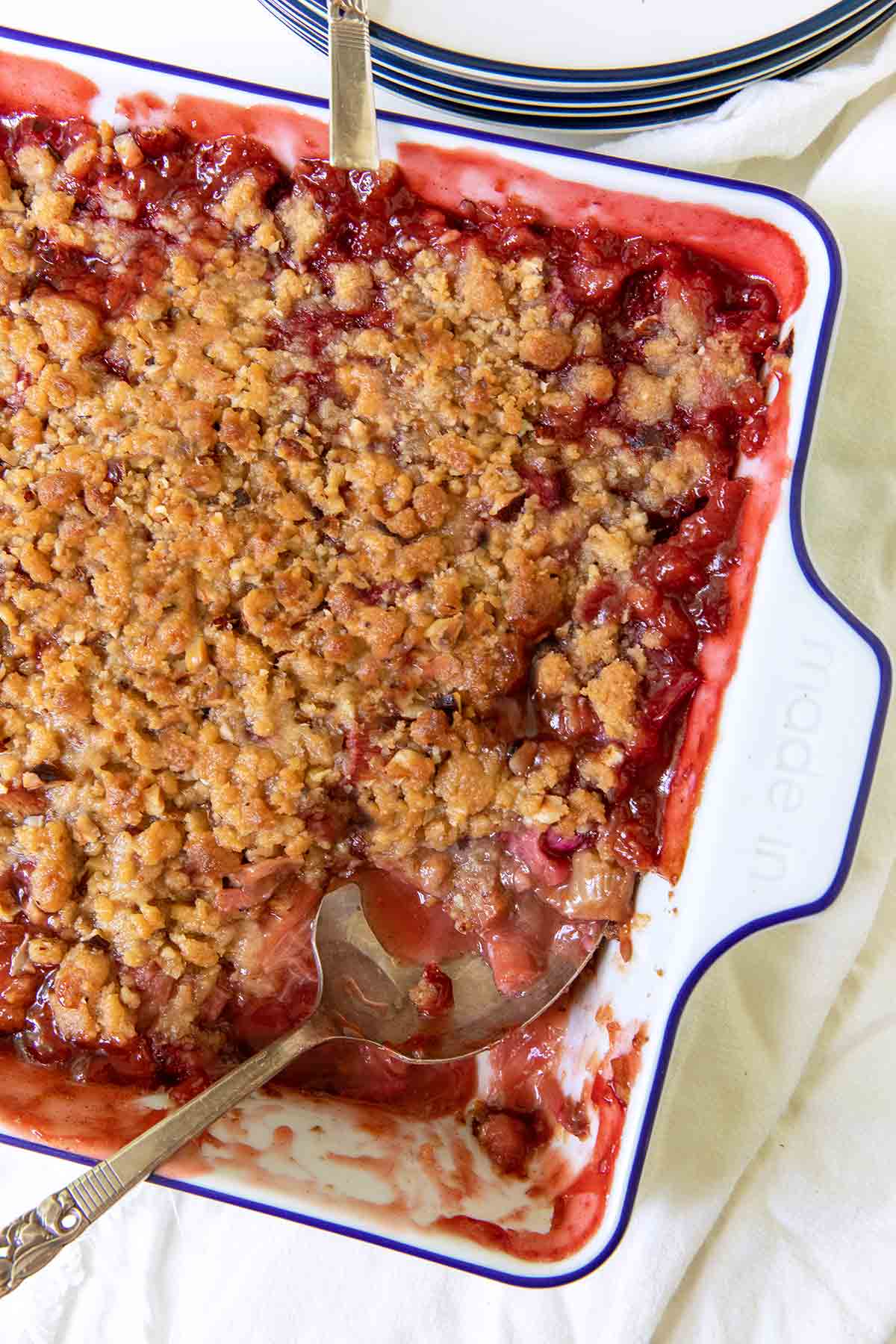 Strawberry Rhubarb Crumble
If anything screams spring and summer, it's the combination of strawberry and rhubarb. Tart, sweet, and gently spiced with ginger, cardamom, and cinnamon, it's just as scrumptious for breakfast as it is for dessert.
Recipe
With a perfect crispy crumble on top of savvily seasoned rhubarb, this strawberry-rhubarb crumble is a dessert to remember—and to make again every year. I was glad to have made two of them so I could give one to my parents. Though [shhhh], I kept the larger one for myself.

steve t.
Strawberry Rhubarb Pie with Ginger Crumb Topping
Use the best, freshest ingredients available to add extra flavor to this twist on the classic strawberry-rhubarb pie.
Recipe
I had left this recipe on the kitchen counter for my husband to see. When I came home from work, it was in the oven. I would request this for my last meal.

greg
Rhubarb Dessert FAQs
When is rhubarb in season?
Rhubarb season runs from April to June and is most abundant in May.
Can I freeze rhubarb?
Definitely. You have a couple of options. You can freeze the rhubarb with or without blanching. Unblanched rhubarb may have a slightly softer texture than blanched, but either is acceptable for baking.

To blanch and freeze rhubarb, wash and chop the rhubarb into 2-inch pieces, and cook in a pot of boiling water for 1 minute. Immediately transfer them to an ice bath to stop the cooking. Drain the rhubarb, spread it in a single layer on a baking sheet, and freeze until solid.

To skip the blanching step, simply wash and chop the rhubarb into 2-inch pieces, then spread in a single layer on a baking sheet. Freeze until solid.
Store your frozen rhubarb in a resealable bag, removing as much air as possible, for up to 1 year.
How do I prepare rhubarb before baking?
Before using rhubarb, remove the leaves, if attached, and discard them. Wash the stalks and trim the ends.

If you have very young, tender rhubarb, you can cut the stalks into pieces, as directed in your recipe, and proceed with the recipe.

If you have older, mature rhubarb, you will want to remove the outer layer or strings, which can be tough to eat. Use a paring knife to peel back the outer edge and pull it off.
Sweet-tart desserts are often the first thing we think of when we see those first ruby stalks of spring. Don't stop there, though. Rhubarb can be used in plenty of other ways, including rhubarb jam, rose-colored applesauce, and even to make a rhubarb-infused vodka. What's your favorite rhubarb recipe?
6 Rhubarb Dessert Recipes
Pie is undeniably the best way to enjoy tart rhubarb, and you won't find one lovelier than this ☞ RHUBARB BROWN SUGAR PIE.
Ingredients
For the pie crust
1 3/4

cups

all-purpose flour

,

plus more for the work surface

1

tablespoon

granulated sugar

1

teaspoon

kosher salt

2

sticks (8 oz)

unsalted butter

,

cold

2

large

egg yolks

,

at room temperature

3

tablespoons

whole milk
For the rhubarb pie filling
2

large

eggs

1

tablespoon

fresh lemon juice

1

teaspoon

vanilla extract

1 1/4

pounds

fresh rhubarb

,

trimmed and sliced 1/2 inch (12 mm) thick (about 4 cups)

2/3

cup

superfine sugar (or blitz granulated sugar in a food processor or blender until finely ground but not powdery)

1/3

cup

firmly packed light brown sugar

1/4

cup

cake flour

,

sifted after measuring

1/2

teaspoon

kosher salt

1

large

egg yolk

,

for egg wash

1

teaspoon

sanding sugar
Instructions
Make the pie dough
In a stand mixer fitted with a paddle attachment, mix together the flour, sugar, and salt for 10 to 15 seconds.

Cut the butter into 12 pieces and add it to the flour mixture. Mix slowly until the flour is no longer bright white and the mixture holds together when you clump it, and there are still lumps of butter the size of pecans throughout, 60 to 90 seconds.

In a small bowl, whisk together the egg yolks and milk and add them all at once to the flour-butter mixture. Mix very briefly, just until it barely comes together, about 30 seconds. It will look really shaggy and more like a mess than a dough.

Dump the dough out onto a clean work surface and gather it together into a tight mound. Using the heel of your hand, smear the dough, starting at the top of the mound and sliding your hand down the sides of the mound along the work surface, until most of the butter chunks are smeared into the dough and the whole thing comes together. (This technique is known as fraisage and makes for an exceptionally flaky pie dough. Trust the French. They know pastry.)

Wrap the dough tightly in plastic wrap and press it down to make a disk about 1 inch (25 mm) thick. Refrigerate for at least 1 hour before using. (The dough can be stored in the refrigerator for up to 4 days or in the freezer for up to 4 weeks. Wrap in another layer of plastic if storing for more than 1 day.)

Remove the dough from the fridge about 15 minutes before using it to soften slightly.

Generously flick some flour over the work surface and roll out about two-thirds of the dough into an 11- or 12-inch (28- or 30-cm) circle. (Rewrap and refrigerate the remaining dough to use for the top.) Using a pastry docker or fork, poke holes all over the dough.

Line a 9-inch (23-cm) ceramic, glass, or aluminum pie plate with the dough, leaving a 1/4-inch-wide (6-mm) lip around the edge (to allow for shrinkage in the oven).

Refrigerate the pie shell for at least 30 minutes. (At this point you can wrap the tart shell well in plastic wrap and refrigerate for up to 1 day or freeze it for up to 2 weeks. If frozen, the pie shell can be baked straight from the freezer.)

Preheat the oven to 350°F (177°C) and place a rack in the center of the oven.

Remove the pie shell from the fridge and line it with parchment paper. Pour pie weights, dried beans, or uncooked rice directly onto the parchment; fill the pie shell all the way to the top. Blind bake the pie shell, rotating the pie plate halfway through the baking time, until light brown all over, about 30 minutes.

Remove from the oven and let cool on a wire rack. Leave the oven on. When the pie weights have cooled down, remove them carefully from the pie shell and discard the parchment.
Make the rhubarb pie filling
In a large bowl, combine the eggs, lemon juice, and vanilla, and use a fork to break up the eggs and whisk everything together. Add the rhubarb and toss to combine thoroughly.

In a small bowl, combine the vanilla sugar, brown sugar, flour, and salt. Toss until evenly combined, then add to the rhubarb mixture. Mix everything together thoroughly. Pour into the baked pie shell.

Roll out the remaining dough into a circle just over 9 inches (23 cm) in diameter. Drape it over the pie with the edge of the circle overhanging the edge slightly. Press gently to adhere the dough to the edges of the pie crust.

In a small bowl, whisk the egg yolk for the egg wash. Use a pastry brush to evenly brush the top of the pie with the egg wash. Sprinkle the sanding sugar evenly over the top. Using a small paring knife, score the top with five 2-inch (5-cm) slits to make a star shape.

Place the pie plate on a rimmed baking sheet to catch any drips and bake, rotating the baking sheet midway through the baking time, until the crust is thoroughly brown, 70 to 75 minutes.

Remove from the oven and let cool completely on a wire rack before serving. Rhubarb pie can be stored at room temperature, well wrapped, for up to 2 days.
Notes
Check out the full recipe post for our testers' reviews, more info, and tips on making this classic rhubarb pie.
Nutrition
Serving:
1
slice
Calories:
281
kcal
Carbohydrates:
55
g
Protein:
7
g
Fat:
4
g
Saturated Fat:
1
g
Polyunsaturated Fat:
1
g
Monounsaturated Fat:
1
g
Trans Fat:
0.01
g
Cholesterol:
117
mg
Sodium:
465
mg
Potassium:
285
mg
Fiber:
2
g
Sugar:
29
g
Vitamin A:
247
IU
Vitamin C:
6
mg
Calcium:
96
mg
Iron:
2
mg
Nutrition information is automatically calculated, so should only be used as an approximation.
All rights reserved.
---