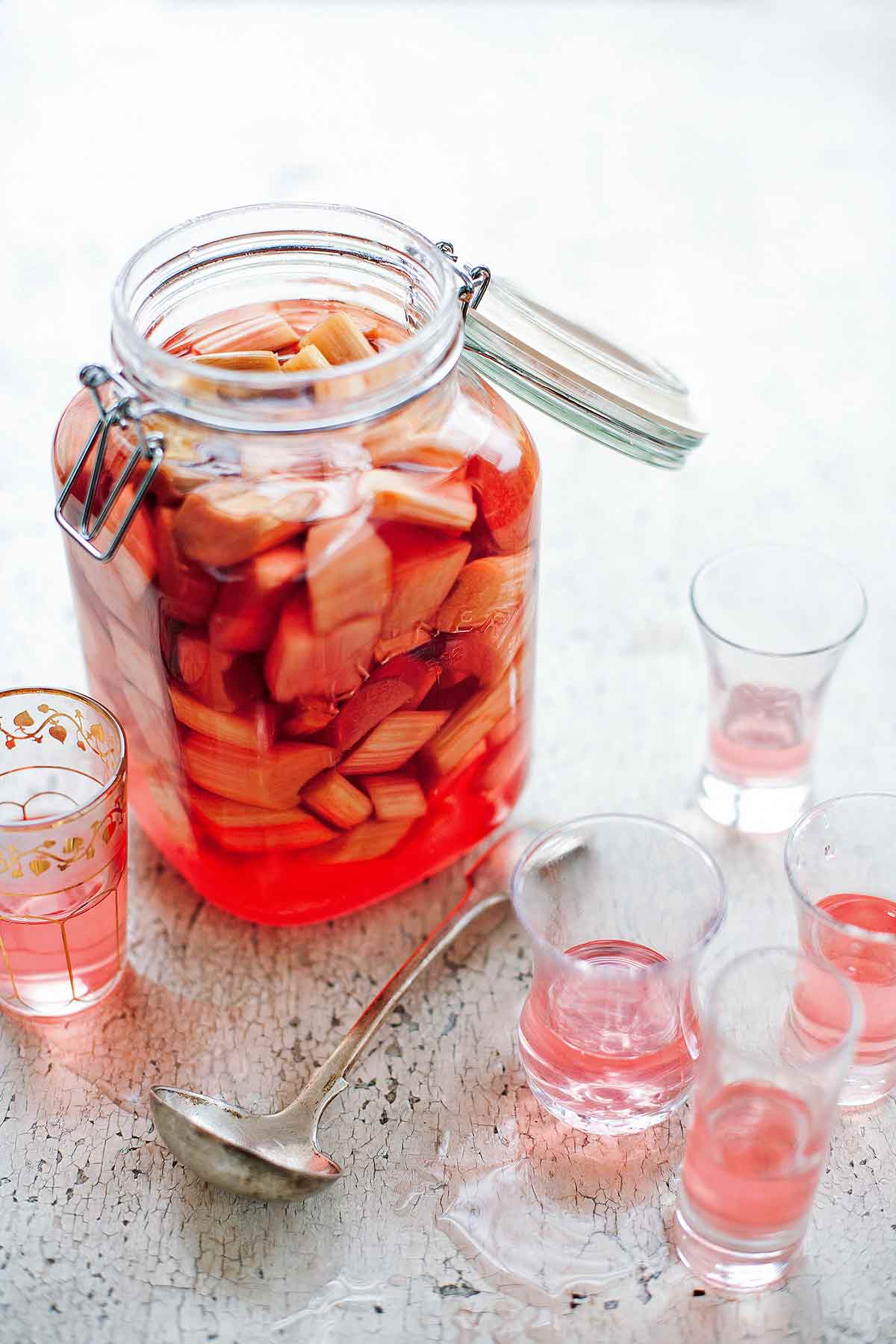 Rhubarb vodka. Yep. It's a thing. And you're going to want to make this tipsy spring tonic again and again and again. The hooch that results from steeping these spring stalks with sugar and vodka will be a lovely shade of the palest of pinks that varies from one batch to the next, depending on just how potent the rhubarb. But rest assured, any which way, it's spectacular. You know you want to try this. So go on.–Renee Schettler Rossi
What To Do With Rhubarb Vodka (Hiccup)
Once you have a stash of rhubarb vodka, there are oh so many enticing ways to make it disappear. Splash some into sparkling wine. Cut it with club soda or seltzer. Sip it straight. Get all sorts of creative with its incarnations, experimenting with all manner of cocktails calling for orange or vanilla or pink peppercorns or whatever you fancy. It's perhaps best poured into a fancy bottle and gifted—usually to gasps of awe ands surprise.
Rhubarb Vodka
Rhubarb vodka. The simple homemade hooch–made from rhubarb, vodka, and sugar–makes a pretty spring tonic and guaranteed it's what mom really wants for Mother's Day.
Ingredients
1

pound

young pink rhubarb stalks

,

trimmed and cut into 3/4-inch lengths (about 4 cups)

1 3/4

cups

granulated sugar

,

or less to taste

3 3/4

cups

vodka
Instructions
Place the rhubarb in a 1 1/2-quart jar. Add the sugar and shake everything together. Place the lid on the jar but do not seal it tightly. Let the sugar and rhubarb sit overnight at room temperature to draw the juice from the stalks, shaking or stirring the mixture occasionally to dissolve the sugar.

The next morning, pour the vodka into the jar, shake, and seal. Let sit at room temperature for 4 weeks, shaking the jar every so often. [Editor's Note: Yep. You heard us. Four weeks. Patience. It's a virtue.]

To sip your rhubarb liqueur, pour the liqueur out into glasses or strain everything through a cheesecloth-lined nylon strainer into a bottle. The rhubarb vodka will keep for a year, though the pretty pale hue will fade with time.
Notes
Infused Vodka Variation
Peach Liqueur
Make the same as for the rhubarb liqueur, filling the jar with ripe peaches (or apricots), preferably organic, that you've pitted and sliced.
Lemon Vodka
Peel the zest from 1 lemon, preferably organic, cutting away any bitter white pith. Add the zest to 4 cups vodka in a large jar. Let sit for 2 to 4 days, depending on how strong you want the flavor to be. Strain the vodka into a bottle.
Dill Vodka
Make the same as for the lemon, but use sprigs of dill instead of lemon zest into the vodka.
Cinnamon and Cardamom Vodka
Put 1 cinnamon stick and 2 cardamom pods in the vodka (you can just add these straight to the bottle), and leave them there indefinitely. No need to strain the vodka before imbibing. Good for winter imbibing.
Nutrition
Serving:
2
ounces
Calories:
147
kcal
Carbohydrates:
15
g
Protein:
1
g
Fat:
1
g
Saturated Fat:
1
g
Polyunsaturated Fat:
1
g
Monounsaturated Fat:
1
g
Sodium:
1
mg
Potassium:
55
mg
Fiber:
1
g
Sugar:
15
g
Vitamin A:
19
IU
Vitamin C:
2
mg
Calcium:
16
mg
Iron:
1
mg
Nutrition information is automatically calculated, so should only be used as an approximation.
Recipe © 2012 Diana Henry. Photo © 2012 Laura Edwards. All rights reserved.
---
Recipe Testers' Reviews
I had a bag of frozen rhubarb from my garden and was looking for something to do with it. This rhubarb vodka recipe definitely fit the bill, as I was hoping it'll bring a hint of spring when I need it most. I used frozen rhubarb and the finished product is a pretty pale pink and full of rhubarb flavor. The only difficult part about making this liqueur is waiting for it to steep for 4 weeks! I tried it straight, on the rocks, with a squeeze of lime, and with cranberry juice for a rhubarb Cosmo (nice!). I think it would have been perfect with some club soda and an orange slice, but I had neither in the house. It is more potent than it appears, so the addition of club soda would be welcome. And that combo would make a very nice summer cocktail!I only made half the amount indicated in the recipe, so my measurements reflect that. My rhubarb was already cut into 3/4 inch pieces, so I estimated how many would make up a stalk and I tried to pick the pinkest ones. This ended up being about 3 1/2 cups frozen rhubarb. I defrosted it and drained it for 20 minutes or so to remove excess water. I added the sugar and shook the jar periodically whenever I thought of it. All the sugar dissolved in a few hours. The next day, I added the vodka to the mixture. I could cut back on the sugar a bit, as I found it a little sweet for my taste.
This is a work in progress. I made kumquat liqueur rather than rhubarb. I used 2 pounds kumquats, 1 1/2 pounds sugar, and 7 cups vodka. These ingredients have been swimming around in a large glass jar with a rubber seal for 10 days. The small sips that I snitched the first several days and weeks by dipping a spoon into the jar seemed very promising. Over the past year, my kumquat liqueur has been lovely for sipping. The kumquats, along with the liqueur they have been swimming in, have also made a wonderful topping for warm, moist gingerbread. Last weekend I actually came across a long-forgotten bottle of the liqueur in a cabinet. The liqueur was still crystal clear. It was a marvelous digestif after a heavy but delicious dinner of port-braised lamb shanks, and it also went beautifully with a simple apple tart for dessert. I look forward to sipping more of this, thanks to the newly discovered bottle. And, as luck would have it, kumquats are cropping up in the market once again. Perhaps another batch will soon be in the works.