Rhubarb vodka. The simple homemade hooch–made from rhubarb, vodka, and sugar–makes a pretty spring tonic and guaranteed it's what mom really wants for Mother's Day.
Rhubarb vodka. Yep. It's a thing. And you're going to want to make this tipsy spring tonic again and again and again. The hooch that results from steeping these spring stalks with sugar and vodka will be a lovely shade of the palest of pinks that varies from one batch to the next, depending on just how potent the rhubarb. But rest assured, any which way, it's spectacular. You know you want to try this. So go on. Originally published May 8, 2016.–Renee Schettler Rossi
What To Do With Rhubarb Vodka (Hiccup)
Once you have a stash of rhubarb vodka, there are oh so many enticing ways to make it disappear. Splash some into sparkling wine. Cut it with club soda or seltzer. Sip it straight. Get all sorts of creative with its incarnations, experimenting with all manner of cocktails calling for orange or vanilla or pink peppercorns or whatever you fancy. It's perhaps best poured into a fancy bottle and gifted—usually to gasps of awe ands surprise.
Rhubarb Vodka
Quick Glance
15 M
15 M

Fills a 1 1/2 quart jar
Special Equipment: Patience
Print Recipe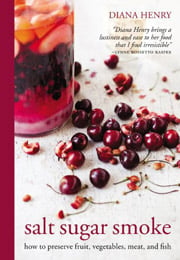 Ingredients
18 young pink rhubarb stalks (16 oz), trimmed and cut into 3/4-inch lengths (about 4 cups)

1 3/4 cups granulated sugar, or less to taste

3 3/4 cups vodka
Directions
1. Place the rhubarb in a 1 1/2-quart jar. Add the sugar and shake everything together. Place the lid on the jar but do not seal it tightly. Let the sugar and rhubarb sit overnight at room temperature to draw the juice from the stalks, shaking or stirring the mixture occasionally to dissolve the sugar.

2. The next morning, pour the vodka into the jar, shake, and seal. Let sit at room temperature for 4 weeks, shaking the jar every so often. [Editor's Note: Yep. You heard us. Four weeks. Patience. It's a virtue.]

3. To sip your rhubarb liqueur, pour the liqueur out into glasses or strain everything through a cheesecloth-lined nylon strainer into a bottle. The rhubarb vodka will keep for a year, though the pretty pale hue will fade with time.
Infused Vodka Variations
Peach Liqueur
Make the same as for the rhubarb liqueur, filling the jar with ripe peaches (or apricots), preferably organic, that you've pitted and sliced.
Lemon Vodka
Peel the zest from 1 lemon, preferably organic, cutting away any bitter white pith. Add the zest to 4 cups vodka in a large jar. Let sit for 2 to 4 days, depending on how strong you want the flavor to be. Strain the vodka into a bottle.
Dill Vodka
Make the same as for the lemon, but use sprigs of dill instead of lemon zest into the vodka.
Cinnamon and Cardamom Vodka
Put 1 cinnamon stick and 2 cardamom pods in the vodka (you can just add these straight to the bottle), and leave them there indefinitely. No need to strain the vodka before imbibing. Good for winter imbibing.
Rhubarb Vodka Recipe © 2012 Diana Henry. Photo © 2012 Laura Edwards. All rights reserved. All recipes and photos used with permission of the publisher.
If you make this recipe, snap a photo and hashtag it #LeitesCulinaria. We'd love to see your creations on Instagram, Facebook, and Twitter.