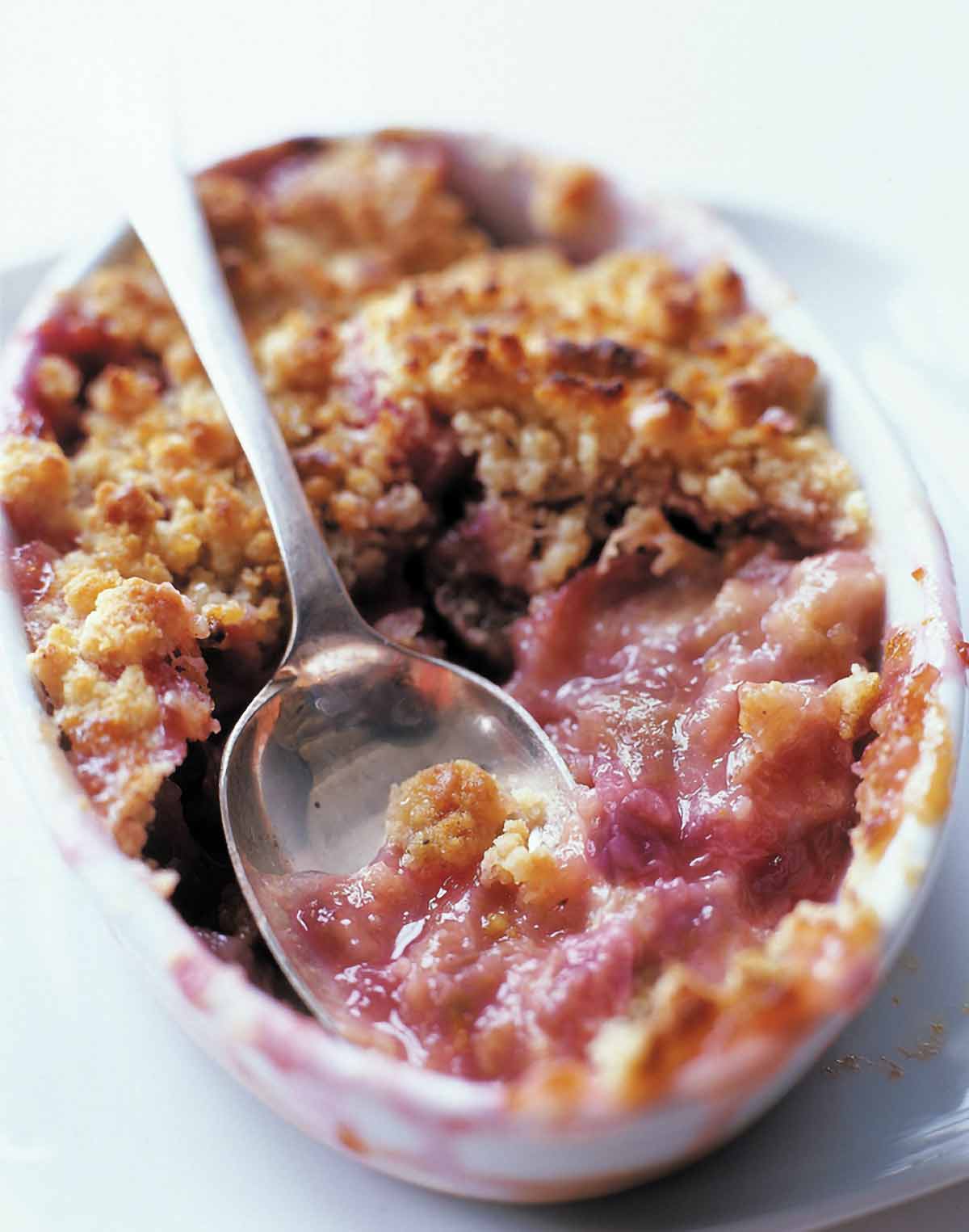 This easy rhubarb crisp goes beyond being a truly inspired dessert to also being a lovely breakfast dessert—so much so that some of us have been known to wake early and bake a batch, especially for said purpose. (And while it's perfectly lovely all on its own, we wouldn't kick it out of bed with a little ice cream, whipped cream, or yogurt. Do with that information what you will.)–David Leite
Rhubarb Crisp FAQs
How do I keep my rhubarb crisp from being runny?
The simple elegance of this rhubarb crisp recipe means that there aren't a lot of extra ingredients, like flour or cornstarch, to thicken up the juices in the filling. This means that you're relying on cooking down the fruit to get a good consistency. Don't overcook the fruit but do let the juice simmer enough to reduce. It should only take 5 minutes and you're going to want to keep an eye on it. Also, keep in mind that the filling will set up a little bit as it cools, so you might be just fine.
How do I know when rhubarb is ready to be harvested?
Remember that stalk color is not a good indication of readiness so if your stalks aren't completely red, it's ok. The best indication of whether your rhubarb is ready to be pied, crisped, or jammed is the length of those stalks. Rhubarb is best when the stalks are between seven and fifteen inches long. The best time to harvest in most of the US is May, June, and even early July.
How do I harvest and prepare fresh rhubarb?
Fresh rhubarb is easy to prepare. Trim the stalks from close to the root and cut away and discard the leaves. While they're not harmful to touch, rhubarb leaves are toxic when ingested by people and all kinds of animals. If your rhubarb stalks are very thick you can peel the exterior, but it isn't necessary for young, tender rhubarb. Wash and then slice the rhubarb into small pieces. If you've got more than you need for your recipe, toss the extra into a resealable bag and stash it in the freezer until your next rhubarb craving hits.
How should I store leftover rhubarb crisp?
Leftover rhubarb crisp will keep on the counter, covered with plastic wrap, for 1 to 2 days. The streusel topping will soften as it sits.
Easy Rhubarb Crisp
Leftovers of this easy rhubarb crisp are great for breakfast; just substitute yogurt for the whipped cream.
Ingredients
For the rhubarb filling
1 1/2

pounds

fresh rhubarb

,

trimmed and sliced (about 4 1/2 cups)

3/4

cup

granulated sugar

1

teaspoon

freshly grated orange zest

,

preferably organic
For the streusel topping
3/4

cup

all-purpose flour

1/4

cup

light brown sugar

,

preferably Demerara

1/2

teaspoon

ground cinnamon

1

pinch

kosher or fine sea salt

7

tablespoons (3 1/2 oz)

unsalted butter

,

cold, cut into pieces

Whipped cream or ice cream

,

for serving
Instructions
Make the rhubarb filling
Position a rack in the center of the oven and preheat to 425°F (218°C).

In a large saucepan over medium-high heat, combine the rhubarb, sugar, and orange zest and simmer until the sugar dissolves into a gooey syrup and the rhubarb is sorta but not totally tender, about 5 minutes.
Make the streusel topping
If using a food processor, toss the flour, brown sugar, cinnamon, and salt in the bowl of the food processor and pulse to combine. Add the butter and pulse until the mixture resembles very coarse crumbs containing pea-sized blobs of butter. If not using a food processor, combine the flour, brown sugar, cinnamon, and salt in a large bowl. Use 2 knives to cut the butter into the flour mixture until what you have in the bowl resembles very coarse crumbs containing pea-sized blobs of butter.
Bake and serve the crisp
Dump the rhubarb mixture into a 9-inch pie plate or 10-inch gratin dish and sprinkle the flour mixture evenly over the top. Bake until the topping is golden brown, about 25 minutes.

Let the crisp cool ever so slightly. Serve it warm with a dollop of whipped cream or a scoop of ice cream.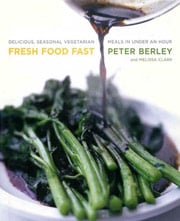 Nutrition
Serving:
1
serving
Calories:
337
kcal
Carbohydrates:
51
g
Protein:
3
g
Fat:
14
g
Saturated Fat:
9
g
Trans Fat:
1
g
Cholesterol:
37
mg
Sodium:
16
mg
Potassium:
362
mg
Fiber:
3
g
Sugar:
35
g
Vitamin A:
549
IU
Vitamin C:
10
mg
Calcium:
114
mg
Iron:
1
mg
Nutrition information is automatically calculated, so should only be used as an approximation.
Recipe © 2013 Peter Berley. Photo © 2013 Quentin Bacon. All rights reserved.
---
Recipe Testers' Reviews
The first thing I have to say is this will be my new go-to recipe for rhubarb crisp. We love rhubarb in this house (except for my son and son-in-law) and this was definitely a big hit here. Even though this is a really simple recipe, the orange zest really makes the rhubarb sing. My daughter smelled the filling simmering and couldn't believe it was just rhubarb, orange zest, and sugar. The topping is perfect, too, as it doesn't overwhelm the filling.
Whipped cream was a great addition to this warm dessert, but my daughter and I agreed it would be good even without the whipped cream.
In just a little over 45 minutes, with only about 15 of those hands-on time, you have a perfect dessert to top off most any meal. Next time I have a craving for rhubarb, I know what I'll be making.
It's almost summer and this easy rhubarb crisp recipe fits in just right. It's light and fresh, sweet and fruity, and very easy to make. Just cook the sliced rhubarb with some sugar and orange peel for 5 minutes, put it in a nice gratin dish, top it with streusel, and bake for 25 minutes. That's all. You can assemble it in advance and pop it in the oven just before dinner. We had some whipped cream with it, and everybody liked it.
Quite the tasty rhubarb crisp recipe! I grew up with rhubarb, so it's one of my all-time favorites. My mom would make pies, cakes, crisps, sauces, etc., as long as it grew in our yard each spring. Sometimes she'd plop me on the back steps outside with a stalk and a small bowl of sugar for dipping. Not sure I'd try that today, but I loved it as a kid!
I sliced the rhubarb stalks into 1/2-inch pieces, added the sugar and orange zest, and turned the flame on medium. It cooked for about 7 minutes and broke down into a chunky sauce. I combined the dry ingredients, added the chilled butter, and mixed until the butter was in pea-size bits. I poured the rhubarb into a 9-inch pie plate and added the crumbled butter mixture. It baked for 30 minutes, until brown on top.
After it cooled a bit, I tried some and found it to be very good, but I didn't really taste the orange zest or the cinnamon. Next time I'd double the zest and use at least 3/4 teaspoon cinnamon. I might even add some chopped nuts or oatmeal to the topping so it has more crunch. While rhubarb is in season, this makes a quick and easy dessert to throw together.