This is the much ballyhooed recipe for oven-fried chicken that comes from the mom of former New York Times food reporter Amanda Hesser. In stark contrast to the many of the more complex chef recipes Amanda wrote about at The Times, this calls for everyday ingredients and an incredibly simple technique. Amanda and the recipe impart much good advice from Amanda's mom, including the fact that brining not only keeps the meat juicy but helps the skin crisp. Another essential component to the recipe is to use incredibly high quality chicken, which not only boasts better taste but contains far less fat, which means that as the chicken bakes, it maintains that greaseless integrity that we all hope for in fried chicken rather than ending up tasting like it's been soaking in a puddle of fat.–Renee Schettler
HOW DO I KEEP MY FRIED CHICKEN CRISPY?
The best way to keep fried foods crispy? Just place them on a cooling rack set over a baking sheet. If you're frying multiple batches, throw the whole setup into a low oven to keep everything warm as you keep frying and adding to the rack.
Judy Hesser's Oven-Fried Chicken
This oven-fried chicken from Judy Hesser, momma of Amanda Hesser, is a classy Shake'n Bake. The chicken is brined, coated by shaking in a bag, and baked.
Ingredients
3

tablespoons

sea salt

1

cup

warm water

,

or a little more or less

8

chicken thighs

,

organic or natural, not Perdue or somesuch

2

tablespoons (1 oz)

unsalted butter

1/2

cup

all-purpose flour

1

teaspoon

coarsely ground black pepper
Instructions
In the morning, combine 2 tablespoons salt and the warm water in a large bowl or container. Stir until the salt dissolves. Trim the chicken of any excess skin and fat. Add the pieces to the brine, add enough cold water to completely cover the chicken, and then add a tray of ice cubes and swish around with your hand to disperse them. Refrigerate until dinner time.

Preheat your oven to 400°F (200°C). Put the butter in a roasting pan large enough to fit the chicken thighs in a single layer. Place the pan in the oven to preheat.

Remove the chicken from the fridge and pat it completely dry with paper towels. In a 1-gallon resealable plastic bag, toss the flour, remaining 1 tablespoon salt, and the pepper. Seal the bag and give it a good shake. Add the chicken pieces, 2 at a time, and shake them until thoroughly coated. As you lift them out of the bag, shake them off vigorously to remove any excess flour. This is vital. You don't want a gummy coating. Line them up on a plate and repeat with the remaining chicken thighs and flour.

Place the chicken pieces in the roasting pan, skin side down, and oven-fry until chestnut brown in color and crisp on the bottom, about 40 minutes (sometimes it takes as long as an hour). Don't flip them until this happens. Use a thin metal spatula to scrape them from the pan and turn them. Then bake until the other side is the same way, 20 to 40 minutes more.

Remove the pieces from the oven as they finish cooking, and place on a plate lined with paper towels. Just before serving, grind fresh pepper over top and sprinkle lightly with sea salt. Serve hot, room temperature, or even cold straight outta the fridge.
Notes
Amanda Hesser's Oven-Fried Chicken variation
Amanda Hesser mentions she sometimes glams up her mom's recipe by adding finely grated Parmigiano-Reggiano and lemon zest to the flour coating.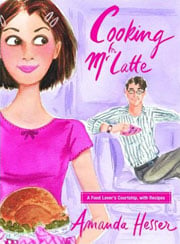 Nutrition
Serving:
2
thighs
Calories:
603
kcal
Carbohydrates:
13
g
Protein:
38
g
Fat:
43
g
Saturated Fat:
14
g
Trans Fat:
1
g
Cholesterol:
237
mg
Sodium:
5410
mg
Potassium:
489
mg
Fiber:
1
g
Sugar:
1
g
Vitamin A:
354
IU
Calcium:
29
mg
Iron:
2
mg
Nutrition information is automatically calculated, so should only be used as an approximation.
Recipe © 2003 Amanda Hesser. Photo © 2015
Food52
. All rights reserved.
---
Recipe Testers' Reviews
A big thank you for this oven-fried chicken recipe! I now have a great family dish I can go to again and again. It's quick to make and everyone loved it. I used organic chicken thighs as Hesser said—except I had boneless thighs.
Brining the chicken is something I'm accustomed to, as I've brined turkeys many times, and it does make for more flavorful poultry. The thighs cooked for 30 minutes and were nicely crisp. And since the recipe calls for only 2 tablespoons butter, we weren't feeling guilty. Now we can have fried chicken more often.
This a simple technique for oven-fried chicken and it works. It definitely needs the instructions to use good chicken—you really want the chicken to crisp up and not sit there baking in a ton of fat. I'd also consider adding some seasonings to the flour before using it to coat the chicken.