Some things in life are apparent. Others are a little less clear. Typically trying to name a recipe as the best fried chicken, especially the best Southern pan-fried chicken, falls into the latter category given just how many distinct variations and subtle nuances and personal preferences are at play. However, trying this recipe made things pretty apparent for us. We think it will for you, too.–David Leite
How to Make Southern Fried Chicken
Edna Lewis noted in this recipe that it blends fried chicken styles from both Virginia and Alabama. The chicken gets two long soaks, Alabama-style, first in brine and then in buttermilk. The frying fat is all Virginia-style, a special mix of lard and sweet butter flavored with country ham, which makes the chicken exceptionally rich-tasting. She added a few more thoughts and tactics to frying. We consider them to be fried chicken commandments.
Brine the chicken. (That is, soak it in a saltwater solution before cooking, which serves a twofold purpose: it helps the chicken retain moisture and seasons it all the way through. To make a basic Edna Lewis brine, stir kosher salt into cold water until dissolved, using 1/4 cup kosher salt to 1 quart of water. Don't use table salt; it will be too salty). Mix enough brine to cover the poultry completely in a non-reactive bowl or pot. Refrigerate for 8 to 12 hours. Drain and pat dry.)
The best dredge always includes cornstarch for crispness.
Be sure to pat off all excess dredge before frying.
Fry evenly at the proper temperature.
Drain the chicken well on crumpled-up—not flat—paper towels or a wire rack.
What to serve with fried chicken
Since this is classic Southern fried chicken, we highly recommend classic sides like buttermilk biscuits, mac and cheese, and potato salad be served alongside this crispy, finger-licking chicken.
Southern Pan-Fried Chicken
This Southern pan-fried chicken is the classic, crispy fried chicken of your dreams. The chicken is brined, soaked in buttermilk, and coated. It's then fried in a skillet in a mixture of lard, oil, ham, and butter. The results? Crisp, juicy, perfectly seasoned fried chicken.
Equipment
Deep-fry or candy or instant-read thermometer
Ingredients
One

(3-pound)

whole chicken

,

cut into 8 pieces and preferably brined for 8 to 12 hours

1

quart

buttermilk

,

(either low-fat or full-fat)

1

pound

lard

1

stick (4 oz)

unsalted butter

1/2

cup

country ham pieces or 1 thick slice country ham

,

cut into 1/2-inch (12-mm) strips (90 g or 3 oz)

1

cup

all-purpose flour

2

tablespoons

cornstarch

1

teaspoon

salt

1/2

teaspoon

freshly ground black pepper
Instructions
To prep the brined chicken for frying, drain it and discard the brine. Rinse out the bowl it was brined in. Return the chicken to the bowl and pour the buttermilk over the chicken. Cover and refrigerate for 8 to 12 hours. Place the chicken on a wire rack to drain, discarding the buttermilk.

Meanwhile, prepare the fat for frying by putting the lard, butter, and country ham in a heavy skillet or frying pan. Cook over low heat for 30 to 45 minutes, skimming any foam as needed, until the butter ceases to throw off foam and the country ham is browned.

Use a slotted spoon to remove the ham from the fat. Just before frying, increase the temperature to medium-high and heat the fat to 335°F (170°C).

Prepare the dredge by blending together the flour, cornstarch, salt, and pepper in a shallow bowl or on wax paper. Dredge the drained chicken pieces thoroughly in the flour mixture, then gently shake to remove all excess flour.

Slip some of the chicken pieces, skin side down, into the heated fat. (Be careful to not crowd the pan. Fry in batches if necessary.) Cook for 10 to 13 minutes on each side, until the chicken is golden brown and cooked through. The exact timing may vary depending on the size of your chicken.

Drain thoroughly on a wire rack or on crumpled paper towels. Serve hot, warm, or at room temperature.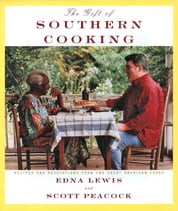 Nutrition
Serving:
1
portion
Calories:
623
kcal
Carbohydrates:
39
g
Protein:
17
g
Fat:
44
g
Saturated Fat:
15
g
Polyunsaturated Fat:
10
g
Monounsaturated Fat:
16
g
Trans Fat:
4
g
Cholesterol:
58
mg
Sodium:
856
mg
Potassium:
420
mg
Fiber:
1
g
Sugar:
12
g
Vitamin A:
526
IU
Vitamin C:
1
mg
Calcium:
283
mg
Iron:
2
mg
Nutrition information is automatically calculated, so should only be used as an approximation.
Recipe © 2003 Edna Lewis. Photo © 2003 Christopher Hirsheimer. All rights reserved.
---
Recipe Testers' Reviews
I imagine that as far as Southern pan-fried chicken goes, this recipe yielded tender, juicy chicken with a nice, crisp skin.
I've made fried chicken before (one of my favorite recipes is from this very site) and I generally make it the same way. The biggest difference here was the use of lard, butter, AND pork fat to deep fry. I generally use a lighter oil and, to be honest, I really prefer that. I found that this mixture of fat was just too much. Also the coating didn't adhere very well and I had to touch it up and refry a few pieces to get the pieces fully crisp.
If you're looking for authentic Southern fried chicken, this recipe is easy and tasty, if a little greasier than other fried chicken.
It isn't that this fried chicken recipe is particularly difficult. It isn't that it doesn't produce a tasty product. It seems pretty much failure proof and the finished product, while a little salty for my taste, was more than edible.
At the same time, my cravings for fried chicken usually demand to be met sooner than the 24 or so hours it takes to prepare this.
I was raised in the South and it is summer so I served this with potato salad and a tomato cucumber salad.
Select a Tester
This Southern pan-fried chicken recipe was DELICIOUS! Taking a bite and experiencing the crisp skin yet moist meat was amazing. I've always been afraid to attempt fried chicken because I know how critical it is to make sure the meat isn't dry and bland! Successfully crisp skin and moist meat! Here I was this morning, eating quality fried chicken for breakfast (don't judge me).
Since we had it for breakfast, we went the chicken and homemade waffles route, which never disappoints. I only brined the meat for 5 hours and it still came out super flavorful and juicy. The meat then sat in the buttermilk overnight as directed. I added paprika and parsley flakes to the flour dredge for added flavor.