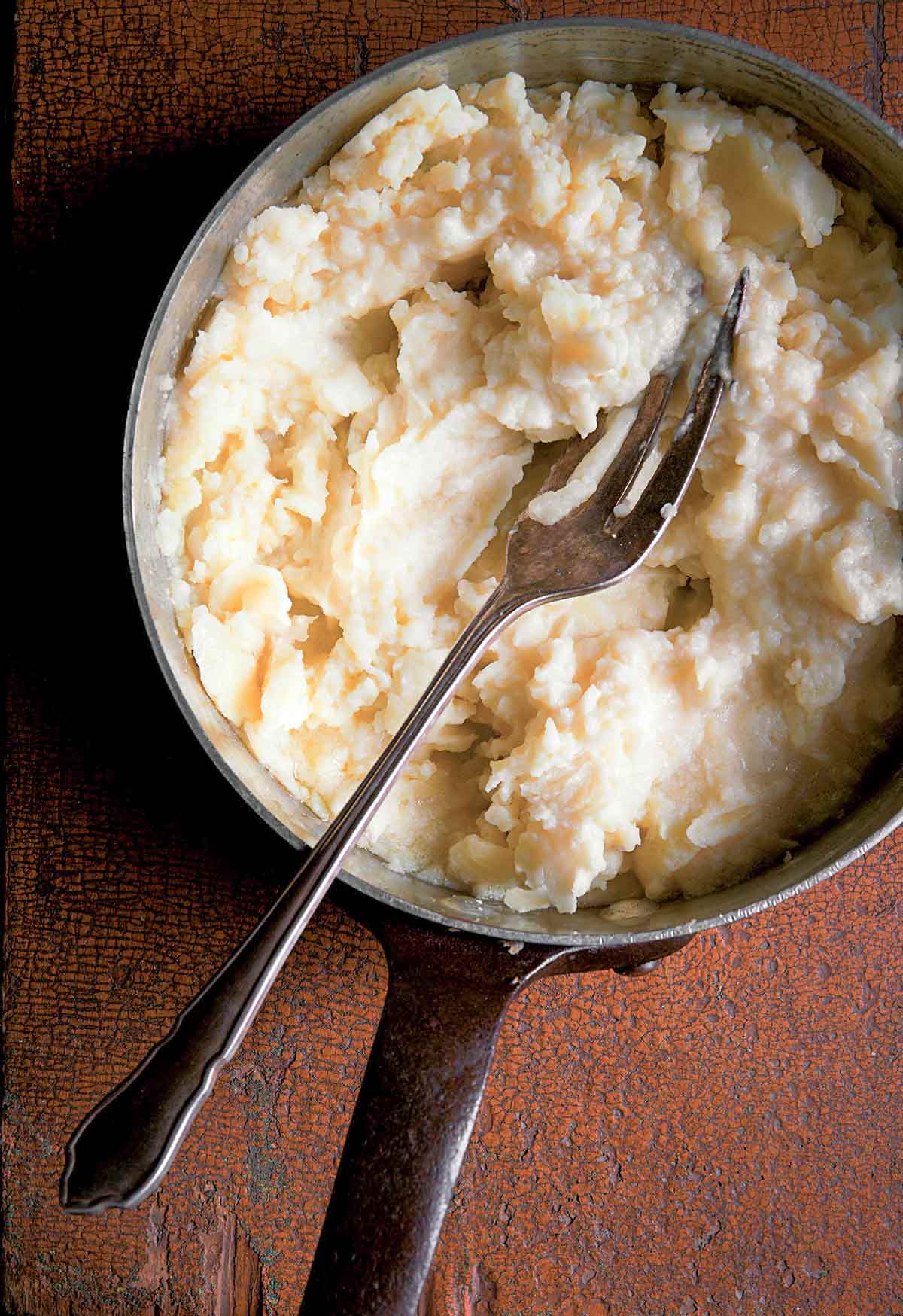 In French recipes, this style of mashed potatoes is called pommes de terres à la fourchette, which sounds glamorous for a dish of humble home-style potatoes mashed with a fork. You can make them as smooth as you like, or keep them rough and chunky.–David Tanis
LC Maverick Mashed Potatoes Note
There's a sort of honesty, a frankness, about these fork-mashed potatoes that we respect. We also appreciate how these puds are indulgence defined with their easy execution, deceptively rich taste, and lack of bowls and beaters to clean. Yet as much as we swoon for a simple mash, there are times when plain mashed potatoes just aren't quite…enough. When it's one of those times, turn to the variations galore that follow the recipe.
Fork-Mashed Potatoes
These fork-mashed potatoes, made with just potatoes, cream, olive oil, butter, salt, and pepper, taste indulgent, yet are deceptively simple to make.
Ingredients
2 1/2

pounds

yellow-fleshed potatoes, such as Yukon Gold

Salt and freshly ground black pepper

1/2

cup

milk or cream

1/4

cup

olive oil

2

tablespoons (1 oz)

butter
Instructions
Peel and cube the potatoes. Boil them in salted water for 12 to 15 minutes, until fork-tender. Drain the potatoes and return them to the pot. Season with salt and pepper.

Heat the milk or cream in a small saucepan over mediumish heat until just under a boil.

Pour the hot milk or cream over the potatoes and add the olive oil and butter. Use a large fork to mash the potatoes to whatever consistency you like, then transfer to a warm serving bowl. (When making mashed spuds for the multitudes and desperately want to save some last-minute fuss, we rely on the Julia Child trick to making them ahead of time and keeping them warm. You should, too. Just place your pot or pan of just-mashed potatoes in a slightly larger pot of hot, but not simmering, water. Balance the lid on top, making sure it's left slightly ajar—the handle of a wooden spoon that's been stuck in the mash works quite swell—and then forget about them while greeting guests, taking coats, shaking cocktails, and tending to the foods that do require last-minute fuss. Just before serving, stir the potatoes ever so slightly. If the mash appears slightly dry, stir in a smidgen more milk or butter or, if you're feeling flush, both.)
Notes
Mashed Potato Stir-Ins, Add-Ons, And Cook-Alongs Note
Next time you feel like fancying up a pot of potatoes, turn to these inspirations from the intrepid team of Leite's Culinaria recipe testers, who divulged their tried and true tactics. You can reveal your own favorites in a comment below…
Stir-Ins
Just stir any of these right into the mash…
Cheese, glorious cheese, whether Cheddar, Parmesan, Asiago, the blues (we could go on….)
Roasted garlic
Minced chives
Chipotles en adobo
Bacon and scallions
Chives
Peas
Add-ons
These indulgences can be added on in addition to or in place of the milk.
Crême fraiche, cream cheese, sour cream, or cream
Milk or cream that's been infused with the essence of fresh herbs (simply warm the moo juice, toss in a few sprigs, and set aside to steep)
Cook-Alongs
Slip a few of these roots into the pot along with the spuds.
Celery root
Turnips
Rutabagas and carrots (known as rotmos in Sweden)
Sweet potatoes
Nutrition
Serving:
1
portion
Calories:
409
kcal
Carbohydrates:
51
g
Protein:
7
g
Fat:
21
g
Saturated Fat:
6
g
Polyunsaturated Fat:
2
g
Monounsaturated Fat:
12
g
Trans Fat:
1
g
Cholesterol:
19
mg
Sodium:
31
mg
Potassium:
1236
mg
Fiber:
6
g
Sugar:
4
g
Vitamin A:
240
IU
Vitamin C:
56
mg
Calcium:
70
mg
Iron:
2
mg
Nutrition information is automatically calculated, so should only be used as an approximation.
Recipe © 2010 David Tanis. Photo © 2010 Christopher Hirsheimer. All rights reserved.
---
Recipe Testers' Reviews
This fork mashed potatoes recipe is simple and easy, and makes me ask, "Why didn't I think of this?" As I was mashing the potatoes with my fork, it reminded me of growing up with my godmother, who would often serve boiled potatoes that I'd smash on my plate before adding big hunks of butter to them. This recipes goes just one step further, adding warmed milk to make them smooth and creamy. One thing that I really like is the ease of making this recipe for just the two of us, knowing that I can easily multiply it for a crowd.
If you like mashed potatoes at all, you'll really like this recipe. It's nothing fancy or outrageous—just good mashed potatoes. I usually use a potato masher for this kind of thing, but a fork yields a different, rustic texture. One note: At first, I thought that there was too much liquid, but it works its way into the potatoes without having to "whip" them into submission. I'd make this again, but with my masher, as it's just easier that way.
I love mashed potatoes. I REALLY LOVE these mashed potatoes. They take me back to my boyhood. Simple, perfect. A pat of butter, a bit of sea salt and some coarse black pepper are all you need for a wonderful treat!