Just try to resist eating this Meyer lemon curd from the jar with a spoon! Pack the lemon curd into jars for gift giving, but save a jar for yourself and spread it on toasted brioche or warm-from-the-oven scones. There's enough to fill tiny shortbread tarts [Editor's Note: Or slather on shortbread, for that matter] or to dollop on an angel food cake served with fresh strawberries. The lemon curd is delightful when layered with raspberries and blueberries for a summertime parfait.
As a gift-giving tip, offer all these suggestions on a gift card and include a recipe card. Tie each jar with raffia or ribbon and attach card. To turn this into a gift basket, consider including baked scones, biscuits, or even a loaf of poppy seed cake. It's a perfect hostess gift—ready to be enjoyed at breakfast, at teatime, or for dessert.–Diane Morgan
LC Zestfully Yours Note
If you're one of those types who loathes pulp in your orange juice, chances are you're not going to be too keen on the inclusion of zest in this lovely, lovely curd. Wait! All is not lost. You can still impart a distinct and luscious Meyer lemon-y-ness to the curd and end up with impeccably smooth results by adding the zest a little earlier in the process and then straining it out. We propose adding the zest to the sugar before you whisk in the eggs and egg yolks, rubbing the sugar and zest mixture between your fingertips to really permeate and perfume the sugar with a lemony lilt. (Do note, if you strain the curd, your yield will be closer to 3, not 4, half-pint jars.)
Meyer Lemon Curd
Quick Glance
15 M
25 M

Makes 3 to 4 half-pint jars
Special Equipment: Instant-read or a candy or a deep-fry thermometer and 3 or 4 half-pint jars with lids.
Print Recipe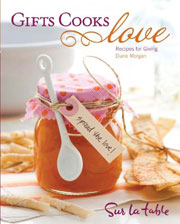 Ingredients
6 large egg yolks, at room temperature

6 large eggs, at room temperature

1 1/2 cups granulated sugar

1 cup freshly squeezed Meyer lemon juice (from about 6 lemons)

2 tablespoons grated Meyer lemon zest (from about 4 lemons)

6 tablespoons (3/4 stick) unsalted butter, cut into pieces
Directions
1. Wash the jars and lids in hot, soapy water and dry thoroughly. Alternatively, run the jars through the regular cycle of your dishwasher and wash the lids by hand.

2. In a large bowl, whisk together the egg yolks, eggs, and sugar. Whisk in the lemon juice. Transfer to a double boiler and cook the curd over barely simmering water, whisking constantly, until the lemon mixture thickens and reaches 170°F (76°C) on an instant-read thermometer. (The mixture will be very foamy on top.)

3. Remove the pan from the heat. Strain the curd into a bowl. Immediately whisk in the lemon zest and butter until the mixture is smooth and emulsified.

4. Using a wide-mouth funnel and filling one jar at a time, ladle the sauce into the prepared jars, leaving 1/2 inch headspace. Wipe the rims clean, seal the jars, and refrigerate until the lemon curd is thickened chilled through before using, at least 4 hours. (There's no need to process the sealed jars the old-fashioned way using a hot water bath, according to author Diane Morgan; you can simply screw the lids on the jars and keep them in the fridge so long as you're mindful to polish off the curd within a week or so.)
Bonus Recipe: Meyer Lemon Mousse with Fresh Berries
Meyer Lemon Curd is tangy and decadent spooned straight from the jar, but resist temptation so you can try this simple, luscious mousse. Transfer all of the lemon curd to a medium bowl. Whip 2 cups of heavy cream along with 3 tablespoons of confectioners' sugar until soft peaks form. Using a rubber spatula, fold a glob of the whipped cream into the lemon curd to lighten it. Gently fold in the rest of the whipped cream. Spoon the mousse into parfait glasses, alternating layers with fresh berries of your choice. Refrigerate until ready to serve or up to 1 week.
Meyer Lemon Curd Recipe © 2010 Diane Morgan. Photo © 2010 Sara Remington. All rights reserved. All recipes and photos used with permission of the publisher.
If you make this recipe, snap a photo and hashtag it #LeitesCulinaria. We'd love to see your creations on Instagram, Facebook, and Twitter.