This coconut layer cake is made up of three delicate, moist vanilla cake layers, creamy coconut filling, and a fluffy seven-minute frosting. On top is a sprinkling of shredded coconut. An excellent cake for celebrations–like birthdays, Mother's Day, showers.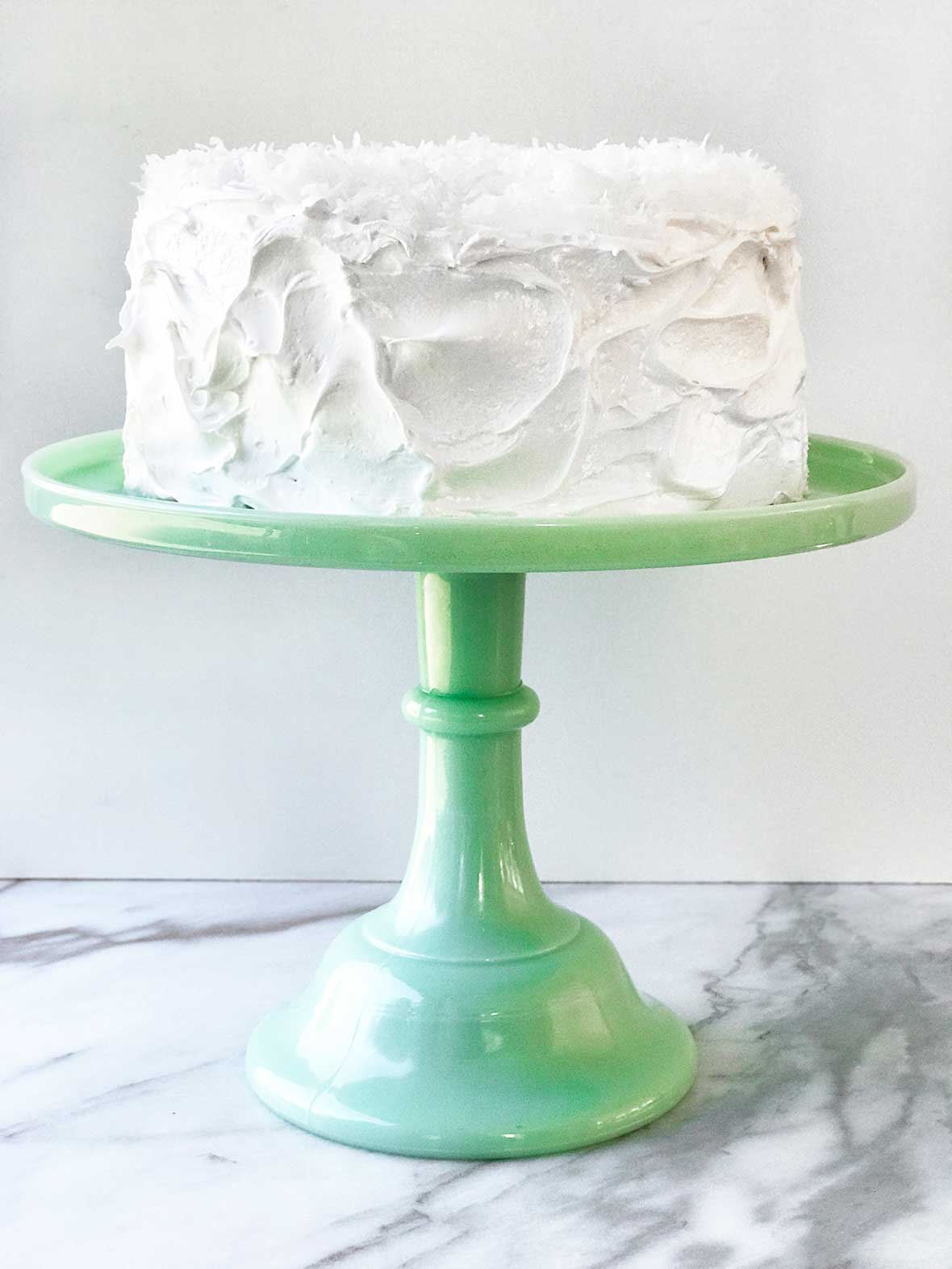 Allysa has had this coconut layer cake recipe for years. It's originally from a woman named Kathy who lives in the Midwest. It's a wonderful cake and has become one of the all-time favorites among customers at the Magnolia Bakery. This cake is best served the day it's filled and frosted. (But if I'm to be honest, I've had a piece 48 hours later, and it was perfectly fine.) Originally published April 21, 1999.–David Leite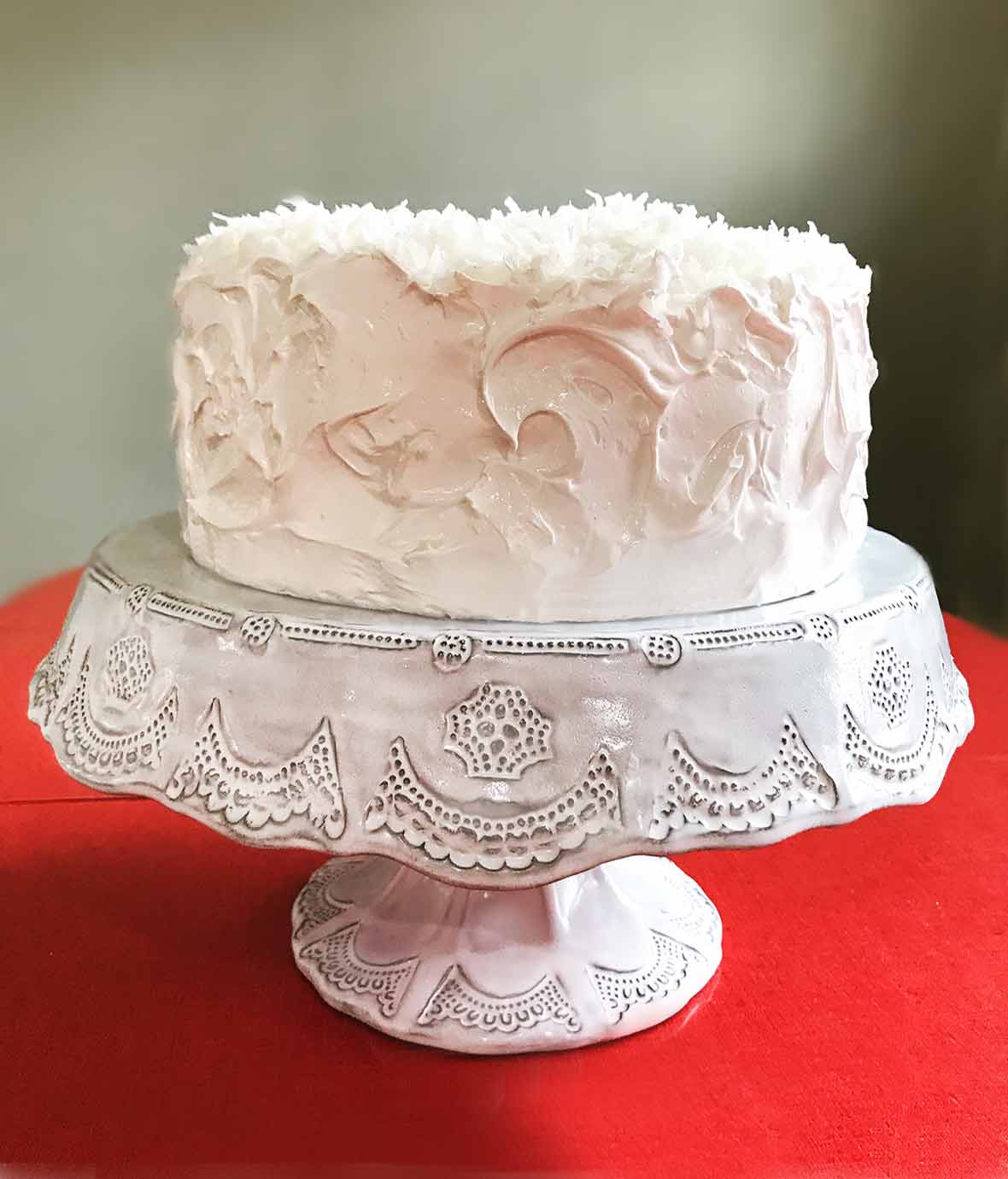 Coconut Layer Cake
Quick Glance
45 M
1 H, 15 M

Serves 12
Print Recipe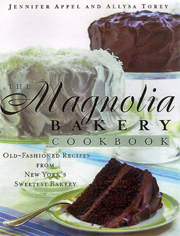 Ingredients
Email Grocery List
For the cake

2 sticks unsalted butter (8 oz), at room temperature

2 cups granulated sugar

4 large eggs, at room temperature

1 1/2 cups self-rising flour

1 1/4 cups all-purpose flour

1 cup milk

1 teaspoon vanilla extract

For the filling

3/4 cup milk

1/2 cup granulated sugar

2 tablespoons all-purpose flour

One (7-ounce) package sweetened shredded coconut

1 teaspoon vanilla extract

For the frosting

3 large egg whites

1 1/2 teaspoons vanilla extract

1/2 cup cold water

1 1/2 cups granulated sugar

1/4 plus 1/8 teaspoon cream of tartar

For the garnish

Sweetened shredded coconut, for sprinkling
Directions
Make the coconut layer cake

1. Preheat the oven to 350°F (175°C). Butter and lightly flour three 9-by-2-inch round cake pans, then line the bottoms with waxed paper.

2. In a large bowl with an electric mixer on medium speed, beat the butter until smooth. Gradually add the sugar and beat until fluffy, about 3 minutes. Add the eggs, 1 at a time, beating well after each addition. Combine the flours and add them to the batter in 4 parts, alternating with the milk and the vanilla extract, beating well after each addition. Divide the batter among the cake pans. Bake for 20 to 25 minutes or until a cake tester inserted into center of cake comes out clean. Let the cakes cool in pans for 10 minutes. Remove from pans and cool completely on wire rack.

Make the coconut filling

3. In a medium-size saucepan, whisk the milk with the sugar and the flour until thoroughly combined. Cook and stir constantly over medium-high heat (about 5 minutes) until thickened and bubbly. Remove from heat and add the coconut. Stir in the vanilla extract. Cover and cool to room temperature.

4. When the coconut cake has cooled, spread half the filling between the first 2 layers of cake, then the other half between the second and third layers. There. You've assembled the cake. Set it aside while you make the frosting, which needs to be used to frost the cake immediately after it's mixed.

Make the seven-minute frosting

5. In the bowl of a stand mixer fitted with the whisk attachment, combine the egg whites and the vanilla extract and set aside.

6. In a medium saucepan over high heat, combine the water with the sugar and the cream of tartar. As the mixture begins to bubble at the edges, stir once to make sure the sugar is dissolved completely, then let it come to a rolling boll, which will take 2 to 3 minutes. Immediately remove from the heat.

7. Meanwhile, beat the egg whites and the vanilla extract on medium-high speed until foamy, about 1 minute.

8. Without turning off the mixer, pour the sugar syrup into the beaten egg whites in a thin, steady stream. Continue beating constantly on medium-high speed for about 5 minutes or until stiff peaks form but the frosting is still creamy. Frost top and sides of cake immediately, being generous with your swoops and swirls and flourishes. Generously sprinkle the top of the cake with shredded coconut.
Recipe Testers Reviews

It's hard to put into words just how wonderful this cake is. It's moist, sweet, rich, and just pure decadence. I shared a slice with my goddaughter, and she said, "It's so good that it doesn't make sense!" It really is! The filling was amazing and the frosting tastes SO good. (And I will admit that I sampled quite a bit of the frosting before it made it on the cake!) You make the frosting like you would an Italian meringue, except you don't add any butter. It tastes like the best marshmallow you have ever tasted! The recipe was spot on as written; the only deviation I made was to toast the coconut before putting it on the cake, which gave it a somewhat nutty taste that was really well received. I always use a little of the batter to make a single cupcake so that I can taste the cake without having to cut into it, and I can tell you this recipe makes a really nice cupcake, too. I added a small layer of the filling to the top of the cupcake, then I added the frosting and the toasted coconut, and it turned out really cute! I can't wait for another reason to make this cake again, as this is the kind of cake you need to make with an intent to share, otherwise you could definitely eat this entire cake by yourself!
Coconut Layer Cake Recipe © 1999 Jennifer Appel and Allysa Torey. Photo © 2018 David Leite. All rights reserved. All materials used with permission.
If you make this recipe, snap a photo and hashtag it #LeitesCulinaria. We'd love to see your creations on Instagram, Facebook, and Twitter.