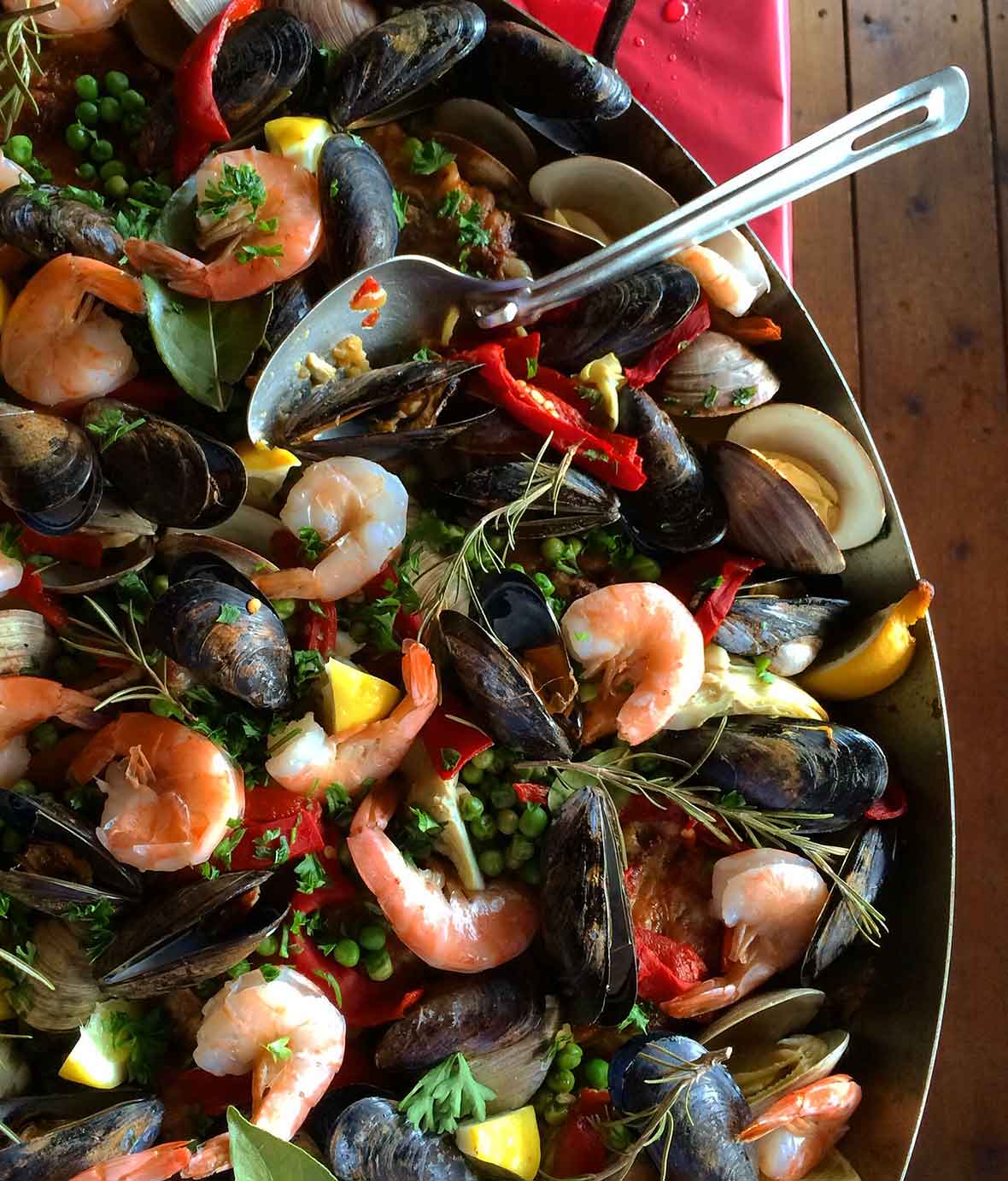 Soccarat, a layer of crusty browned rice that forms on the bottom of the pan, is a traditional part of paella. In our paella, soccarat does not develop because most of the cooking is done in the oven. We have provided instructions to develop soccarat in step 6; if you prefer, skip this step and go directly from step 5 to step 7. For this recipe, we've suggest garnishing with parsley but you can also use fresh rosemary, as seen in the photograph.–The Editors of Cook's Illustrated
Paella
This paella recipe calls for making it in a Dutch oven (the Dutch oven should be 11 to 12 inches in diameter with at least a 6-quart capacity). With minor modifications, it can also be made in a paella pan. Cured Spanish chorizo is the sausage of choice for paella, but fresh chorizo or Portuguese linguiça is an acceptable substitute.
Ingredients
1

pound

extra-large shrimp

,

(21 to 25 per pound), peeled and deveined

Olive oil

8 or 9

medium

garlic cloves

,

minced or pressed through a garlic press (2 generous tablespoons)

1

pound

boneless, skinless chicken thighs

,

each thigh trimmed of excess fat and halved crosswise

1

red bell pepper

,

stemmed, seeded, and cut pole to pole into 1/2-inch-wide strips

8

ounces

Spanish chorizo

,

sliced 1/2 inch thick on the bias

1

medium

onion

,

chopped fine (about 1 cup)

One

(14.5-ounce) can

diced tomatoes

,

drained, minced, and drained again

2

cups

Valencia or Arborio* rice

3

cups

homemade chicken stock or low-sodium canned chicken broth

1/3

cup

dry white wine

1/2

teaspoon

saffron threads,

crumbled

1

dried bay leaf

1 dozen

mussels

,

scrubbed and debearded

1/2

cup

frozen peas

,

thawed

2

tablespoons

chopped flat-leaf parsley

1

lemon

,

cut into wedges, for serving
Instructions
Adjust an oven rack to the lower-middle position; heat the oven to 350°F (180°C). Toss the shrimp, 1/4 teaspoon salt, 1/4 teaspoon pepper, 1 tablespoon oil, and 1 teaspoon of the garlic in a medium bowl; cover with plastic wrap and refrigerate until needed. Season the chicken thighs with salt and pepper; set aside.

Heat 2 teaspoons oil in a large Dutch oven over medium-high heat until shimmering but not smoking. Add the pepper strips and cook, stirring occasionally, until the skin begins to blister and turn spotty black, 3 to 4 minutes. Move the pepper to a small plate and set it aside.

Add 1 teaspoon oil to the now-empty Dutch oven; heat the oil until shimmering but not smoking. Add the chicken pieces in a single layer; cook, without moving the pieces, until browned, about 3 minutes. Turn the pieces and brown on the second side, about 3 minutes longer; dump the chicken into a medium bowl. Reduce the heat to medium and add the chorizo to the pot; cook, stirring frequently, until deeply browned and the fat begins to render, 4 to 5 minutes. Add the chorizo to the bowl with the chicken and set aside.

Add enough oil to the fat in the Dutch oven to equal 2 tablespoons; heat over medium heat until shimmering but not smoking. Add the onion and cook, stirring frequently, until softened, about 3 minutes; stir in the remaining garlic and cook until fragrant, about 1 minute. Stir in the tomatoes; cook until the mixture begins to darken and thicken slightly, about 3 minutes. Stir in the rice and cook until the grains are well coated with the tomato mixture, 1 to 2 minutes. Stir in the chicken broth, wine, saffron, bay leaf, and 1/2 teaspoon salt. Return the chicken and chorizo to the pot, increase the heat to medium-high, and bring to a boil, uncovered, stirring occasionally. Cover the pot and place it in the oven; cook until the rice absorbs almost all of the liquid, about 15 minutes.

Remove the paella from the oven (close the oven door to retain heat). Uncover the paella; scatter the shrimp over the rice, insert the mussels hinged-side down into the rice (so they stand upright), arrange the bell pepper strips in a pinwheel pattern, and scatter the peas over the top. Cover and return to the oven; cook until the shrimp are opaque and the mussels have opened, 10 to 12 minutes.

Optional: If soccarat (see headnote) is desired, set the Dutch oven, uncovered, over medium-high heat for about 5 minutes, rotating the pot 180 degrees after about 2 minutes for even browning.

Let the paella stand, covered, about 5 minutes. Discard any mussels that have not opened and the bay leaf, if it can be easily removed. Sprinkle the paella with the parsley and serve, passing the lemon wedges separately.
Notes
*What kinds of rice can I use in paella?
This recipe suggests Valencia or Arborio rice and there's a reason for that. First of all, paella is from Valencia, Spain, so it stands to reason that the recipe evolved using the rice from the region as well. But there's a good reason for it–short-grain rice can absorb a lot of liquid before turning to a soft, mushy mess.
It also tends to clump together when cooked, giving it an advantage when you're cooking up that crispy socarrat on the bottom. If you're really, really stuck, medium-grain rice will work ok but long-grain rice will give you a completely different result that will be nothing like paella.
Adapted From
Cooking at Home with America's Test Kitchen
Buy On Amazon
Nutrition
Serving:
1
portion
Calories:
573
kcal
Carbohydrates:
66
g
Protein:
40
g
Fat:
14
g
Saturated Fat:
4
g
Polyunsaturated Fat:
1
g
Monounsaturated Fat:
1
g
Trans Fat:
1
g
Cholesterol:
195
mg
Sodium:
1437
mg
Potassium:
760
mg
Fiber:
4
g
Sugar:
4
g
Vitamin A:
1237
IU
Vitamin C:
57
mg
Calcium:
113
mg
Iron:
7
mg
Nutrition information is automatically calculated, so should only be used as an approximation.
Recipe © 2005 Cook's Illustrated. Photos © 2005 David Leite. All rights reserved.
---
Recipe Testers' Reviews
Select a Tester
If you're a big paella fan, you'll find this dish delicious. As with most paella, this recipe was a bit time-consuming but worth the effort and wait. Each ingredient adds a layer of depth and complexity. The red bell pepper, Spanish chorizo, and peas added a welcoming dimension of color and warmth to the plate, as well as to the taste of the dish. The marriage of extra-large shrimp, boneless, skinless chicken thighs, mussels, and creamy Arborio rice is a gastronomical treat!
I was a little worried when the broth barely came up to the rice level, but the end result was perfect, with a nice layer of chewy, crunchy soccarat (the browned rice on the bottom and edge) and lovely layers of fluffy, tender rice, chorizo, and seafood. The cooking time for the shellfish was perfect as well—no rubbery shrimp or raw mussels here. I'll definitely make this again, maybe even with different kinds of seafood.