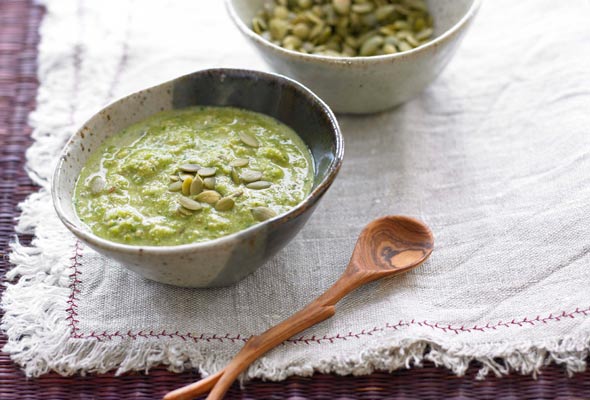 In Oaxaca, green mole (mole verde) is one of the seven famous moles. What makes this one different is not just the lack of chocolate, but also the fresh herbs, which give it a fabulous green color. Of course, every region or family has its own way of making mole. I learned this recipe from my friend from Puebla, who calls it mole pipían, referring to the pumpkin seeds used in it. Whatever you call it, it's fantastic with chicken, fish, pork, or as a spicy sauce over a bunch of enchiladas.–Cecilia Hae-Jin Lee
LC If There is Mole, There is a Party Note
A chef in Mexico once told us that when guests are invited to a party in Mexico, it is not uncommon for them to pose the question, "Is there mole?" If the answer is no, the chef explained, well, there's no party. To clarify, when most people think of mole, they think of black mole (mole negro), the rich, earthy, equal parts bitter and sweet concoction containing various dried chiles and a couple dozen other ingredients, slowly simmered into a sauce that's unquestionably worth celebrating. This mole, though sort of its antithesis given its spare ingredient list and a minimal investment of time, is no less party worthy. Nor will there be any fewer compliments.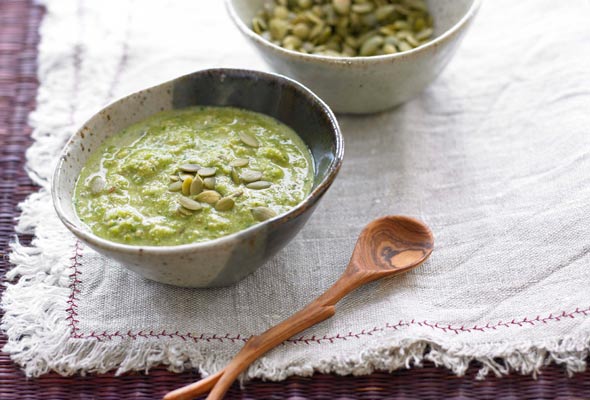 Pumpkin Seed Mole ~ Mole Verde
This pumpkin seed mole, or mole verde, combines pepitas with bright herbs, garlic, tomatillos, and jalapeños to make a standout sauce for chicken, fish, or your favorite enchiladas.
Ingredients
1

cup

shelled pumpkin seeds

1

teaspoon

cumin seeds

1/2

teaspoon

dried oregano

,

(optional)

1

tablespoon

vegetable or olive oil

1

white onion

,

cut into wedges

5

tomatillos

,

husked and halved

5

garlic cloves

,

halved

2

jalapeño peppers

,

sliced

2

cups

chicken stock or canned chicken broth

1

cup

packed coarsely chopped cilantro leaves

1

cup

coarsely chopped flat-leaf parsley leaves

1/2

cup

fresh epazote

,

(optional)

1

teaspoon

salt
Instructions
In a large skillet with high sides or in a large saucepan over medium-high heat, toast the pumpkin seeds, cumin seeds, and oregano, if using, until fragrant, 3 to 4 minutes. Toss frequently to make sure they don't burn. Remove from the heat and transfer to a spice grinder or a blender and process until finely ground.

In the same skillet, heat the oil over medium-high heat. Add the onion, tomatillos, garlic, and jalapeños and cook until slightly browned, 4 to 5 minutes, tossing a couple of times but not too much. Place the vegetables in a blender or food processor, then add the broth, cilantro, parsley, epazote (if using), and salt and process until puréed.

Pour the mixture back into the skillet and add the ground pumpkin seed mixture. Let simmer gently until the flavors are melded, stirring occasionally, about 15 minutes. Serve immediately. (Leftovers—if there are any—can be refrigerated in an airtight container for up to a couple of days.)
Nutrition
Serving:
1
serving
Calories:
143
kcal
Carbohydrates:
15
g
Protein:
6
g
Fat:
9
g
Saturated Fat:
2
g
Polyunsaturated Fat:
3
g
Monounsaturated Fat:
4
g
Trans Fat:
0.01
g
Cholesterol:
2
mg
Sodium:
520
mg
Potassium:
497
mg
Fiber:
3
g
Sugar:
4
g
Vitamin A:
1128
IU
Vitamin C:
26
mg
Calcium:
94
mg
Iron:
3
mg
Nutrition information is automatically calculated, so should only be used as an approximation.
Recipe © 2011 Cecilia Hae Jin Lee. Photo © 2011 Leigh Beisch. All rights reserved.
---
Recipe Testers' Reviews
This is absolutely delicious, a revelation if you're used to thick, dark moles based on chilies, chocolate, and tomatoes. It's got a lovely, distinct flavor—the cumin is present but not overwhelming, while the heat of the jalapeños is assertive but not aggressive. Thanks to the pumpkin seeds, it's got a slightly nutty taste, and the cilantro and parsley really come through in a refreshing and vibrant way. The sauce reminds me a bit of pesto, and seems equally as versatile. We ate it with hake, but I could see using it with a variety of meats and vegetables.
While it's not a difficult recipe, the "quick and easy" part is slightly misleading. All of the parsley and cilantro leaves you have to pick make it fairly time-consuming, though it's certainly possible to make it in less than an hour. Also, I'd not advise using a coffee grinder for the seeds and spices—because they're warm when you put them in there, they create steam, and leave a thick, mucky residue that's difficult to get off. Better to use an actual spice grinder for this one.
This is an easy mole that's much faster than many other recipes out there. I used a coffee grinder for the pepita mixture, and it worked well. In the future, I'd like a little more acid, like lime, to brighten the flavor. I'd also crank up the heat a bit. I served this with corn tortillas and grilled chicken, which made for a summery meal—perfect for our unseasonably warm weather. Overall, the recipe was a success.
This is a well-balanced mole in terms of texture, flavor, and spice. I love the slight crunchiness from the pepitas, and the herbal notes from the cilantro, parsley, and epazote. I disagree with the active prep time of 15 minutes, but I tend to be a tad slow. Also, I used a food processor to puree the vegetables, and when I added the broth, the whole thing overflowed. Thus, I had to clean up a big mess and also estimate how much additional broth to add to make up for what was lost. In the future, I'd use a blender, or puree the solid ingredients with a small amount of the broth and then add in the rest of the broth in the pot.
Despite these quibbles, the recipe is simple to put together and versatile—highly recommended. The first night, we had the mole spooned over simple grilled chicken. The second night, I cooked shrimp in the remainder of the mole and spooned it over white rice. Both were great, but the shrimp mole and rice was sublime.