When making fresh homemade egg pasta dough, I almost always use the food processor as it makes quick work of the task. But I feel it's also worth knowing how to mix pasta dough by hand. For one thing, nothing chases away fear in the kitchen like rolling up your sleeves and getting your hands dirty. For another, making egg pasta is a tactile experience. The more you touch and handle the pasta dough, the more familiar you'll become with the proper consistency—how firm and how smooth it should be. I've included instructions for mixing the egg dough in the food processor and for mixing it by hand.–Domenica Marchetti
Can You Make Homemade Pasta Ahead Of Time?
If you plan to cook pasta later rather than sooner, sprinkle a baking sheet with plenty of semolina flour and place the pasta directly on the sheet in several small piles. Slip the baking sheet into the freezer until the pasta is firm. The pasta will keep for a month stacked in a large container with a tight fitting lid or in resealable freezer bags. When you're ready to use it, just drop the frozen pasta into boiling water. [Editor's Post: This freezing pasta trick will work for any shape you cut, either filled or unfilled.]
Fresh Homemade Egg Pasta Dough
This fresh homemade egg pasta dough is an Italian classic made with 00 flour, semolina flour, eggs, salt, and olive oil and will forever change your mind about buying the boxed stuff. Here's how to make it—with or without a machine—and cook it.
Ingredients
2 to 2 1/4

cups

"00" flour or unbleached all-purpose

1

tablespoon

semolina flour

,

plus more for dusting the work surface and the dough

Pinch

of freshly grated nutmeg

3

extra-large

eggs

1 to 2

tablespoons

extra-virgin olive oil
Instructions
To mix the pasta dough recipe in the food processor. Put 2 cups "00" flour, the 1 tablespoon semolina, salt, and nutmeg into the work bowl and pulse briefly to combine. Break the eggs into the work bowl, drizzle in 1 tablespoon of the olive oil, and process the mixture until it forms crumbs the size of small curds. Stop the machine and pinch together a bit of the mixture between your fingertips and roll it around. It should form a soft ball. If the mixture seems dry, drizzle in another tablespoon of oil and pulse briefly. If it seems too wet and sticky, add additional flour, 1 tablespoon at a time, and pulse briefly. Turn the mixture out onto a clean work surface sprinkled lightly with semolina flour and press it together with your hands to form a rough ball.To make the pasta dough recipe by hand. Combine 2 1/4 cups "00" flour, the 1 tablespoon semolina flour, salt, and nutmeg on a clean work surface and pile into a mound. Make a well in the center of the mound, and break the eggs into it. Drizzle 1 tablespoon of the olive oil into the well. With a fork, break the egg yolks and whisk together the eggs and oil. Using the fork, gradually incorporate just enough of the flour from the inside wall of the well into the egg mixture to create a batter-like consistency. Work carefully so that you don't break the wall of flour, causing the egg mixture to run out and cause a mess. (Although if this happens, don't panic. Just use your palms to scoop up the egg mixture and work it back into the flour.) Now, use your hands to draw the remaining wall of flour over the thickened egg mixture and gently knead it just until it is incorporated.

☞ TESTER TIP: For the food processor method, always start with the smaller amount of flour listed in the recipe. If it's too sticky, you can always work in more flour as you knead. For the hand method, use the larger amount of flour and mound it onto your work surface, but only work in as much as you need to achieve the proper consistency.

Using the palm of your hand, push the egg pasta dough gently but firmly away from you, and then fold it over toward you. Rotate the it a quarter turn, and repeat the pushing and folding motion. Continue kneading in this fashion, using a scraper to dislodge any dough stuck to the work surface. It will begin as a shaggy mass but will eventually turn smooth as you knead it over several minutes. You may not use all of the flour on the work surface.

When the dough is smooth and silky, form it into a ball and wrap it tightly in plastic wrap. Let it rest at room temperature for 30 minutes.

Before you roll and shape the pasta, keep in mind that how thin you roll the pasta will depend on what you're making, so be sure to carefully read your desired recipe. Most recipes, including those for ravioli and lasagne, call for stretching the pasta dough very thin—about 1/16 inch. Passing the dough through the second-narrowest roller setting (#6) produces a very thin pasta sheet. We usually don't go past that setting when making ravioli, although if making noodles, you might prefer to use roller setting #5 or even #4 for a more satisfying bite to your pasta.

Set up your pasta machine with the rollers on the widest setting (#1 on a standard Marcato Atlas machine). Scatter a little semolina flour on the work surface around the machine and have more on hand for sprinkling the dough.

Divide the pasta dough into 4 equal pieces. Rewrap 3 pieces and set them aside. Knead the fourth piece briefly on the work surface.

Then, using a rolling pin or patting it with the heel of your hand, form it into an oval 3 to 4 in long and about 3 inches wide. Feed the dough through the rollers of the pasta machine, then lay the strip on your work surface. Fold the dough into thirds, as if you were folding a letter, sprinkle with a little semolina, and pass it through the rollers again. Repeat the folding and rolling process a few more times, until the strip of dough is smooth.

Move the roller setting to the next narrower notch and feed the strip of dough through the setting twice, sprinkling it with a little semolina each time to keep it from sticking. Move the notch to the next setting. Continue to pass the pasta dough through the rollers, twice on each setting, until you have stretched it to the appropriate thickness.

Once you've stretched the pasta dough (it will be a fairly long ribbon, depending on how thin you've stretched it), lay it out on a semolina-dusted surface (my mother would sprinkle an old tablecloth with semolina, but a clean dish towel works well), and cover it lightly with plastic wrap while you stretch the remaining 3 pieces in the same fashion.

After rolling the pasta dough cut it into the shape you desire by hand or with a machine. (Editors' Note: We've got some terrific tips on cutting pasta by hand.) If making noodles, such as tagliatelle, linguini, spaghetti, etc., place a wire cooling rack on a rimmed baking sheet. Toss the cut pasta with a considerable amount of semolina flour (don't worry about using too much flour, as it'll fall off in the boiling water), and arrange the noodles on top of the rack in small piles. Use the pasta within the hour.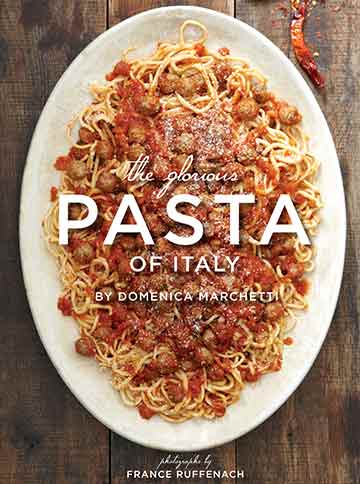 Nutrition
Serving:
1
portion
Calories:
240
kcal
Carbohydrates:
38
g
Protein:
9
g
Fat:
5
g
Saturated Fat:
1
g
Polyunsaturated Fat:
1
g
Monounsaturated Fat:
3
g
Trans Fat:
1
g
Cholesterol:
104
mg
Sodium:
235
mg
Potassium:
93
mg
Fiber:
1
g
Sugar:
1
g
Vitamin A:
151
IU
Calcium:
23
mg
Iron:
3
mg
Nutrition information is automatically calculated, so should only be used as an approximation.
Recipe © 2011 Domenica Marchetti. Photo © 2011 France Ruffenach. All rights reserved.
---
Recipe Testers' Reviews
The pasta dough turns out to be very pliable and I will use this easy recipe to make pasta dough in the future. Even at its thinnest, it was relatively easy to handle.
This was my first time making pasta from scratch, and this recipe looked like the perfect foil for my untrained hands. This dough is incredibly forgiving—I didn't have extra-large eggs or semolina flour and it still came together smoothly. I just added a little extra olive oil. The fact you can make this in a food processor makes it foolproof. I'd recommend this recipe to anyone who has been nervous about making your own pasta. It's a great way to start and I'll be using this recipe again and again!