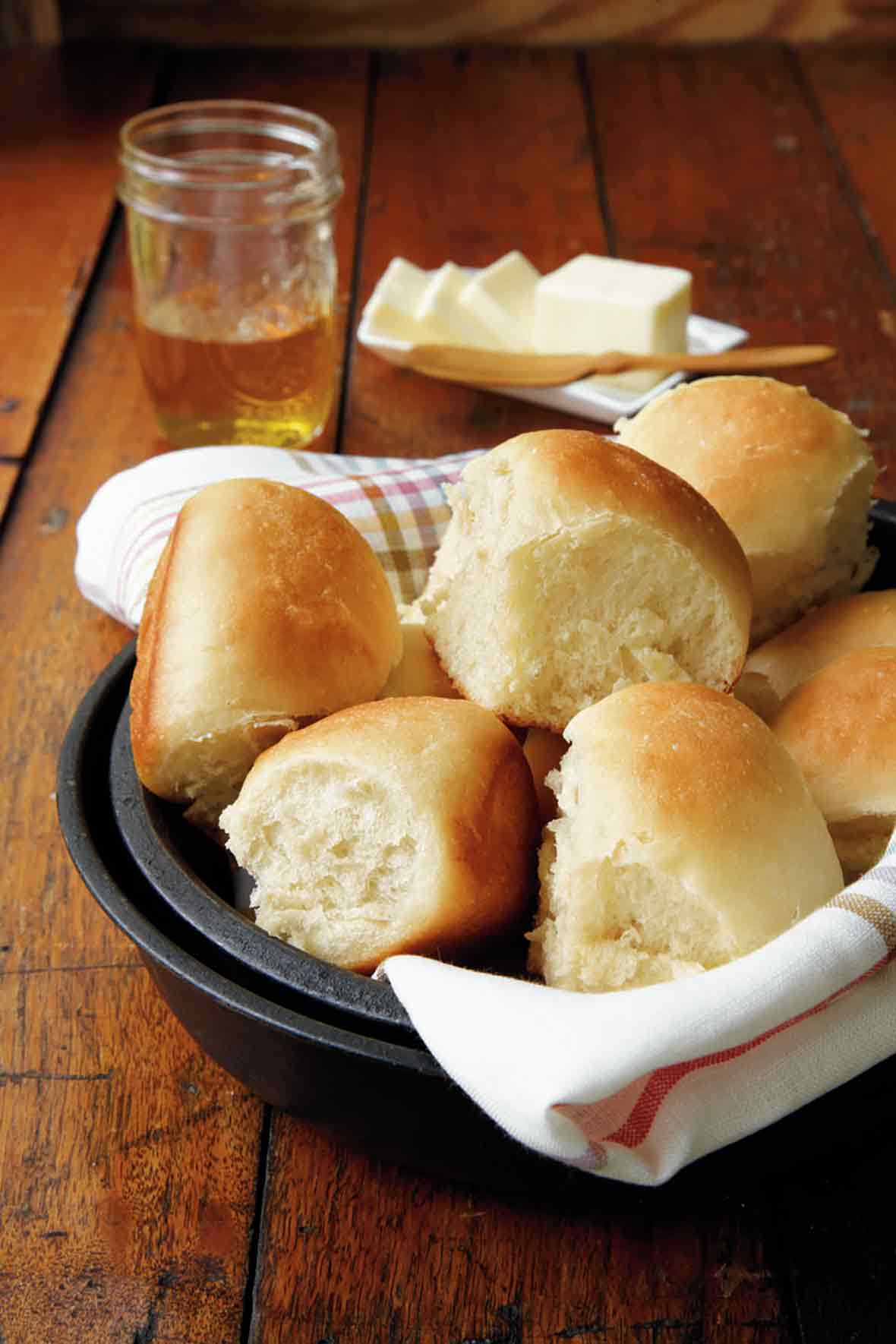 I'm nuts about pull-apart rolls. (Actually, I love just about any kind of rolls.) The One, on the other hand, isn't a big bread fan. When he was a kid it was used as a way of filling bellies when there wasn't a lot to eat. So I held out little hope that would be even remotely interested in these pull-apart rolls. But when I took them out of the oven, their smell lured him into the kitchen like one of those big aroma fingers from the old Looney Tunes cartoons. These rolls have a thin, crisp crust and sweet, fluffy insides. They're great with butter and honey or homemade jam. This recipe was contributed by Sandy and Jack Wallace and Maureen Knapp of the International Dutch Oven Society.–David Leite
LC Light as a Feather… Note
These buttery pull-apart rolls are feather light. Paranormally airy, even. So much so that they practically levitate on their own, which takes us straight back to that loony levitation game we played at the pajama parties of our childhood. "Light as a feather, stiff as a board. Light as a feather, stiff as a…." Oops. Sorry. Anyways, we think you'll have no trouble lifting each of these pull-apart rolls with just two fingers. No chanting or paranormal activity required.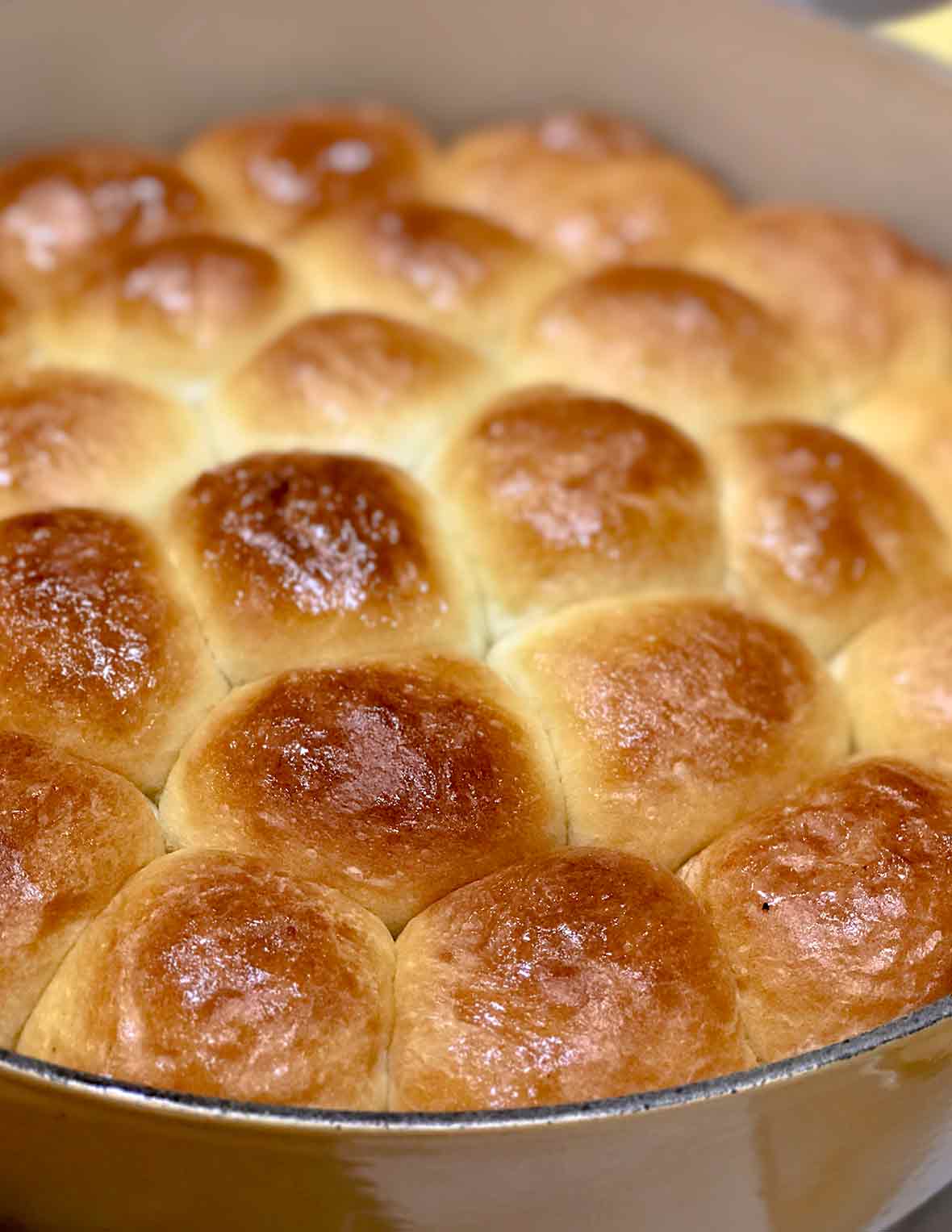 ☞ Like rolls? Try these:
Buttery Pull-Apart Rolls
These buttery pull-apart rolls bake up crispy on the outside, tender on the inside, and, yes, light as a feather through and through.
Ingredients
1

tablespoon

instant yeast

1 1/4

cups

warm milk [110°F to 115°F (43°C to 46°C)]

1/4

cup

granulated sugar

1/4

cup

mild vegetable oil

2

large

eggs

3 1/2

cups

bread flour

,

plus more for the work surface

1

teaspoon

salt

4

tablespoons (1/2 stick)

unsalted butter

,

plus more for the work surface
Instructions
To make the pull-apart rolls, combine the yeast, milk, sugar, oil, and eggs in a large bowl, stirring well. Add 2 1/2 cups flour and stir well for 1 minute. While stirring, slowly add the salt. Add the remaining 1 cup flour, a little at a time, or as much of it as needed, to create a soft dough.

Turn the dough onto a lightly floured surface and knead for 5 minutes or strongly whack the dough with a large spoon 30 times. [Editor's Note: Yes, you read correctly. It works!] Shape the dough into a round and place it in a large bowl. (Avoid stainless steel or sheet metal bowls, as both can have a negative reaction with the yeast.) Cover the bowl with a clean cloth and place it in a warm, but not hot, spot. Let rise until doubled in bulk. The warmer your kitchen, the faster your dough will double—figure 20 to 30 minutes at 75°F (18°C).

While the dough is rising, melt the butter in a warm 12-inch cast-iron Dutch oven or a similarly sized pot with a lid. Remove from the heat and tilt the pot so the butter covers the bottom and about halfway up the sides. The excess butter will pool in the bottom of the pan. This is okay. In fact, it's more than okay, it's desirable.

After the dough has risen, place it on a clean, flat, lightly buttered work surface and shape the dough into a round ball. Pinch off a 1 1⁄2- to 2-inch (4- to 5-cm) portion of dough, roll the dough between your palms to round it, then pinch and smooth it to seal the seam. Plonk the dough ball into the prepared Dutch oven and roll it around in the butter to coat it on all sides. Place the buttery dough ball, seam side down, in the Dutch oven with its nice rounded top facing upwards. Repeat with the remaining dough, arranging the rolls so they touch one another.

Cover the Dutch oven with a clean cloth or its lid and place it in a warm, but not hot, spot. Allow the rolls to rise until almost doubled. Again, depending on the temperature, this will take 20 to 40 minutes. Watch the dough carefully!

Preheat the oven to 350°F (176°C). Slide the rolls into the oven and bake, covered with a lid or tinfoil, for 20 or so minutes. Then uncover and bake until puffed and lightly browned, 10 to 15 more minutes. (Keep in mind, every time you lift the lid to check on your rolls, you need to add 5 more minutes of cooking time.) Be patient and trust your nose, knowing when you can smell yeasty bread, the rolls are about 5 minutes away from being done. And when you smell baked bread, the rolls are done.

Remove the rolls from the oven. Thanks to the exceptionally generous amount of butter in the pot, the rolls should be easy to lift, slide, or plop onto a plate or platter. They can also be brought to the table in the Dutch oven, although if you leave the rolls in the vessel, its residual heat will cause the bottoms and sides of the rolls to get a little crunchy. (If you're really keen on serving the rolls out of your spiffy cast-iron Dutch oven, dump the rolls out on a wire rack to cool for a few minutes, then return them to your Dutch oven when it comes time to serve them.) We like them best when they're still warm, but they're lovely at room temperature, too.
Notes
Campfire Cooking Variation
If you're baking these rolls outdoors over a campfire, arrange 8 hot coals in a ring underneath the Dutch oven and place hot 16 coals on the lid, keeping in mind that your target temperature inside the Dutch oven is 325°F to 350°F (163°C to 176°C). It may take 25 to 40 minutes to reach this temperature.
Nutrition
Serving:
1
roll
Calories:
106
kcal
Carbohydrates:
16
g
Protein:
3
g
Fat:
3
g
Saturated Fat:
2
g
Polyunsaturated Fat:
1
g
Monounsaturated Fat:
1
g
Trans Fat:
1
g
Cholesterol:
22
mg
Sodium:
109
mg
Potassium:
43
mg
Fiber:
1
g
Sugar:
3
g
Vitamin A:
105
IU
Vitamin C:
1
mg
Calcium:
20
mg
Iron:
1
mg
Nutrition information is automatically calculated, so should only be used as an approximation.
Recipe © 2012 The Lodge Company. Photo © 2012 Mary Britton Senseney. All rights reserved.
---