Jamie Oliver's Sunday roast is entirely worthy of a special occasion although it's also an easy way to transform any old day or night into a meal to remember.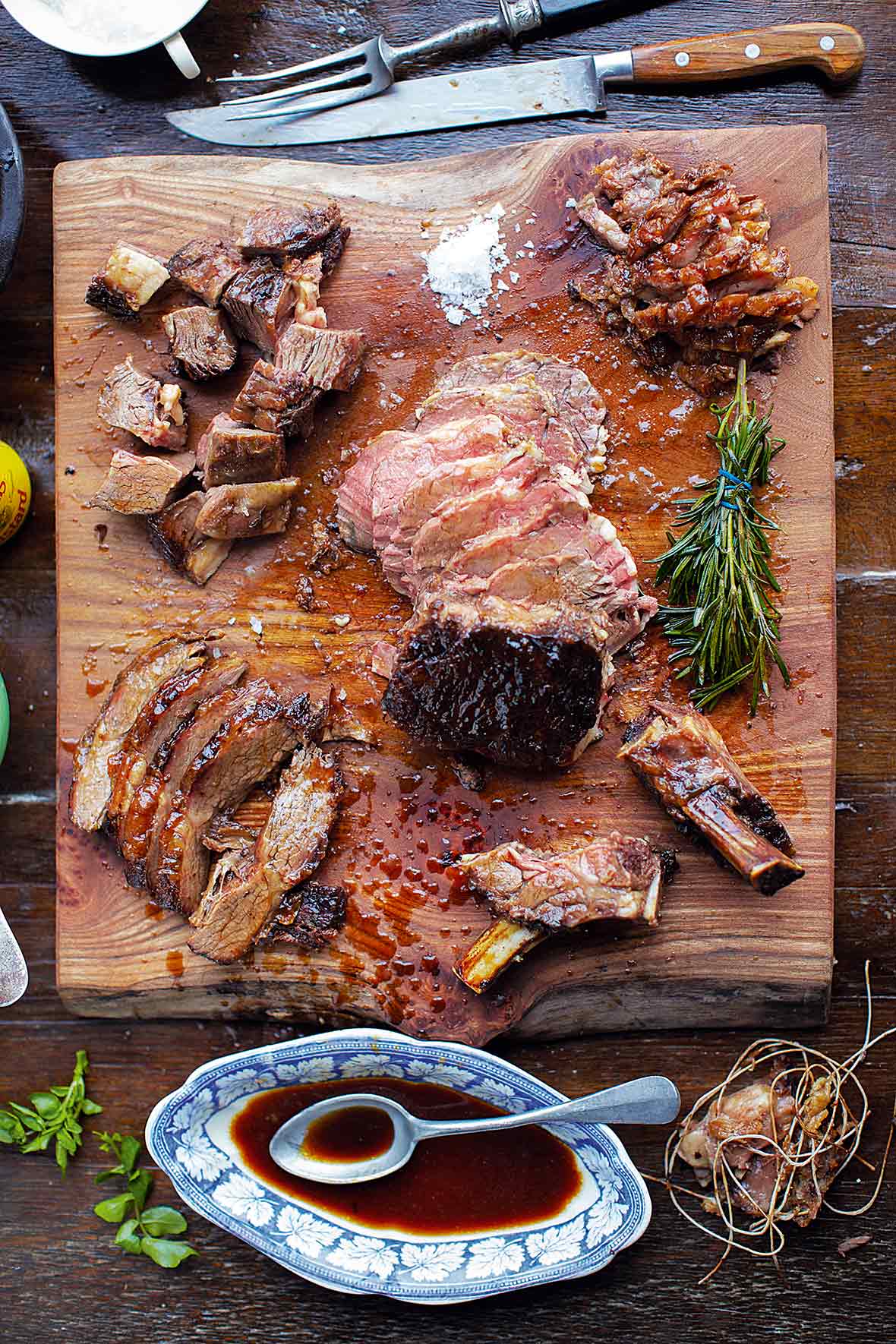 A Sunday roast, specifically Jamie Oliver's Sunday roast, is something special. And although it certainly is worthy of a special occasion, it doesn't merit a special occasion or holiday or other noteworthy event. Because what is life except a collection of moments? So we're all about making as many of those moments as memorable as possible. This roast will help you do just that. Originally published February 21, 2013.–Renee Schettler Rossi
How to Carve a Rib Roast Note
Rib roasts are commonly carved by slicing between the rib bones, yielding each diner a relatively ample steak that comprises four disparate parts: the medium-rare and meaty eye of the rib; the fatty, well-done, nicely marbled outer meaty portion; the oh-so-gnawable ends of the bones; and any crisp-edged fatty parts. And there's nothing wrong with that. This recipe, though, takes a different tactic. It shows you how to read and carve a rib roast by hewing the entire roast into those same four different and distinct components and piling them all separately on the cutting board or the platter, enabling diners to indulge in just those parts that makes their knees most wobbly. Now that's our kind of carving.
Jamie Oliver's Sunday Roast
Quick Glance
30 M
2 H

Serves 6
Ingredients
Email Grocery List
One (5-pound) rib roast of beef, bone-in

1/2 bunch fresh rosemary (about 5 sprigs)

1 heaping teaspoon sea salt, plus more to taste

1 heaping teaspoon white or black peppercorns

Olive oil

2 1/2 pounds russet potatoes

1 pound turnips (or substitute more potatoes)

3 1/2 tablespoons unsalted butter (1 1/2 oz), at room temperature

2 tablespoons runny honey

1 whole head garlic, separated into cloves but not peeled

20 fresh bay leaves (yes, 20—although they could be optional)

6 tablespoons red wine vinegar or cider vinegar

Prepared horseradish

English mustard
Directions
1. Take the beef out of the fridge about 30 minutes before you intend to cook it.

2. Preheat the oven to 475°F (246°C) and put your largest, sturdiest roasting pan in it to heat.

3. Bash the leaves from 2 sprigs rosemary into a paste with a heaping teaspoon each of salt and peppercorns. Add a drizzle of olive oil and then rub this paste all over the beef. Place the beef straight in the hot roasting pan, fatty side up, and roast it, uncovered, for 50 minutes for rare to medium-rare, a little longer for medium.

4. Meanwhile, put a large pan of salted water on to boil. Peel the potatoes and turnips, then halve or quarter them and cut them into roughly 1-inch chunks. Add them to the boiling water, return to a boil, and then cook until somewhat tender, about 10 minutes. Drain the root vegetables in a colander and toss them a few times to expel any excess moisture, and then let them dry. (They can sit here for as long as needed.)

5. Carefully transfer the roast to a plate and set the roasting pan aside. Leave the oven on. Dot half the butter (or let's just say 2 tablespoons, no need to be that precise) on top of the meat, then use the remaining rosemary sprigs to brush the honey all over the meat. Cover with a double layer of aluminum and a kitchen towel and let it rest for 30 minutes. Set the rosemary sprigs aside but do not discard them.

6. While the meat rests, quickly bash the unpeeled cloves of garlic, then add them to the fat in the hot roasting pan along with the rest of the butter and the 20 bay leaves. Pour in the vinegar and place the pan over 1 or 2 burners turned to medium-high heat. Add the potatoes and turnips. Keep moving everything around and season well with salt and pepper. When everything is sizzling away, put the pan and vegetables back into the hot oven for 30 minutes, or until crisp and golden.

7. When the vegetables are very nearly done, carve the beef. (You may want to use a couple of boards—one to carve on, one to serve on.) If the meat was tied by your butcher, discard any string. Pour any juices that collected on the plate into a small heatproof dish and place it in the oven to keep warm. Grab a carving knife and first detach the roast from the bones in a single swoop by sliding the knife between the rib bones and the roast. Trim the upper cap, or fatty fat fat portion, of the roast and then trim and discard the visibly fatty portion of the cap (see bottom right portion of the photo) and thinly slice the remaining meaty section (see upper left portion of the photo). Slice the roast into chops by slicing between where the rib bones were (see center of the photo). Chop the meaty ends of the ribs (see upper right portion of the photo) from the rib bones (see bottom right). Use the rosemary sprig brushes from earlier to paint the various cuts of meat with the flavorful juices left on the cutting board. Serve the meat with the hot, crisp vegetables, the dish of hot juices, and a good schmear of horseradish and mustard.
Recipe Testers Reviews
Jamie Oliver's Sunday Roast Recipe © 2012 Jamie Oliver. Photo © 2012 David Loftus. All rights reserved. All materials used with permission.
If you make this recipe, snap a photo and hashtag it #LeitesCulinaria. We'd love to see your creations on Instagram, Facebook, and Twitter.