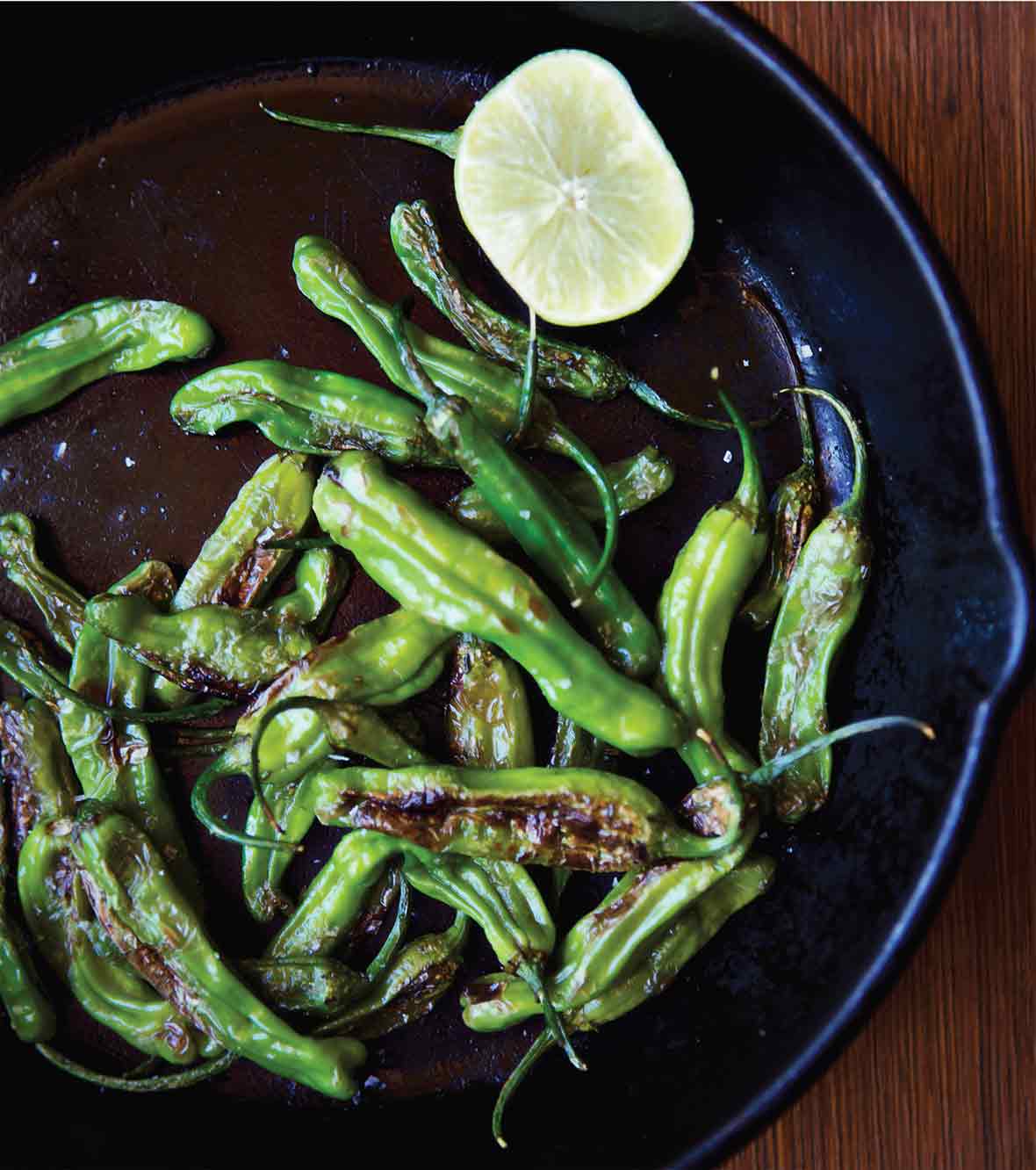 How To Cook Shishito Peppers
Knowing how to cook shishito peppers results in perfectly blistered peppers with a mildly tingly, almost sweet heat. Japanese shishitos are quite distinct and relatively sweet. Set them out at a backyard barbecue or cocktail party with cold beers or margaritas and watch them disappear.
Ingredients
Olive oil

Shishito peppers

,

rinsed and patted very dry (you'll find shishitos at farmers markets, some grocery stores, and at Trader Joe's)

Lemon or lime wedges

,

(optional)
Instructions
Heat a little olive oil in a wide sauté pan or skillet until it's good and hot but not smoking.

Add the peppers, complete with stems, and cook them over medium, tossing and turning them frequently until they blister. They should only char in places. Don't rush the process. It can take anywhere from 5 to 15 minutes to cook a panful of peppers, depending on the heat and the skillet.

When the peppers are blistered, toss them with sea salt and, if desired, add a squeeze of citrus.

Slide the peppers into a bowl and serve sizzling hot. Instruct guests to pick them up by the stem end and eat the whole thing—minus the stem. Originally published July 29, 2013.
Notes
What You Need To Know About What To Do With Shishito (Or Padrón)
Peppers
Padrón peppers can be treated exactly the same way as shishitos but they tend to be hotter in terms of tongue-tingling potential, so consider yourself warned. For you overachieving types seeking inspiration, shishitos have long been the little darling of New York City chefs who toss the blistered shishitos with roasted or sautéed fingerlings. Or leave the peppers raw and instead dunk them in a brine as you would pickled jalapeños. Or infuse booze such as gin or tequila with the essence of shishito. But mostly shishitos are blistered and served in this simple yet spectacular fashion alongside cocktails. If you happen to have leftovers, which the author of this recipes describes as "an unlikely event in my experience," just trim the stems and stir the peppers into an omelet or scrambled eggs the next morning.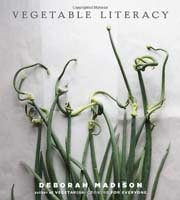 Nutrition
Serving:
2
peppers
Calories:
26
kcal
Carbohydrates:
0.3
g
Protein:
0.1
g
Fat:
3
g
Saturated Fat:
0.4
g
Polyunsaturated Fat:
0.3
g
Monounsaturated Fat:
2
g
Sodium:
0.2
mg
Potassium:
11
mg
Fiber:
0.1
g
Sugar:
0.2
g
Vitamin A:
24
IU
Vitamin C:
5
mg
Calcium:
1
mg
Iron:
0.04
mg
Nutrition information is automatically calculated, so should only be used as an approximation.
Recipe © 2013 Deborah Madison. Photo © 2013 Christopher Hirsheimer. All rights reserved.
---
Recipe Testers' Reviews
Loved, loved these shishito peppers. I've been wanting to try this blistered shishito recipe for quite a while now, but alas, I was never able to find shishito peppers here in South Carolina…that is, until now. Trader Joe's now carries them. I followed this recipe to a T, which was pretty easy as I have always prepared Padrón peppers the exact same way, apart from the lemon.
For someone who is used to eating Padrón peppers, you will find lots of similarities. When you bite into a pepper, you will not know if you got a spicy one, the type that will burn your whole your mouth, or a nice tasty and slightly spicy pepper with a fantastic taste, though not that crazy spicy that will make you cry, until you taste it. Compared to the Padrón, I feel the shishito pepper is not as sweet but just as good. Will be buying these peppers every time I will go to Trader Joe's from now on.
I spotted shishito peppers at the farmers market this morning and got a big handful, went home, pulled out a big cast-iron skillet, and sautéed them right up. I'd devoured them as a bar snack at a high-end restaurant a number of years ago, and then promptly forgotten about them until I saw a tub full of them at one of my favorite stands today.
The preparation was quick and easy and the peppers proved to be potentially highly addictive. I see absolutely no reason to take them into fancier, chef-ier turf. And, no, there were no leftovers. Any thoughts of doing anything else with them will require careful planning on the next purchase, in which case I'd need 2 bags full of shishitos—one for this sautéed variety and the second one if I want to try fancy-ing them up.
I'd go with a mix of 50/50 grapeseed and olive oil next time, or just grapeseed solo, rather than use olive oil for Japanese peppers, especially with a concern about heating the oil till it's hot but not smoking. I charred the peppers for the full 15 minutes noted. Salt generously and and squeeze the citrus generously, as both enhance the charred, softened peppers. I might even pass salt and wedges of lime alongside the peppers, if I was willing to share the bowlful. Next year, maybe we'll grow our own shishitos! And lucky me!
As someone who likes to try the variations suggested for a recipe, I'd been searching unsuccessfully for the Padrón peppers until I happened to mention this search to an urban gardening friend with a passion for Spain. Little did I know she had them growing in her garden and happily shared a handful with me. I would not have been able to differentiate them from the shishito. Had I not known they were Padrón, I could easily have mistaken them for the shishitos. Since I had only a handful, I scored on the Russian roulette. Not a single pepper surprised me with its heat, with all of them approximately the same heat as the shishitos I had previously devoured. For me, these did not need the optional lemon or lime wedges. Just sauté till charred, toss with salt, and dive right in! And, no, no leftovers. Someday, I'll have a lot of these and try them with the roasted or sautéed fingerlings, as suggested. Or share them.
Select a Tester
Knowing how to cook shishito peppers is a terrific dinner party trick. Shishitos are abundant at farmers markets in New York City come summertime, and I never fail to scoop some up either when we're guests at someone's for dinner or having guests over to our place, just because they take ridiculously little time and effort to char and folks are always intrigued and surprised by the taste—not to mention the Russian roulette they play each time they try one. In fact, I've always wanted to suggest we play a drinking game in which each time someone bites into a hot shishito, that person drinks. Anyways, these shishitos are a lovely precursor to most any meal and go splendidly with just about all beers.