Pain d'épi is the bread that I've been coveting and admiring from afar since I began baking in 1995. I'd always wanted to make it myself, but, well, let's just say bread and I didn't play well together back then. Not until I was introduced to this approach from Zoë and Jeff. I gotta tell you, ever since I started making their bread, I've knocked out loaf after gorgeous loaf that unfailingly boasts a beautiful texture and incredible flavor. Still, I wasn't quite sure if I could pull off pain d'épi.
Just between you, me, and the wall, my first two attempts left me with loaves that looked like a Jeff Koons balloon sculpture. So I called Zoë and, being the kind soul she is, she told me that I wasn't holding the scissors at a shallow enough angle and that I wasn't snipping far enough into the dough. So with the next loaf, I held the scissors practically parallel to the counter and snipped almost to the very bottom of the pain d'épi. That did the trick. I was left with a marvelously pointed, deeply browned loaf that is, I'm certain, the envy of even les français.–David Leite
Pain d'Épi | Wheat Sheaf Bread
Pain d'épi is essentially a baguette in the shape of a wheat shaft, a charming French tradition dating back centuries that's surprisingly easy to make at home. Same terrific flavor as the classic. Different shape.
Equipment
Pizza peel (or a baking sheet turned upside down); baking stone
Ingredients
1 1/2

tablespoons

granulated yeast,

(2 packets)

1 1/2

tablespoons

kosher salt

3

cups

lukewarm water

6 1/2

cups

bread flour

,

(or substitute 7 cups all-purpose flour), plus more for the work surface and shaping
Instructions
Mix and store the dough
Mix the yeast and salt with the water in a 5-quart bowl or a lidded (but not completely airtight) food container.

Mix in the flour, using a spoon or a heavy-duty stand mixer with the paddle attachment.

☞ TESTER TIP: If you're not using a machine, you may need to use your hands to get the last bit of flour to incorporate into the dough. If you're not using a machine, you may need to use your hands—run them under cold water to dampen them first so they don't stick to the dough—to get the last bit of flour to incorporate into the dough.

Partially cover the bowl or container (make sure it's not sealed airtight) and let it rest at room temperature for 2 hours. The dough will rise during this time.

The dough can be used immediately after the initial rise, although the dough's a lot easier to handle when it's cold. I like to refrigerate it in a lidded (but not airtight) container for at least overnight and up to 14 days before shaping and baking it.
Shape and bake the pain d'épi
On baking day, dust the surface of the dough with flour and cut off a 1/2-pound piece—that's about the size of a peach. Dust the piece with more flour and quickly shape it into a ball by stretching the surface of the dough around to the bottom, rotating the ball a quarter turn as you go. Let the dough rest for 10 minutes.

Shape the ball into a rectangle of sorts and then with the palms of your hands, gently roll it into the shape of a baguette, elongating and tapering it to about 16 inches. Return the rest of the dough to the refrigerator for another day.

Let the dough rest and rise on a pizza peel (or an upside-down baking sheet) covered with parchment paper for 40 minutes.

Preheat the oven to 450°F with a baking stone or baking sheet placed on the middle rack. Place an empty metal broiler tray or roasting pan or any other oven shelf that won't interfere with the rising bread.

Just before baking, dust the loaf with flour. Slick the blades of a sharp pair of kitchen scissors with oil and cut into the dough crosswise near the top of the baguette shape, at a 25° angle to the dough, stopping a quarter inch from the bottom of the dough. Fold each cut piece over to the side, alternating sides with each cut. Repeat until the entire loaf is cut. Voila. You should see a pain d'épí before you.

Carefully slide the loaf directly onto the hot stone or baking sheet. Quickly pour 1 cup hot water into the broiler tray and close the oven door. Bake for 25 to 30 minutes, or until the loaf is deeply browned and firm.

Let the bread cool completely before breaking off the wheat-stalk shapes in chunks and sighing with contentment.
Notes
What You Need To Know About How Quickly You Can Make This Bread (Really!)
Yes, really. You can make bread in just 5 minutes. Well, 5 minutes of handling, that is. We haven't figured out a way to shape and bake it in 5 minutes. Not yet. But if we do, you'll be the first to know. Until then, you may wish to also try the artisan boule recipe from the same authors. Same authentic taste, even easier to shape.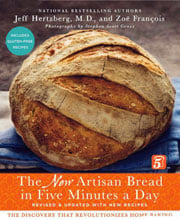 Adapted From
The New Artisan Bread in Five Minutes a Day
Buy On Amazon
Nutrition
Serving:
1
portion
Calories:
211
kcal
Carbohydrates:
42
g
Protein:
7
g
Fat:
1
g
Saturated Fat:
1
g
Polyunsaturated Fat:
1
g
Monounsaturated Fat:
1
g
Sodium:
751
mg
Potassium:
62
mg
Fiber:
2
g
Sugar:
1
g
Vitamin A:
1
IU
Vitamin C:
1
mg
Calcium:
11
mg
Iron:
1
mg
Nutrition information is automatically calculated, so should only be used as an approximation.
Recipe © 2013 Jeff Hertzberg | Zoë François. Photo © 2013 David Leite. All rights reserved.
---
Recipe Testers' Reviews
This is a great variation on the no-knead methodology, but takes it up a notch by making it easy to enjoy freshly baked bread at any time. Like the original no-knead recipe, the ingredients are mixed together and then allowed to sit for a period of time. Where this recipe differs is instead of letting the dough sit at room temperature, it slowly proofs in the refrigerator. Because of the cold proof, the dough is able to keep for up to 14 days. This, along with the amount of dough that's produced, provides flexibility to portion out dough whenever it's needed. More importantly, the second proof is only 40 minutes after quickly shaping into a baguette.
Skipping the cutting of the dough might also be an option for those looking for a simple shape. With a bake time of about 25 minutes, it is possible to get fresh-baked bread in just over an hour. This is a recipe I definitely will be keeping in rotation.
I am so pleased with the outcome of this recipe! The finished loaves are delicious but also look rather impressive for a beginning bread baker. I did end up with 7 small loaves, as the recipe suggested, but I suspect that you could easily make a few larger sized loaves with little adjustment.
I was skeptical about adding the yeast and salt to the water at the same time but the dough still rose and by the next morning, I had a full bowl of smooth, elastic dough that was full of air and smelled delicious. I made 3 loaves that morning and the other 4 on the second morning. As long as the dough is well covered, it doesn't dry out and still makes a great loaf.
Honestly, there isn't much to say about this recipe except that it is so much easier than it looks. Actually, it's much easier than most of the other bread recipes that I've tried so far. And the results are fantastic—a tender crumb with a crispy crust and they look really lovely, too!
The dough itself has a very good flavor after the rest in the fridge. I like the instruction to work with the dough cold from the fridge. This one is a high hydration dough and is tricky to work with if at room temperature.
The recipe will make 7 baguettes or epi. I made 4—2 using the recipe exactly as written and 2 with my changes. The rest of the dough made 3 excellent pizzas.
For my second batch, I made the following changes and produced excellent epi with crispy crust, deep caramel color, and perfect cuts very much like the picture:
I sprayed my scissors with a little cooking oil (PAM and NOT PAM for Baking) before cutting. This made a huge difference in the neatness and definition of the cuts. If you do not have PAM, any oil rubbed on the blades will work.
I baked it at 500°F and I used a water spray bottle to spray the oven walls every 30 seconds for the first 2 minutes. Much better results and finished baking in about 25 minutes.