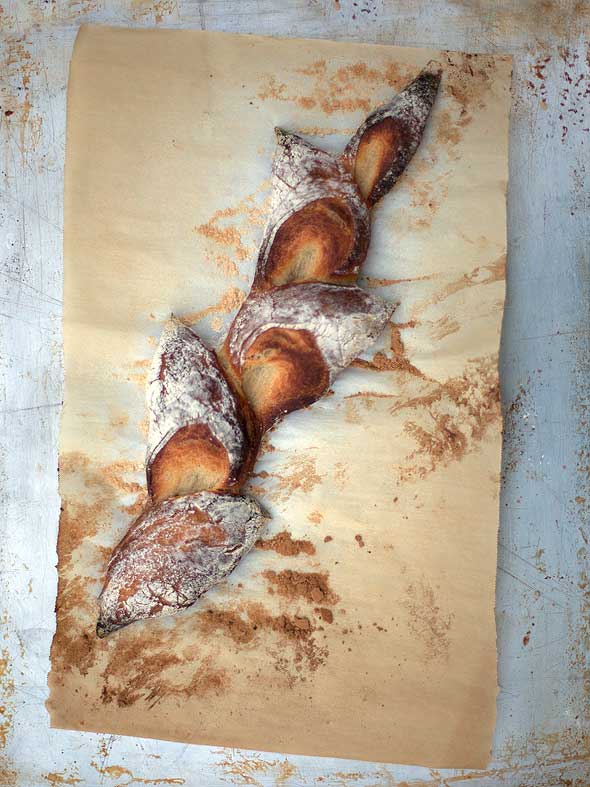 Pain d'épi is the bread that I've been coveting and admiring from afar since I began baking in 1995. I'd always wanted to make it myself, but, well, let's just say bread and I didn't play well together back then. Not until I was introduced to this approach from Zoë and Jeff. I gotta tell you, ever since I started making their bread, I've knocked out loaf after gorgeous loaf that unfailingly boasts a beautiful texture and incredible flavor. Still, I wasn't quite sure if I could pull off pain d'épi.
Just between you, me, and the wall, my first two attempts left me with loaves that looked like a Jeff Koons balloon sculpture. So I called Zoë and, being the kind soul she is, she told me that I wasn't holding the scissors at a shallow enough angle and that I wasn't snipping far enough into the dough. So with the next loaf, I held the scissors practically parallel to the counter and snipped almost to the very bottom of the pain d'épi. That did the trick. I was left with a marvelously pointed, deeply browned loaf that is, I'm certain, the envy of even les français.–David Leite
LC Yes, Really, Bread In 5 Minutes Note
Yes, really. You can make bread in just 5 minutes. Well, 5 minutes of handling, that is. We haven't figured out a way to bake it in 5 minutes. Not yet. But if we do, you'll be the first to know. Until then, you may wish to also try the artisan boule recipe from the same authors. Same authentic taste, even easier to shape.
Pain d'Épi | Wheat Sheaf Bread
Quick Glance
15 M
2 H, 15 M

Makes about seven 1/2-pound loaves
Special Equipment: Pizza peel (or a baking sheet turned upside down); baking stone
Ingredients
Email Grocery List
1 1/2 tablespoons granulated yeast (2 packets)

1 1/2 tablespoons kosher salt

3 cups lukewarm water

6 1/2 cups bread flour (or substitute 7 cups all-purpose flour), plus more for the work surface and shaping
Directions
Mix and store the dough

1. Mix the yeast and salt with the water in a 5-quart bowl or a lidded (not airtight) food container.

2. Mix in the flour, using a spoon or a heavy-duty stand mixer with the paddle attachment. (If you're not using a machine, you may need to use your hands—run them under cold water to dampen them first so they don't stick to the dough—to get the last bit of flour to incorporate into the dough.)

3. Partially cover the bowl or container (make sure it's not sealed airtight) and let it rest at room temperature for 2 hours. The dough will rise during this time.

4. Refrigerate the dough in a lidded (not airtight) container for up to 14 days. (The dough can be used immediately after the initial rise and before it's refrigerated, although take it from me—the dough's a lot easier to handle when it's cold. I like to refrigerate it at least overnight before shaping and baking it.)

Shape and bake the pain d'épi

5. On baking day, dust the surface of the dough with flour and cut off a 1/2-pound piece—that's about the size of a peach. Dust the piece with more flour and quickly shape it into a ball by stretching the surface of the dough around to the bottom, rotating the ball a quarter turn as you go. Gradually elongate the mass. With the palms of your hands, gently roll it into the shape of a baguette, tapering the ends to points. Return the rest of the dough to the refrigerator for another day.

6. Let the dough rest and rise on a pizza peel covered with parchment paper for 40 minutes.

7. Preheat the oven to 450°F, with a baking stone placed on the middle rack. Place an empty metal broiler tray on any other shelf that won't interfere with the rising bread. Just before baking, dust the loaf with flour. With a sharp pair of kitchen scissors, cut into the dough crosswise near the top of the baguette shape, at a 25° angle to the dough, stopping a quarter inch from the bottom of the dough. Fold each cut piece over to the side, alternating sides with each cut. Repeat until the entire loaf is cut. Voila. You should see a pain d'épí before you.

8. Carefully slide the loaf directly onto the hot stone. Pour 1 cup hot tap water into the broiler tray and quickly close the oven door. Bake for about 25 minutes, or until the loaf is deeply browned and firm. Let the bread cool completely before breaking off the wheat-stalk shapes in chunks and sighing with contentment.
Pain d'Épi | Wheat Sheaf Bread Recipe © 2013 Jeff Hertzberg and Zoë François. Photo © 2014 David Leite. All rights reserved. All materials used with permission.
If you make this recipe, snap a photo and hashtag it #LeitesCulinaria. We'd love to see your creations on Instagram, Facebook, and Twitter.