According to cookbook authors Nate Tate and Mary Kate Tate, the Mandarin Chinese word for "pot stickers" is guo tie, or guotie, literally "pot stick." It's an apt name, one the dumplings earned from their cooking method. "Chinese cooks first steam guotie in giant flat-bottomed iron pans. When all the water is absorbed by the dumplings, they're left in the pan to crisp and stick to the pan," explain the Tates. Gotta love literalness. And authors who hew to tradition as they translate another culture's tastes.–David Leite
When is it appropriate to serve pot stickers?
What's that, you ask? When is an appropriate time to serve pot stickers? We honestly can't think of a time that's not appropriate. All manner of occasions seem apprropriate. Lunch. Dinner. Hors d'oeuvres. Oh-shit-the-kid-is-melting-down-because-he's-hungry moments. (Trust us, kids love them for their dunkability. Heck, truth be told, so do adults.) We even reach for leftover pot stickers for breakfast, chopping and sizzling them in a skillet until crisp and warmed through before tucking them within omelets or, for the omelet-challenged, stirring them into scrambled eggs. Catch our drift? And if you're wondering about pot sticker-appropriate utensils, chopsticks will do quite nicely.
Pot Stickers ~ Guotie
These pot stickers, or guotie, are an Asian appetizer made with ground pork or beef, scallions, ginger, and soy sauce stuffed into dumpling wrappers, pan-fried, and served with a black vinegar-soy dipping sauce.
Ingredients
For the dipping sauce
1

cup

Chinese black vinegar,

(you can find this at Chinese markets, but buy the good stuff with real ingredients and not "caramel coloring")

1/2

teaspoon

minced ginger

1

teaspoon

toasted sesame oil

1

tablespoon

minced cilantro leaves

1/4

cup

light soy sauce

1

tablespoon

granulated sugar
For the dumplings
12

ounces

ground beef or ground pork

,

(preferably not lean)

1

tablespoon

light soy sauce

1

tablespoon

cornstarch

1

teaspoon

minced ginger

3/4

cup

minced scallions

,

light green and white parts

1/2

teaspoon

granulated sugar

2

teaspoons

toasted sesame oil

Pinch

salt

About 36

(3-inch)

round dumpling wrappers

,

(store-bought or homemade)

1 1/2 to 3

tablespoons

mild vegetable oil
Instructions
Make the dipping sauce
Whisk together the black vinegar, ginger, sesame oil, cilantro, soy sauce, and sugar in a small bowl. Let stand at room temperature.
Make the dumplings
In a bowl, combine the meat, soy sauce, cornstarch, ginger, scallions, sugar, sesame oil, and salt and stir in one direction with a chopstick until just mixed. [Editor's Note: We don't understand the rationale behind the one-chopstick thing, either. Nor did our recipe testers, even the ones who grew up making pot stickers at their mothers' sides. So try it or not. Up to you.]

Fill a small bowl with some cold water. Hold a dumpling wrapper in the palm of your hand and place 1 heaping teaspoon filling in the center. Dip your finger in the water and run it around the edge of the wrapper (this helps make a good seal). Lightly fold the wrapper over on itself, but don't touch the edges together yet. Only seal the edges in the middle. Then, starting at one end, use your fingers to make a small pleat in the edge of the wrapper closest to you. Then press the pleat into the edge beneath it and pinch together to seal. Keep making pleats along the dumpling opening in this way until it's completely sealed. The pleating should produce a dumpling that stands up on a flat bottom, pleats sticking up. Repeat with the remaining filling and wrappers. (You can freeze the uncooked dumplings for up to a few months.)

Heat 1/2 to 1 tablespoon vegetable oil in a nonstick skillet over medium-high heat. Place 12 dumplings, pleat side up, in a single layer in the skillet so they're just barely touching each other. Cover and cook for 1 minute.

Decrease the heat to medium-low, carefully pour 1/4 cup water into the skillet (watch out, it may spatter), and cook, covered, until all the water is absorbed by the dumplings and their bottoms are crusty brown, 8 to 10 minutes. Transfer to a plate. Repeat this process twice more with the remaining dumplings, oil, and water.

Serve the dumplings on a platter or in a bamboo steamer and pass the dipping sauce on the side.
Notes
In-Advance Note
To freeze the pot stickers, spread the uncooked dumplings in a single layer on a baking sheet that's lightly slicked with oil, taking care that the pot stickers don't touch each other. Place the sheet in the freezer until the pot stickers are almost frozen, at least 30 minutes. Then gently place the dumplings in a large resealable plastic bag and toss in the freezer for up to 3 months. When you're ready to chow down on the pot stickers, take out as few or as many as you need. But don't defrost the dumplings. Cook them frozen exactly like you would fresh dumplings—just add 3 minutes to the cooking time after you've added the water to the skillet.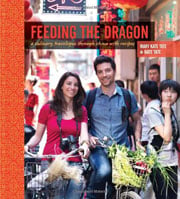 Nutrition
Serving:
1
pot sticker
Calories:
59
kcal
Carbohydrates:
5
g
Protein:
3
g
Fat:
3
g
Saturated Fat:
1
g
Polyunsaturated Fat:
1
g
Monounsaturated Fat:
1
g
Trans Fat:
0.1
g
Cholesterol:
7
mg
Sodium:
129
mg
Potassium:
46
mg
Fiber:
0.2
g
Sugar:
0.5
g
Vitamin A:
23
IU
Vitamin C:
0.4
mg
Calcium:
8
mg
Iron:
1
mg
Nutrition information is automatically calculated, so should only be used as an approximation.
Recipe © 2011 Mary Kate Tate | Nate Tate. Photo © 2011 Mary Kate Tate | Nate Tate. All rights reserved.
---